Andrew's Impact Wrestling Results & Match Ratings 9.15.2020
Awesome 8 man tag tonight with The Guns and Rascalz taking on Ace/Fulton and The North! Rhino tries to get Heath some money! Will Kylie and Susie smile their way to an upset victory?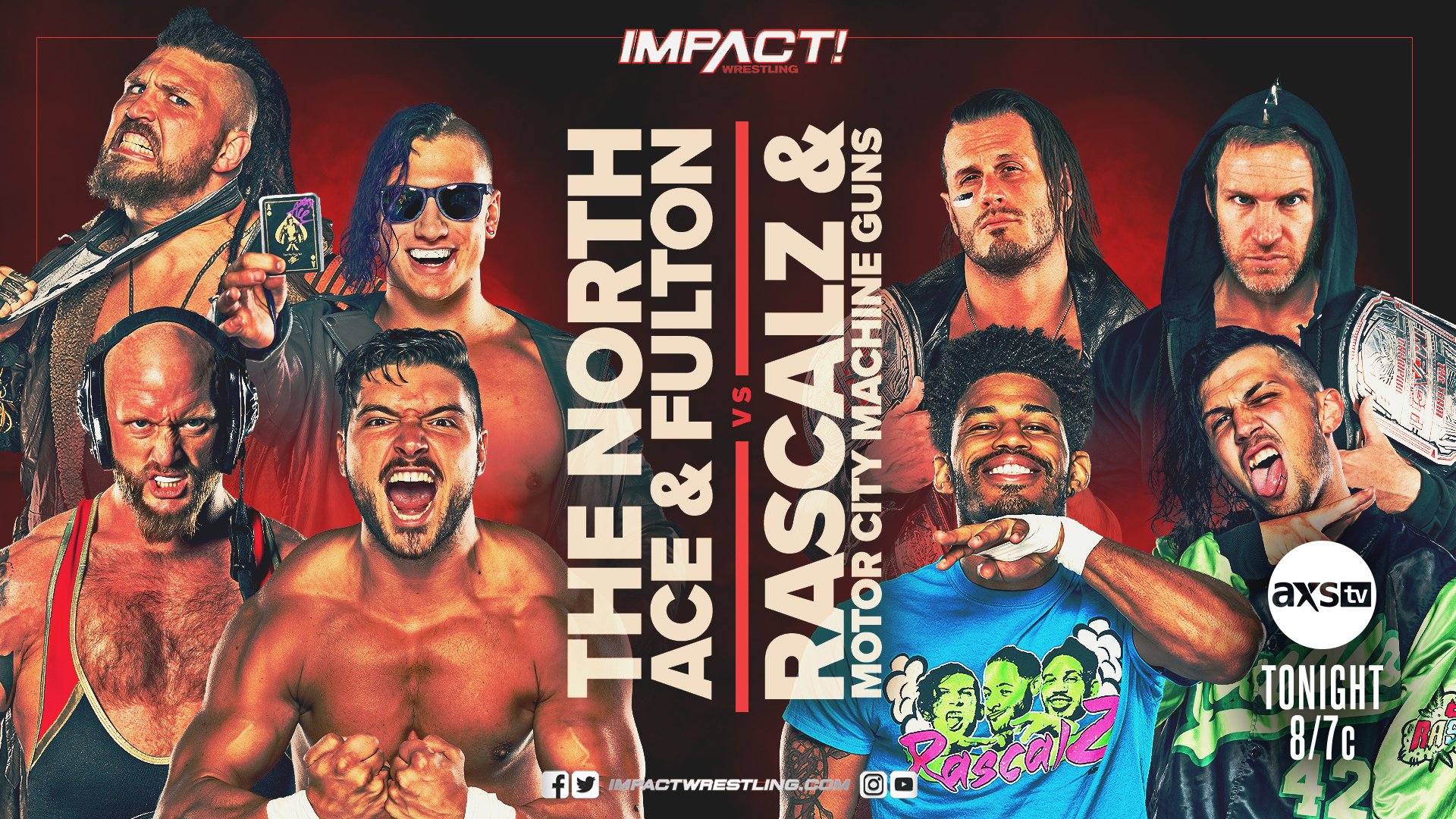 This episode has a bit more wrestling than we've seen recently on Impact. Knockouts tag team match, Taya taking on the second half of Bravos potential Best Mans…Men…whatever. We also get a Wrestle House grudge match between XXXL and The Deaners, capped off with a huge 8 man involving The North, Ace, Fulton, MCMG and The Rascalz.
With a main event that could actually be awesome and story driven matches to get us there…this could be pretty damn fun.
Now let's not forget to use our #Heath4IMPACT hashtags, but at least it looks like he can pay his ad fees now.
.@HEATHXXII is a master of stealth. #IMPACTonAXSTV @Rhyno313 @SuperMexCTM pic.twitter.com/tlJXBgTQpR

— IMPACT (@IMPACTWRESTLING) September 16, 2020
Ratings:
Kimber Lee & Deonna Purrazzo vs Susie & Kylie Rae: Susie wins via Panic Switch – ***
XXXL (Acey Romero & Larry D) vs The Deaners: Larry wins via Best Hand in the House – ** ½
Trey Miguel vs TJP: Trey wins via Diving Meteora – *** ¼
Brian Myers vs Willie Mack: Mack wins via Stunner – ***
Kiera Hogan w/Tasha Steelz vs Taya Valkyrie: Kiera wins via Face the Music – ** ½
The North (Ethan Page & Josh Alexander) & Madman Fulton & Ace Austin vs Motor City Machine Guns & The Good Brothers: Ace wins via Tandem Inverted Mat Slam – ****
Results:
The show opens with a Barry Scott still and the line he made famous of, "TNA Wrestling, Cross the Line". Nice tribute.
Kimber Lee & Deonna Purrazzo vs Susie & Kylie Rae
Kylie does something subtle, but the fact she starts off against Deonna and looks concerned and has to psych herself up by doing the old "blow into your thumb to pump you up" thing, was amusing. The opening salvo is mostly character work with Deonna being cocky, even doing her curtsey, so Kylie grabs her to roll her up for a 2 count. Deonna is offended, so she tags out to Kimber.
When Susie gets into the ring, we see Susie eating a lot of punishment. She gets cut off from Kylie, so just solid tag team wrestling, and decent action. Kylie gets the hot tag, hits her Kylie Special, but Kim catches the Thrust Kick and tries to drive her to the mat, but Kylie cartwheels and hits a Dropkick to Kim's face. Kylie sees Deonna coming to break up the pin, so she moves and Deonna hits Kim. So a little malfunction and then Deonna gets dumped out.
Kylie takes a big release German Suplex from Kim and tags in Susie. Susie kicks out of a German Suplex Hold, taps into a bit of Su Yung. Arachnarana and Panic Switch later, our smiley adorable duo wins! Susie is twitching and maybe about to change back, but Kylie keeps her grounded. I also just noticed that Susie did the little teddy bear buns in her hair like Tam Nakano.
Hey it's cute…screw you!
Backstage segment with Kiera and Tasha rolling up on John E. Bravo about being the Best Mans. John E. says they aren't and it was his decision cause he already has one. Fallah Bahh is walking out of the bathroom, John E. grabs his wrist and says Fallah is his best man. Kiera and Tasha try to argue he can't speak English, but Google Translate bitches!
.@FALLAH1 is the best man, despite @RealTSteelz and @HoganKnowsBest3's best efforts. #IMPACTonAXSTV @JohnEBravo1st pic.twitter.com/Xc7XOXDNFw

— IMPACT (@IMPACTWRESTLING) September 16, 2020
XXXL (Acey Romero & Larry D) vs The Deaners
Ahh Wrestle House truce broke down at the end, so now let us see a decent match. Cody tries to reenact the Truce, but Acey is having none of that.
Part of my issue with XXXL before Wrestle House is they had no personality. They were just the fat guys. Now we've mixed the more aggressive version they were going towards before Wrestle House, with a Wrestle House story, to actually make me find a point in this match.
With a few Truce references, and just general solid action, this was pretty solid. Cody looked like a pinball most of the time, while Jake hit a Blackhole Slam on Larry and even a Scoop Slam on Acey. But once Cody gets Pounced out of the ring by Acey, the numbers are too much, Jake eats the big right hand of Larry D, and the big boys win!
Trey Miguel vs TJP
Another match immediately out of the commercial! This is for X Division…seeding possibly? With TJP beating Chris Bey last week, I'm assuming Trey wins this week, just to set up either for a triple threat number one contender match or a four way dance maybe for Bound for Glory. Let's find out!
This was TJP taking Trey to the wrestling clinic. Everything Trey tried, TJP had an answer for. Standing Octopus Holds, Heel Hooks, catching Trey's foot on the corner Tiger Feint. We get to see a lot of why TJP is as arrogant as he is on Twitter. I even enjoyed his cute little way of spacing Trey's feet to nearly a split, so he was too off balance to move, and then TJP fakes a punch, just to flick him in the head to knock him over. It was a very nice power play move veiled in comedy.
Trey gets rocked for most of this, but he catches TJP in a roll through, that he punctuates with a quick Meteora, hops to the top rope, hits the Diving Meteora and grabs the clean victory! So the X Division is a muddled mess.
They cut to the locker room, with The North and Fulton beating the hell out of Dez and Wentz with TJP looking like the leader of the gang. MCMG and a few trainers show up after the fact, and The Rascalz are ruled out of the match. "What does the CT Scan show" and "Was that doctor Yankem". 3 Machine Guns!
The Motor City Machine Guns and Gallows will unite in our main event.

The Good Brothers offered their help to a reluctant @SuperChrisSabin and @fakekinkade. #IMPACTonAXSTV @MachineGunKA @The_BigLG pic.twitter.com/OJyce6dwUz

— IMPACT (@IMPACTWRESTLING) September 16, 2020
Rich Swann calls out Scott D'Amore and requests a match with Eric Young. Scott is against giving Rich his match at Bound for Glory. Rich makes a well worded heartfelt plea for one shot at revenge. Right before Scott responds, Eric Young hits the ring, dumps Scott, Rich attacks EY and then Scott tells Rich to take out this piece of *expletive deleted* at Bound for Glory.
Brian Myers vs Willie Mack
So Willie keeps getting shafted by Myers' unprofessional acts, even though he is "The Most Professional" wrestler.
Nice back and forth, where Myers keeps it fairly clean with back elbows, enzuigiris and solid offense…until he removes the turnbuckle pad. Thankfully for Willie he's able to put the brakes on and never eat the expose turnbuckle. He does get caught coming back in the ring, as Myers kicks the rope during entry and then hits his Implant DDT…but only for a 2 count!
Myers goes to the top, Willie dodges, Myers charges and Willie moves, sending Myers into the turnbuckle he exposed earlier in the match. One Stunner later and Willie gets a measure of revenge. Myers was hoisted by his own petard.
Rosemary tracks down Havok, explaining that resurrecting Father James Mitchell needs one of two things. A virgin sacrifice, or the consent of the murderers. Havok refuses, Rosemary insists, and then Havok snaps as Nevaeh breaks up the situation. The storyline continues!
Moose runs into Scott D'Amore requesting help with EC3. And he sells being freaked out, while Scott tries to say this is all made up in his head. This is actually nice wrinkle where Moose starts doubting his own sanity before another EC3 projection pops up. OH MY CHRIST MOOSE CALLS CHRIS JERICHO!
Moose looked for advice from the one person who has experience with their World Championship being stolen. #IMPACTonAXSTV @IAmJericho pic.twitter.com/BcNjvWXopM

— IMPACT (@IMPACTWRESTLING) September 16, 2020
Rhino sneaks in Heath, to get him his money.
Followed up by a photo session with Tenille and Kaleb, with a K. Jordynne interrupts the photoshoot and tells her that next week Tenille has a match. A bit egotistical and snarky is Tenille's reaction, so I like how she's turned into the IIconic skid a little since they're all friends. More personality is something Tenille needs to show, and I enjoy what she's doing right now.
Kiera Hogan w/Tasha Steelz vs Taya Valkyrie
I enjoyed how this match was framed in the match, but the announce team really hit it too damn much. Yes Taya was slowly getting more and more frustrated that Rosemary wasn't out there to second her, which is perfect, but damn Josh and Madison were both annoying this time around.
Kiera hung in there, obviously giving up size, strength, experience and being terribly outclassed. But Tasha's little bit of involvement, was all Kiera needed to take advantage of the situation. I also like the way it frames there team, where Kiera is the stronger component and I agree. Kiera is money. Tasha ain't bad either, but if someone has to be the Jannetty, that would be Tasha.
The North (Ethan Page & Josh Alexander) & Madman Fulton & Ace Austin vs Motor City Machine Guns & The Good Brothers
Karl starts things off with Ace, they get a little work in before Karl backs Ace into his corner, brings in Big Hoots and we see those goofy yet effective corner uppercuts of Gallows. Gallows tags back in Karl, a little more punishment for Ace, but Karl gives Chris Sabin a nice chop across the chest…which, yup, counts as a tag.
Ace tagged out to Josh Alexander while the Guns and the Machine Gun were having some discourse and we get some beautiful fluid tandem offense from The Guns. Shelley hits the blind tag, shoulder blocks, slingshot Sentons and Splashes, each member of the heel team comes in and The Guns dispatch each one, even Fulton. As the Good Brothers react like Emilio Esteves and Charlie Sheen during Men at Work, "Golf Clap? Golf Clap."
After the commercial, Alexander gets an opening to bring in Ethan Page and the heels get rolling. Page then tags in Fulton and Shelley has this look on his face like "dammit". Fun moment when Alex tries to jump over Fulton, Fulton grabs him, but only Sabin is reach out for the tag. Good Brothers are more like "We're over here, get closer…" which then allows a really nice Northern Lights Suplex for Fulton for a near fall.
After Shelley eats offense for a while, Sabin finally gets sick of waiting, jumps into to help Shelley and Shelley tags out to Karl. The match goes into 5th gear from here. Dives, tandem moves, signature spams, both teams do the Japanese corner train spot, more signature moves, just a frenetic pace that you don't see much in American wrestling.
The North manage to pull off their Tandem Inverted Mat Slam finish, but Ace Austin tags himself in right beforehand, so Ace gets the pin on a champion and The North are fuming a bit as we fade to black.
Overall Score: 7.75/10
This show was pretty nicely packed with wrestling matches and I thought the vignettes broke things up perfectly. I really dig the how Rohit is playing heel in a smart way. Since he's trying to come off magnanimous but making it seem like everything else is stopping him from giving out title shots. So the fact that he basically booked the Number 1 contender Triple Threat…but "doesn't make the rules" in the place, is a beautiful hole for the heel to weasel around in.
Heath sneaking in to steal Hernandez's money was great since this has shown some depth for Rhino. Even in WWE he was more quiet and "the muscle" of the tag team. But the Impact version is allowing Rhino to have more fun, and it comes very naturally.
The Good Brothers being…let's say luke warm tag partners works well since they debuted on the face side of the game, but we still know who they are. So it's a good way to play tweener. The North most likely coming to blows with Ace and Fulton works well to keep them relevant towards the top of things.
Lastly, Rich Swann's whole angle is oddly topical given the situation and conversation with Matt Hardy in AEW. Yes this is a worked injury, so it's obviously different, but the passion and desire to just want one shot at redemption or to finish on his terms; it's a mentality that most athletes have and this portrays it in a great way for people who can't see all sides of the argument.