Andrew's Impact Wrestling Results & Match Ratings 9.8.2020
The first episode under the new World Class Maniac regime! Does our favorite Canadian joke wrestler turned psychopath have a sweeping decree?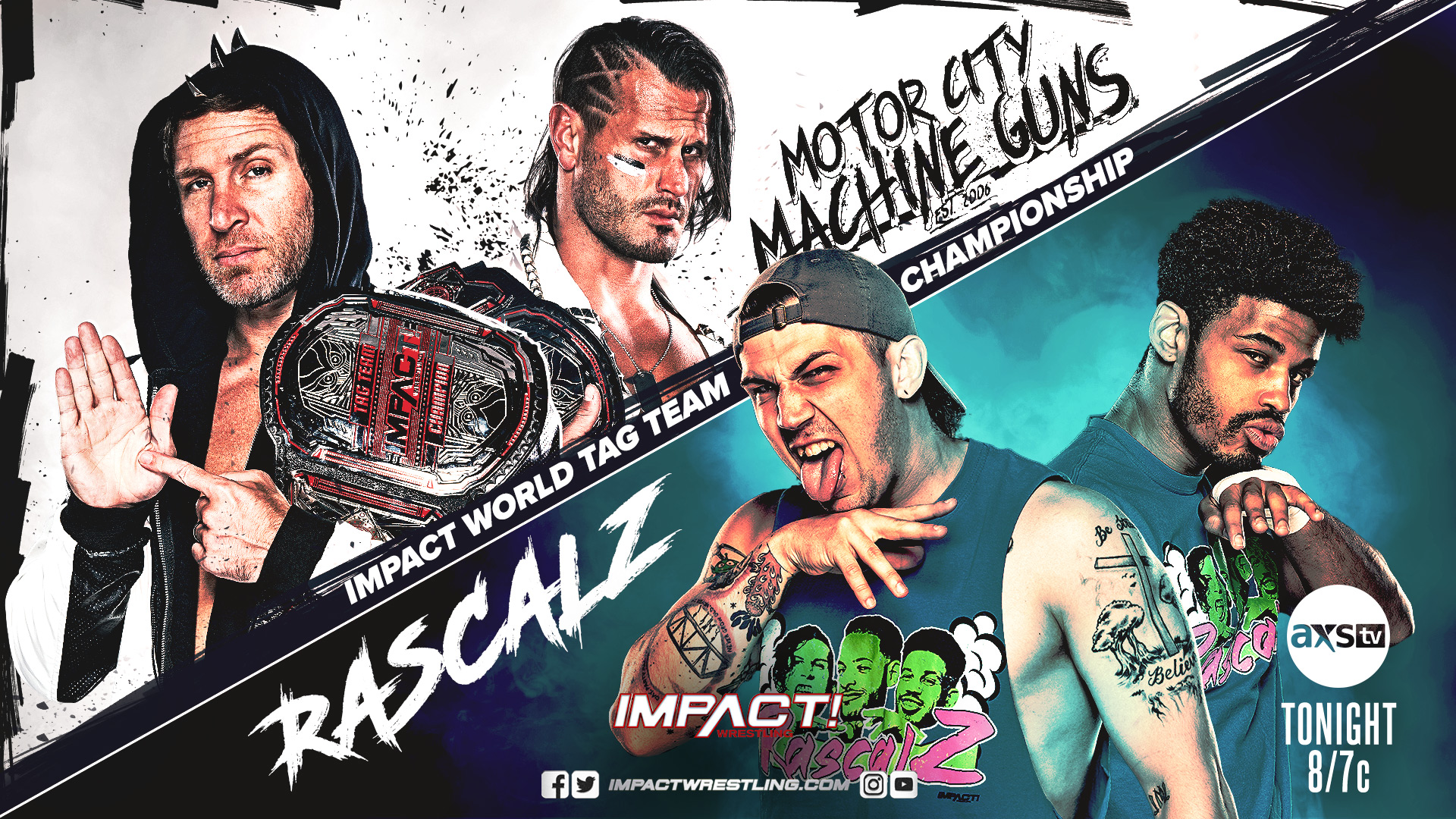 The first episode under the new World Class Maniac regime! Does our favorite Canadian joke wrestler turned psychopath have a sweeping decree? Should be interesting since he opens the show.
We also get a Tag Team Championship match, possibly a number one contender match for the X Division and Brian Myers may have some professional thoughts after his big win last week.
There are a lot of threads to play with, so let us all see how this starts to come together as we build closer to Bound for Glory.
.@TheEricYoung vs. Tommy Dreamer is NEXT on IMPACT! #IMPACTonAXSTV pic.twitter.com/mIsfXD1AKv

— IMPACT (@IMPACTWRESTLING) September 9, 2020
Ratings:
TJP vs Chris Bey: TJP wins Rolling Cradle – ***
Willie Mack vs Brian Myers: Myers wins via Lifting DDT – ***
World Tag Team Championships: The Rascalz (Dez & Wentz) vs Motor City Machine Guns (c): MCMG retain via Dirt Bomb – ****
Tasha Steelz w/Kiera Hogan vs Taya Valkyrie w/ John E. Bravo: Taya wins via Road to Valhalla – **
Old School Rules: Eric Young vs Tommy Dreamer: Young wins via Piledriver – ** ½
Results:
Eric Young opens the show, New World Champion, new decree. Eric Young discusses that this was by design and he's world class. Alisha comes out to interrupt, and it's probably the best promo I've heard her ever do. It's passionate, ballsy and she holds her ground with EY before Dreamer has to make the save before Alisha gets Piledrivered. Alisha has really started to step up a bit from Wrestle House forward.
Dreamer cuts promo, telling EY to do what people have said for years, END HIS CAREER! Dreamer challenges for tonight, but leaves the stipulation up in the air.
Amusing promo with Taya taking the lead on Wedding Planning since Rosemary needs to resurrect the most qualified person to officiate the wedding (most likely Father James Mitchell).
TJP vs Chris Bey
Starts off immediately once TJP hits the ring, and we see some fast paced action. Rohit saunters out after the start to watch, and then things go to commercial once Bey hits a Rolling Forearm to go on the advantage.
Not an easy match to break down move for move, since both men did a great job at keeping things moving and hitting counters. Bey hit a nice Torture Rack TKO, TJP counters the follow-up into a Cross Armbreaker and it was just well wrestled.
Bey puts a little momentum together, tries to roll up TJP, TJP rolls through and catches the arms for a Cradle of his own; picking up the pinfall. Both men looked great, fairly even throughout, just TJP was a little more clever at the right point.
.@DeonnaPurrazzo and @Kimber_Lee90 crashed Locker Room Talk to confront @realsuyung and @IamKylieRae. #IMPACTonAXSTV @MadisonRayne @swinger_johnny pic.twitter.com/3DBgUataUY

— IMPACT (@IMPACTWRESTLING) September 9, 2020
Kiera and Tasha bust Bravo's stones and they aren't wrong. They try to tell him he needs to be his own man. Kiera has a cute line calling him Johnny Boy and then they'll teach him to be John E. Man. It's a weird positive bullying. Because you know they just want an invite, but the advice is sound.
Most Professional Brian Myers comes out to cut a promo. Myers tells Willie there's no shame in losing to him since he's won titles on PPV, wrestled around the world and tells Willie to come shake his hand as is the time honored tradition.
Willie comes out, says he was granted a match now. Myers said he doesn't have his gear and Willie takes a dig with the "Didn't people tell you to always bring your gear if you're professional?" – good line.
Willie Mack vs Brian Myers
 This was actually pretty fun. Myers sold being off his game and surprised well. Never really stringing much offense together before Willie got the better of things.
Willie has everything going his way, hits the Sky High, Kip Up Standing Moonsault and looks to set up a finish. He gets a little cocky when he takes off Myers' shirt, the referee gets distracted, Myers hits the low blow followed by the Lifting DDT and escapes with a cheap win.
Jordynne Grace has an interview in the back, setting up for a match with Tenille when she inquires why Tenille is allowed to just waltz back in after being MIA for months. She goes to Tenille's locker room and Kaleb Conley answers the door as "Kaleb, with a K, Tenille's personal photographer". We then get a montage of Tenille photos and a blurb that says she'll be back next week. Jordynne huffs off, and I suppose now we can safely assume Suicide appearances will be Conley.
World Tag Team Championships: The Rascalz (Dez & Wentz) vs Motor City Machine Guns (c)
This match was fantastic. The Rascalz started off hot, taking it right to the Guns. Quick dives, fast tandem moves, and great ways to take the Speed Kills mentality into this match. We know The Rascalz respect the Guns, but they proved they know how to turn up the heat with belts on the line.
Early on the Guns picked apart Wentz once the initial onslaught stopped. They focused his knees and worked through the progressions well. Bullseye Dropkicks on the knee, a grounded Dragon Screw Leg Whip, and a plethora of other moves. Notably, Shelley was clever as hell when Wentz was seated, Shelley jumped for the expected Dropkick to the chest, but instead drives his knee into Wentz' busted knee.
Little tandem aspects the Guns pulled off were beautiful, Dez did get the hot tag and it looked great. He took advantage of a tiny slip up by Sabin, Wentz came in, even though he was beleaguered with the knee. They went for Hot Fire Flame, and missed. Shelley comes in, Guns take out Dez, Dirt Bomb on Wentz, and the champs retain.
After the match The North and Madman & Ace attack The Guns. The Good Brothers make the save, The Rascalz assist in taking out the heels and we have a weird 3 way standoff with the face teams, while the heel teams seem to understand one another's points.
Sami Callihan promo about numbers getting the best of him last week even though he won the match. Little ominous on what he was saying about Katie having his number and he's got other plans for next week's segment. Interesting to see Sami be in an angle away from the main event, but he still makes it intriguing.
Tasha Steelz w/Kiera Hogan vs Taya Valkyrie w/ John E. Bravo
So this was more for the story elements than the match itself. As a match, it was decent. Tasha took advantage of Taya's distractions since Bravo was on the phone planning his wedding nearly the entire match. Taya however is just bigger and better, so it felt like a formality on the finish. We just got to see Taya getting more annoyed, so maybe she'll no longer be cool with wedding (eventually).
Kiera and Tasha attack Taya a little bit before Bravo plays human shield to break it up. But this really has blow up written all over it. I say, give it a few weeks, Rosemary returns with James Mitchell, doesn't appreciate what Taya has been planning, Taya doesn't appreciate Bravo being useless and then we get a more serious match between the two.
Moose segment with what I'm guessing is his High School football coach. Which turns into a horror movie style twist as the segment ends. This whole SAW style shooting is interesting. I don't hate it, but something needs to move soon. If they tread water on gimmicks of Moose searching with no repercussions, it'll be like Fashion Files, but without the dumb comedy to keep you coming back.
IMPACTPlus Flashback Moment: IMPACT! August 11, 2016, Miracle Mike Bennett & Moose vs EC3 & Eddie Edwards
The #Heath4IMPACT campaign is working…but @HEATHXXII is running out of money. #IMPACTonAXSTV @Rhyno313 pic.twitter.com/ENCP57ucfU

— IMPACT (@IMPACTWRESTLING) September 9, 2020
Old School Rules: Eric Young vs Tommy Dreamer
Dreamer looks more and more like Terry Funk when he comes out anymore, now sporting a bandana.
As a match, this wasn't too bad, but it's every Tommy Dreamer match we've seen in the last two years or so. EY's intensity helped to make this match feel less hokey than some hardcore matches are, but it didn't cover Tommy's Cena levels of spot calling. But aside from goofy comments and hearing spots on occasion, this was more than passable.
After the win, EY tries to take out Dreamer like he has to Eddie and Rich already; but Rich Swann hops out on crutches and one leg to make a save. EY looks distraught, sayings over and over "You shouldn't be here, I took you out". So we're already seeing cracks in EY's master plan.
Overall Score: 7.5/10
We got a really solid show, great humour with Rhino and Heath breaking the Kayfabe on the 27 kids, damn good promo from Alisha and Dreamer, awesome match with MCMG and The Rascalz, so much awesome stuff. We saw a lot of consistent wrestling quality and the "worst" match rating wise, was still well done for the element of driving the story forward with Taya, Bravo and Rosemary.
Moose has been entertaining in his Saw storyline and reintroducing Kaleb as Tenille's personal photographer works well. It also gives me a little bit of the Emmalina vibes but she's more wrestling centric. Egoistic and technically proficient is a character I can get behind.
Unless the cornball comedy with Josh, Madison, Bravo, Heath and Rhino really offends you; it's hard to find many qualms with this episode.