Andrew's New Japan Road Results & Match Ratings 9.5.2020
Newly vacated Jr Tag Titles means a quick tournament! Who takes the early lead?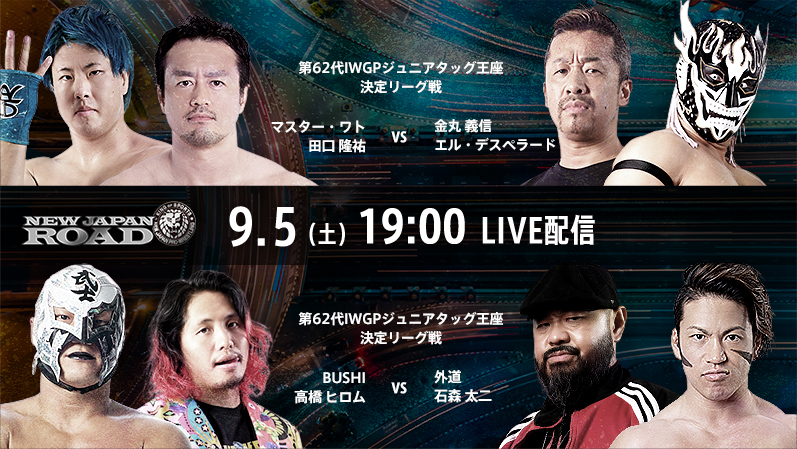 Not always worth covering, but New Japan Road has a little more weight than usual. Since Roppongi 3k had to vacate the IWGP Junior Heavyweight Tag Team Championship, because YOH is injured, we have a tournament!
Our favorite Blue Ranger Master Wato has been getting a lot of tournament experience between the NEVER 6 Man and now this. Maybe Coach Funky Weapon can help Wato work towards his way to Grand Master. Suzuki-Gun and LIJ have the most established teams, so they have to be the favorites for the Finals. Bullet Club…well they're not working with a full roster, at least Ishimori should be good enough to carry the team to a respectable showing.
So let's see who takes an early lead in the tournament!
Ratings:
Yota Tsuji vs Satoshi Kojima: Kojima wins via Cozy Lariat – ***
CHAOS (Toru Yano, SHO & Kazuchika Okada) & Gabriel Kidd vs CHAOS (YOSHI-HASHI, Hirooki Goto & Tomohiro Ishii) & Yuya Uemura: SHO wins via Cross Armbreaker – *** ¼
Hiroshi Tanahashi, Kota Ibushi, Yuji Nagata & Tomoaki Honma vs Minoru Suzuki, ZSJ, Taichi & DOUKI: Ibushi wins via Kamigoye – ** ¾
Darkness Club (EVIL, Jado & Yujiro Takahashi) vs LIJ (Tetsuya Naito, SANADA & Shingo Takagi): SANADA wins via Skull End – **
Suzuki-Gun (El  Desperado & Yoshinobu Kanemaru) vs Ass Masters (Ryusuke Taguchi & Master Wato): Wato wins via RPP – *** ¼
LIJ (BUSHI & Hiromu Takahashi) vs Bullet Club (Taiji Ishimori & Gedo): BUSHI wins via Tandem Facecrusher – ***
Results:
Yota Tsuji vs Satoshi Kojima
Kojima comes into this match filled with frustration after getting himself disqualified from the KOPW tournament because of the "No Finishers" gimmick.
This was a surprisingly competitive match. Kojima gave Tsuji a lot of spots to look great. Simple as it may be, I love the spot where Tsuji hit a Dropkick, Kojima brushed it off, so he hit the ropes and went back to the Dropkick. Easy psychology like that amuses me since it's lost in so much current wrestling.
Aside from that, Tsuji's offense looked great, from that Dropkick, Spear, Brainbuster and this cool Running Splash he does; unlike Ultimate Warrior who falls on you like a fat guy who forgot how to sit down, Tsuji launches himself from the ropes and flies halfway across the ring.
Bread Club's leader wasn't going to be upset by a Young Lion though. Tsuji had all the momentum in the world, but a desperation Cozy Lariat turned the young wrestler inside out and Kojima was victorious.
CHAOS (Toru Yano, SHO & Kazuchika Okada) & Gabriel Kidd vs CHAOS (YOSHI-HASHI, Hirooki Goto & Tomohiro Ishii) & Yuya Uemura
A few things to unpack here. This is a rematch of the NEVER 6 Man finals, in a way, but each team has their own Young Lion. Okada comes out limping, still playfully selling the low blow from Yano, all with a light hearted grin on his face. AND of course – THEY BOTH HAVE YOUNG LIONS! Oh no! Who eats the pin?
Not gonna lie, I know some people get tired of Yano's crap, but I love how most of his opponents know how to still make it appear fresh. Yano and Ishii start, Yano is jawing at Ishii, Ishii just stands there. Yano takes off the turnbuckle pad, Ishii just stands there staring him down. Yano is visibly (probably verbally as well but my Japanese is crap) frustrated, Ishii just stands there. Yano tosses the pad outside and they start to brawl. That was so perfect for a twofold reason. One because the Stone Pitbull is a serious badass. Two, they are former tag team champions and have history, so Ishii knows what to expect from his stablemate.
SHO and Okada continue to show flashes of my fantasy booking coming true. They have a few tandem moves, and Yano trips up the Uemura and pulls him out, much to Okada and SHO's objection. Let me see more of SHO and Okada becoming close; those two could be a really solid heavyweight tag team. High Voltage, Rainmaker…hmm…a play on Thunder Storm would be nice since SHOkada is a little too WWE. I'll think of something eventually.
SHO did a lot of work in this match, but generally speaking it was very entertaining and 50/50. Every time one side got some momentum, the other would counter or we'd have a lot of multiman saves. When it came down to Uemura and SHO, the writing was on the wall since "LOL Young Lion gets pinned", but SHO had to work for it. Uemura countered a few of SHO's moves, tried to hook in his Double Overhook Belly to Belly, but SHO blocked. After one last signature spam from everyone, SHO managed to pop up Uemura and land in a Cross Armbreaker, forcing the Young Lion to tap.
There seemed to be an understanding that we'll be seeing CHAOS vs CHAOS for the 6 Man titles again. But the framing was weird. Yano kept himself to the side (maybe still sheepish since he low blow'd Okada to win the KOPW trophy) and Okada put his arm around SHO at one point when the teams were posturing. Just something to keep an eye on; the Sublime King of Thieves isn't a stranger to betrayal.
Hiroshi Tanahashi, Kota Ibushi, Yuji Nagata & Tomoaki Honma vs Minoru Suzuki, ZSJ, Taichi & DOUKI
This was mostly paint by numbers Suzuki-Gun match. A quick start, some fast striking mixed in with submissions, but nothing really interesting except for the very end. Suzuki-Gun ganged up on Ibushi a little, DOUKI managed to hit Daybreaker and start his Number 32 submission before the saves came in.
The wrinkle about the saves, as we all know, is usually 1 for 1. But this time, Tanahashi dispatched of both ZSJ and Taichi to give Ibushi a clear path to victory. So it was a little bit of a redeeming moment for Tanahashi since he's been failing quite often lately. Ibushi destroys DOUKI, and the good guys go over.
So does this help to stem the tide of any changing feelings for Ibushi (or Tanahashi himself), or is it just a slow burn?
Darkness Club (EVIL, Jado & Yujiro Takahashi) vs LIJ (Tetsuya Naito, SANADA & Shingo Takagi)
On paper this is a hard sell that EVIL's squad wins this match. I mean Yujiro is mid card at best and Jado can barely move. So it's like… one and a half against three top guys. Unless EVIL brings a Machine Gun…and I mean a real one, not Karl Anderson, this should be an easy win for LIJ.
EVIL's crew tried to isolate Naito most of the match, but the wheels started coming off when everyone else got in. Jado almost pulled off an upset after he hit SANADA with the kendo stick and locks in his Crossface after some tandem moves with Yujiro.
The coolest spot here was Yujiro distracts the referee with the Pimp Cane, so Jado can swing on SANADA again, but Shingo slides in, pushes SANADA out of the way to absorb the kendo stick shot, grab it and lay out Jado. SANADA and Shingo so some chemistry as they double team Yujiro, to clear up the situation for SANADA to lock in Skull End on Jado for the win.
They tried to make it interesting, but really, this match is skippable because of the lack of suspension of disbelief.
Suzuki-Gun (El  Desperado & Yoshinobu Kanemaru) vs Ass Masters (Ryusuke Taguchi & Master Wato)
Taguchi has a good track record with thrown together Junior tag teams, so let's see if Taguchi is what Wato needs to overcome Kanemaru's torment.
Wato was picked on and picked off for most of this match. Kanemaru and Despy both took turns keeping him close to them, and wiping out Taguchi to avoid tags. A crisp Jumping Back Heel Kick gave Wato the space to tag in Taguchi, and the match was much closer from there.
Taguchi has been evolving his offense, after getting caught once with the Atomic Drop to counter his Ass Attack, he did the good ole Butt Feint. Then, he starts Butt Hulking Up. No selling low kicks from Kanemaru, in a fun spot where he went for a Spinning Hip Attack, Kanemaru grabbed the ropes; but Taguchi did it again, connecting this time, before needing to tag out from exhaustion.
Here comes a few nice wrinkles, where Kanemaru does everything he previously used to beat Wato. Deep Impact, Taguchi makes a save, a Double Leg Cradle counter, Taguchi makes the save. Wato takes out Despy on the outside with a Tornillo. Taguchi hits Dodon, Wato hits the RPP (Spiral Tap), and the Ass Masters move on.
Taguchi bailing out Wato in positions we've seen him lose in, was great story telling and usage of proving that Taguchi is a valuable asset for Wato's growth.
LIJ (BUSHI & Hiromu Takahashi) vs Bullet Club (Taiji Ishimori & Gedo)
I do appreciate that BUSHI's mask is half his and half Hiromu's old gimmick in Mexico Kamaitachi. I don't like that Gedo is in this match. Really curious why it wasn't Dick Togo and Ishimori (unless they wanted to protect Togo from a pointless losses). Due to Gedo's inclusion, you can't really take this seriously. Especially with Hiromu recently losing the IWGP Junior title, it makes sense for him to 'get his win back' in tag action.
All in all, the match wasn't offensive, just, when things were off, boy were they off. Taiji and Hiromu tried to recreate the spot from their title match with Taiji countering the Overhead German by just landing in the turnbuckles, but it was awkward. There was another point where Taiji was obviously looking for BUSHI to break up the submission he was doing, so it was just oddly telegraphed.
I did appreciate Gedo's Pop Up Back Kick Low Blow into the Gedo Clutch; but his lack of wrestling and just thumb pokes and shortcuts started getting old. I have nothing against his gimmick, but it's best served in a manager role, not an active competitor in the match. Ishimori wrestles his ass off with a few heel tactics and Gedo just pokes and low blows while bumping fairly well. It's just a lame dynamic.
Overall Score: 6.25/10
Nothing was really bad, but there was just a lot of questionable spots throughout. Also I'm not a huge fan of round robin style of tournament for the Junior Tag titles. I would prefer it to be single elimination, but if they need matches to fill out shows, sure I suppose I can tolerate it.
The fact that the NEVER 6 Man belts are slightly intriguing scares me. Yes that's mostly because of who's involved, but just…2020 is weird man. Plus I hope Tsuji wakes up before the tomorrow's show…damn did Kojima lay him out.