Andrew's NJPW Strong Ep. 8 Results & Match Ratings 9.25.2020
Episode 8 of NJPW Strong brings us the first round of Lion's Break: Crown. A breakout tournament, for the lack of better description. Who advances?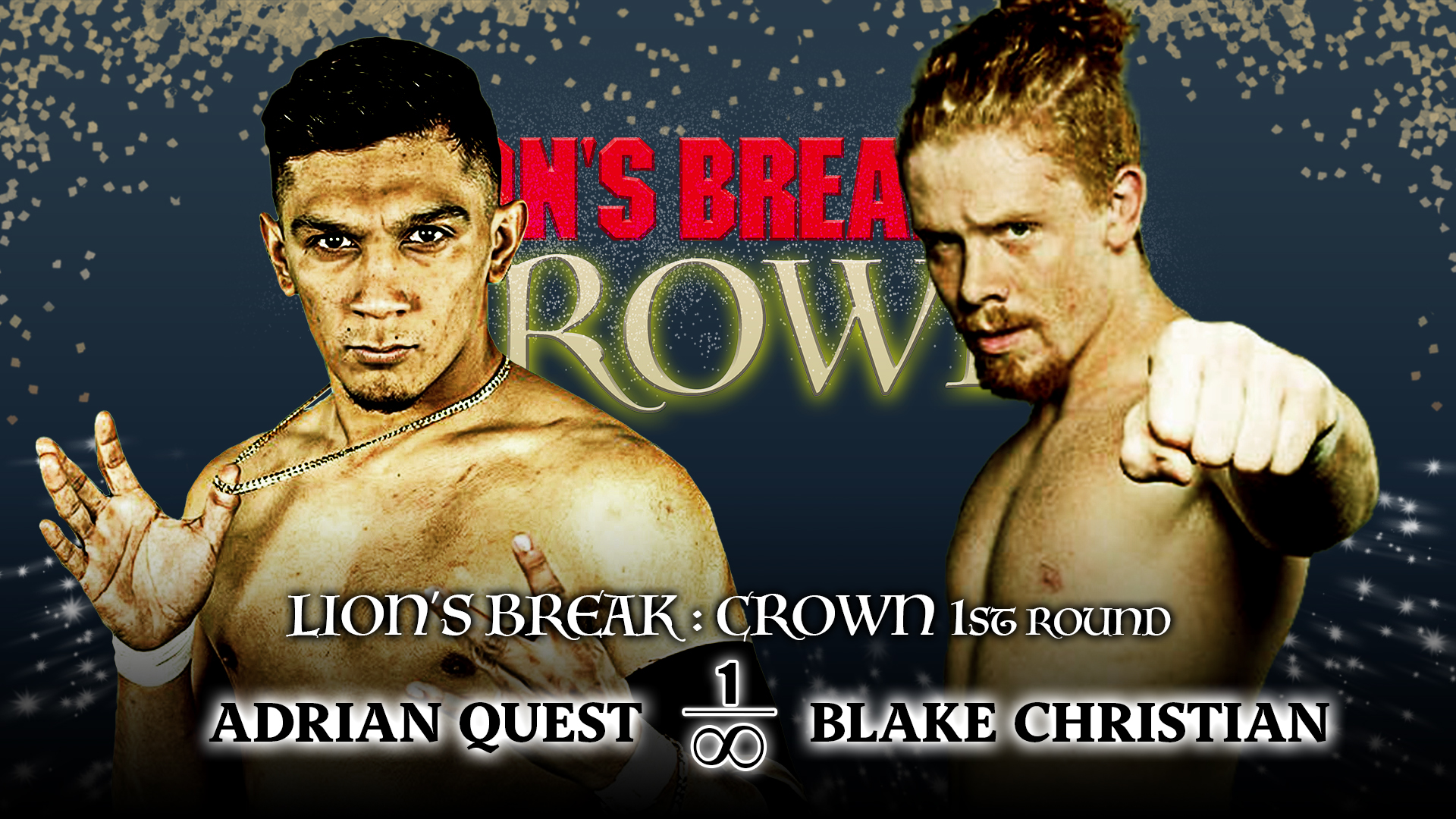 Episode 8 of NJPW Strong brings us the first round of Lion's Break: Crown. A breakout tournament, for the lack of better description. Who advances?
Now I'm still very much of the same mindset I had last week. There is an obvious gap between skill and quality almost cutting the field perfectly in half. I suppose we'll get to see how match ups effect second round advancement, and if there's any surprising upsets.
Clark Connors has to be the assumed favorite, but with the fact they've been trying to build a story around Danny Limelight, I won't be surprised if Limelight upsets Connors in the Finals.
Let's see if my prediction is ruined immediately!
Ratings:
The DKC vs Logan Riegel: Riegel wins via Roll-Up – ** 1/2 
Clark Connors vs Jordan Clearwater: Clark wins via Boston Crab – ***
Barrett Brown vs Danny Limelight: Limelight wins via Triangle Tornado DDT – *** 1/4
Blake Christian vs Adrian Quest: Christian wins via Elia – *** 1/2
Results: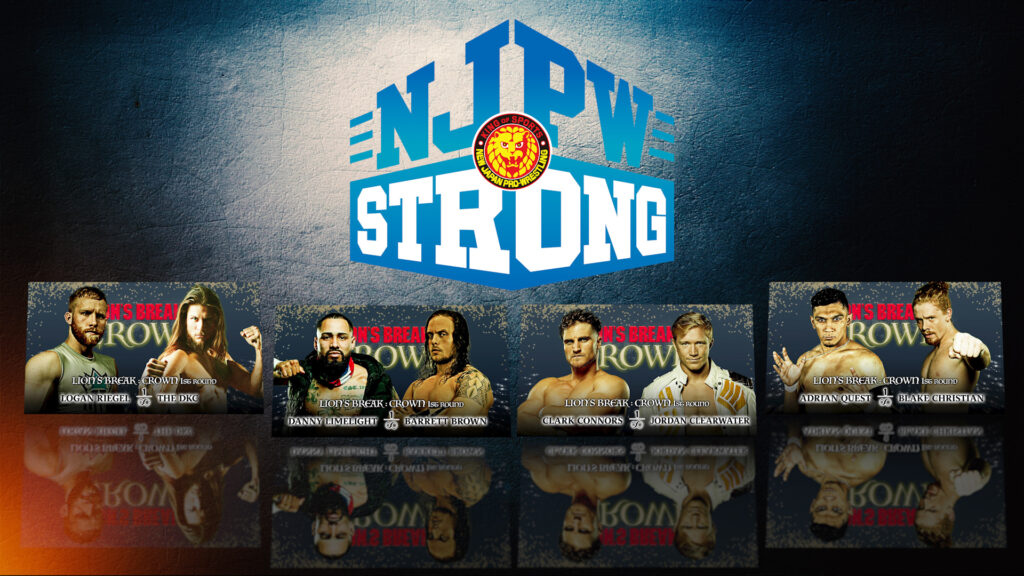 The DKC vs Logan Riegel
Ugh, I think we know how much I hate DKC and this doesn't do much to change my perspective on him. Riegel tries to go hold for hold, but apparently DKC is proficient in grappling or something. I guess between yelling and trying not to swallow his own tongue, he learned a joint lock or two.
At least he focused on the arm that was banged up last week in the 8 man tag, so for the better portion of the match Reigel was on his heels and with only one arm. Things are looking like a DKC victory, but Riegel gets lucky, sneaks a Roll-Up and manages to steal the victory. A very basic match, with simple psychology, DKC still looks like an idiot in the ring though.
Clark Connors vs Jordan Clearwater
Similar to the first match, we see a slower pace with Clearwater working a Top Wristlock and Armbar variation. Clark gets worked over a lot early on, Clearwater hits a few Leg Drops, and just a lot of offense focused on the neck and upper body area, most likely setting up for his Big Boot finish. When Clark finally gets some space, we get a load of the intensity he's known for. A violent Pounce, a dodge of the Midas Touch, with a rope running Spear followed with the Young Lion special Boston Crab.
It was simple, but it was an improvement on the first since both were more active and much better in the ring.
Barrett Brown vs Danny Limelight
The way the two men worked the match was a little different than we've seen so far on Strong. Brown responded with a cold but wild look in his eyes, and Limelight actually showed off a few spots to validate his arrogant persona. Most of this match was built around Limelight shining, and Brown was relegated to a few burst oriented moves like a well timed Single Leg Drop Kick, Barrel Snap Suplex in the corner and a nice Wheelbarrow Facebuster. But Limelight either kicked out or found answers. The way he dodged a corner attack by walking the middle rope like something Fenix or El Phantasmo would do, and then hitting a Springboard Lariat, was a cool spot.
Brown uses a desperate Uraken, but misses completely, allowing Limelight to rock him and then connect with a triangle style Tornado DDT for the win. Probably the best Limelight match I've seen.
Blake Christian vs Adrian Quest
This was a blistering pace from the onset that rarely slowed down. Starting with Christian throwing Cradle and Roll-Up attempts at Quest; Quest kicked out, only to eat a huge lariat and then a back of the head dropkick with violent intent. Quest wasn't going to take that and roll over, so we see great Junior style action of Frankensteiners and quick strikes.
Christian trips up Quest, plants a hand down and hits a low break dance variation of a bottom rope 619. Christian goes to the top, but Quest interrupts with a Dropkick. At this point commentary starts trying to explain he was hampered by an oblique injury prior to the match, so when Quest focuses on the chest and ribs, Christian sells like he's being murdered (in a good way).
Living up to his all heart moniker, Christian manages to knock down Quest and hit a Springboard Moonsault, but can't make a timely cover since he sells the ribs and crawls to the pin. With all the damage you'd think Quest had this in the bag eventually, but when an opening hits, Christian hits his Reverse Twisting Splash, for the pinfall.
Overall Score: 6.25/10
Now this was a fairly solid episode when it came to wrestling and they even added some of the backstage promos for the winners, so it was a different feel. I still have the ever present issue where this feels more like a UWN Prime Time episode and not New Japan. There was nothing that connected this to NJPW save for the logo on the mat and I suppose Clark Connors (though Karl Fredericks was on the past UWN episode).
So the fact we're going to be getting a banged up Logan Riegel vs Clark Connors, and Danny Limelight vs Blake Christian; I guess we'll see how this goes. They did say next week there will be an 8 man match including KENTA, Jay White and Jeff Cobb; so that also tells me that some of this was filmed a little bit ago.
Again, not a bad episode, I just find myself caring less and less about this since it's further and further away from resembling a real NJPW show.