Andrew's Pro Wrestling NOAH N-1 Victory Results & Match Ratings: Day 5
The penultimate round robin show for the N-1 Victory tournament! Looking like a photo finish going into the last day! Who will take the lead?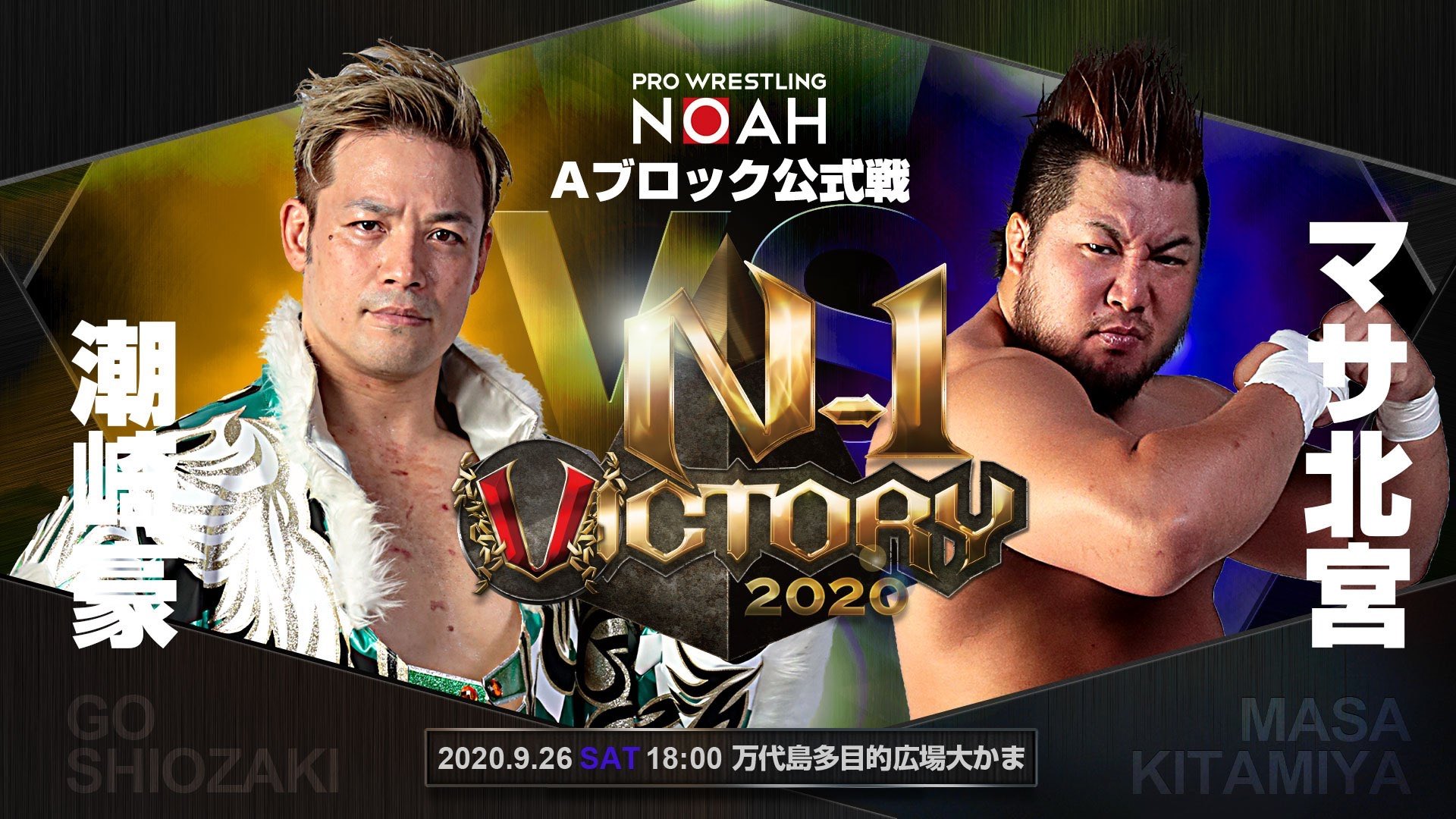 Now yes, this show was broadcast live on 9.26 via Periscope. So it took a few days to release on Wrestle Universe for video on demand, since I…I don't know what a Periscope is. Yes, there's a naval joke, or a Kelsey Grammer joke since Down Periscope is a great movie; but you know what I mean dammit.
The final round robin day is October 4th, so we're still ahead of the next day by a bit.
Let's get to the show!
Ratings:
B Block: Katsuhiko Nakajima vs Yoshiki Inamura: Nakajima wins via Vertical Spike @11:49 – ***
A Block: Masaaki Mochizuki vs Manabu Soya: Mochizuki wins via Triangle Kick @13:25 – *** ¾
B Block: Naomichi Marufuji vs Shuhei Taniguchi: Marufuji wins via True Tiger King @18:12 – *** ¼
A Block: Go Shiozaki vs Masa Kitamiya: Shiozaki wins via Gowan Lariat @20:00 – *** ½
Results:
B Block: Katsuhiko Nakajima vs Yoshiki Inamura
Nakajima offers a handshake, but Inamura slaps it away…and that was really the last move that Inamura got in for about 60% of the match. Nakajima just lit him up like a Three Ninjas Dummy, and it was just a one sided murder, until Nakajima got cocky. Once he started doing his Double Foot Choke pose, Inamura started to fire up and shoved off his feet.
Inamura started absorbing a few strikes, hits a Scoop Slam and begins to build something against Nakajima. Forearms, Slams and a Running Splash give him his first near fall of the match. Nakajima regains his bearings, starts lighting up Inamura again, but then we see a pattern. When Nakajima goes for the Vertical Spike, the crowd rallies around the tiny tank a little and he puts together some offense.
Inamura pulls off his Sumo Bull Rush, Flying Shoulder Tackle, but he's just outclassed again in this match. This match went a little long since Nakajima didn't take Inamura seriously until toward the end. Inamura looks great again in this match, and Nakajima is allowing his character persona to maybe get in the way of finishing decisively. It bit Nakajima with Taniguchi, maybe the same thing happens on the last block day.
A Block: Masaaki Mochizuki vs Manabu Soya
Both men come out with a similar plan, and it's wonderfully back and forth. Mochizuki focuses on Soya's arms since he's a power wrestler, and Soya focuses on Mochi's legs, since he's known for his kicks. The early goings were mirror images of each man getting a few licks in on their target spot, and the other takes a small breather on the outside.
Once they link up in the ring, the targets persist. Soya hits a few Kneebreakers on Mochi, and Mochi lands a numerous kicks and armbreaker attempts on the weakened arms. Soya proves his power and resilience by lifting through the armbreaker and slamming Mochi on a number of occasions. This felt like a fight, where neither man really backed down and found new ways to strike.  Punctuated when Soya literally backed Mochi into the ropes as he was being kicked. Once in the ropes, Soya unleashed a few Double Open Hand Chops before Mochi hit a few more kicks.
Mochi comes off the ropes with a round kick to the head of a kneeling Soya which finally left him stunned; so Mochi runs the corner, hits the Triangle Kick and picks up the win!
B Block: Naomichi Marufuji vs Shuhei Taniguchi
Taniguchi proves the severity of his situation immediately. He drops Marufuji with a stiff strike, since he's literally fighting for his tournament existence. Taniguchi might be out mathematically unless the Kenoh/Sugiura match on the 4th can somehow end in a no contest where neither gets a point. Weirder stuff has happened, so Taniguchi makes it a point for fight for that .0001% chance of still winning the block.
In the first half of this match, Taniguchi drops Marufuji on the apron and wrenches on the neck in different ways so much so; the referee spends more time checking on Marufuji than Marufuji does fighting back. And like that, Marufuji lands a KO-OH to slow down the relentless assault of Taniguchi. But slowdown is all it really did.
Taniguchi keeps pushing forward with Lariats, Captures and Slams. Marufuji keeps throwing knees and kicks to try and get a break, but this isn't working well for Marufuji. Both just keep swinging to the point of exhaustion. Marufuji lands a KO-OH and chop, Taniguchi runs through him. Eventually Taniguchi's gas tank runs out before Marufuji's, so two True Tiger Kings get the job done, and Marufuji limps out victorious.
While not a bad match, I think this one was definitely hurt by the stationary camera and how they did this for Periscope. Came off much slower than most matches involving these two.
A Block: Go Shiozaki vs Masa Kitamiya
This was another slugfest, which I think might've been hampered by the fact the previous match felt so long and slow. Also, this followed a similar formula to Shiozaki's matches this tournament, where he starts off alright until the opponent attacks the arms; then he sells weak chops and firing up through the pain. Which is very effective storytelling, but it didn't work with Kitamiya. Plus Kitamiya never really sold the bad knee that Sakuraba took advantage of, so this was weird.
Shiozaki has been a stud for years, but he's literally held together by tape this tournament. Kitamiya has a few moments, but like I said before, he seemed to have forgotten the knee that cost him a match in less than 3 minutes. All in all it was a solid match, but very run of the mill for Shiozaki.
Overall Score: 7/10
While the show was still solid in terms of match action and setting up the last round robin day to have a ton of point situations, this was easily the weakest day of the tournament. It was probably because of the Periscope set up. I don't mind the stationary camera, since All Japan does that a lot and NOAH's had other stationary camera shows; but a combination of the dark set up, poor ring audio and just seemingly underwhelming matchups made for a weird experience.
Hey though, if a "bad" show is still pretty good by most standards, I suppose Hulk sees that as an absolute win, right? Now let's look at the standings and potential winners.
A Block:
Shiozaki wins: Win over Kaito or Draw with Kaito & loss or Draw by Mochizuki
Mochizuki wins: Win over Soya with Draw between Shiozaki & Kaito, or Kaito victory turns into play-in rematch between Mochi & Kaito.
Kaito wins: Win over Go with loss or Draw by Mochi, or Mochizuki victory turns into play-in rematch between Kaito & Mochi.
B Block: 
Nakajima wins: Win over Marufuji since he holds tiebreaker over Kenoh; or Draw with Marufuji & Draw between Kenoh & Sugiura
Kenoh wins: Win over Sugiura & Loss by Nakajima or Draw between Nakajima & Marufuji
Sugiura wins (no clean path to victory): Win over Kenoh & Win by Marufuji, woudl cause play-in rematch between Marufuji & Sugiura
Marufuji wins (no clean path to victory): Win over Nakajima & loss by Kenoh, would cause play-in rematch between Sugiura & Marufuji
A Block:
Go Shiozaki: (3-1) – 6 Points
Masaaki Mochizuki: (2-1-1) – 5 Points
Kaito Kiyomiya: (2-1-1) – 5 Points
Kazushi Sakuraba: (2-2) – 4 Points (Eliminated)
Manabu Soya: (1-3) – 2 Points (Eliminated)
Masa Kitamiya: (1-3) – 2 Points (Eliminated)
B Block:
Katsuhiko Nakajima: (3-1) – 6 Points
Kenoh: (3-1) – 6 Points
Takashi Sugiura: (2-1-1) – 5 Points
Naomichi Marufuji: (2-1-1) – 5 Points
Shuhei Taniguchi: (1-3) – 2 Points (Eliminated)
Yoshiki Inamura: (0-4) – 0 Points (Eliminated)