Andrew's Stardom 5Star GP Red Stars Results & Match Ratings: Day 6
Red Stars looking to close some of the point gaps since our Jumbo Princess doesn't have a round robin match today. Who will take the Red Block?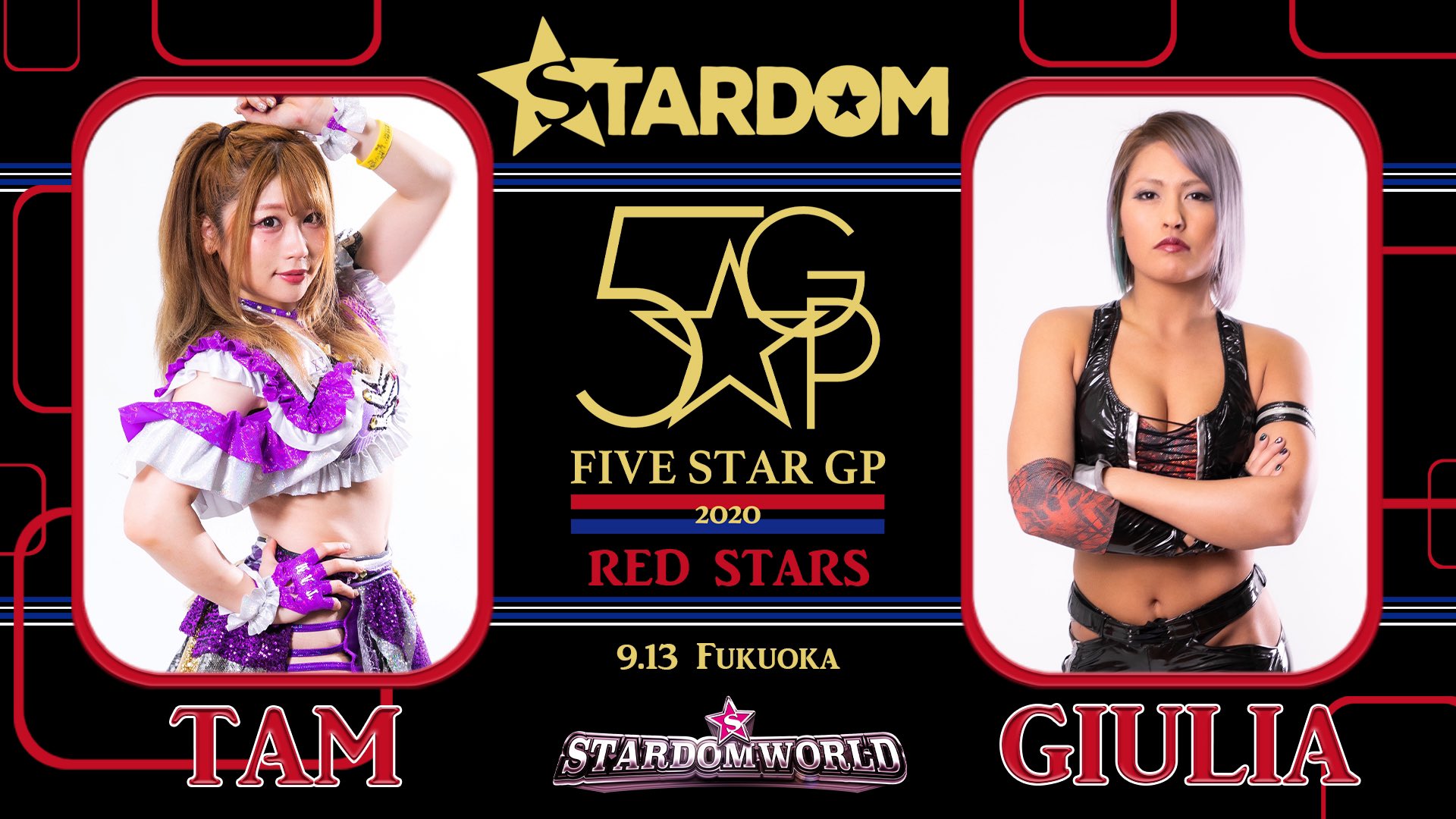 This article gets us caught up nicely before the 9/19 Final Day! Himeka only has one tournament match left, and that's on the Final Day, so she gets to sit back in pole position and see if anyone can challenge the Jumbo Princess.
Luckily for the next closest points earners, Tam, Giulia, Mayu and Konami have the ability to make this block do or die on the last day. Since Red Stars has been a tug of war since Himeka's streak was broken; don't forget to catch up on Blue Stars, if you haven't been.
Let's see what our home stretch will look like!
Ratings:
Konami vs Death-Yama: Death wins via Roll-Up @5:36 – **
Mayu Iwatani vs Saya Kamitani: Mayu wins via Two Stage Dragon Sleeper @10:35 – ***
Tam Nakano vs Giulia: Tam wins via Tiger Suplex Hold @10:24 – ****
Results:
Konami vs Death-Yama
Well we're in a pivotal spot with Konami. Her final round robin match is against Himeka, most likely a battle for the block. Sitting at 8 points, if Konami can win this, she really holds her destiny in her hands. Death however, is forever looking to play spoiler with her oddball antics and flash roll-ups.
Early on Konami tried to play into the Death gimmick, but almost got rolled up immediately. From there forward, Konami slows the pace down to gruelingly slow…which concerned me. Since if Konami is in charge too long, she might get cocky, and that's when Death takes advantage of a situation.
Exactly that happened, with Death managing to worm her way out of a Triangle Lancer attempt and turn it into a Stack Roll-Up for a surprising three count. In a match that was rather slow, the referee did help to add a layer of humor when he told Death to go for her corner charges again, and responded in Death speak to her arguing over an earlier pinfall attempt.
Mayu Iwatani vs Saya Kamitani
Mayu still being mathematically in the mix, means this is a do or die match. Saya had her hopes dashed when Death hit her with the upset Roll-Up, so now it's Saya's turn to try and play spoiler.
In what turned out to be a physical back and forth, there's one spot that sticks out to me as nonsensical. Mayu has Saya in the ropes, and proceeds to do sort of Machine Gun Chops on the small of Saya's back. Mayu sells her hand hurting (she's hitting bone duh), switches hands, and then just runs the ropes to Dropkick Saya in the small of the back. But why? I'm not sure if that's just Mayu being quirky and dorky, so she kinda forgot there's a bone or if it was an implication of something a little more cheeky.
Yes, that spot distracted me through most of the match because I was just asking myself why it was included in the match. Mayu did focus a lot of her offense on legs and small of her back, which worked well since Saya actually sold the worked over body parts. Plus unless I missed it, Saya never did that Water Wheel Kick that I hate, so that's a positive.
All in all the match was pretty solid, just me being perplexed by an inane spot left me …not overwhelmed, not underwhelmed…I guess a person really can just be whelmed.
Now on https://t.co/q8dHnF58vW! Mayu Iwatani vs Saya Kamitani in the 5★STAR GP 2020, from 9.13 in Fukuoka! pic.twitter.com/51yESiyNe3

— We Are Stardom (@we_are_stardom) September 17, 2020
Tam Nakano vs Giulia
Tam is far too adorable to be convincingly menacing in promos, so even though she's trying to make a statement, being the cutest in the cosmos, she can't help but smile. Giulia of course does her usual too cool for school thing…blah.
Even if Tam can't cut a pre-match promo without the giggles, boy does she know how to wrestle with hatred. The strikes between these two were great, the fact that when one had the upper hand, the smiled with dubious delight. It was a great match that helped you feel the level of their disdain.
Giulia hit a gorgeous flying Octopus hold which Tam fought to the ropes, but Giulia transitioned to a Sunset Flip leaving our number 1 idol in the universe on the backfoot for a while. It wasn't until Tam slipped a Glorious Driver into a Dragon Sleeper, broke the hold and then cold cocked Giulia with a Spinning Crane Kick that looked on point. Tam hits a German Suplex, a regular Tiger Suplex, holds on, to hit one more Tiger Suplex with the bridge. Tam picks up the win, eliminating Giulia from 5Star contention and solidifying her bid at the White Belt next month.
It's Tam Nakano vs Giulia! It's the 5★STAR GP 2020 from 9.13 in Fukuoka, and it's on https://t.co/q8dHnF58vW now! pic.twitter.com/zFyt1iZKeJ

— We Are Stardom (@we_are_stardom) September 17, 2020
Overall: 7.5/10
Even with only 3 matches, this was a really solid show day. Death with the upset brings the block within reach for 4 of the women still. Tam evening up the singles record between Giulia makes for a compelling next few weeks before the Wonder of Stardom title match. Then lastly, Saya got some good ring experience with the Icon of Stardom, and didn't look TOO green while doing it. I just really enjoyed this day.
All in all, we're sliding into a very eventful final day. Mayu, Konami, Tam and Himeka still have avenues to making it to the Grand Finals. Let's see how!
Who Can Win:
Mayu Iwatami: needs to win vs Tam on 9/19, Konami & Himeka need to Draw, Mayu has 10 point tie breaker over Himeka
Tam Nakano:  needs to win vs Mayu, Konami win vs Himeka, Tam has 10 point tie breaker over Konami
Konami: need to win vs Himeka, Mayu win vs Tam, Konami has 10 point tie breaker over Mayu
Himeka: needs to win vs Konami, 11 points would be a clean win, or; Tam wins vs Mayu and Himeka draws with Konami, Himeka has 10 point tie breaker over Tam
Eliminated: Saya Kamitani, Death-Yama, Giulia, Starlight Kid