Cook: NXT Is No Country For Young Men
Cook explores the current complaint…but puts things into perspective. NXT is filled with more veteran experience than one would think. How do you feel about the new old champ?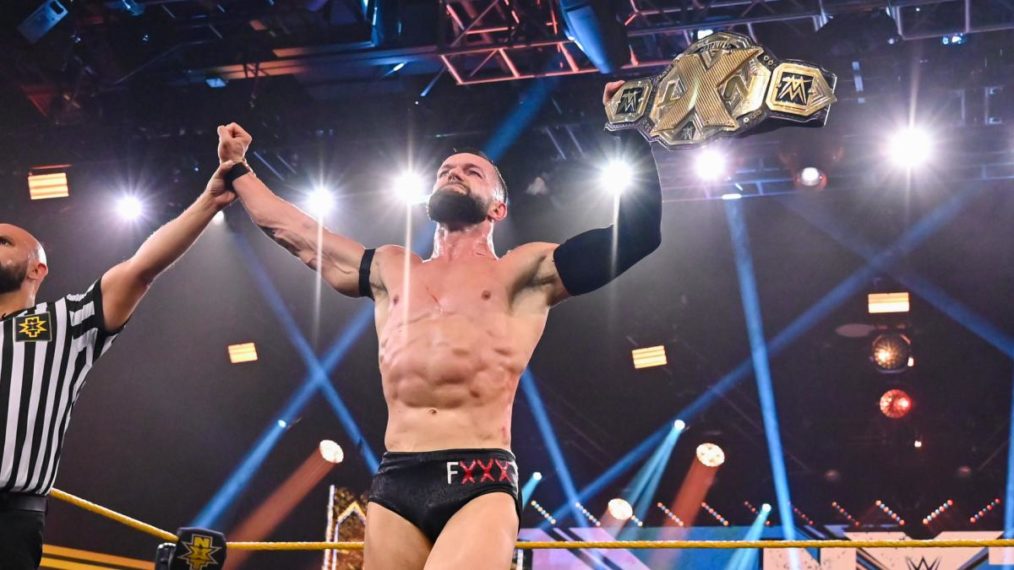 After a brief delay of one week, Finn Balor became the new NXT Champion by defeating Adam Cole. He's not the first man to hold the NXT Championship twice, but he is the first man to win the NXT Championship, leave for Raw & SmackDown, come back and win the NXT Championship again, five years after his first run as champion.
Finn's been wrestling since 2000, and is currently 39 years old. Some of you have noticed a trend surrounding our current NXT Champions.
NXT Tag Team Champions: Fandango (37, wrestling since 1999) & Tyler Breeze (32, wrestling since 2007)
NXT North American Champion: Damian Priest (38, wrestling since 2004)
NXT Women's Champion: Io Shirai (30, wrestling since 2007)
Our least experienced and youngest NXT Champions are in their fourteenth year of wrestling. That's, like, ten more years than The Rock wrestled. We have a man that trained under Killer Kowalski, another that trained at The Monster Factory, and another that trained under Lance Storm, who, if you listen to him talk or read his tweets, seems like he's older than Kowalski & Larry Sharpe. Two people with NXT gold right now were wrestling when World Championship Wrestling was the World Wrestling Federation's main competitor.
If you think that NXT is supposed to be a developmental brand that's providing WWE with its next top stars, all of this probably sets alarm bells off in your head. You'd think that WWE would be developing younger stars to carry Raw & SmackDown into the next generation, right?
This is where we have to face reality.
Frankly, as somebody that grew up on Ohio Valley Wrestling and is a fan of watching developmental promotions to see good young talent work their way up the ranks, it took me some time to accept it too. But the fact of the matter is that NXT isn't a developmental territory for young wrestlers. Certainly not for new wrestlers.
It's been a thing for awhile. Check out our five most recent champions before Finn, who with the exception of Keith Lee are all still with NXT:
Killer Kross (35, wrestling since 2006)
Keith Lee (35, wrestling since 2005)
Adam Cole (31, wrestling since 2008)
Johnny Gargano (33, wrestling since 2005)
Tommaso Ciampa (35, wrestling since 2005)
Cole only being 31 stuns me, by the way. His CZW run feels like it took place twenty years ago, which is part of why I originally scoffed at the idea of his being a "young Shawn Michaels". Now I'm more willing to buy it, especially since Shawn is right there to teach him exactly how to be like the Heartbreak Kid. Some like that, some don't, but I think it's what we're going to be seeing.
NXT Champions being "older" is nothing new either. Samoa Joe. Shinsuke Nakamura. Bobby Roode. All men who had been on our radars for decades before popping up in NXT. Always kind of seemed weird to me that these guys would be taking classes while younger men would be on the road.
Now, don't get me wrong. All of these guys still have things to learn. Everybody does…if you ever stop learning, you're not going to evolve & you'll be unable to adapt to what comes next. But to call them "next"…honestly, you'd have to call these guys the "present", wouldn't you? I mean, I know we see guys wrestling for longer and longer these days, but all of these people are in or around their physical prime.
NXT doesn't exist to be a "developmental" fed. It's WWE's third brand, built to appeal to the types of folks that read columns like this one. As for why it does so well with the older demographic…well, a lot of us are getting old.
Here's some food for thought.
While WWE's third brand may be full of more experienced hands, a youngster has emerged on Raw that seems to be taking the world by storm. It's tough to tell in these days without actual audiences, but I imagine that Raw live crowds would be going crazy for Dominik Mysterio caning the heck out of everybody in his path. Dude is 23 years old, having the first matches of his career and doing a darn good job out there.
He might never set foot in an NXT ring. Which he probably shouldn't, to be honest. It does kind of make you wonder, doesn't it? Do NXT wrestlers & folks constantly training at the Performance Center get jealous of Dominick for his recent success? I imagine I would in their position. Maybe they don't.
Age is a funny thing though, and sometimes you get fooled trying to judge everybody based off of it. And sometimes it just makes you scratch your head. Dominik's father, Rey? 45 years old. Only six years older than Finn Balor, even though we've been watching him on our TV screens so much longer than that.
Some people are ageless. Some people age super quickly. Our favorite NXT Champions better hope they're the former instead of the latter.