Cook: Parking Lot Fights are Normal
With signs of normalcy returning slowly creeping in; Cook explores the recent AEW Parking Lot Fight!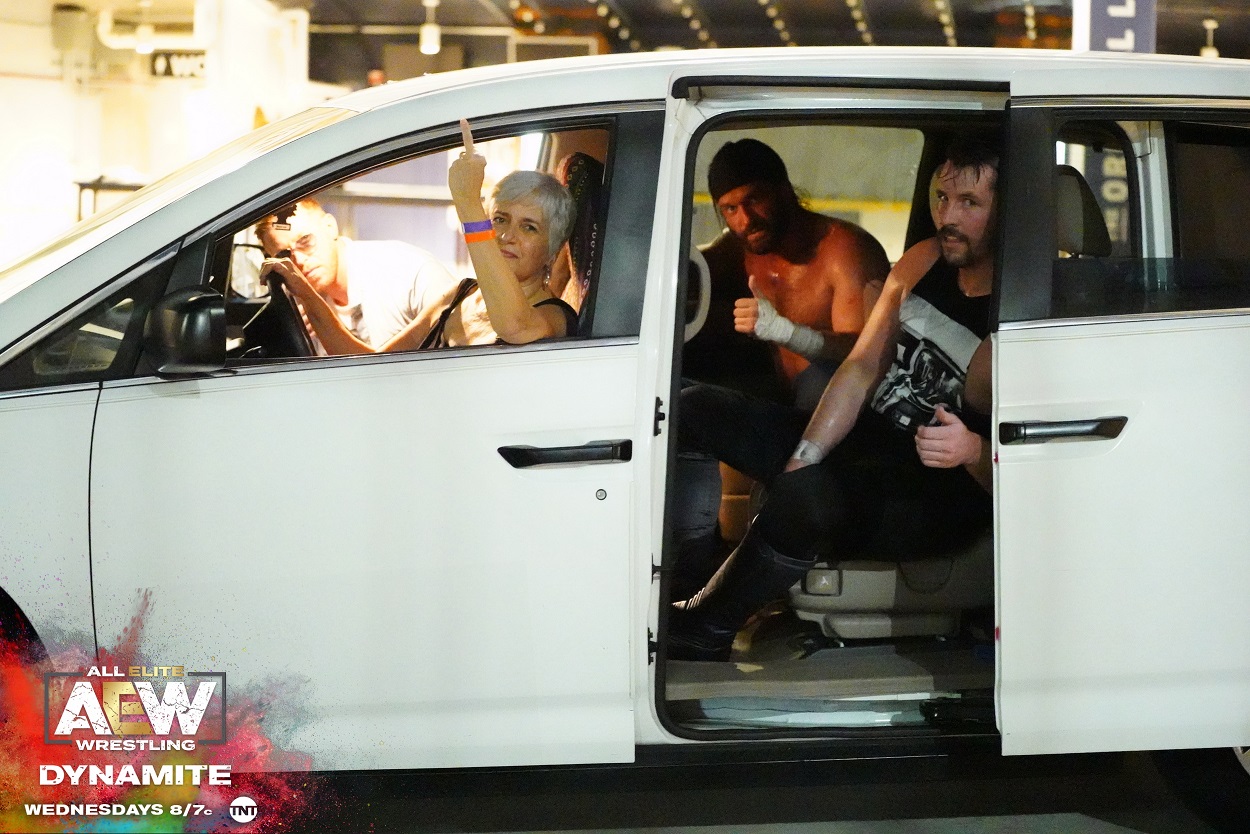 Things are not back to normal.
They're just not. It's fair to wonder if they ever will be. The world keeps slipping off its axis and towards a never-ending hellscape that hopefully we haven't just scratched the surface of. That being said, I haven't been given many signs for optimism lately. Only two things make me feel like we're approaching normalcy.
One is the return of football.
There was something about watching grown men run around in helmets & uniforms while trying to get into the end zone this past weekend that just felt right. Football has caused a lot of stress in my life due to my unfortunate choice of teams to support, but it was still several hours of Zen to see the NFL playing games on Sunday. The Bengals choking in the fourth quarter just made it more Zen-like, to be honest. Things felt normal, which isn't something I can say for most of 2020.
Now, we just hope that the virus doesn't take hold of the league. The Bengals & Browns all tested negative prior to Thursday night, and if any teams would be expected to all catch the virus, it's probably those two teams. So I think that's a good sign, at least for this week.
Of course, I'm a bit biased because fantasy football is another of my means of income. (I have too many that add up to not enough) I don't have much hope for NFL or college football going forward, but at least the NFL seems to have safer measures than America in general, so the season might end up playing out. I might be way too optimistic in saying that, but I also feel like the NFL has much better safety measures in place than the US Government. I mean, who wouldn't, right?
The other: pro wrestling.
This past week has given me so much Zen. First of all, Ring of Honor television went back to new wrestling. As I said in my 411 review, I had mixed emotions because I couldn't use Larry Csonka star ratings anymore. But it was great to see new matches, one featuring Jonathan Gresham against a youngster and the other with Jay Lethal & Dalton Castle. The very first new match featuring Jay & Dalton, two former Ring of Honor Champions, was the perfect way to come back.
Especially considering it was part of a tournament to crown a new Pure Champion, one of my favorite secondary titles of all time. Mostly because Nigel McGuinness's Pure Title matches were a highlight of any show he was on. That man made the gimmick work. The three rope breaks, the 20-count outside the ring, Nigel milked all that for all he was worth, and made the division work. Hopefully whoever wins the tournament has studied up and can do similar things. I feel like Jonathan Gresham thinks he was built for that role, so if he wins I'm expecting great things afterward. He better out-do Nigel, which is a high standard.
ROH featured pure wrestling, which I love. I also love feds taking it to the extreme, which we saw this week on AEW Dynamite. The Best Friends vs. Santana & Ortiz feud had such a simple build. Santana & Ortiz made fun of Trent's mother. That made it personal. Trent & Chuck Taylor had to get revenge, and they got it in a parking lot fight.
The natural thing is to compare this parking lot fight to Eddie Guerrero vs. John Cena in 2003, which I think most people of my age would compare it to. Obviously, since Eddie vs. Cena was freaking awesome. Those boys tore it up, and made themselves stars in the process. Eddie won the feud, but Cena lost absolutely nothing. Nobody thought lesser of John Cena after he lost a parking lot brawl to Eddie Guerrero. It made sense.
The comparisons continue with the fact that the good guys had an extra man help them out. Chavo Guerrero made his big return in Eddie's fight with Cena. It made sense. We didn't question it, or the idea that Chavo would help Uncle Eddie out in a brawl. Logical.
The idea of Orange Cassidy hiding in a trunk with a chain wrapped around his fist? Logical. Chucky T is a fellow Kentuckian, and I can speak from experience that we have a friend hide in a trunk with a fist wrapped in chain. Just in case. You never know when that might come in handy. Especially when you're booked for a parking lot fight! It's just common sense.
So Orange unleashed that Orange Punch with a chain. Then Chuck short piledrived Santana on a car, and Trent put Ortiz through a freaking board on the flatbed on a truck, and that was obviously it. Best Friends won the feud with Santana & Ortiz, then Trent's mom drove them off, while extending the middle finger towards Santana & Ortiz.
YOU GOT TO GIVE THE PEOPLE WHAT THEY WANT
That was exactly what the people wanted to see. AEW fans wanted to see Best Friends kick Santana & Ortiz's asses, and Trent's mom driving them off was an unexpected bonus that everybody loved. We saw a big match where the good guys won, and we're all happy about it.
Meanwhile…
You woke something up in us.

Now EVERYONE has to pay the price…#WeAreComingForOURS pic.twitter.com/PGLsP5pT91

— Santana / Proud & Powerful🇵🇷 (@Santana_Proud) September 17, 2020
This is perfect. Santana admits he lost the feud, but he also says that now he & Ortiz have been woken up. They know they have to come back stronger in their future endeavors. I have no doubt that they will. Now that Proud & Powerful have been humbled by Best Friends, they will come back more proud and powerful than they were before.
This is an idea that has been lost by wrestling promoters for a long time now. WWE has always wanted to keep heels strong. Its a thing that has hampered feuds for a long time now. Seth Rollins has to beat Rey Mysterio's kid because he's the heel and needs to be kept strong.
That's bullshit.
You give the heel a loss or two, and that makes them stronger. WWE has been way too keen to feed heels wins, which makes their fans not believe in their babyfaces. BUT YOU GOTTA KEEP THE HEELS STRONG is what WWE fans will tell me. You really don't. You just need to kick their asses enough where they will realize they need to be more evil.
That's why the Best Friends vs. Santana & Ortiz feud was perfect.
Best Friends have quietly been the best team in AEW for awhile now regardless of whether they had the titles or not. They deserve this type of win in a blood feud to make them seem more real, and the top contenders to FTR. Santana & Ortiz made some yo momma jokes, and they got their asses kicked, as they should.
See, if this was a WWE feud, Santana & Ortiz would have won the feud-ender, because you have to keep the heels strong! They would assume that the fans would still get behind Chuck Taylor & Trent, and if they didn't, they wouldn't give a rat's ass. Always more people in that Performance Center.
WWE always wants the heels to win, because Triple H was raised on the 4 Horsemen always winning in the televised matches he saw. We saw this in his silly 2003 NWA Ric Flair/Harley Race booking, He doesn't understand how heels can get more over by losing in blood feuds. Santana understands it. He knows that if he & Ortiz come back even stronger than before, the fans will excuse that loss, especially considering how insane that match was. That could be the loss that shapes Santana & Ortiz into the next AEW Tag Team Champions. They just need to come back nastier than they were before, which seems possible to me.
We know Best Friends should get the next shot at FTR, I would assume the AEW Ratings Committee would put them in that #1 contender slot. While that's going on, Santana & Ortiz will work their way back up the ranks. Once they get back on top of those ranks, people won't think less of them for losing a parking lot fight. That was just part of the process.
THAT'S WHY HEELS SHOULDN'T ALWAYS WIN. THEY CAN ALWAYS REBOUND. FACES CAN'T. IF YOU JOB THEM TOO MUCH FANS WILL LOSE FAITH.
Fans will not lose faith in a tag team that dons Dead Presidents facepaint in certain situations. I think all AEW fans realize that Santana & Ortiz are bad mammajammas, along with being part of the Inner Circle. Losing a fight just makes them more dangerous later on. Having the faces actually win a fight against them gave fans a feel-good moment. Is there anything wrong with that?
There are some feds that just want heels to win, and it's exhausting to watch them. "Let's set up Tim Thatcher, the best wrestler in our fed, just to lose to Damian Priest, and the fans will love it!" Obviously the 50+ fans dug it, but nobody else did. I saw my man Brad Garoon try to put it over just like he put over certain booking back in the day, but we all know it was nonsense. I wish these feds Brad marked for actually paid him.
The point I'm getting to is that football & wrestling are trying to return us to normal. It's not easy, but I can get there when certain people are doing things.