Cook: Remembering Road Warrior Animal
With the passing of Road Warrior Animal, Steve Cook shares some of his thoughts.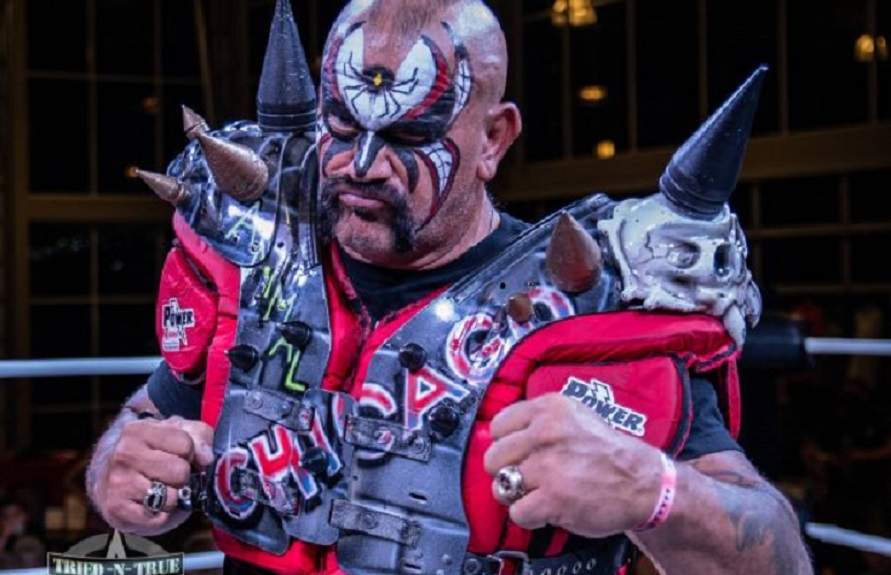 When you think of Road Warrior Animal, you can't help but think of the people he surrounded himself with.
Of course, you think of Animal's longtime tag team partner, Road Warrior Hawk. Animal & Hawk were a force unlike any to hit tag team wrestling before or since. There were tons of imitators, and a couple of them went on to successful careers of their own, but nobody has been able to duplicate the Road Warriors.
You think of Paul Ellering. Hawk & Animal's longtime manager had a wrestling career of his own, but when the injuries started to mount up he focused his attention on managing Animal, Hawk & the rest of the Legion of Doom. Yes, there were other members of the LOD back in the day. Jake Roberts, King Kong Bundy. Arn Anderson, Matt Bourne, and even the original & Iron Sheiks. "Precious" Paul quickly realized that he only really needed Hawk & Animal in order to be a power player in pro wrestling.
You think of the legendary tag teams that Animal & Hawk feuded with, and the big time matches they had. The Night of the Skywalkers with the Midnight Express & Jim Cornette. The Russian Chain matches with Ivan & Nikita Koloff. War Games, where LOD teamed up with Dusty Rhodes & Nikita to take on the Four Horsemen. Big matches with big personalities.
You think of the other wrestlers that got their start bouncing at Grandma B's. Along with Hawk, you also had Rick Rude & Barry Darsow. You didn't want to start any trouble in that bar! Eddie Sharkey trained them, and others like the Warlord, Nikita Koloff, John Nord & Mike Enos that would follow in their footsteps.
You think of his family. Animal had two brothers that also entered wrestling, one of which we know well as Big Johnny Laurinaitis, a power player in Japan for years before making his way back home and becoming a prominent backstage figure in WWE. Animal's son James was a 3-time All-American at Ohio State and was a linebacker for eight seasons in the National Football League.
You even think of his fans, who were louder & prouder than everybody during most of Hawk & Animal's run.
Even when Hawk wasn't around, Animal was still doing the group thing. WCW's dying days saw Animal join the Magnificent Seven. Ric Flair led a group consisting of Jeff Jarrett, the Steiners, Lex Luger & Buff Bagwell. Animal was the enforcer, making sure that things went as planned. Then, when Animal returned to WWE after Hawk's passing, he teamed with Heidenreich to win the tag team championship in tribute of Hawk.
There was only one time that Animal focused on himself. It was after Heidenreich got fired and a team with Matt Hardy didn't find the success that the Hardy Boyz or Legion of Doom would have. Animal declared that no partner he could find would be able to live up to Hawk, so it was time to go it alone. He spent the last couple of months that WWE stint as The Road Warrior.
He didn't even wear face paint! It just wasn't natural to see Animal by himself. He knew that.
Animal never needed the spotlight to himself.
That's the main thing that comes to mind for me as an outside observer when I think of Road Warrior Animal, who passed away this week at the age of sixty. He was happy to be part of the show, but he was more interested in raising others up to his level than trying to take all of the glory for himself. Look at all the lives he touched along the way, and I know there's a ton that I left out here. Darren Drozdov as a third member of the team in the late 1990s, for one.
It's kind of ironic when you think about it. The Road Warriors got over by chewing people up & spitting them out. You wouldn't think of Animal being such a selfless guy if you watch a lot of their matches. But that's what he was. He was willing to whatever he could for the business, whether it was trying to keep Hawk on track, or put other people once he got to his level. Animal knew his role, and played it as well as anybody.
He was very proud of his accomplishments in later years, but who could blame him? If we were one-half of one of the greatest & most popular tag teams of all time, we'd probably be proud of ourselves too. And of our peers as well.
I guess you could say Animal got a rush out of it all.