Cook's Top 5: 2009 Wrestling Memories
Steve Cook's journey through time stops in 2009 for Mickey Rourke feuding with Chris Jericho, Shawn Michaels vs. The Undertaker, and the joy of Bryan Danielson.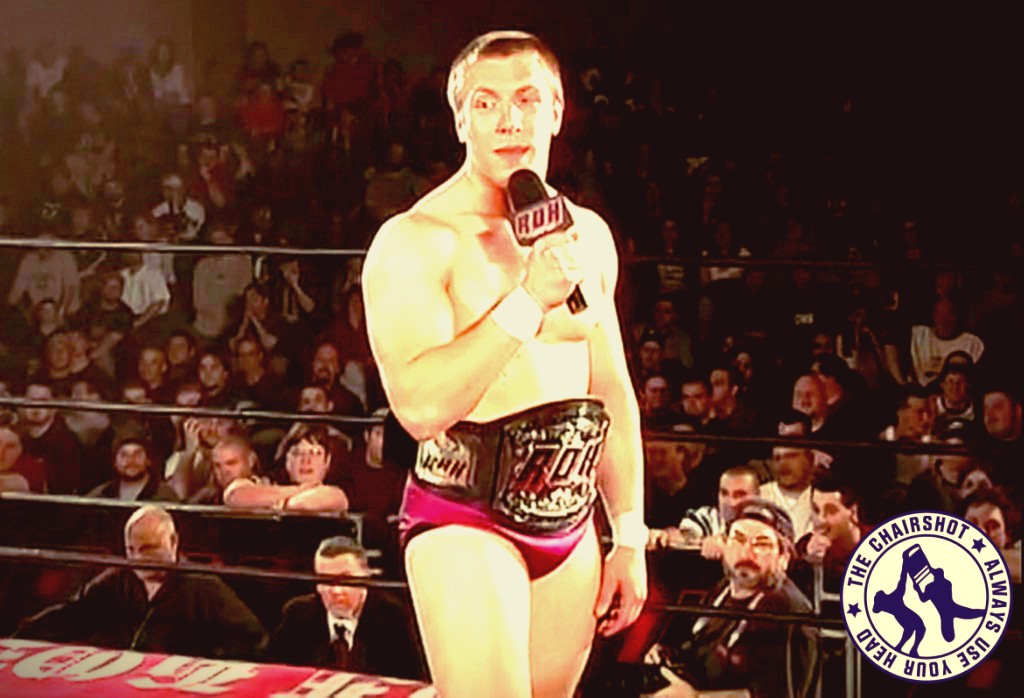 Steve Cook's journey through time stops in 2009 for Mickey Rourke feuding with Chris Jericho, Shawn Michaels vs. The Undertaker, and the joy of Bryan Danielson.
We saw last week how the wrestling world rebounded in 2008, and the Era of Feeling Better continued in 2009. WWE was producing some high end stuff on their biggest shows. TNA was making an impact with some high profile additions. Ring of Honor said goodbye to one of their legends, and I said hello to regular writing again.
2009 was an eventful year. Let's continue my look at thirty glorious years of wrestling by ranking the most memorable moments of 2009.
5. Return to News From Cook's Corner
I needed some time off from writing. That happens every few years, it doesn't seem to be anything I have control over. My 411 work was limited during 2008 & a good chunk of 2009 to a few months of Ask 411 Wrestling, random news fill-ins & some show recaps here & there. 2008 featured my epic run of Hulk Hogan's Celebrity Championship Wrestling recaps, which is a show I wish somebody would air on their channel here in 2020. I had such a thing for Trishelle Cannatella, and last I saw she's aged pretty well. Ah, memories.
Finally, I was feeling froggy enough to bring back the News From Cook's Corner! The return column actually holds up, and as I'm looking back now, I'd have to say that three year run from August 2009 to August 2012 was my peak as a writer.
Don't get me wrong, I think overall I'm a lot better now. I'm working harder on my writing now than I ever have, doing a more expansive variety of things. And I have to try and phrase this delicately, because I really do appreciate everybody that reads my work, especially this spectacularly self-indulgent series of columns. There aren't as many of you as there used to be. I'm doing more work and getting less of a response than I ever have. I'm not really sure what happened to cause all that. Perhaps I'll figure it out as this series continues.
4. Countdown to Lockdown
To be honest, I've lost track of how many autobiographies Mick Foley has written at this point. Dude has written a lot. One that kind of flew under the radar of most fans was a memoir about his feud with Sting in TNA, Countdown to Lockdown. It was an interesting tale about that feud along with Foley's final days with WWE, his special relationship with Tori Amos among other things happening around this time.
This was a weird in-ring run for Foley. He was serving as TNA's executive shareholder & co-owner alongside Jeff Jarrett, and using that power to put himself in bigtime matches years after WWE decided that wasn't a great idea. Foley realized his physical limitations, so after beating Sting for the TNA Championship at Lockdown, he announced that he would only defend the title once a year. Unfortunately for him, he decided to do it a mere two months later, and lost to Kurt Angle in a King of the Mountain match. Foley would engage in other matches the next couple of years, most of which we're better off not remembering.
All things considered, that Lockdown match wasn't nearly as bad as I was expecting. Larry & I reviewed it some time ago because Lockdown 2009 was up for free on YouTube, I'd recommend checking to see if it's still there.
3. The Wrestler Inspires…Wrestling
Technically, The Wrestler came out in the final weeks of 2008, but it didn't become available for most of our consumption until early 2009. I remember going up to a small theater in the shadow of the University of Cincinnati to see it, and I was impressed with the tale told by Mickey Rourke, Marissa Tomei, Necro Butcher and the rest of a strong cast. Wrestling promotions were impressed with it too, and attempted to use the new interest movie fans had in wrestling to their advantage.
WWE had Rourke appear at WrestleMania to help blow off a storyline where Chris Jericho was mad at WWE Legends for overstaying their welcome in the business & making fools of themselves, like Randy "The Ram" Robinson had in the movie. Jericho defeated Ricky Steamboat, Roddy Piper & Jimmy Snuka in a handicap match, but was felled by a punch by Mickey Rourke. Hey, it's wrestling, that kinda thing happens.
Ring of Honor played a role in the production of the actual movie, serving as the backdrop for Robinson's final match. They also found some creative inspiration from the movie, leading to Jerry Lynn dethroning Nigel McGuinness as ROH Champion. It was a short reign for the 46 year old, only lasting from April until June, but it did serve as a bit of a turnoff for me as a fan. Although, his match with Roderick Strong in Dayton was pretty good, and it was hard to deny the cosmetic similarity between Lynn & Randy the Ram. It was worth a shot for ROH.
2. Undertaker vs. Shawn Michaels at WrestleMania XXV
If you ask many people my age & older what their favorite WrestleMania match is, they'll likely tell you "Savage vs. Steamboat". That WrestleMania III match shaped so many young kids into future wrestlers, and still holds up today. It's certainly near the top of my list, though I have Bret vs. Austin from 13 and Savage vs. Warrior from VII higher because those stories hit home more for me.
If you ask today's generation what their favorite WrestleMania match is, I would wager that most would say "Undertaker vs. Michaels". Then if you ask them which one, they will probably tell you "the first one". I like the second one better, as it completes the story and Undertaker doesn't nearly die on a dive during it.
However, that near death experience for a Dead Man certainly added to the XXV match. HBK's all white Undertakeresque entrance attire, with him descending from the heavens while Undertaker rose from the pits of hell made for possibly the greatest entrance of all time. It was quite the spectacle, holds up today, and I think it serves as a blueprint for a lot of what WWE does in big matches now.
Unlike the Flair match the year prior, I got the hype for this one. Not my favorite of all time, but I won't knock you if it's yours.
1. The Final Countdown Tour
Like most wrestling fans, the vast majority of my favorite wrestlers come from my youth. I grew up on the likes of the Macho Man, the Million Dollar Man, Jake the Snake and others from that early 1990s WWF period. It's not that today's wrestlers are worse than yesterday's, in many cases they aren't. I just feel more of a connection to these men of my youth than today's wrestler, many of which I'm older than by now. (Another big part of it. Its tougher to form a connection younger folks doing things you could never do than older ones that you wouldn't mind growing up to be like.)
Bryan Danielson was the exception to that rule for me in his Ring of Honor days, and still is today. He isn't that much older than me, but I look up to him for his incredible in-ring ability, his knack for connecting with crowds, and the great person he appears to be outside the profession. If you didn't become a Bryan fan at some point during his career, I'm really not sure what you're a fan of when it comes to wrestling. Different strokes, but I just can't see what isn't to like about Bryan.
Danielson's closing days with Ring of Honor included a stop in Dayton, where he put over Chris Hero as part of his Final Countdown tour. Dayton was a place where Bryan would typically face somebody working their way up the card. We mentioned Tyler Black last week, he also had a match with Erick Stevens that was intended to serve a similar purpose. Bryan did business the right way on his way out, losing to the guys who would have to pick up the slack when he was gone. We wouldn't have expected anything less. Maybe some would have preferred a different opponent, but ROH knew who they wanted in those slots. Hero would be one of those staples for the promotion for the next number of years. Meanwhile, we watched Bryan rise up the ranks in WWE and fondly remembered seeing him at the county fairgrounds back in the day.
That's what the joy of wrestling is all about.