Mathew's AJPW Champion Carnival Results & Review: Day 2
Day 2 of All Japan's Champion Carnival! After today, all participants will have an official match! Does anyone start to pull away in the blocks?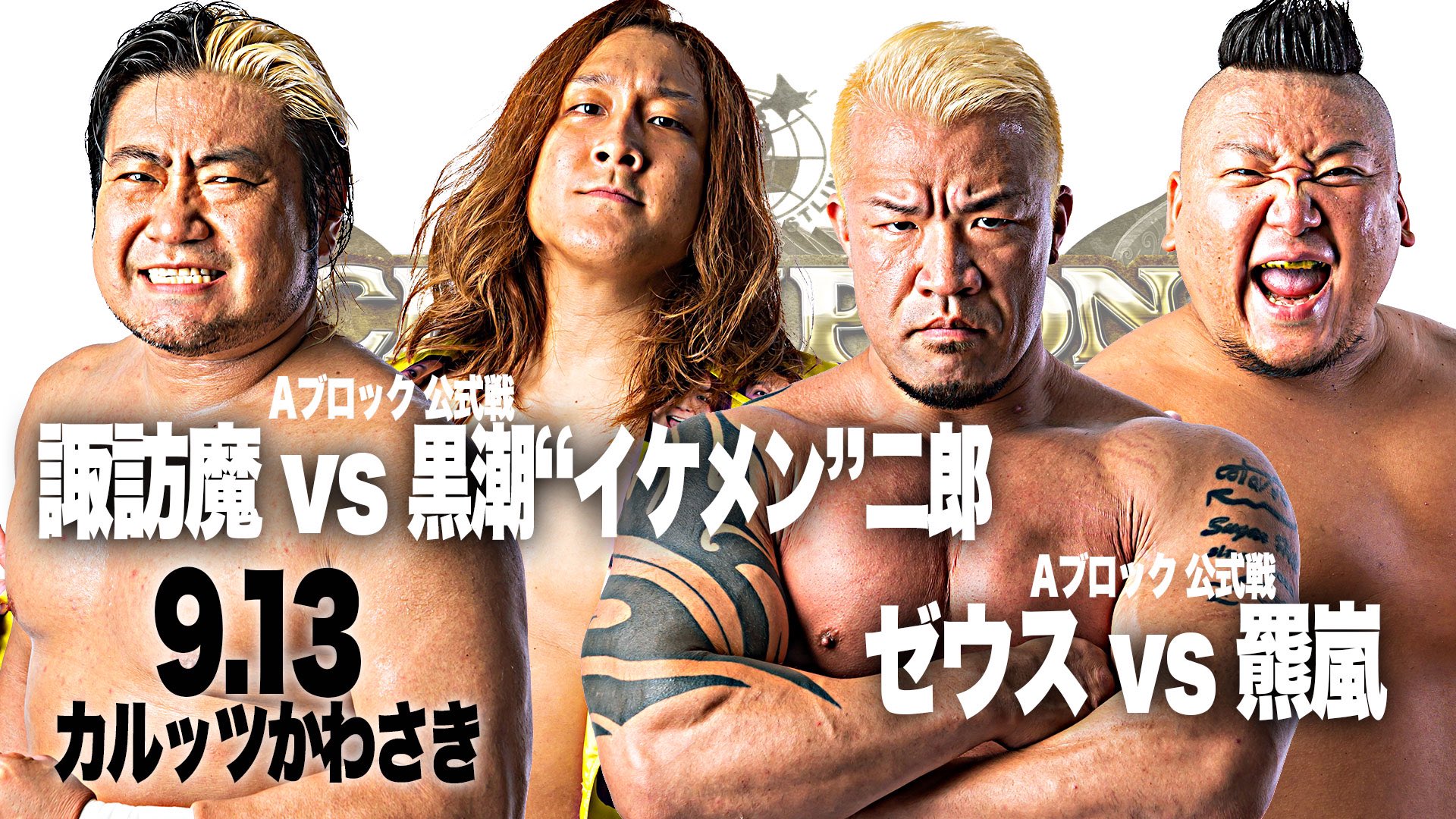 Welcome back as we talk about the second day of All Japan's Champion Carnival. The first day was rather fun and things could be different for day two as Zeus and Shotaro Ashino are both in action this time around. Since the tournament is only five days, this will most likely be going down by averages instead of just points, unless someone is undefeated.
Will such a thing happen or will we see a balance?
Let's find out as we…dive right in.
Star Rating System:
0 Stars: Dave Meltzer
1 Star: Vince Russo
2 Stars: Tony Schiavone
3 Stars: Eric Bischoff
4 Stars: Bruce Prichard
5 Stars: Jim Cornette

– Before we officially begin, we were going to have four matches again but, unfortunately, Yoshitatsu has injured his back during his match with Kento Miyahara. Because of this, he's unable to compete for the show and gives Shuji Ishikawa a bye, making him undefeated with four points. We're not sure if that'll affect the remainder of his run but we'll find out for the next show on the 15th.

Champion Carnival 2020 A Block Match
Zeus vs. Kuma Arashi
Review: We kick things off with A Block as Zeus makes his first appearance to take on Kuma Arashi. Kuma lost to the Triple Crown Champion in less than four minutes and he's looking to get some points on the board. The leader of Purple Haze wants to get a win here to send a message to Suwama as they'll be crossing paths soon. Will Kuma get a win or does Zeus come out strong?

With these two behemoths, of course, there would be a test of strength to kick things off between the two and Kuma did show promising signs of winning until Zeus had the upper hand at the end. Thankfully, this match wasn't under four minutes also and we got to see more off Kuma's work in the ring. Rather slow at the beginning but the ringwork itself was solid stuff overall. Kuma used this time to work on Zeus' ribs in the match with a couple of Sentons and even stepping on the midsection.

Kuma made his way to the second rope and hits a Diving Senton for the cover but Zeus kicked out at two. Kuma hits a Lariat but Zeus is still standing and tells Kuma to bring it. The two Lariat each other with neither going down until Zeus hits one to get him off the ground and covers for a two count. Zeus hits one more Lariat in the back of Kuma's head and picked him up for a Brainbuster as Kuma kicked out at two again. Zeus had Kuma sit up and would apply the Facelock, getting a tight grip as he twists his neck in the process, leaving Kuma with no choice but to tap out! Zeus gets points on the board.

Rating: Eric Bischoff

Champion Carnival 2020 B Block Match
Shotaro Ashino vs. Yuma Aoyagi
Review: Our next match is the only B Block match on the show as Yuma Aoyagi takes on the leader of Enfants Terribles and the Suplex Master, Shotaro Ashino. This is Shotaro's Champion Carnival debut and he would love to win it all to get a rematch against Suwama. Yuma lost to Shuji at the previous show and is looking to take out someone who defeated him a few months ago. Will Shotaro win in his Carnival debut or does Yuma actually impress people?

Yuma was wise to be cautious since he knows once Shotaro has you on the mat, you're in big trouble but does his best to avoid him briefly. Yuma would get him down with a Shoulder Tackle as one of Ashino's men distracts Yuma, giving Shotaro the opening he needed to attack his leg. He sends Yuma to the outside and twists Yuma's leg around the guardrail for more damage and he has Yuma right where he wants him. Shotaro's leg work is a thing of beauty and his just merciless when damaging his opponents like this. Shotaro would then apply the Stretch Muffler for even more damage until Yuma held onto the ropes to save himself from more damage. Great selling on Yuma's part, so kudos to him while he's getting beaten down this way. The tide would change for a moment when Yuma attack Ashino's shoulder with his knee as they go down.

Shotaro picked him up to Gutwrench him and he calls for the finish by applying the Ankle Lock. He has a firm grip and did it much better than Yoshitatsu but Yuma rolled under him to pin him as Shotaro kicked out. Yuma delivers a couple of Superkicks to stun him and both go down. The two would go punch for punch and went into Uppercuts as it seems like Ashino got the upper hand but Yuma would hit a German Suplex and Ashino responded with one of his own in beautiful fashion with how he performed it, this is why he's the Suplex Master. Ashino went for the cover as Yuma kicked out but Ashino quickly turned it into the Ankle Lock again and it looks like this could be it. He keeps twisting and flipping with the ankle to do more damage but Yuma would get him off by pushing him into the turnbuckle post, which looked slow and weak. Yuma quickly pulls him in for a high angle German Suplex Hold as Shotaro kicked out. Yuma sets him up for the Guillotine and locks it in tight and positions himself to apply the End Game and has it in tight, trying to make him tap. Shotaro was fighting and struggling but the referee called for the bell since he was out but didn't tap. What a way to end it without making Shotaro tap and something Yuma needed.

Rating: Eric Bischoff and three quarters

Champion Carnival 2020 A Block Match
Suwama vs. Jiro 'Ikemen' Kuroshio
Review: It's time for our main event as we close the show with A Block this time around with Jiro Kuroshio taking on the Five Crown King, Suwama. Suwama made quick work of Kuma Arashi to get his first set of points and looks to take out Jiro to remain undefeated like his tag partner. Jiro lost to Jake Lee and he looks to try and bounce back in the biggest way possible by defeating the champion. Will Jiro pull a huge win or does our king stand tall?

Jiro would clown around with Suwama and the referee before the bell and even after as Jiro would slap Suwama a couple of times with his jacket and the champion has had enough, chops him down to the mat. Suwama attempts to make Jiro take off his jacket a couple of times and Jiro fights him off, not wanting to take off his jacket since he wrestles with it on. Jiro would eventually get an opening when he grabbed his arm, walked around the ropes, and dropped the champ's arm down onto the ropes. This was the opening he needed and delivers a couple of kicks to the bad arm and slapped him with his jacket once again. The chemistry they have here for a singles match is honestly entertaining with their two different styles but Jiro has shown he can actually work instead of being all gimmick and it meshes together well. Jiro gets Suwama to the outside and hits the Asai Moonsault!

They get back into the ring and Jiro tries to do an Irish Whip but Swuama holds on, so what does Jiro do? He springboards off the ropes to do a backflip and brings Suwama's arm down with him and applies the Kimura Lock. Jiro struggled to get it on but does until Suwama made it to the ropes. Suwama hits Jiro with the Lariat but Jiro kicked out at two. Suwama attempted a German Suplex but Jiro landed on his feet as Suwama saw and went for a Lariat, and Jiro spun to catch his arm into an Armbreaker! Suwama got to the ropes again and Jiro would hit a Superkick to make the champ to down. Jiro would go for the Moonsault Press to end it but Suwama had his knees up before he could connect. Suwama ran into him in the corner for a Lariat and hits a German Suplex, only to top it off with a Discus Lariat right after but Jiro kicked out after all that! The champ is looking to end it as he lifts him up for the Last Ride but Jiro flipped over him to roll him up and get the surprise victory! Jiro has pinned the champ!

Rating: Bruce Prichard

Overall: Despite only having three matches for the show, this was still a lot of fun with the last two matches performing much better than expected and great performances all around. The next show is something to look forward to as we have a first time ever with Kento Miyahara and Shotaro Ashino, which is a dream match for me. Fun Carnival so far.

Favorite Match: Suwama vs. Jiro 'Ikemen' Kuroshio

Least Favorite Match: Zeus vs. Kuma Arashi

Score: 7.5/10

A Block Standings:
Suwama: (1-1) (2 Points)
Jiro 'Ikemen' Kuroshio: (1-1) (2 Points)
Zeus: (1-0) (2 Points)
Jake Lee: (1-0) (2 Points)
Kuma Arashi: (0-2) (0 Points)
B Block Standings:
Shuji Ishikawa: (2-0) (4 Points)
Yoshitatsu: (1-1) (2 Points)
Yuma Aoyagi: (1-1) (2 Points)
Kento Miyahara: (0-1) (0 Points)
Shotaro Ashino: (0-1) (0 Points)