Mitchell's Raw Talk Report! (9/14/20)
Who says what after the show is over?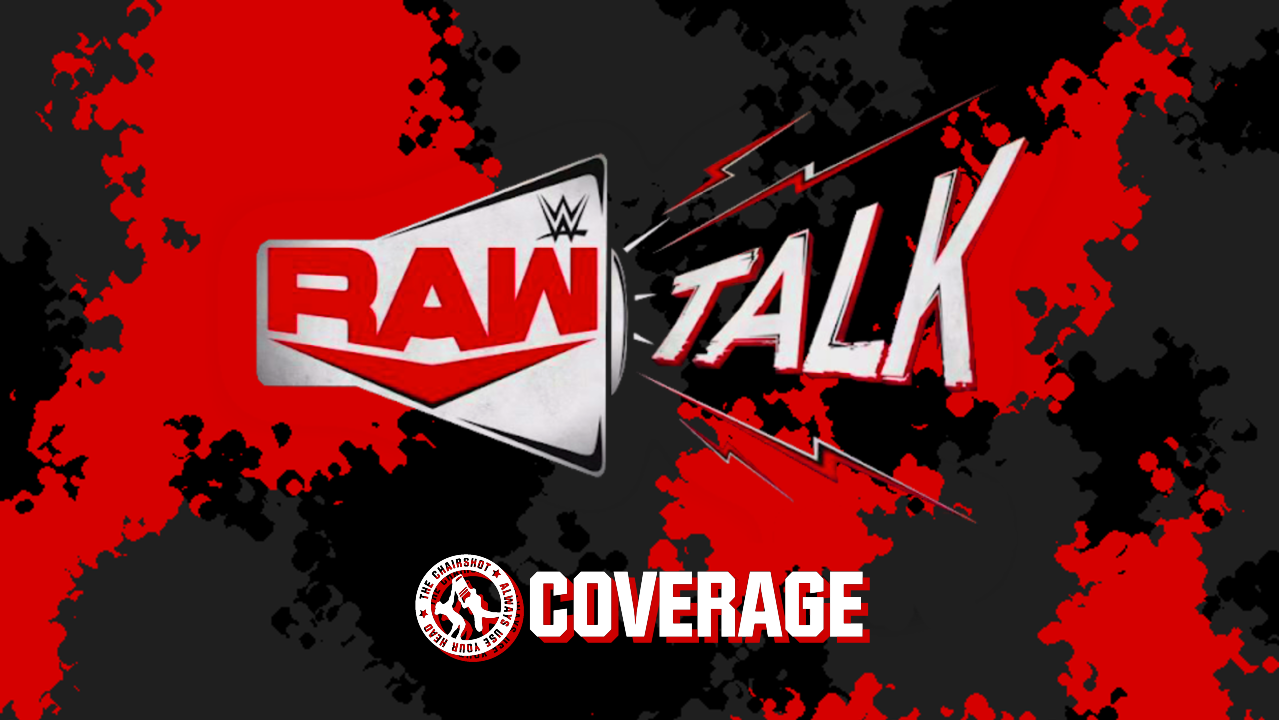 It's time for some Raw Talk!
Raw was In Your Face, but now things get to cool off. Or will they? Who shows up and what will they say about what just went down on Monday night?
Charly Caruso and R-Truth welcome us back to the show!
#CharTruth has a new hand sign! For a second, Charly thought he forgot his line. He doesn't forget, he just doesn't remember everything he remembers. But to get into what happened tonight, Retribution invaded again and during the great showdown between Keith and McIntyre! "This pack of wolves!" Truth wants to know who is behind it all! It's been months and we still don't know. Hurt Business did their best to handle business, but it took Keith and McIntyre FLYING out to do the job. Truth says this is an inside job. Like a mole? Like people they know? Yes, they're either still here and doing this, or they were here and came back.
Well they probably don't have time to think on who is what, but maybe the next week or so they can ask around. Truth says they should make a list of names. And Charly says Truth needs to be careful because he has the WWE 24/7 Championship. Good call.
But one match Retribution didn't do anything with was the Steel Cage. Dominik proves again he has the heart and determination, even though he lost again. But Murphy still got involved with the common weapon in this feud: the kendo stick. What does that feel like, Truth? Has he ever been hit with it? You can't describe how it hurts because you get hit, rub that stinging spot, then get hit somewhere else. Lil' Jimmy agrees with Truth. He's here? Yeah, next to Charly on the other side.
Charly notes Rollins no longer has the morals or foundation he had before. There is something that keeps him from seeing right and wrong. Truth says the brain is just busy working on something else. And what is that? Ask Rollins. Well he's not a guest tonight. That's good, given his attitude. But now, to their first guests! The Raw Women's Championship had an odd ending, but this technically uninvited guest had a part to play in the aftermath.
Zelina Vega joins Raw Talk!
The tension is strong as ever between her and "Two Buck Chuck." Why does Vega call her that? Because that's all she's worth. Charly says Vega took that from Trader Joe's. Charly wants to ask Vega about some things, but we'll focus on the Raw Women's Championship. Vega wants her shot at Asuka and the title, so can she elaborate? Vega says her actions spoke for themselves. Truth agrees. Vega went out there, slapped the champ, and told her that she's ready for a fight and for the title. And she'll do it again! And it'll be even more delicious when Vega becomes new champion. Truth digs that.
Charly says sometimes things are lovely dreams, and other times they are more apt to be reality. Vega stepping to Asuka is a little above what Charly expects of Vega. Well, there's a lot Vega thinks Charly can't accomplish, either. Truth wants to keep things clean, but Charly wants Vega to speak her mind. Vega says people see her as just a manager, just someone who leads others to success. But this is her time. She knows every trick in the book, and is the only credible manager-wrestler hybrid. She managed two of the best in Garza and Almas, but they also trained her in return. Vega knows she is ready for this. And she can't wait for the Twitter trolls, and Charly, to eat their words.
Differences aside, Charly is excited to see such an opportunity. Truth appreciates Charly being nice. But that brings Charly to her next point. Vega has been training behind the scenes, but that relationship has hit a rough patch. Are they done as a trio? Vega says Charly has a ridiculous obsession with Garza and Almas. Charly says she wants nothing to do with Garza anymore. Right, and Vega doesn't want anything to do with Charly. Vega wants to speak about herself. Vega is proving herself to the WWE Universe, and will get to sit with the gold on her shoulder. But to be champion, Vega cannot have time to manage or delegate the others.
Who is Charly to tell Vega what she can do? Charly sounds ridiculous. Charly is just saying what Vega said about being done with Garza and Almas. Vega knows what she said and what she meant. All will be revealed on her time. "My business is my business. What I'm here to talk about is me and Asuka." If there are any questions about that, just wait and see. Vega is ready to slap the smiles of Asuka's face and Charly's. Charly says that's all the time they have for Vega, so she politely asks Vega leaves. Vega will politely leave. Truth says they need to work on communication.
Nia Jax and Shayna Baszler join Raw Talk!
Two actual women's champions join the show now, but Truth wants to be included. These two are enjoying being champions, so what's going on with them? Because it looked like Vega just got Charly there. Take a deep breath. Shayna won't join in, but Truth does. Shayna doesn't want to be told when to breathe. Truth says there's a lot of hostility. Raw Talk is supposed to bring people together and inform them. Well Shayna's still annoyed with Truth. What did he do? He has an annoying palette. What? Nia won't get into personal stuff like this. But these two are champs now, and will be after Clash of Champions. Didn't you see Nia slam another person through a table? True.
How was that? Easy for Nia. You should ask Lana how it went. Oh wait, you can't, she's still out cold. Truth sees how these two play. Well watch out or one of them will come after that title. Charly says the cohesion between these two is finally happening, even if we don't see it all the time. Hold on, Charly. The cohesion is just the title belts. That's all either cares about. Nia doesn't even care enough to follow Shayna on Instagram. Well who would even want to follow Nia on Instagram? Nia points out her 1.7 million followers, but when it comes to hurting people and winning, that is what they agree on.
The titles look great on their shoulders. How long did it take to get those side plates? Nia laughs because her plates were day one. Shout out to Usos! Shayna wonders if any other champion was asked to get plates. Who? Charly says she works with a team that puts this show together. Nia asks if Charly and Truth hear voices. Shayna wants Nia to shut up. This is the worst part of her job! Truth, Nia, Charly! They're all against her! Charly isn't against her, she welcomes Shayna all the time. Truth feels the gelling going on, though. The love-hate friendship. It's meshing. Like Icy Hot. No, Truth, those are abrasions. Nia, you don't put Icy Hot on an abrasion, that's an open wound. You're thinking of contusions. Why she mad? "I'm surrounded by morons!" Truth agrees.
Charly says that these two are definitely unstoppable. Duh! SO then, Clash of Champions, will they be on the same page long enough to defeat Riott Squad? The Squad gets credit for being together for a long time. Kinda! But honestly, these two teamed in a week and won. It is a shame it took the Squad this long to get this far, and now against two of the most dominant champions yet. Who is really going to stop these two? Nia + Shayna > Liv + Ruby. Do you get that math? But the Handicap matches showed otherwise. Whoa, Charles, back up! Only Nia can make fun of Shayna for losing. If a tree falls in the woods. That's what it was! And Shayna points out Nia lost, too, but Retribution messed it up with the lights!
Nia starts eyeing the 24/7 Championship and says it looks nice right now. Shayna says their belts look better because they're all shined up. But still. Truth says the 24/7 Championship is on vacation right now. Shayna says they can find a ref shirt. Truth gets nervous and Charly says it's time for another guest. Nia and Shayna start crowding Truth and he gets scared. Charly wants to move on to the final guest. Fine, rude. Shayna warns Truth if not today, then some day. Truth feels relieved, but only until "Dracula" shows up.
Aleister Black joins Raw Talk.
Truth says he'll keep Aleister's secret as a vampire. He saw the casket, the darkness. Yes, "you keep laughing, funny man." Aleister thanks Ms. Caruso and Mr. Killings for having him. Truth adds that he loved Aleister in Twilight.
Charly keeps things serious and civil as she brings up the confusion as to why he turned on Kevin Owens. Aleister takes off his eye-patch headband to say that Kevin's negligence is why he's here. The entire WWE Universe can't sleep because Aleister hasn't explained himself. Kevin Owens is a family man, right? He has a wife and kids. But the thing is, Aleister's father was rather cruel. But not to the level of cruelty that Kevin has for "people like me." Kevin is a fraud. Kevin uses one word to clear him of everything he's done. He has thrown "friends" under the buss. But he uses the word "family" as protection. Kevin has to sacrifice time with his family to be here, and that makes Aleister the bad guy. Is that how it goes?
Truth tries to clear that up. Aleister is mad because Kevin wasn't there for him? Aleister thinks Kevin should've thought of him as family? What Aleister is saying, that if he's going to jump in the fire for another, that person should jump in the fire for him. Truth sees his point but… The point is that Kevin hides behind excuses. You saw that episode of the Kevin Owens Show, right? Yes, but you should get that eye checked. It isn't good enough yet to take the eye-patch thing off. "Well I'll take your advice, funny man." Okay, good. Charly knows this has spilled over, to even Raw Underground. They were 1v1 for a time but there was no winner coming out of that.
At what point does this come to an end? Well Aleister was hoping for it tonight, but then the lights flickered. If Retribution didn't get involved, Aleister would've ended it here. But now, Aleister needs answers from Kevin. Did Kevin reveal something about himself? Like what? That he's connected to Retribution. Oh no, that's putting bad vibes out there! But we all saw it, right? Yes… Then, you're telling Aleister that Retribution causes chaos and problems, and yet they do something when Aleister and Kevin were fighting, yet it has nothing to do with Kevin? But there were other matches they affected. Yes, but why specifically at the moment Aleister had Kevin vulnerable? Too much of a coincidence from Aleister, so he can't let it rest.
Truth thinks Aleister is jumping to conclusions. Well Aleister is still going to get answers either way. How? Beating the crap out of him? Maybe. Maybe Aleister will DM him on social media. Point is. Aleister wants answers. Truth can give Aleister Kevin's number. He'll be the mediaggor. Mediator? That, too. Charly understands Aleister's train of thought, but as far as anyone knows, we don't really know who is who or why Retribution does things. Well Aleister wants to find that proof. And if he is the bad guy for it, he'll take that label. Could they perhaps make amends before things get worse? No. Well, okay then…
Hopefully Aleister does find answers for himself and everyone. Charly doesn't like the direction this is going in. Truth points to the eye again. Truth will let Aleister get back to his coffin now. Farewell, funny man. Charly does agree Aleister has a point in trying to find names, but maybe not the way Aleister wants to do it. For now, that's all for this week of Raw Talk!
---
My Thoughts:
Obviously this is my first coverage of Raw Talk, and I'm mostly doing this because the most recent Talking Smack showed that these bonus talk shows are again being used to propel stories from the main shows. This episode did a little bit for that, mostly with Aleister's part. I like that, whether or not Kevin is connected to Retribution, the characters are questioning things. Aleister and Kevin now have more of a purpose to their story with Aleister framing it between "negligence" and the Retribution "coincidence." But as I said in the Raw main show article, I feel like the order of things is a bit off. Raw Underground, or any match without normal rules, should've been a later part of things, if not the straight up payoff match.
Truth was hilarious the entire show but that's a given. I like the tension between Charly and Vega just growing. And the detail of Vega training with Garza and Almas this whole time was good. I feel like that would've been something to reveal earlier, such as the heat of the feud with the Street Profits and Bianca Belair. Nia and Shayna teasing that they might go after the 24/7 Championship was good, the clash of personalities adds to what's great about the partnership between those two. It's part of why I hope they do retain through Clash of Champions to keep giving us great banter like this.