Mitchell's Raw Talk Report! (9/21/20)
Champions and challengers share some Raw Talk!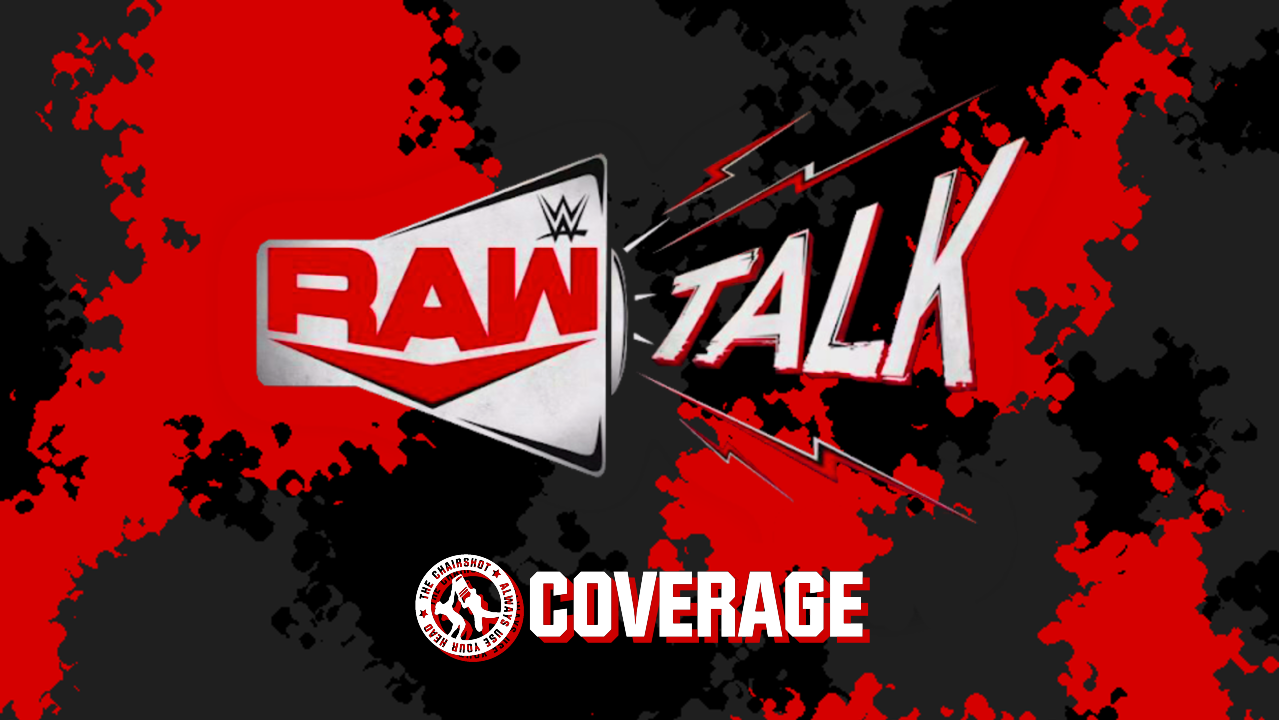 Raw Talk is the last stop before Clash of Champions!
Before Clash of Champions, the Raw Tag Team Champions stop by to talk their not so new challengers! Plus, Apollo Crews and the Riott Squad!
Charly Caruso and R-Truth welcome us back!
It was a hectic end to Monday Night Raw, but #CharTruth made it. Truth just got back from the beach, him and Lil' Jimmy got some sun. That didn't turn out as anyone expected, though. A shark and ninjas in the water, it was wild. Akira Tozawa tried to jump the shark tonight, but they got ate. Truth was just trying to be him, Jimmy and the title, but Tozawa tried to ruin it. Truth can't confirm or deny what happened out there to Tozawa, but he just knows he has his title and Jimmy. Truth has nothing nice to say about the other contenders, so he won't say anything.
Charly likes that advice. There have been so many tense confrontations, all over all the titles coming up. Where? At Clash of Champions, this Sunday, here in the ThunderDome. Does Truth have any ideas on what to do about that, since he is 24/7 Champion? Truth can't say, but he knows Jimmy needs a check-up but the dentist hasn't given them a date yet. Well dentists don't work on Sundays usually. Jimmy has a very special dentist, Charly. Oh, okay then.
Moving on to business, they need to talk about Retribution. Charly and Truth were going to theorize, but we saw the faces of some of the Retribution members. Things got very dangerous very quickly at the end, with Hurt Business and the Raw roster against Retribution. And then Orton took his cheap shot on McIntyre. Orton selfishly turned his back on everyone. But this is nothing new, really. Is he going to become champion Sunday? Charly isn't sure, McIntyre has been a fighting champion but Orton is already very accomplished.
What are Truth's predictions? Not really sure, but it will be a fight. Someone could get hurt with this ambulance match. Charly wants to hear Truth give a prediction. Truth says that if McIntyre turns it on, fractured jaw and all, he still has a chance. Orton may be the best he's been ever, but McIntyre is still winning. Truth has said it, will it be the truth?
The Riott Squad joins Raw Talk!
Liv and Ruby are here, and Charly notes the "tall task ahead." How are they feeling going into their match? Liv is "so mad," because they were just scouting on commentary. They were being respectful but they get bullied. Nia and Shayna have everything they want, but Liv promises that they are not the ones leaving with the titles! Liv and Ruby are ready to serve humble pie. But this is typical behavior of Shayna and Nia. Ruby is not surprised. What Ruby knows and promises is that the moment Nia picked Liv up for the fireman's carry, that was the biggest mistake Nia's ever made! You do NOT put your hands on one of them! "This is the real team right here!"
Charly agrees, the Squad is the longer established team and respect and care for each other. Nia and Shayna have earned everything they have, but it is an alliance for business. Ruby says that if she and Liv win, Shayna and Nia will be the shortest reigning WWE Women's Tag Team Champions ever. And that will be their legacy. Truth loves that fire! Use that this Sunday to put it on Nia and Shayna. Liv admits Nia and Shayna are a strong team for as short as they've teamed together, but the Squad is the team that beat and disbanded the IIconic Duo! That was a team that was together for years, knew each other in high school and all that! "You don't think we can beat two girls who don't even follow each other on Twitter?"
Truth gets what Liv means! There is passion and desire here, they can whoop that ass! Charly asks if there are any further steps to prepare or if they're fully ready. Ruby and Liv have some tricks up their sleeve, that is all they can say. Charly appreciates seeing these two sticking together every week. Liv says that all the if's and maybes don't matter. The titles are in their futures. Charly wishes them the best of luck for a highly anticipated match. Fire & Desire! No, Truth, different team. But not without a good point. Speaking of, Mandy Rose is coming. That's an exciting prospect. But moving on…
The Street Profits join Raw Talk!
Truth gets in the groove with Montez Ford and Angelo Dawkins as they head over. Bro hug with a deep breath. How are they doing now that they know they're again facing Garza and Almas, two men they've beaten before? Dawkins says that they're excited, because it's just been excuses. Trying to poison Ford? Excuse! Vega was in the way? Excuse! Face it, these boys are Kawhi and PG13! They're focused on pepper wings while the Profits are focused on rings! Championships! They can't get it done, and gonna choke, with an L! With an L~~! Lemon peppered style~! YAHTZEE!
Something to note is that Vega isn't there. Charly and Vega have their own thing, but she kept them in line and functioning. Now that she's gone, there must be more cracks. The Profits don't have cracks. They're a brotherhood! Garza and Almas pretended to be family, but they aren't family. So then are you two LeBron and Anthony Davis? OH YES! Big time players make big time plays! Ya heard? Charly heard. Did she? Dawks says it again! PREACH! Truth "sips" the cup. WOO! That ain't water, wink wink. YESSIR! But to be serious, this Sunday, Clash of Champions, the Profits will live, breathe and die these four words: WE. WANT. THE. SMOKE. The Profits roll out, but will they roll through Garza and Almas at Clash?
Apollo Crews joins Raw Talk!
Apollo sneaks in and repeats the line, Big Time Players Make Big Time Plays. Apollo mentions Truth and Tozawa. Did Apollo see Lil' Jimmy surf? Yeah he's got skills. Truth didn't even know Jimmy could surf. Charly brings up Apollo losing a friend and gaining an enemy. Someone having his back to someone trying to attack him. Apollo won against Alexander, but the celebration was cut short because of the Hurt Business. Have you ever had someone close to you suddenly turn on you? Truth and Charly both have, so then Apollo doesn't have to explain it to them. But surely people haven't experienced it, so what is it like? Alexander was like a brother, and there are certain things you do for your brother. But when you have that taken away, and now they want to hurt you, it's hard to understand. Apollo has gotten past the questions, and will just treat him as an enemy.
Charly feels like there's a lot of anger and that's hard for Apollo, but surely there's disappointment, too. Apollo says that's true, like a big brother or even a parent. It's hard to understand why but it's not about understanding anymore. Apollo is focused on becoming a two-time champion, after it took five years to get here. Truth is rooting for Apollo. Be that big brother. Spank 'em! But when you fight one member of the Hurt Business, you have to fight the others. What is he feeling knowing that? He has game-planning to do, this news came here just tonight. Now there's four because of Alexander, but Apollo will have a plan of action. That title is more money and less worries for his kids. Charly remembers him saying the old US Championship is in his children's bedroom. That's really great.
But is part of Apollo's plans for the Hurt Business is to have back-up? He can't give away too much, but he knows there's one he has truly by his side in Ricochet. They've been friends since 2011, Apollo knows he and Ricochet are united. Will Alexander ever come to his senses and be their friend again? Well, he changed sides because of how beat up he was getting, so maybe if Apollo and Ricochet beat Alexander up enough he'll have some sense again. Alexander must be a glutton for punishment. Truth says this is tough love. Truth admires Apollo and Ricochet as young warriors in this business. They need to take that to the ring and claim what they've got. Apollo appreciates that coming from Truth. Charly is also cheering for Apollo and Apollo appreciates that, too. Apollo says that when he wins the title back, it's going on HIS wall! Will Apollo take back the US Championship? Or will the Hurt Business just profit from his pain?
---
My Thoughts:
A good episode, with great interview promos from everyone involved. Truth continues to be hilarious, and Riott Squad doubles down on the "WE are the real team here" talk from Raw earlier tonight. This does not sway the chances in the match, Nia and Shayna are still winning. The Profits had such great energy here, and wow that NBA related burn. I feel like things might be more up in the air for them and Garza-Almas, though. It would be interesting if Almas and Garza stick together and are champions while Vega fails to beat Asuka. And Apollo was good, but much like the Squad, I don't know if this sways the chances on Sunday. I do appreciate that he mentioned his friendship with Tozawa in relation to the 24/7 Championship segment from tonight. Maybe more friends of his show themselves so that we'll get an 8 Man of Retribution VS Apollo and crew.