Mitchell's Talking Smack Report! (9/19/20)
Talking Smack is about to get sassy!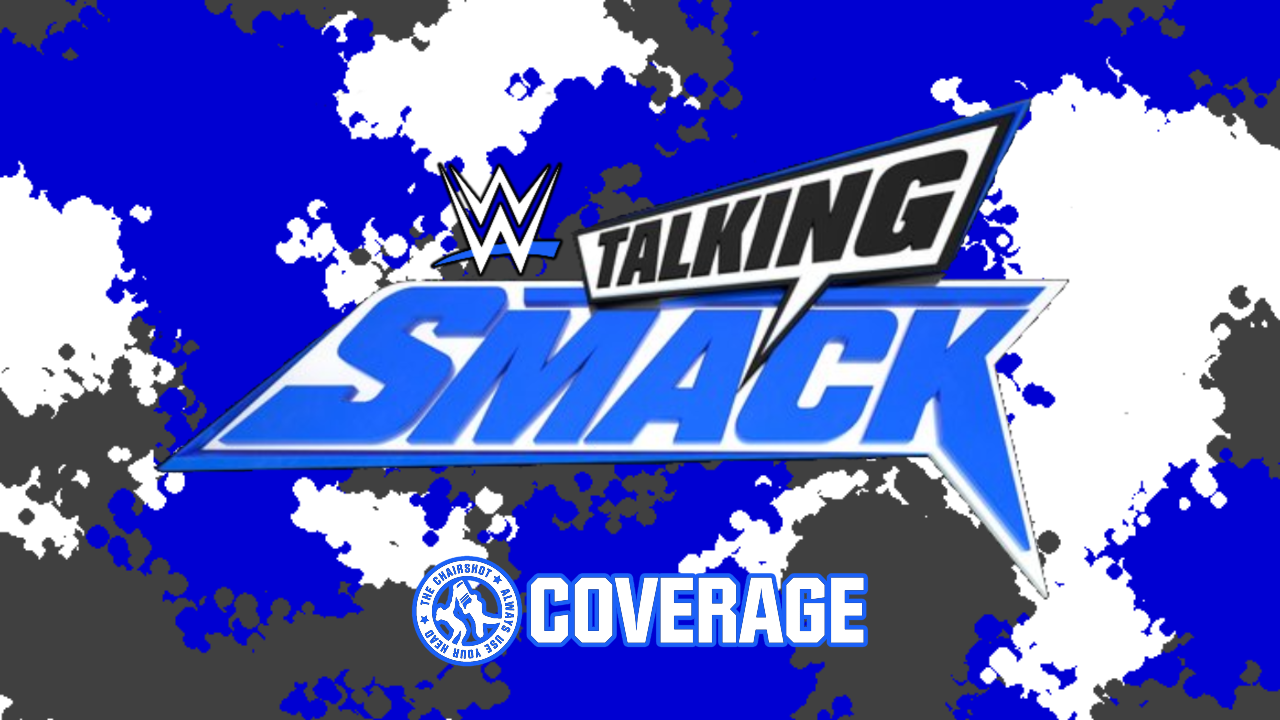 Fallout from SmackDown gets sassy, ya nasty!
Heavy Machinery needs legal council, the Sassy Southern Bell tasted her own medicine, and Jeff Hardy wants news on his ladder match proposal! All this on Talking Smack!
Kayla Braxton and Xavier Woods welcome us back!
With Clash of Champions just over a week away, Kayla and Woods are very excited after what we saw on Friday Night SmackDown. Especially with the ThunderDome allowing for a new way to reconnect with the fans. And even more exciting is Sasha Banks is still going to be in the second season of The Mandalorian! Oh and Big E, Woods' man, got his payback on Sheamus! People poked the bear, but now Big E proved he could be intense! Poor "Larry," though… But WWE has been around long enough that everyone should know, if you sign up for a job, you better watch out for someone coming for revenge. Maybe this week's guests should take a page from Big E's book when it comes to their own problems.
Heavy Machinery joins Talking Smack!
Otis and Tucky give Woods a big group hug! Double decker sandwich! Hello, spicy pepper Kayla. She needs a shirt for that. But then if Kayla is a pepper, Mandy is a peach, what is Woods? The plum! Juicy plum! Now things are getting weird. But to business! A great ending to the fight with Miz where Otis stripped Miz down. Miz looked funny in his undies, but it was funnier to see him run away. You mess with the bull, you get the horns! YES! COMIN'! Woods remembered back to those old tuxedo matches. Otis was seeing red, he was grabbing and tearing at whatever he could. Tucky thought Miz was more a silk boxer type. Otis is proud of being a whitey tighty guy.
Kayla says Miz and Morrison have the audacity to sue them for that! Tucker points out it's specifically Otis being sued, but still. That's a technicality of the "affa dayfa." Well, Tucky's smart. He's an accountant and Otis can't count anything. Well he can count on the MITB contract. They've outsmarted Miz and Morrison so far. You always know Miz and Morrison have something up their sleeves, so Otis had something, too, even though he doesn't wear sleeves. But Otis looks into those guys' eyes and sees danger. "This bad boy," the MITB contract, will one day bring him the Universal Championship. It'll be a shake down on SmackDown!
But who is Miz calling? He got someone to get Mandy taken away. How is she, by the way? She's handling this, but they're both confused and conflicted. The bond is stronger than ever. Otis has his sweet peach, brother Tucky, and now coach Chad "Shorty G" Gable in the weight room with him! Otis wants to make sure he's tight, but this is already peak male performance right here! #RealManBod. Be positive, everyone. But Woods says this is somehow for Otis' good! Well they think Otis is weak minded, he and Tucker are just funny guys. But when it comes down to business, they keep on comin'! You wanna play games? Tonight, anywhere you want, Miz and Morrison will find out what playing games is all about! Hoo boy, Otis' blood pressure is up. Take some breaths.
Tucker summarizes what Otis is saying: you mess with Heavy Machinery, you get what you get. Everyone loves a good time, but when it comes down to brass tax, knuckle sammiches, baby! Hot and fresh! Breakfast, lunch and dinner! Kayla thanks them for being on the show and they definitely have Talking Smack's support. Otis is the bell of the dumbbells, baby. Big group hug and a kiss on the hand for Kayla. Heavy Machinery heads out, but will they get even with Miz and Morrison in the end?
Lacey Evans joins Talking Smack!
The Sassy Southern Belle is here, with a complete health 'n' safety ensemble with the hand sanitizer and the face shield. She also has a little Lacey Evans action figure to put on display. She also plugs her shirts, like it's QVC. Kayla says this isn't really that kind of show, but Lacey says it's whatever the hell she says it is. "Give me a second, ya nasties." Lacey finally takes a seat and keeps her social distance. Kayla hopes that with the short jokes Lacey made, she doesn't actually have a problem with short people. After all, Kayla is the same height as Nikki, so…"The truth hurts, honey."
Lacey keeps showing off her shirts and Kayla says it's good to see her in good spirits, considering her last couple of weeks. Lacey says everyone saw she should have a splint on her neck, but she's tough and will get over it. Yes, how was taking the Sister Abigail? Let's not talk about that. Let's talk about Lacey Evans, the classy, sassy Southern Belle! Well speaking of her, then, she is dealing with some issues as far as matches go. Did you not see her out there live? Did none of you nasties see that? Win or lose, she comes in and sets a proper example. She may not be champion yet, key word "yet," she will show the women, from mothers to daughters, what a legitimate lady is and what she can do. So in the ring or on her own talk show?
Funny Woods mentions that! Lacey doesn't want to relive the Moment of Bliss moment, please stop playing that or she'll leave. Kayla says Woods shouldn't give Lacey ideas. No one wants a show where it's just Lacey insulting people. Lacey says she doesn't insult people, she just points out the obvious. If weaklings get upset, that's not Lacey's fault. But the Sassy Southern Belle should have a show to show women, including Kayla, "how to conduct themselves appropriately." From cooking, cleaning and keeping a man, and more. America needs Lacey. Would anyone watch that, though? Well because you're too sensitive. Another reason you need Lacey.
Well, what did she say to Alexa to upset her? Well she's said a lot. What specifically does Kayla mean? Well, when she mentioned The Fiend. Lacey says we are not talking about that! You're lucky Lacey can even turn her neck! Kayla apologizes, but just wants to get to the bottom of things. Kayla has been to Lacey's home, they spent a beautiful afternoon. Lacey criticizes Kayla for not knowing how to get up early, garden, cook or even catch shrimp! Can you imagine a woman that can't get her own food to feed her man? Not that Kayla has one.
"Women like that are what's wrong with America. They have no idea how to be a legitimate lady." But Lacey is here to set the example, on her own show! Well "good luck" with that. Your time is up on the show. Take those glasses off, they don't match your face, Kayla. Well please take your things away. Maybe in a paper bag. Woods is uncomfortable. Lacey excuses herself to go cook dinner for her husband. Woods wants to see Kayla VS Lacey. Don't put that out there! Moving on…
Jeff Hardy joins Talking Smack!
The Charismatic Enigma is back, his plates on THE Intercontinental Championship are his own designs. Woods loves Hardy's creativity. Hardy has always known who he is and what he's about, and Woods loves that. Hardy agrees that without his creativity, he wouldn't know what he'd do. And Kayla likes that he lays down the law on this title! No more bickering from AJ Styles and Sami Zayn. It's time for a Triple Threat LADDER MATCH at Clash of Champions! Hardy made the challenge, it is OFFICIALLY booked! Winner take all, no other champion but the winner! Obviously that's Hardy's thing so he's confident he'll win. Hardy would save up money to buy ladders to use and destroy them.
Now obviously, Sami is annoying, was gone but still thinks he's champion, Styles is great and he knows it, but then there's Hardy being modest, just stating the facts. 43 years old, doing what he's been doing since he was 20, he's blessed. Does Hardy feel he has a target on his back in this return? Kayla says people are jealous. Hardy says that the feud with Sheamus was controversial but intense. The bar fight, Sheamus being a jerk, that was something. But now with Styles and Sami, Hardy feels he's at least where he's meant to be. Styles was on last week's Talking Smack, claiming Hardy cheated. Hardy doesn't have to say anything, he has a knee brace because of a bad knee. But Clash will be where Hardy shuts everyone up. Weirdly, Miz patted Hardy on the back after that knee brace thing.
Hardy loves being in the Ladder match, he'll hear the fans no matter where they are. Sami and Styles are coming after Hardy, even in Hardy's specialty match. Will the 2v1 be a problem? Well Hardy always feels the odds are against him. He's beaten the odds many times, but he's not about proving them wrong but proving himself right. He'll be in a ladder match with those two, but he won't be alone with the fans behind him. Woods admits if others had that mentality, they'd actually be champion now. Kayla is confident Hardy will prove the naysayers wrong. Hardy says it just feels good to be where he is right now. Woods is "beyond excited" for this match.
Any words for the fans watching? If you can't break a table, break a ladder! A great closing to another week! Will Hardy stand tall and high above the others when Clash of Champions is said and done?
---
My Thoughts:
Yes, we're covering Talking Smack now! Last week's episode with the Mandy Rose business proved something relevant could be shared here, but even this week had something. The Intercontinental Championship ladder match is official, though of course it was going to be with how it was said on SmackDown. Hardy, Styles and Sami are definitely going have to a great match and could go either way. The Heavy Machinery segment was really good, Otis is great at just being himself on that mic. I wonder if Tucker again pointing out the suit is just against Otis is foreshadowing a betrayal… I would hope not, there are few WWE tag teams on either brand, and fewer that are being used properly.
And there are some interesting parallels between the tension of Charly Caruso and Zelina Vega for Raw to Kayla and Lacey here on SmackDown. Would there be a Survivor Series kickoff match where Charly and Kayla team up against Zelina and Lacey? Probably not, but that'd be amazing to see happen.