Rob: Who's To Blame?
Matt Hardy suffered an obvious concussion at AEW All Out, but finished the match. Rob Bonnette wants to know who is to blame, and has a list of suspects.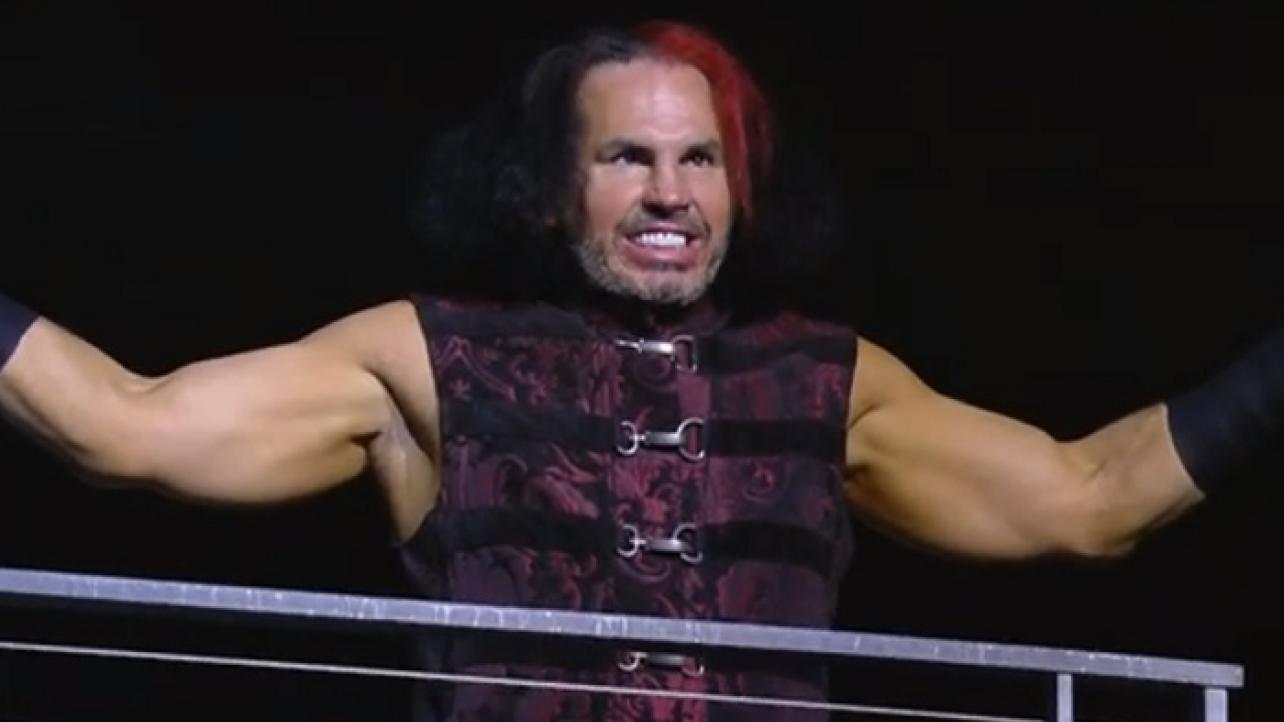 Matt Hardy suffered an obvious concussion at AEW All Out, but finished the match. Rob Bonnette wants to know who is to blame, and has a list of suspects.
By now you all know what happened with Matt Hardy at AEW All Out. And you're probably not happy about it. Well, there has to be someone to blame! Who? Let's see…
The Doctor
There's no way around this.  Matt Hardy was out cold for over a minute (a rare thank you to Bryan Alvarez for timing it out), the referee said to call it, and that doesn't stop Doc Sampson from administering the fastest concussion baseline test in the history of baseline tests and saying he was ok to resume the match.  What in the hell?  The man fell a second time and bumped his again, then had to be helped up the scaffold to finish the match (why they continued to go up the scaffold after all of that is beyond anyone's comprehension).  It seems as if everyone except the referee were in 'match must go on' mode here.  But it's one thing for the wrestlers to think that because at heart they have that competitive athlete/performer mentality and a whole other thing for the people who are there to protect them to operate the same way.  In this case it starts with the doctor because he saw Matt unconscious and should have reverted to 'get this guy outta here' mode instead.
Matt Hardy
Matt, we love you man.  We really do.  But there is no need for you to be out here doing these kind of stunts in 2020.  I know, I know…..the old man (Vince McMahon) told you it was time to work backstage and pass on your knowledge instead being an in ring performer, and that didn't sit right with you..  You thought had too much gas in the tank to call it a career, and you are determined to prove him and anyone else who agrees with him wrong.  Well let me tell you that you don't have anything to prove to anyone out here.  Getting older doesn't mean we haven't forgotten the TLC matches, Matt Version 1, the ECW Championship and feud with Jeff, the Broken Universe, and the triumphant return at WrestleMania 33.  It's all still there for us to see.  But it's time to move on even though you don't.  That's the life of an athlete, though; when it's time to go the decision is likely to come from someone else than yourself.  And it was the right one.  Stop trying to kill yourself to show you still got it before you actually succeed.
Tony Khan
The buck stops with the boss.  Khan said that he paused the match, and then when the doctor said Matt could go they restarted it.  Then during the post show media scrum he did a Savion Glover impersonation, and then the house media man Dave Meltzer tried to hem and haw and what about WWE the story.  None of that is flying, and Khan ultimately is to blame for what happened there.  He said it was ok to put old man Matt Hardy in that kind of match, which took place just a couple of weeks after Hardy took a really nasty CHAIRSHOT on Dynamite.  He said it was ok to do that kind of spot, a table bump onto a concrete floor which could have gone wrong a million ways and right only one way.  And then when it did go wrong he didn't shut the whole thing down.  This is where the folly of letting the boys have creative control rears it's head.  Because the boys will eventually want to do something like this.
For all the talk about the overbearing controlling nature of one Vincent Kennedy McMahon, and as true as some of that talk is, in the long run it's a better safeguard against things like this happening than trusting the boys to keep themselves in line.  You're not their friend, you're their boss and that means telling them no when they come to you with something too crazy.  And it means recognizing just what too crazy is.  This was too crazy, as was the power bomb while inside a body bag that Darby Allin took earlier in the show.  Let's be real, with certain spots the only way to truly avoid catastrophe is not do them at all.  That's a call that is going to need to be made more often than not going forward, and made by the man with whom the buck stops.
And finally…….
The boys themselves
There is a mentality that is far too prevalent among modern day wrestlers about doing crazy, ridiculous spots as often as possible even when they don't make sense within the course of the match.  This particular spot, a spear off of a scissor lift through a table that was on top of a bare concrete floor, was the epitome of this.  Not only was it extra dangerous, it was early on in the match and not connected to the finish in any way.  So even if nothing went wrong it was done for a cheap pop early into a match when it should have been saved for the finish if they were going to do it at all.  We see this kind of thing everywhere in every company – Canadian Destroyers on the ring apron, powerbombs off the top rope, table spots – that are done as setup moves for three or four more sequences along with finishing moves getting kicked out of in regular matches as if they were side headlocks.  This escalation makes it harder and harder to keep people interested in matches because like the Undertaker said during the Last Ride documentary once you do one somersault then the next time you have to do a double somersault to keep people interested.  The end result of this cycle is what happened to Matt Hardy: a terribly dangerous spot that served little purpose because it was too early in the match.  Fellas, ladies…..y'all gotta pull it back a bit.  Before you cripple yourselves in front of people who are barely amused anymore.
So look everyone – wrestlers, bookers, doctors, and yes, fans – the less of this stuff the better.  Greater danger for increasingly diminishing returns is not the move, everyone.