Sarpraicone: AJPW Champion Carnival 2020 Predictions
Mathew gives a succinct rundown of this year's AJPW Champion Carnival and his picks to win it all!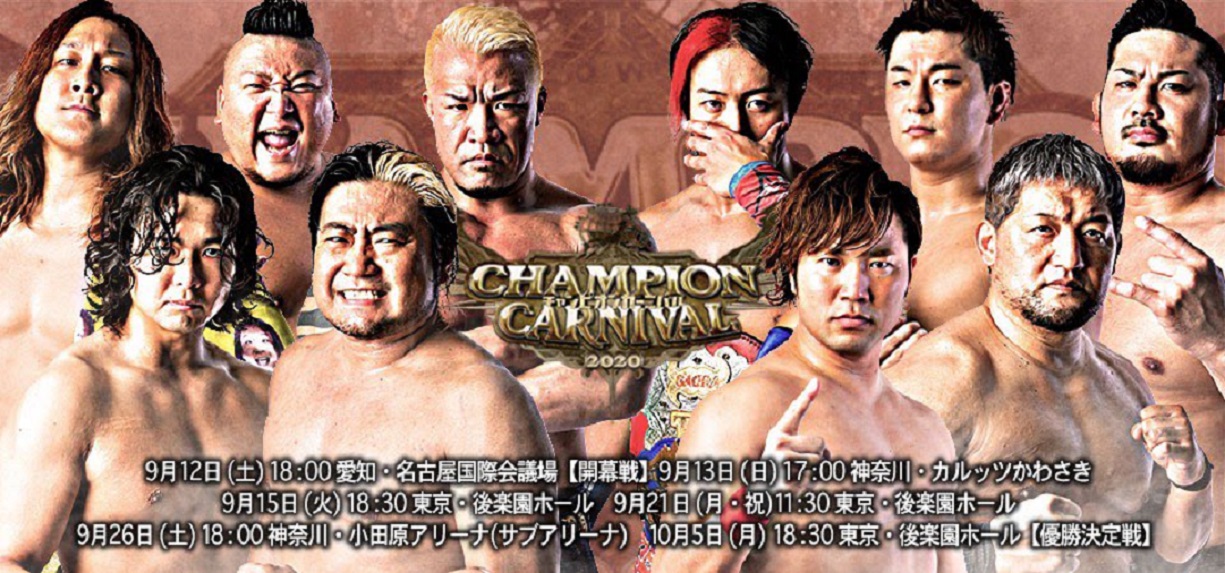 Well, fellas, we're back to bring All Japan Pro Wrestling to the website and we'll be topping that off with this year's Champion Carnival. Originally, this was scheduled for April and we had one of the most stacked lineups in quite some time. However, COVID happened and the tournament at the time was canceled, but now, they're able to bring it near the end of the year after all.
The only downside is that the participants were cut in half due to people being unable to travel, meaning we have five participants in each block instead of the original nine, maybe next year.
Let's take a look at the participants down below.
A Block
Suwama (Triple Crown Champion)
Jake Lee
Jiro 'Ikemen' Kuroshiro
Kuma Arashi
Zeus

B Block
Kento Miyahara
Shotaro Ashino
Shuji Ishikawa
Yoshitatsu
Yuma Aoyagi

Originally, I would do my top five picks but since the list is now cut in half, I've decided to do a top three instead since doing five would be half the participants and that's just not fun. When this was set in April, I did make a prediction that whoever wins the Carnival this year and I still believe that to be the case, regardless of when this tournament happened, Suwama still held onto the belt and seems very likely he'll drop it to the winner.
Without further ado, let's go to the top three.
3. Zeus


If you had asked me back in April, I would've said he was very likely to win the whole thing but due to the pandemic, his buzz slowly diminished. It doesn't help that the other members of Purple Haze haven't been around when they started doing shows again a few months ago. Because of this, it feels like his chances slightly decreased. Although, this could also be something that he needs to get some spark back into Purple Haze.

Do I think that he'll win now? Probably not but I wouldn't be surprised if he is somehow the surprise winner of the block at least to go to the finals. Zeus is a unique talent and he does deserve to have a proper reign as Triple Crown Champion instead of being a rebound to Kento with only one title defense. His time is coming, it's only a matter of when.


2. Shotaro Ashino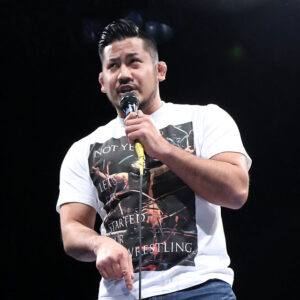 The rumored surprise entrant for the original lineup is now going to be apart of his first Champion Carnival in the B Block. I really do wish Shotaro didn't fight Suwama for the title over a month ago since this would've been the perfect way to get him into the title picture by winning the whole tournament. While a great match, at least the fans who aren't familiar with his Wrestle-1 work now know who he is. Despite losing to Suwama, this could be a good opportunity to have him bounce back into the title picture and possibly win the belt this time around.

This will be a big test for Shotaro since he has guys like Shuji Ishikawa and the ace, Kento Miyahara in the same block and if he dominates both of them, he'd be considered a bigger threat to the current champion and make him more prepared. Shotaro can definitely go far to even win the whole block but as for the tournament itself. his chances are very likely.

– Before I go to my number one pick, it's not Kento Miyahara and as much as I love the guy, he needs to simmer down for a little bit. He already tied the record of most Triple Crown defenses in one reign but failed to break it when he lost to Suwama back in February. Kento is already a well-established star and current ace of the company, so he's not going anywhere and will be champion again down the road.

– If Naoya Nomura was medically cleared to return to the ring, he would've been on this list since I've been bouncing between him and my top pick during the original lineup before his unfortunate injury.
1. Jake Lee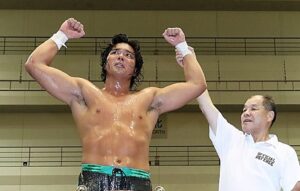 As I said up above, if not Nomura, then it's gotta be Jake Lee. Jake made it all the way to the finals last year but lost to Kento Miyahara but during the entire year of 2019, he showed that he is a future star of the company and him winning the Carnival is the best way to put the jetpack on his back. He'll be in the same block as the current champion, so it'll be interesting to see how they would play that one off. They could have Suwama win or Jake beat him here and after the tournament to really prove he's the future of All Japan Pro Wrestling.

If you wanna create a future star outside of Kento, Jake Lee is your guy and this is the perfect time to pull that trigger to make him that top guy in the company. If they don't go with him again, then there's no telling when his time will come and it'd be a wasted opportunity not to do it right now.

That concludes my three picks for the tournament and I do hope you all follow as the tournament will be covered on this website. And to top it all off, I will be doing the whole tournament by myself this time instead of me and Andrew doing it due to the fact that it's cut in half and all the shows have four matches each. So no point in doing it together, especially since we still have Stardom's Grand Prix along with NOAH's N1 Victory and NJPW's G1 Climax coming up. Going to be a busy month for the both of us as it is. If you wish to watch the tournament, you can watch it on their streaming service on ajpw.tv and enjoy a month of great wrestling.

One more thing, for the love of Christ Yuma Aoyagi, please impress us in this tournament since you have a lot more to prove from how behind you are compared to Jake, Nomura, and Kento. I do like you but really need to show why you can be a top guy.

Personal picks:
A Block: Jake Lee
B Block: Shotaro Ashino
Winner: Jake Lee
Dark Horse: Zeus
MVP: Jiro 'Ikemen' Kuroshiro
(NOAH) NOAH WEEKLY NEWSLETTER VOL.131 ~ 9TH MAY 2021
GHC Junior News starts to get fleshed out after the chaos of last week! Hisame breaks that down and helps to guide us along the rest of the NOAH builds.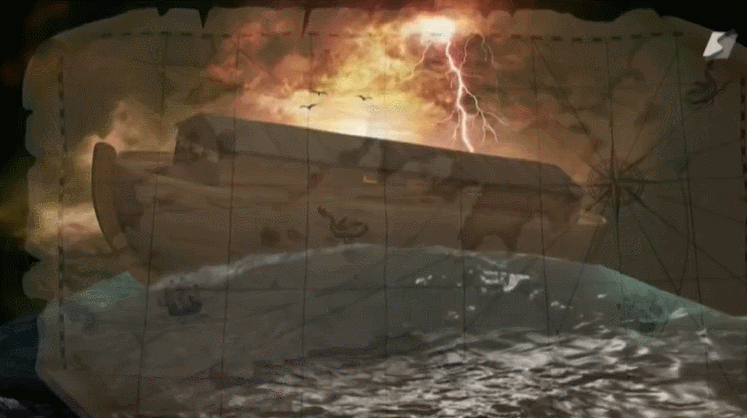 GHC Junior News starts to get fleshed out after the chaos of last week! Hisame breaks that down and helps to guide us along the rest of the NOAH builds.
NEWS
Yuya Susumu challenges for the GHC Junior Heavyweight, Atsushi Kotoge has terms. Yoshinari Ogawa not happy.
On the 3rd of May following the upheaval in the NOAH Juniors and the dissolution of FULL THROTTLE, after a typically wild NOAH Junior match (featuring brawls between all four units, including one that wasn't even in the match, but only appeared to bait their enemies), Yuya Susumu challenged Atsushi Kotoge for the GHC Junior Heavyweight title. Kotoge, who will accept any challenge for anyone, told Susumu that he would do it on one condition; Ogawa and HAYATA put the GHC Junior Heavyweight titles on the line against Daisuke Harada and Hajime Ohara. NOAH went ahead and made both title matches for the 30th May at the Mitsuharu Misawa memorial show.
STINGER, who can always be relied upon to make things difficult, started making a fuss. Yoshinari Ogawa gave an interview to Pro Wrestling DX in which he said he had no problems putting the belts on the line against Daisuke Harada and Hajime Ohara, who he recognized as worthy opponents, but he didn't see why Kotoge got to decide the title challenge for the junior belts and why NOAH did it without their permission, and therefore STINGER were going to refuse to defend them.
CYBERFIGHT FESTIVAL 2021 NEWS
Takeshita invades NOAH
DDT'S Takeshita returned the favor to Kaito Kiyomiya, by turning up in NOAH. The two faced off in the ring on the 3rd May after Kiyomiya's match against Ikuto Hidaka. Kiyomiya had been speaking on the microphone when Takeshita got into the ring. Takeshita reminded Kiyomiya of what was coming up and asked him if he was truly ready for it. He and his partner where, but he had hardly seen intensity from Kiyomiya recently. Backstage Takeshita said that his whole purpose of coming here today was to tell Kiyomiya that if he wants new scenery, then he needs to stop sulking, and show an intense fight, which he hadn't seen for a while. Kiyomiya's response backstage was typically polite, "I think it's a difference in the way of thinking. We are not going to lose to the size of heat, and I hope we can interact that way in the ring."
Kenoh was ruder about Takeshita, someone who he wasn't even in a match with, when he described him to Sanshiro Takagi as wearing a "filthy t-shirt". "Filthy" in Kenoh's mind as it is associated with DDT.
Kenoh invades DDT to confront President Sanshiro Takagi
Now that he is feeling better and has a certain amount of strength back, Kenoh decided the time was right to confront Sanshiro Takagi over CyberFight Festival, by bursting into DDT on the 4th May. Kenoh, looking a lot better than he did on the 2nd May, started by apologizing for the trouble caused by his getting ill with Coronavirus. Takagi told him to look up, Kenoh didn't, and when he did after repeated requests, got a stunner. Takagi told Kenoh to stop acting like a brat, he had read his column and seen his comments, and reminding him that like it or not he was his boss (Kenoh had said that Takagi was "President in name only" earlier), he was ordering him to appear at the event. Kenoh, (after a long rant, which included yelling at the DDT mat), said that there was NO ONE in DDT who was worthy of fighting him.
So Yukio Sakaguchi appeared and they had a stare off until separated by Takagi. Kenoh stamped off and it was announced later that a fourteen man tag had been arranged that would pit DDT vs Kongoh; Sanshiro Takagi, Akito, Kazusada Highuchi, Yukio Sakaguchi, Naomi Yoshimura, Yukio Naya & Hideki Okaya vs Kenoh, Katsuhiko Nakajima, Masa Kitamiya, Manabu Soya, Haoh & Nioh.
Sasadango and Dino demand a match against The Sugiura Army
On the 9th May, DDT'S Sasadango decided that he and Danshoku Dino should challenge The Sugiura Army to a match at CyberFestival. Dino didn't seem as enthusiastic as Sasadango, who said that he didn't know why he said it, but he wanted to do it. Takashi Sugiura's response was to say that he was tied up with the title match against Kazushi Sakuraba, and these two "comedians" where not going to get a match against The Sugiura Army. He also threatened (probably somewhat tongue in cheek as knowing Sugi he will create a match with Kazuyuki Fujita and Kendo Kashin) that if such a match went ahead, heads would roll. Namely Narihiro Takeda's and Sanshiro Takagi's.
EVENT RECAPS & POST MATCH PROMOS
Post match promos: Day 1 (NOAH THE OVATION 2021, 2nd May 2021)
Event recap: Day 2 (NOAH THE OVATION 2021, 3rd May 2021)
Post match promos: Day 2 (NOAH THE OVATION 2021, 3rd May 2021)
ELSEWHERE IN NOAH
~ Yasutaka Yano did an early move of Kotaro Suzuki's which involved a flip on an opponent when in the corner of the ring. Kotaro, his hero, encouraged him to do this more. Yano says he wants a singles match with Kotaro one day.
~ NOSAWA Rongai had a false tooth fall out before a match
~ Katsuhiko Nakajima was so demonic in the match against Funky Express on the 3rd May, he actually frightened fans watching at home.
~ With summer starting, the NOAH dojo is already reaching temperatures of 30 Degrees Celsius
~ Masaaki Mochizuki found himself given a bit of a cold shoulder when he refused to tell Naomichi Marufuji whose corner he would be in for Marufuji's title match against Keiji Mutoh. Yuko Miyamoto said he would be in Marufuji's.
~ Junta Miyawaki teases Kaito Kiyomiya and Yoshiki Inamura by pulling muscle poses in the mirror behind them when they use some of the weight machines at the NOAH dojo. Kiyomiya has named the mirror "Miyawaki's mirror".
~ Kenoh, Tadasuke, Haoh and Manabu Soya will return to the ring on the 15th May. Kenoh is in an eight man tag, which will hopefully mean he won't do too much.
CURRENT CHAMPIONS
THIS WEEK IN NOAH
Thursday, May 13th: Hajime Ohara debut (17 years)
Saturday, May 15th: "ALL OUT ATTACK 2021" (17:00 JST)
"ALL OUT ATTACK 2021" will be broadcast via ABEMA. I know this will be a free stream, but I don't know if it will be available worldwide. Please check on the day.
LINKS
Kenoh's letter, written while infected with corona, aiming at returning on the 15th May at Korakuen
Mathew's AJPW Champion Carnival Results & Review: Final Day (5/3/2021)
The Final day of AJPW's Champion Carnival has arrived! Do we see any of the numerous tie breaker possibilities show up? Or will we see a clean winner to this single block Round Robin?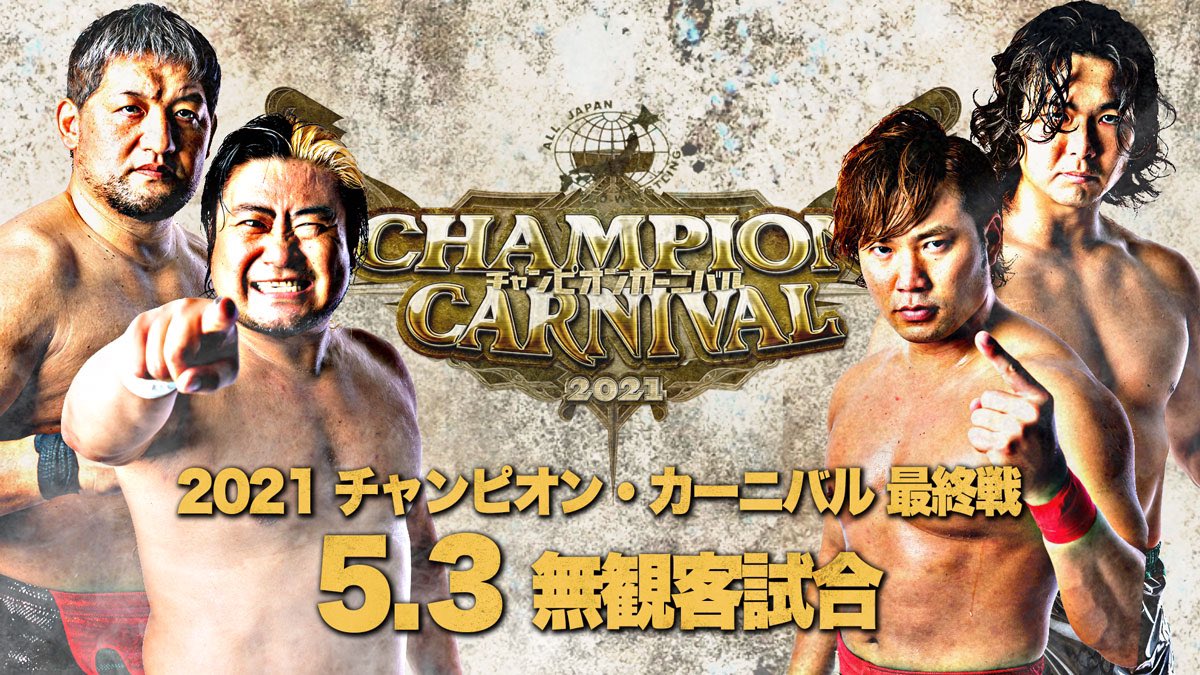 Well, folks, the time has come to finish off our coverage of the Champion Carnival. First off, I wanna thank Andrew for covering me by doing four of the shows when I was both away and sick, couldn't ask for a better partner. This has been a fun carnival, and I hate to see it end when we had fun match-ups and people who have improved in the card. However, we must finish up with the final day and see who will win.
Let's find out our Champion Carnival winner as we…dive right in.
Star Rating System:
0 Stars: Dave Meltzer
1 Star: Vince Russo
2 Stars: Tony Schiavone
3 Stars: Eric Bischoff
4 Stars: Bruce Prichard
5 Stars: Jim Cornette
Quick Results:
Shotaro Ashino vs Koji Doi: Ashino wins via Grapevine Ankle Lock – *** 1/2 
Kohei Sato vs Yuma Aoyagi: Yuma wins via Japanese Leg Clutch – *** 1/4 
Shuji Ishikawa vs Suwama: Shuji wins via Giant Slam – ****
Kento Miyahara vs Jake Lee: Jake wins via D4C – **** 1/2 

Champion Carnival 2021 Match
Shotaro Ashino vs. Koji Doi
Review: Let's get this show started as Shotaro Ashino takes on his former stablemate, Koji Doi. Shotaro has wanted to get his hands on Koji ever since Enfants Terribles turned their back on him a couple of months ago, and now he's looking to get this chance. None of them have a chance of winning but this is more for Shotaro wanting to get revenge. Will he be able to or does Koji foil them?
You think either Koji or Shotaro would charge at the other before the bell would ring to have heat or revenge but it doesn't appear to be the case here. A nice little opening sequence with armdrags involved while locking up as the two got up on their feet, staring at each other. Shotaro would take Koji down to try and apply the Ankle Lock but Koji quickly rolled out of it and tried to hit the Murder Lariat as Shotaro ducked but Koji would eventually get him into the corner to stomp his chest in. Koji is getting control in the match now and I don't recall the last time I've seen him work more technical but then again, being in the ring with Shotaro would kind of make you have to. I don't remember the last time they ever fought in singles action but I like the little chemistry they would have here in the match and Shotaro being on his own could lead to more interesting matches in the future like this one.
Shotaro was able to catch Koji for a Belly-to-Belly Suplex before he picked him up for the Gutwrench Suplex as he covers him but Koji kicked out at two. Shotaro applied an Ankle Lock for a moment but Koji slipped out of it to reverse it into the Rings of Saturn as he has it locked in now. Shotaro would slide towards the ropes while punching Koji's head to make him roll towards the ropes as Shotaro escaped the hold. Koji Lariats him into the corner and hits a Backdrop but Shotaro kicked out at two. Koji went for the Murder Lariat but Shotaro ducked it to get behind him for a German Suplex! The two exchange blows until Koji hits a Rolling Elbow and picks him up for the Swinging Side Slam but Shotaro kicked out again! Koji went for the Murder Lariat again but Shotaro blocked it and hits him with various European Uppercuts but Koji kicked out. Shotaro applies the Ankle Lock once more and Koji tries to flip him over but Shotaro keeps his grip on the hold and laid down Kurt Angle style to keep him locked as Koji had no choice but to tap out!

Rating: Eric Bischoff and a half


Champion Carnival 2021 Match
Yuma Aoyagi vs. Kohei Sato
Review: Time for our next match as Yuma Aoyagi takes on Kohei Sato. Sato has a chance to tie for the main event if he can win this match, but he'll be eliminated if he loses here. Yuma may be eliminated but he could have a chance to ruin it for Kohei and get ten points on the board. Will Kohei hang on or does his journey end here?
The two start with some chain wrestling here with Yuma getting the best of Kohei, getting him in a headlock for a solid minute or so, wringing his neck to apply some pressure for whenever he wants to go for the End Game later on near the end of the match. Kohei would eventually push him off to get Yuma down for a shoulder tackle and ran the ropes, leading to Yuma getting up to hit a Dropkick as Kohei rolls to the outside. Yuma applies the headlock again once they were outside of the ring, knowing he has to take him down as fast as he can due to Kohei being taller than him. Throughout the whole Carnival, I've enjoyed their performances as a whole. Kohei was able to show that he could hang with anyone on the roster and deliver some stiff but quality matches at the same time. Yuma is my MVP of the tournament as this was the Yuma I wanted to see for so long, and we were able to see that from him for the past month.
Here comes Kohei with the strikes as he stopped Yuma with a forearm, then a knee to the gut before flipping him over with a Snapmare, kicking him in the back to apply damage to Yuma. Kohei delivers forearms to Yuma's upper back while he was still sitting down as Kohei isn't letting up this time around due to how Yuma was toying with him in the first half of the match. Kohei delivers one more forearm before pinning Yuma but he kicked out at two. Kohei now applies a Sleeper Hold to try and make Yuma pass out but he gets his foot on the ropes to make him break the hold. Yuma went for a Dropkick but Kohei latched onto the ropes so he wouldn't get hit and attempts to knee Yuma but is caught with a Dragon Screw. Yuma kept running the ropes, ducking Kohei's Lariats as Yuma catches him with a Flying Forearm before climbing to the top rope to hit a Crossbody as Kohei kicked out! Yuma ran the ropes again, only to get caught by a knee from Kohei, and delivers stiff kicks to the chest to get him down but Yuma kicked out. Kohei would then pick Yuma up to hit a Falcon Arrow as Yuma kicked out again. Yuma tried to German Kohei but is met with an elbow, leaving him dazed and called for the German Suplex Hold as Yuma reversed it into the Japanese Leg Roll Clutch Hold, getting the quick pinfall over Kohei! And with that, Kohei is now eliminated!

Rating: Eric Bischoff and a quarter

Champion Carnival 2021 Match
Suwama vs. Shuji Ishikawa

Review: Past the halfway point now as it's champion vs champion with Triple Crown Champion, Suwama taking on his former teammate and GAORA TV Champion, Shuji Ishikawa. The last time these two fought each other, they were still teaming. This is now the first time they're fighting since splitting up five months ago, so expect them to settle any hard feelings into the ring. If Suwama can win here, he'll be tied to fight the winner of the main event. Will Suwama win or is he eliminated as well?
The two locked up as Shuji gets control in the beginning, pushing Suwama into the ropes until he lets go, only to catch him with a headlock again and topped it off with a shoulder tackle. Suwama looked a little annoyed here and the now would exchange blows back and forth to one another, however, Suwama hits the two-handed chop before getting behind Shuji to apply the Sleeper Hold but Shuji grabbed the ropes to break the hold. Shuji had a difficult time getting up, so Suwama would capitalize on that by taking control of the match from here, working on Shuji's neck with strikes and holds to weaken it in case he wants to make his former partner pass out here. Uh-oh, it looks like Shuji is accidentally bleeding from the nose when Suwama pulled on him during the hold but Shuji was able to grab the rope to break it. Shuji finally starts to fight back as he gets out of the ring, hanging Suwama over the apron Randy Orton style, and then hits a DDT to make Suwama land on the floor! I'm glad it's not a one-sided encounter since they're both top guys who have teamed together for years, they know how they work and they always deliver in the ring whenever they fight each other. Suwama's neck appears to be in pain as the referee checks on him to see if he wants to continue, and he does while rolling back into the ring.
Shuji would stomp Suwama down once he rolled back into the ring, but Suwama tries to fight back as Shuji catches him in an Anaconda Vice style while slamming him down onto the mat. Shuji turned it into a Cobra Clutch as Suwama is fighting to stay alive and eventually gets his foot on the rope. Shuji ran the ropes to try and Lariat the champ but Suwama would catch him to hit a Flatlinner, saving himself some time to get back some momentum, applying the Sleeper once again. Shuji was struggling in the hold as Suwama turned him around to try and hit the Last Ride but fails to do so when Shuji flips him over. The two slowly get up and start hitting each other back and forth but Shuji would hit multiple forearms as Suwama collapses onto the mat. Shuji tried to lift Suwama but Suwama reverses it into a Suplex! Suwama is making a comeback, delivering double-handed chops to Shuji before tossing him into the ropes to hit a Lariat and covers him but Shuji kicked out. Suwama lifts Shuji for the German Suplex and charges at him for another Lariat, covering him again but Shuji kicked out again! Suwama hits the Backdrop as Shuji kicked out again but Suwama turns in into a Sleeper Hold once more as Shuji looks to be in trouble but he lets go to pin him as Shuji barely kicked out! Suwama is getting annoyed and picks Shuji up, leading to the two exchanging blows again, both men being stiff towards one another until Suwama attempts the Discus Lariat, Shuji ducks it to hit the Dragon Suplex and tops it off with a Tsunami! Shuji delivers multiple knees to Suwama while he was on his knees, struggling to get up until Shuji picked him up for the Fire Thunder and Suwama kicked out at two! Shuji hits a Kamigoye and then a Tsunami, only for Suwama to kick out at two again! Suwama was struggling but Shuji would hit the Giant Slam onto Suwama, pinning him for the victory, and eliminating the Triple Crown Champion!

Rating: Bruce Prichard

Champion Carnival 2021 Final Match
Kento Miyahara vs. Jake Lee

Review: Now that both Suwama and Kohei lost their respective matches, this is the official final round of the Champion Carnival as Kento Miyahara takes on Jake Lee. These two are no strangers to each other, they were in the finals in 2019 where Kento defeated Jake. Jake only has one victory over him and that was in the Odo Tournament in 2019. With Jake's new persona, maybe this is what he needs to defeat Kento again, Who wins the Carnival this year?

The two locked eyes as it'll start the same as they normally do but this time, they're going slow with it since they know each other so well and was anticipating when they would strike. The two are eventually out of the ring and while Kento does his headbutts, Jake decides to attack the gut of Kento, working on that as his body part this time around. You can never go wrong with these two together in the ring since Kento always brings out the best in Lee. While it's not their best work in-ring-wise, the story for it makes it excellent, Jake is tapping into that darker side of himself, doing whatever it takes to win in this match with Kento. And even though TOTAL ECLIPSE is out there with him, they don't interfere since Jake wants to win this one on his own to prove to himself that he can beat him one-on-one without anybody butting in. The two are on the ring apron as they fight back and forth until Kento hits a Piledriver onto Jake, making him fall to the floor!

The two are now in the ring as Kento hits the Blackout on the back of his head, Jake flopping down on the mat, Kento tossing him into the ropes as Jake catches him with a beautiful Leg Lariat as they both go down. Jake delivers another knee to Kento's gut as he tries to fight through the pain but Jake kicks him in the gut to pin him as Kento kicked out at two. The two exchange blows once Kento has a burst of energy as Kento kicked him in the face before running the ropes, getting caught with a Giant Killing as Kento goes down but kicked out again! Jake goes for the D4C as Kento reverses it into a German Suplex, hitting another Blackout. Kento tries to hit the Shutdown German Suplex Hold but Jake reverses to knee his gut again. Jake hits Kento repeatedly in the face and chest with knee strikes until Kento was knocked out, Jake waiting for him to get up as he went for the D4C but Kento reversed it into a Small Package as Jake barely kicked out! Kento finally hits the Shutdown German Suplex Hold onto Jake but Jake would kick out! Kento couldn't believe it as he tries again, he has it locked in but Jake is struggling till he reaches the ropes with his teeth. Kento quickly pulled him in the center, still having it locked but breaks free, only to get hit with another Blackout! Kento goes for one more as Jake roundhouse kicks him in the head twice, and catches him to hit the D4C as he pins Kento in the ring to win the Champion Carnival!

That's right, Jake Lee is your Champion Carnival winner! This was the right call to make since Jake is a star in the making and someone they desperately need if they want to help create the future of the promotion. Kento is the ace of the company but he doesn't need the win or the Triple Crown Championship any time soon. He's already well-established and this doesn't hurt him at all, he can bounce back at any time. Jake's official challenge will take place at Champions Night on May 16th, where he will fight Suwama for the title. If they were smart, they would pull the trigger right here and give him his long-overdue run with the belt and if not, then he's a lost cause and all the momentum he's had will flatline. Do the right thing here, All Japan.

Rating: Bruce Prichard and a half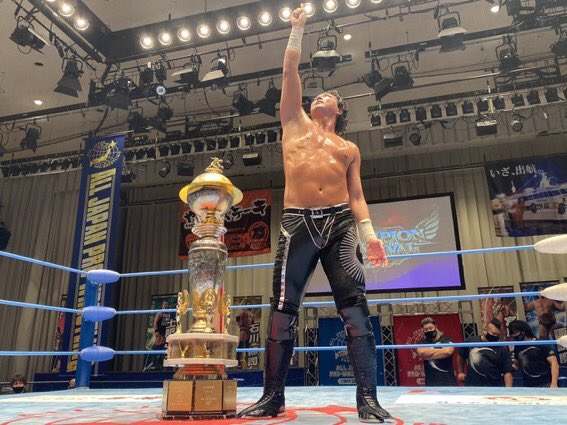 Overall: A lot of solid stuff for the final day of the Carnival. The last two matches were great ways to end the show. The only thing that hurt it was the fact that there were no crowds allowed at the event due to the State of Emergency recently. The right man won and I couldn't be happier for Jake, I just hope he wins on May 16th, only time will tell. Fun Carnival and looking forward to next year!

Favorite Match: Kento Miyahara vs. Jake Lee

Least Favorite Match: Yuma Aoyagi vs. Kohei Sato

Score: 8/10


Champion Carnival Final Standings:
Jake Lee (6-3) (12 Points) (Winner)
Kento Miyahara: (5-4) (10 Points)
Suwama: (5-4) (10 Points)
Kohei Sato: (5-4) (10 Points)
Zeus: (5-3-1) (10 Points)
Yuma Aoyagi: (5-4) (10 Points)
Shuji Ishikawa: (5-4) (10 Points)
Shotaro Ashino: (4-5) (8 Points)
Shinjiro Otani: (2-6-1) (4 Points)
Koji Doi: (1-6-2) (2 Points)