Tiffany's Takes: Roman Reigns, AEW/NWA, Women's Wrestling, and More
Tiffany brings us her takes on a few of the more popular topics in the wrestling community!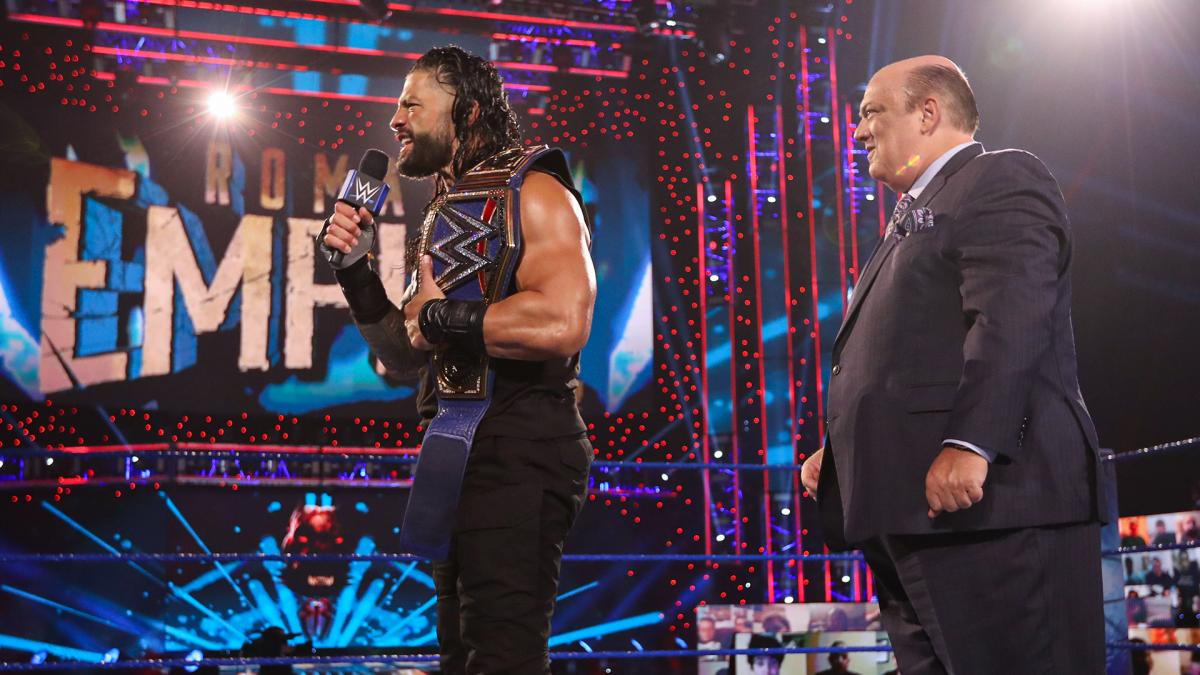 So, this a new thing that I hope I'll be doing going forward.
I changed departments in the store I work for and my schedule is even more chaotic right now and in order to be able to keep writing for you lovely folks, I have to change my work…again. So, instead of me yammering over one topic, I'll be giving condensed takes on several topics a week.
Paul Heyman's Roman Reigns Dilemma
I'm beginning to think that Paul Heyman is realizing that he really has NO idea just what he's helping unleash on WWE. Like, Brock Lesnar might be 'The Beast', but he's a pretty predictable beast. You know what you're getting with Lesnar. You give him the exorbitant amount of money he wants, he shows up, puts on a match that may or may not be up to par, and leaves. Easy peasy. Roman is different. This slow simmering heel persona is markedly different from his face/tweener persona. This is DARK shit right here. Did you see Roman's face when Jey got the pin on 9-19's SmackDown and then held onto the Universal Championship? He was MAD, scary mad, at his own cousin that is like a BROTHER to him. That is not a Roman Reigns you want to poke or goad too much or you'll end up like every other poor bastard that got in his way, and I think Paul is starting to realize that and I think it scares him. It might not scare him enough to run away from his new golden goose, but scare him enough to make him proceed with caution.
AEW/NWA Alliance Needs to Happen
Seriously, this would be SUCH a game changer for the non-WWE wrestling fans. No, the NWA is not what it was back in the old days, but for a lot of long-time wrestling fans, the NWA name still has meaning as THE gold standard of professional wrestling, as opposed to WWE's Sports EntertainmentTM. To have up and coming AEW allied with the NWA would be a win/win for both sides. AEW gets a level of legitimacy and news talent to showcase, NWA gets their stars in front of a TV audience. I can see Cody wanting to do this for sheer sentimental reasons. His dad was a 3x NWA Heavyweight Champion, Cody himself was NWA champion, but even that aside, it would be a game changer and a way for both companies to help each other out.
Jon Moxley and WWE
Can we cut the BS about Moxley going back to WWE? He has said repeatedly that he's not interested in going back and that he'd rather bag groceries, which I'm not sure any store does now, or work at McDonald's than work for Vince again. Yeah, he said 'Never say Never' when asked about a Shield reunion, but that could mean anything and everything, but this idea that he's going back to WWE anytime soon is nonsense. Dude's living it up on AEW, he's the champ, he's working with great talent, and getting to cut the promos and do the matches he wants. He goes back to WWE, he'll be treated as a distant third to Reigns and Rollins. It's not hard to figure out.
Women's Wrestling
I must be the only person not mad about what happened to Lana on Monday Night RAW. Lana isn't a good wrestler, or even an adequate one, she's not even that good of a promo. So she got squashed by the new Riott Squad, big deal.
I hope Mickie James does get one last run with a WWE Women's Title. The woman is a legit living legend and still one of the best performers in the company, give her a PUSH!
I don't know what was going on with Ivelisse on Dynamite this week, but what I'm hearing makes her seem very unprofessional. Dude, leave your issues at the curtain.
I miss Britt Baker vs Big Swole. That storyline was fun.
I'm going to laugh if SmackDown's mystery woman isn't Carmella, like everyone's been predicting.
I wish WWE hadn't pulled the trigger on Sasha Banks vs Bayley so soon, but I'm intrigued by the story anyway.
The Alexa Bliss storyline is odd, unsettling, and kind of cool, perfect for this time of year.
One Shots
The Jeff Hardy/Sami Zayne/AJ Styles ladder match was the least surprising booking ever. I saw that one coming a mile away. Doesn't mean that the prospect doesn't excite me, I'm just not surprised by it.
Drew McIntyre bores me rigid.
I like the concept of RAW Underground, but I keep feeling that it'll get Vinced up and be a mess before too long.
I love how Seth Rollins is making Dominick Mysterio look like a major star. That cage match was incredible.
The Hurt Business is kind of cool. Sort of a cross between Nation of Domination and the Four Horsemen.
How long is that stupid King Corbin thing going to last? It was only supposed to be a year, we're past that, can we end it now.
Best Friends vs Santana and Ortiz was NOT the greatest street fight of all time. That honor belongs solely to Shane McMahon vs Kurt Angle from King of the Ring 2001. However, the Best Friends/PnP match was right up there in terms of storytelling and match quality.
I'm pretty sure the Elite breaking up is a ruse. Omega's turning heel, if not an outright heel yet. The Young Bucks are heels, so I'm guessing they'll reform the Elite as a heel group before long.
I think NXT moving to Tuesdays would be great for NXT and AEW, but I can see Vince and Hunter being stubborn enough to keep plowing ahead, even when it means getting beat by AEW almost every week.
That's it for Tiffany's Takes! Tune in next week for more musings!