Andrew's G1 Climax 30 B Block Results & Match Ratings: Day 16
Penultimate G1 B Block action! Five men came in with hopes to win the block! How many make it out of the day?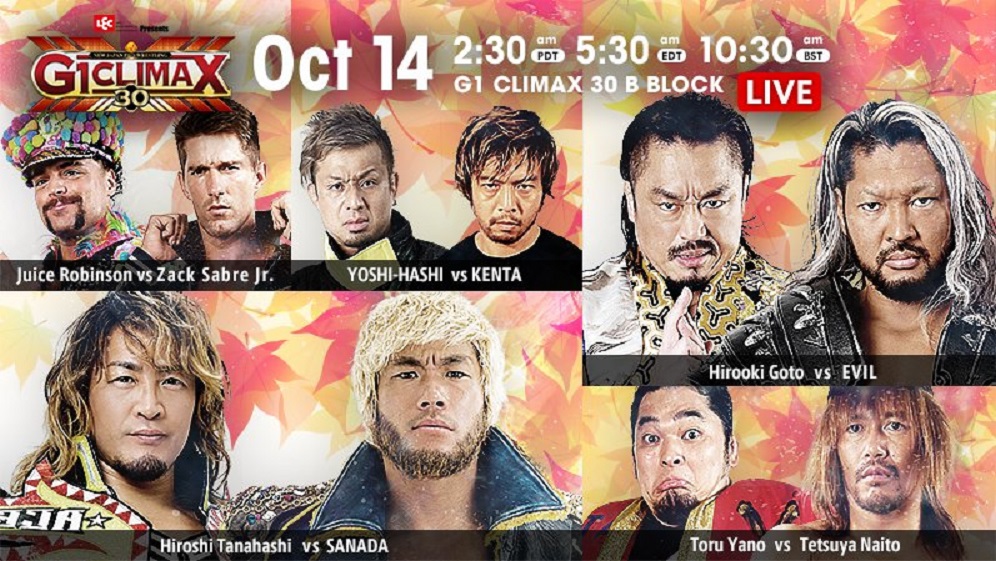 After the last day of the B Block, I had to question if I wanted to even touch this. You ever watch a show so bad you want to right off the entire product? *Stares at WWE for a while*
ANYWAY – with ZSJ, Hirooki Goto, SANADA, EVIL and Naito still eligible to win the block; these matches are insanely important. If EVIL and Naito can win, depending on how the other matches go, it could become a two horse race.
Let's see who survives the tie breakers!
Ratings:
KENTA vs YOSHI-HASHI: KENTA wins via Game Over @17:39 – *** ¼
Juice Robinson vs Zack Sabre Jr: ZSJ wins via Double Wristclutch Prawn Hold @14:30 – ***
Toru Yano vs Tetsuya Naito: Naito wins via Rolling Jacknife Cradle @8:04 – ***
EVIL vs Hirooki Goto: EVIL wins via Everything is Evil @15:33 – *** ½
Hiroshi Tanahashi vs SANADA: SANADA wins via Moonsault @28:25 – ****
Results:
KENTA vs YOSHI-HASHI
It starts slow with KENTA mostly messing with HASHI, and then once HASHI gets angry, KENTA powders. While powdering KENTA sees HASHI's Goku Power Pole and becomes enamored, the referee is telling him to put it down and you just hear him mutter "Sugoi…"; this was used beautifully to bait out HASHI who tries a Baseball Slide, whiffs, and KENTA starts introducing him to the ring post a few times.
KENTA's plan comes out after the get back in the ring, he goes after the left arm that used to be perpetually taped, with Shoudler Breakers, Kicks, strikes and takedowns. HASHI battles back, but KENTA keeps up the malicious intent. Aside from it being an existing injury, it also helps to weaken the arm for a possible Game Over.
As the match continued, KENTA was relentless with focusing the arm, but HASHI did hit a Head Hunter, followed by his awful Draping Dropkick thing, and the Running Meteora. We really started getting the either man could win vibes at this point. KENTA caught HASHI in the corner, did his Tornado Choke and Diving Lariat, but the strike exchanges were fairly equal, and even started favoring HASHI at some point.
YOSHI-HASHI had KENTA in the Butterfly Lock for what felt like 2 minutes, even applying the Hammerlock to the bad arm, but KENTA gets to the ropes. Interestingly, the Butterfly Lock really hasn't been able to do anything this tournament, so maybe he'll stop using it. When KENTA gets to the ropes, HASHI pulls back with a Sleeper, which might be a Shibata shot, before landing the Running Meteora again.
More strikes, more HASHI getting the best of things, even countering the Go 2 Sleep with a DDT. But KENTA manages to catch HASHI with a nice transition into Game Over, and after a little struggle, HASHI submits.
Highlights from "#G1CLIMAX30 Night16" (Oct 14th)
Watch full matches on New Japan World!

B Block action gets underway!

Will @YOSHIHASHICHAOS (1-6) get his second win, or will @KENTAG2S (3-4) stay alive?

WATCH NOW▶︎https://t.co/Tj7UBJ4PjP#njpw #njpwworld pic.twitter.com/vrvi99nN9Y

— njpwworld (@njpwworld) October 14, 2020
Juice Robinson vs Zack Sabre Jr
This match really felt like it followed a similar structure to the last. ZSJ focused on Juice's left arm, to take away the Left Hand of God, but the fact that ZSJ was hunting for the submission and Juice was fighting back, tread too many of the same elements as KENTA and HASHI.
As for the match, there was still fun spots with ZSJ hitting his corner Tornado DDT, Juice getting angry and not dropping during the exchanges, but it was rather basic. The fact the finish came out of locomotion cradle from both, before Zack hit that Prawn Hold he's utilized a bit this tournament was interesting, but nothing overly special.
Toru Yano vs Tetsuya Naito
Naito brings the Undertaker speed of entrance just to mess with Yano. He takes the world's smallest steps, turns around and Yano is having a conniption fit.
The early goings was just Naito messing with Yano, but the comedy was good here. Naito charged the ropes every time Yano tried to slide in, which almost forced the count out. Then Naito hid to mess with Yano as he slides into the ring to try and take a turnbuckle pad off, but Yano catches him. Pad shenanigans happen there, and then we get some classic Yano.
Yano takes it to the outside, knocks down Yota Tsuji as well, tapes Tsuji to Naito and thinks he's good. Tsuji actually figures out how to get through the barricade, rolls in with Naito, they hit a Double Clothesline that Marty Asami allows since they're taped together. They eventually break the tape, Naito offers the fist bump, but it's a fake and he Scoop Slams Tsuji on to Yano.
Naito goes to Slam Marty, but Marty flails out which allows Yano a Low Blow moment, tackle to the back but it knocks down Marty, so Naito hits the Pop-Up Ding Ding Kick, does the Rolling Jacknife Cradle and beats Yano at his own game.
EVIL vs Hirooki Goto
This starts off fairly basic for both of these guys. Goto brings some strikes and power, and then Dick Togo gets involved, to allow EVIL to get the momentum and execute the Homerun Chairshot. EVIL takes that momentum and stays on Goto a bit until he fires up, connects with the corner Water Wheel Kick and the Running Bulldog to start making things more competitive.
We get a nice slugfest from here out, EVIL removes the elbow pad and hits a lariat followed by Darkness Falls, but only for two. Goto fights back, dumps EVIL to the outside, wipes out both EVIL and Togo with a Plancha, as things start looking up for Goto. EVIL distracts Red Shoes, Togo tries to interfere, eats an Ushigoroshi for his troubles. EVIL charges, eats a Reverse GTR, then we get a counter war, GTR, spin out to Everything is Evil, spin away GTR attempt again; but Goto stumbles towards Red Shoes, a few more dodges as Goto goes for a Discus Lariat but EVIL catches him with Everything is Evil.
Hiroshi Tanahashi vs SANADA
We saw some early feeling out, and a few fun spots. They did the dual leg catch with the "Put it down, no you, okay same time" spot, SANADA got the best of Tanahashi after a few mutual fake outs. SANADA follows up the chicanery with a few Paradise Locks. The normal one as he poses for Milano's approval, then he ties up Tanahashi on the apron in the ropes, as he walks around a little trying to rally the crowd.
Tanahashi hits the desperation Aces High, and then catches SANADA on his way back into the ring with a few Dragon Screws and we start ramping up the match. Great pacing allowed each moment to mean something even if it wasn't overly flashy. Tanahashi fighting through age and injuries, against someone trained from the same school as him (Muto instead of Fujinami, but still Dragon), they had a lot of mirrored moments. Tanahashi goes for the High Fly Flow, SANADA gets his knees up. SANADA had Skull End in for a while, then goes for the Moonsault Press, but Tanahashi gets his knees up. Dragon Screws, Dragon Sleepers, lots of counter moves and attempting to take sudden advantage of moments. Locomotion counters, SANADA rolls through a Dragon Sleeper, Tana backflips out of it, then when SANADA tries to backflip, Tana just plants him with a slam, and follows that with Sling Blade. Tana goes to the top rope, SANADA stands, Aces High, but SANADA goes full Randy Orton and catches him with the Ace Crusher!
Moonsault on the back, then the Moonsault hits flush and SANADA beats The Ace! SANADA is still very much alive in the tournament!
/
G1 CLIMAX30横浜大会(10/14)を公開‼️
本日はBブロック公式戦🏆
\

激しく入れ代わる攻防‼️
この激闘を制するのはどちらだ…⁉️

🆚 @tanahashi1_100 × @seiyasanada
📲 #njpwworld で配信中✨#G1CLIMAX30 全戦生配信👉https://t.co/Tj7UBJ4PjP#njpw pic.twitter.com/0Xxb7AmpXW

— njpwworld (@njpwworld) October 14, 2020
Overall Score: 7.25/10
This was a great rebound after the awful G1 day that was Day 14. YOSHI-HASHI is still wrestling tough, but coming up short. Yano and Naito was fantastic comedy. ZSJ and Juice was decent, sadly for ZSJ he needed the leaders to lose today to still have a chance at the block. EVIL stays in control of his destiny, but with SANADA as his final opponent, that will probably be the main event and the deciding factor in the block.
Okay so now comes our favorite part of tournaments, angles to win!
EVIL: Win vs SANADA; Draw vs SANADA & Naito Draw or Loss vs KENTA
Naito: Win vs KENTA & EVIL Draw or Loss vs SANADA; Draw vs KENTA & EVIL loss vs SANADA
SANADA: Win vs EVIL & Naito loss vs KENTA – SANADA has tie breakers over both in this hypothetical.
B Block Standings:
EVIL: (6-2) – 12 Points
Tetsuya Naito: (6-2) – 12 Points
SANADA: (5-3) – 10 Points
Zack Sabre Jr: (5-3) – 10 Points (Eliminated)
KENTA: (4-4) – 8 Points (Eliminated)
Hirooki Goto: (4-4) – 8 Points (Eliminated)
Toru Yano: (3-5) – 6 Points (Eliminated)
Juice Robinson: (3-5) – 6 Points (Eliminated)
Hiroshi Tanahashi:(3-5) – 6 Points (Eliminated)
YOSHI-HASHI: (1-7) – 2 Points (Eliminated)