Andrew's Impact Wrestling Bound for Glory Results & Match Ratings: 10.24.2020
Impact Wrestling's WrestleMania takes place tonight! Very possibly the culmination of the TNA title angle, and maybe we get a feel good underdog championship crowning! Let's see what happened!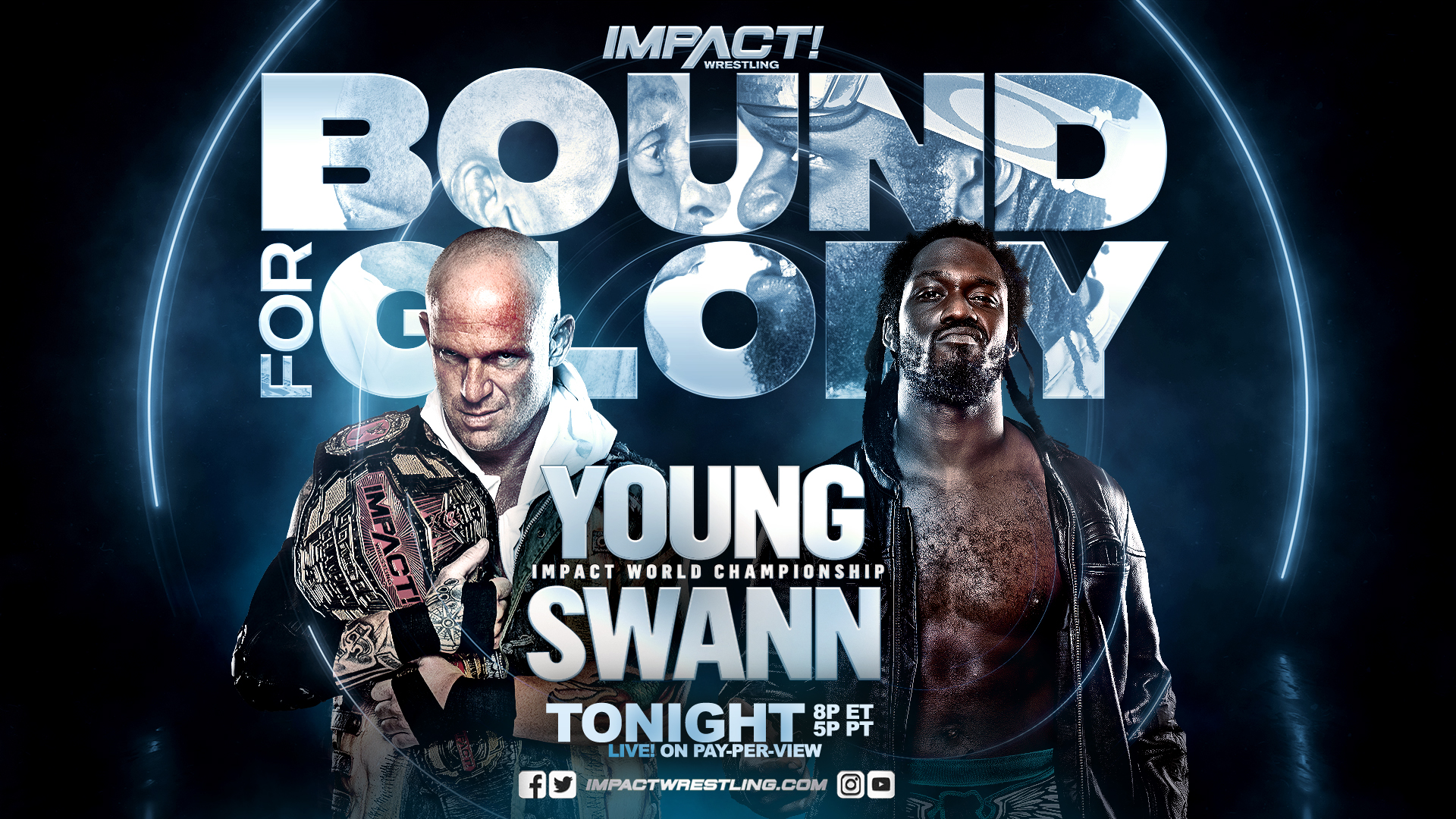 Impact Wrestling's WrestleMania takes place tonight! Very possibly the culmination of the TNA title angle, and maybe we get a feel good underdog championship crowning!
Will Heath and Rhino figure out how to win the gauntlet match, or do they both leave Bound for Glory unemployed? Can the Motor City Machine Guns fend off three other elite caliber tag teams? Does Deonna Purrazzo defend her title and prove being nice is being weak?
Let's see how Impact's biggest dance measures up to the others in 2020!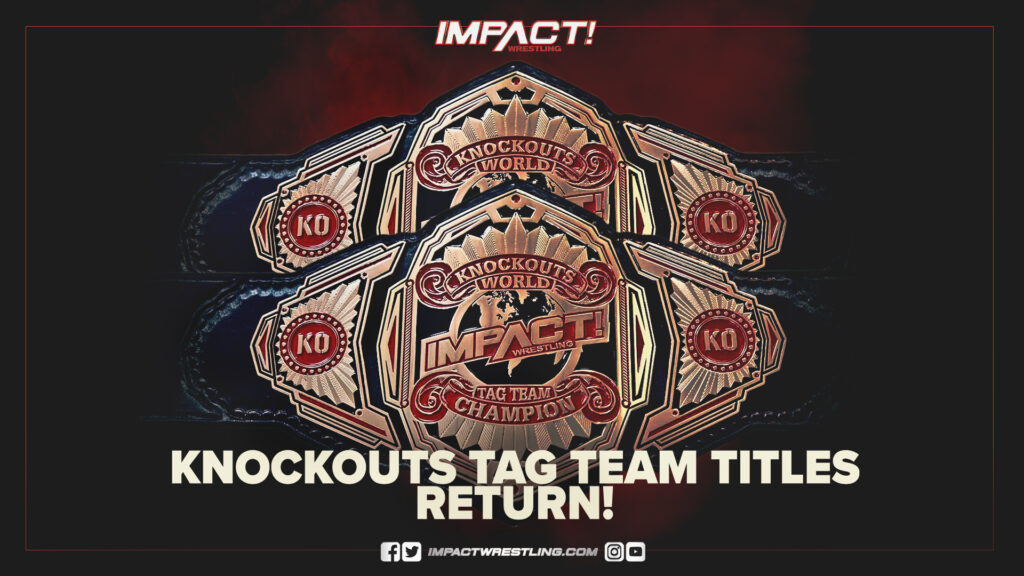 Ratings:
6 Way Scramble: X Division Championship: Rohit Raju (c) vs Jordynne Grace vs TJP vs Chris Bey vs Trey Miguel vs Willie Mack: Rohit retains via Mamba Splash – *** ¾
Call Your Shot Gauntlet:  Rhino vs Sami Callihan: Rhino wins via Gore  – **
TNA Heavyweight Championship: Moose (c) vs EC3: Moose…wins?  – ****
Ken Shamrock w/Sami Callihan vs Eddie Edwards: Ken Shamrock wins via Ankle Lock  – ***
Impact Wrestling Tag Team Championships: The Good Brothers vs Ace & Fulton vs The North vs Motor City Machine Guns (c): The North win via Shot with the Belt – *** ¾ – TITLE CHANGE!!
Knockouts Championship: Deonna Purrazzo (c) vs

Kylie Rae

Su Yung: Su Yung wins via Panic Switch  – *** ¼ – TITLE CHANGE!!!
Impact World Championship: Eric Young (c) vs Rich Swann: Swann wins via Phoenix Splash  – **** ¼ – TITLE CHANGE!!!!!!
Results:
During the Countdown to Impact pre-show, we saw Mick Foley, Bret Hart and The Rock, all congratulate Ken Shamrock on his Impact Hall of Fame induction. Even if the Impact Hall of Fame is poo poo'd by many and even dismissed; it's nice to see some big names in the business cross the line to congratulate a friend. Shamrock even put over Vince and WWF in his acceptance speech. Wholesome blurring the lines is nice once in a while. –ALSO- Matt Striker did the Pre-show match with Don Callis and presented the award to Ken Shamrock. So nice to see Impact finally using Striker; man is play by play gold.
6 Way Scramble: X Division Championship: Rohit Raju (c) vs Jordynne Grace vs TJP vs Chris Bey vs Trey Miguel vs Willie Mack
Start of the match is very much the story of everyone wants to get their hands on Rohit. Rohit tries to powder, they all go after him, he dodges and gets Willie, Trey and Jordynne to crash into each other. Chris and TJP start fighting over who get to hit Rohit and it turns into a stalemate of counter twists and jawing. After that we hit a moment where everyone starts to come in an get a little bit of offense against someone.  Constant motion, so that makes for an interesting start. TJP has Willie in half a Muta Lock, Trey tries to get in, but TJP uses his free leg to apply an Indian Deathlock, then grabs a Front Necklock on Bey, but Jordynne starts loosening up the multi-pronged submissions, and Rohit takes full advantage.
Eventually Willie hits a Pop-Up Forearm and then we see Rohit become a pinball. Everyone gets in one clean hit, before Willie hits the Samoan Drop, Standing Moonsault and then everyone else breaks up the pinfall. This gets fun with some cool moves and signatures after this point. A big move was Jordynne in the Tree of Woe, with Trey, TJP and Bey fighting in the corner, so they do a variation of like a Tower of Doom, where Jordynne Spider's up, grans TJP and Bey by the tights, and pulls them back with the Superplex to Trey.
Lots of fun spots, great moves, Trey eats a Grace Driver, Rohit breaks it up, TJP thinks he's got the line and hits the Mamba Splash, Rohit flies in, Tiger Knee to TJP and he pins Trey to retain his title!
We get a bit of the wedding vignette, followed up by Heath and Rhyno. Yes, someone gave the camera guy a bad cue and we catch them being counted in, before the segment starts. It looks goofy, but let's also remember they don't do Live TV every week, at least the audio hasn't been too messy so far.
Call Your Shot Gauntlet
Rhyno has to start after losing the IMPACT! Match, and Shawn Daivari comes out number 2! Looking real jacked baby, looking real jacked.  After some outside brawling which makes Josh and Don whine like little girls, Larry D comes out at #3. A double team attempt to eliminate Rhyno proves futile, and Crazzy Steve comes out next.  Not much happens here, but Acey Romero comes out next, so the team of XXXL is in the ring and makes a Crazzy Steve sandwich.
Tennile is out a #6, and like the smart influencer she is, she doesn't want to get in. But she sends Kaleb with a K in. Not sure if he counts…but Havok comes out next with Nevaeh. Havok versus Acey is unexpected, but Havok hits him with a Tilt-A-Whirl Headscissors. Havok eliminates Kaleb…so what does that even mean? Brian Myers comes out next . Oh Tenille is in the ring now, so Kaleb was just a distraction I guess, maybe that means he has to go get in the Suicide outfit. Crazzy Steve is officially eliminated though. Oh Christ…Swoggle comes out next. Myers and Swoggle have a cute moment together eliminating Daivari, and then Myers chucks Swoggle showing his true colors.
Tommy Dreamer comes out in Road Warrior Animal paint and T-Shirt.  Dreamer doing mostly Animal moves, and tells Swoggle to go up for a Little Doomsday. Alisha is #11, and somehow not the worst entrant since Swoggle existed. Myers uses Tenille as a shield. Myers eliminates Dreamer, Alisha hits Myers with a Kendo stick, Myers no sells and dumps Alisha out. Myers is looking like a beast.
Ahh Kiera Hogan is next, so my interest has peaked again. Myers and Tenille are taking pictures, Myers then lifts up Tenille like it's a new picture, and just drops Tenille on Kaleb. Brian Myers is really looking like a man with a plan. Taya Valkyrie is up next. Taya actually out maneuvers XXXL and looks really good while taking over. Fallah is #14, still clutching the money like Gollum. Havok eliminates Kiera, but Taya eliminates Havok. Good, that's what you get – WAIT James Storm is NEXT OUT! JOHNNY CASH LISTENIN!
"The Cowboy" @JamesStormBrand is BOUND FOR GLORY! #BFG2020

Order HERE: https://t.co/k6FQZR0uhy pic.twitter.com/O9x7Hb4E8k

— IMPACT (@IMPACTWRESTLING) October 25, 2020
Adam Thornestowe comes out after Cowboy. Cowboy did eliminate Larry D though.  Luster the Legend is next, so we have another team in the mix. With Larry D out, Reno Scum is the only tag team currently all legal in the match. Heath is #17, and Rhyno is still in there, so that's another team and it's looking solid for the two with the most on the line. Heath takes out Acey and Brian Myers as Sami Callihan charges in at 19 and now we see Hernandez. Hernandez comes in to start his angle with Fallah and the money. Fallah just wants the money.  Hernandez thought about it, but eliminates himself to go after Fallah and the money.
Final five are currently, Jimmy James Storm, Luster the Legend, Rhino, Heath and Sami. Rhino eliminates Luster and we've got a pretty solid final four.  Heath looks legit hurt, Sami eliminates Storm, then Heath, and it's a 1 on 1 with Sami Callihan and Rhino. #1 versus #19.
Sami hits the Piledriver, but Rhino kicks out! Sami goes for the chair, the referee stops him, and he eats The Gore! Rhino wins the gauntlet! As far as Battle Royals go, it was fine, but there may have been a pivot with what looked like Heath legit hurting himself fairly early.
Ethan Page taps into some of the WWF 80s cocaine for his portion of the promo, and damn was it good. Ethan Page is a treasure.
TNA Heavyweight Championship: Moose (c) vs EC3
So this does end up being cinematic like most people expected it to be. Moose goes to the facility where EC3's first vignette was, the warehouse Fight Club setting. Starts off pretty cool, when the match eventually starts we get like some distorted German Techno/Rammstein fusion music. Not bad, and the pacing of the fight makes sense for a grudge match scene in a movie.
EC3 goes full Tyler Durden, and it's pretty cool. EC3 pushes Moose to become a champion through actions not just by finding a relic of the past and proclaiming himself. This was cathartic seemingly for both men. EC3 kept pushing Moose to become what he wants, but EC3 himself was haunted by his past when he set Moose for the One Percenter, but the flashbacks gave Moose the opening to hit the Spear.
There was a moment at the end where Moose asked if this is what EC3 wanted, he said yes, Moose said thank you, and laid him out with the title shot. The other aspect of the framing was that Moose came out in full white, EC3 and his disciples had black hoodies. So the White Hat versus the Black Hat was very much present as well. EC3 effectively sacrificing himself for Moose's sanity and understanding was a deeper message than you usually get in wrestling. It was just really cool.
Not sure if EC3 will be back in Impact any time soon since he did appear in ROH recently, but that was a cool build and pay off.
Ken Shamrock w/Sami Callihan vs Eddie Edwards
Eddie is known for his gas tank, so I like how he approached this match like a championship MMA match. He basically just lasted the first 5 or so minutes in Shamrock's world and started to get the momentum after a Blue Thunder Bomb and a Dive to the outside. The big moves were really the bread and butter for Eddie in this match, but you could see the shots that Shamrock landed were taking its toll.
Eddie's moves looked sluggish at time while he was selling, and even sold exhaustion to give Shamrock a spot to pop up and try for a Sleeper submission.  Right as Eddie was looking to finish the match, Sami hops on the apron and pushes the button on his phone.  Lights out, lights back on where Sami has the Baseball bat, but Eddie has Kenny the Kendo Stick! Eddie fights off Sami, turns and gets caught with the Belly to Belly. Ankle Lock next up and Eddie taps out.
This is nice for Shamrock to punctuate his Hall of Fame induction with a match win, but the fun aspect was Eddie catching on to Sami's crap to a degree. One has to assume Shamrock isn't full time, so maybe we can see Sami and Eddie come together in all of their feuding.
Impact Wrestling Tag Team Championships: The Good Brothers vs Ace & Fulton vs The North vs Motor City Machine Guns (c)
The North jump the Guns before the match even starts. Ethan hits a Big Boot on Sabin and Josh lands a Jay Driller on Shelley on the stage. Shelley gets taken to the back with an "injury" but Sabin hits the ring effectively handicapping himself.
We go a good bit of time where The North and Ace & Fulton just take turns (sometimes unintentionally) of cutting The Good Brothers out of the match and just beating the hell out of Chris Sabin. It felt like the first 10 minutes were just different ways of beating the snot out of Chris Sabin. Sabin finally counters Fulton when he tries the Snake Eyes to the knees, nice quesadora roll through to DDT Fulton and tag in Karl Anderson.
The Good Brothers give Sabin a breather, but then crazy ass Chris Sabin tags himself back in and starts flying around with a second wind. You gotta assume that Sabin should've stayed out a little longer, but after things settle a bit we see Sabin versus Anderson for a while, nice back and forth. Ace blind tags Karl, tries to come in from off camera but Sabin catches him with a drop kick. Damn Sabin is looking great.
This does get crazy in a fun way, since we get a nice Freak the Mighty moment with Ace & Fulton. Where they look for a tandem move with Ace on Fulton's shoulders, but The North come in, chop down Fulton, with Ace looking helpless on his shoulders, Ace tries to wake Fulton back up, and then they knock him out. Good Brothers had a shot at the Magic Killer, but Josh Alexander wouldn't allow it. Karl Anderson starts coming back, O'Connor Roll for 2, he gets shoved to the ropes and Ethan clocks him with the tag title belt. Josh gets the pin, and neither Big LG nor Chris Sabin could make a save. The North wins the belts back!
Knockouts Championship: Deonna Purrazzo (c) vs
Kylie Rae

Su Yung

Kylie's music hits, but Kylie doesn't come out which gives Deonna the chance to run her down on the mic. Deonna says she promised Impact a defense, so anyone can come out, and Su Yung shows up. Donna and Kimber both look pretty damn scared.

This match starts off with commentary asking questions about where is Kylie, and Deonna is reeling.  The early goings could be defined as Deonna trying to get her footing and figure out what to do. There was an interesting spot where Deonna tried to put in the Fujiwara Armbar, but Su hooked the Mandible Claw with her free hand, causing the champion to break to the attempt. We even got the return of Su's red mist to deal with Kimber Lee.

Referee for this match was practicing being a god actor, since after the ref bump he sold mid heart attack or dead or something for way longer than most would. Su absorbs a few kicks from Deonna bouncing off the ropes and basically fixing her arms from the damage, goes after Deonna, hits a Stunner, followed by Panic Switch, and we have a new champion! Also it should be noted that Deonna pulled off a Paradise Lock in the ropes, so that was neat to watch.

With all of the story threads in this match, it played out interestingly. Hopefully Kylie is alright, and Su's return and subsequent capture of the title was cool. As for the match, it was mediocre at best, but the story elements helped put it over a little.
Impact World Championship: Eric Young (c) vs Rich Swann
Early on EY was obvious with his offense, as he kept shooting for the leg and Rich flipped over him. EY went as far to very audibly say " I will get that…" as if it was his major life goal in the match. However, that all changed when Rich and EY were on the outside, EY Back Dropped Rich, and Rich was going to land in a Handstand on the apron, but apparently didn't land right and messed up his neck.
After fighting back in before the 10 count, EY had a new target. EY peppered multiple shots to the head and neck and went for a huge Avalanche Wheelbarrow Neckbreaker, but only for 2, Savage Elbow to the back of the neck also for 2. This was Rich's cross to bear in the match, and honestly, it may have served as a great distraction as to avoid damage to his ankle.
EY got very cocky, verbally berating Rich telling him to just stay down, and then when Rich got to his feet and dragged himself to the corner, EY was condescending with the "You're almost there, so close, good job!" and then he'd pummel him some more. But boy when the match flipped, hot damn it fired up fast.
Rich was finally over the verbal assault by the third turnbuckle and just absorbed a few shots before charging EY, landing a few palm strikes, then throws him into the corner, EY Flair Flops the corner, walks to the other turnbuckle, climbs it and Rich jumps up in an Avalanche Takedown or something, it looked cool. The pacing became more of Rich's forte at this point and it was blistering.
EY had the story thread spot, when he was able to slow things down enough to grab the Spinning Toe Hold, which prompted him to basically tell Rich he told him he was gonna get the ankle. Rich fought valiantly, landed some big moves, EY tried to counter with a Reverse Fireman's TKO, but Rich fired well. Rich laid out EY with a stiff kick, Lethal Injection, then he went to the ropes, Phoenix Splash, and we have a new champion!
.@GottaGetSwann is BOUND FOR GLORY. #BFG2020 pic.twitter.com/q0HvsvEoee

— IMPACT (@IMPACTWRESTLING) October 25, 2020
Overall Score: 6.75/10
So not gonna lie to anyone here, after Slammiversary and Victory Road were so good, this was a little bit of a letdown. Now I mean that more from an overall presentation aspect, since we know Impact isn't followed closely by the larger portions of the wrestling community. Each match (except for the Knockouts, need to find out what happened with Kylie), played well off of story threads and brought most things to a head. Just the in-ring work for this show seemed to be a little off or not quite as good as the last couple. Hell even Josh's commentary was worse than usual (I don't mind the nerd boy gimmick, but he was flubbing, getting lost in sentences and catching himself mid dumb comment causing awkward air).
The cinematic match doesn't officially count as a match to me, since that's how I've handled them all, but I thought it was really cool and the highlight of the night, before the main event. Su Yung return was cool, if not possibly premature. Hopefully Heath is alright since he did look to be moving gingerly at times. The North regaining the titles is perfectly fine. They've done great work, Ethan's in great shape and it just works nicely since you can't immediately put the titles on the Good Brothers; we need some tension, sheesh. Lastly, Rich Swann's big win was a great match, told a great story and allows EY to rethink a rematch or some other big scheme.
There we go, we got some good work, though not as much as expected, and a lot of stories were told. Now even though this felt like a mediocre episode of IMPACT! at times, it still wasn't bad.  I just sit back and wonder if Daivari and/or James Storm are more than one off appearances.