Andrew's Impact Wrestling Results & Match Ratings: 10.20.2020
Impact Wrestling Go Home to Bound for Glory! The table is almost set, tag teams are the main event. Now, who's excited for Bound for Glory?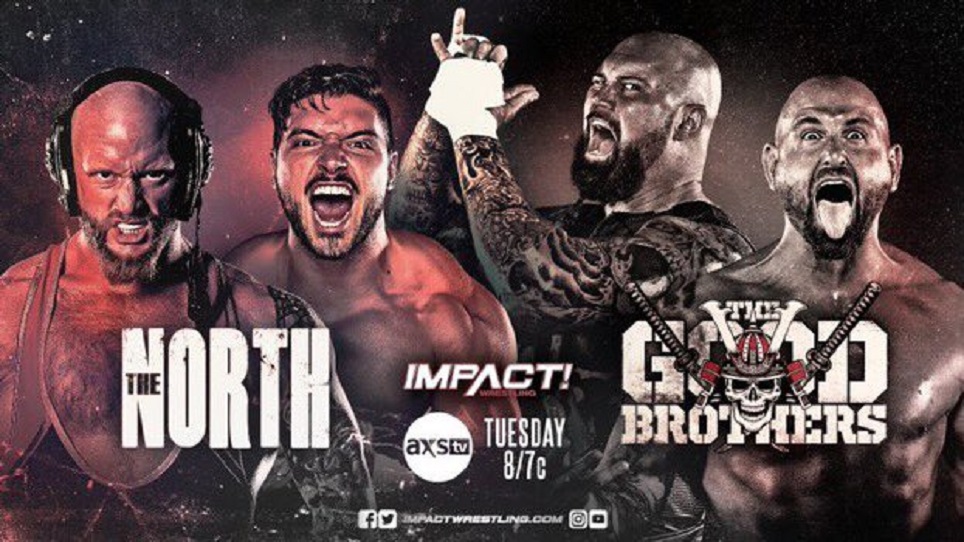 The Go Home Impact Wrestling before Bound for Glory! How does the stage get set for the big Saturday night? Who ends the night looking strong? Will Rhino or Heath get the #20 spot?
We also saw last week that Moose did get the TNA title back from EC3. So what does it all mean?
.@IamKylieRae was forced to watch as @DeonnaPurrazzo broke her best friend @realsuyung's arm – she's out for revenge SATURDAY at #BFG2020. #IMPACTonAXSTV pic.twitter.com/9eTE6DxZ8F

— IMPACT (@IMPACTWRESTLING) October 21, 2020
Let's get to the Go Home!
Ratings:
5 Way Call Your Shot #20 or #1 Match: Alisha Edwards vs Hernandez vs Heath vs Rhino vs Cousin Jake: Hernandez via Roll-UP – ** ¼
If Rosemary wins, Havok helps her resurrect James Mitchell: Rosemary vs Havok: Rosemary wins via Spear – * ½
Sami Callihan w/Ken Shamrock vs Eddie Edwards: Sami wins via Roll-Up – ***
Willie Mack, TJP & Trey Miguel vs Jordynne Grace, Rohit Raju & Chris Bey: Trey wins via Triple C – ***
The North vs Good Brothers: No Contest – **
Results:
5 Way Call Your Shot #20 or #1 Match: Alisha Edwards vs Hernandez vs Heath vs Rhino vs Cousin Jake
Everyone dismisses Alisha a little and she just gets annoyed smacking each of them until Hernandez just places her on the top rope. Jake and Heath tie up, Alisha jumps on Heath's back and Jake shoves him into the corner, squishing Alisha and they both pause to be concerned for a second before giving up the ring to Hernandez and Rhino.
Alisha is trying to take advantage of possible pins and dives into the pile of people, just basically showing she's trying to compete with the bigger guys. A few spots of teaming up here or there by the guys, Alisha slides in to block Hernandez and almost eats a Border Toss for her troubles. Jake saves her, but gets dumped out. Alisha slaps Hernandez, he sees Rhino charging at him with The Gore and moves, and so Rhino murders Alisha. Heath and Rhino are shellshocked that he hit Alisha, so Hernandez rolls up Rhino and gets the win. Hernandez is #20 at BFG, Rhino is #1.
Jimmy Jacobs tries to interview Moose, but he just ain't having it and he's just pissed. Afterward, a few people rush Jimmy, throw a bag over his head and take him somewhere.
The stress of wedding planning appears to be getting to @JohnEBravo1st. #IMPACTonAXSTV @TenilleDashwood @kalebKonley @TheTayaValkyrie @steveofcrazzy pic.twitter.com/K2jANtjq2C

— IMPACT (@IMPACTWRESTLING) October 21, 2020
Deonna Purrazzo has a hype package for the Knockouts and her title match at Bound for Glory. Even though she lives in Florida, she is New Jersey embodied. I am biased of course, but I enjoy the super Jersey fashion.
If Rosemary wins, Havok helps her resurrect James Mitchell: Rosemary vs Havok
A few early grapple attempts help Havok impose her size and power advantage, but Rosemary manages to get a small breather with a Scorpion Death Drop. Havok struggles a bit, lands a big Back Drop Suplex, but Rosemary doesn't quit. After trying to finding an opening, Rosemary gets out of Havok's clutches, hits the ropes and hits a Spear. Rosemary follows it up with another Spear, and Havok loses!
Much quicker than expected, but now we get to see Havok help resurrect James Mitchell. Adds to the story, but the match left a lot to be desired.
Talk N'Shop: Full Keg preview.
Kylie Rae hype package, which makes Kylie very relatable. She seems a little bewildered and upset instead of the happy anime character she usually is. She even apologizes for getting angry with Kimber Lee and Deonna, but implies the injury to Susie still made it personal. It's an interesting angle for a promo.
The people who took Jimmy show up to a location and have him confronted with EC3.
"Lessons not learned in blood are lessons you will forget." @therealec3 is FINALLY seeing the side of @TheMooseNation he has been waiting to fight. #IMPACTonAXSTV pic.twitter.com/FbH7C3br0H

— IMPACT (@IMPACTWRESTLING) October 21, 2020
Sami Callihan w/Ken Shamrock vs Eddie Edwards
Commentary makes sure to let us know that Ken Shamrock will be inducted into the Impact Hall of Fame before Bound for Glory, so the return to The World's Most Dangerous Man, it nice symmetry.
The match starts off hot, Sami with some shoulder tackles, Eddie with a big dive, but no technical wrestling. Just a few haymakers and Callihan hits an opportunistic Brainbuster, and tries to grind Eddie down in a headlock. Eddie fires up a little and puts the brakes on a few moves. Eddie catches Sami with a few strikes, an Ezuigiri on the top rope, Frakensteiner, and then we get a nice flurry from both.
Blue Thunder Bomb by Eddie, leads to a slug fest, a few nice trades and then Callihan hits the Liger Bomb for a near fall. Eddie starts feeling his chops and forearm strikes, Sami counters with a boot, more strikes from Eddie and a Tiger Driver for a close 2.
Eddie sets for the Boston Knee Party, Sami grabs his phone, shuts off the lights and Ken Shamrock appears on the apron. Eddie gets distracted and rolled up for Sami to earn the win. Eddie attacks Sami after the loss and Shamrock beats on Eddie applying the Ankle Lock.
Sami and Ken loom over Eddie writhing in pain as we go to a video package for the X Division title match at BFG.
Willie Mack, TJP & Trey Miguel vs Jordynne Grace, Rohit Raju & Chris Bey
Rohit starts off with a lot of the slimy conniving personality that we've grown accustomed to. Chris Bey starts the work and there's solid back and forth between him and Willie Mack. TJP gets tagged in, tries a corner move and Rohit actually grabs TJP and allows for Bey to hit a Gutbuster…or possibly lower. Good heel work either way.
Bey and Grace trade tags and ignore Rohit for a while until Bey gives in and says fine. Rohit takes so long posturing, that TJP breaks the hold, Dropkicks Rohit, dodges a Vader Bomb from Jordynne and wipes out Bey to tag in Trey Miguel. Trey starts running circles around Rohit, until Grace and Bey come in and we get some move spamming. Grace Spinebustering Willie Mack was pretty cool, but it's just a scramble. Rohit hits a Running Knee, but Bey is the legal man, so Rohit gets in his feelings. Bey goes for a finish, but Rohit tags himself back in, malfunction and arguing, Bey lays out Rohit, Trey Superkicks Bey and falls on Rohit for the pinfall victory.
The North vs Good Brothers
Early on the Good Brothers clear the ring, and stand tall right before the last commercial break. After that, we get very basic tag team work, with a little personality sprinkled in. The highlight being when Ethan Page has Karl Anderson down in a Headlock and notices the camera is on him, so he goes from intense to coy boyish smile.
A bit of brawling, brings us to the point where everyone is in throwing hands; and the referee decides to throw out the match. This allows Ace and Fulton to hit the ring, then the Machine Guns hit and it's an old school TNA donnybrook!
We get a sprinkle of Japan though, with the Guns and Good Brothers holding the ring, Karl tries to say we're cool, Alex shakes his hand and eats a Gun Stun. Magic Killer for Sabin and Good Brothers fade to black on top.
Overall Score: 7.5/10
As a Go Home episode, this served its purpose well. The matches weren't great, but whet the appetite enough to want to see the culmination on the PPV. Alisha looked feisty, though outclassed, and gave Rhino and Heath a hole to dig out of. The X Division scramble turned into "Everyone hates Rohit", which given that he is an old school douchebag heel that fits perfectly. Rosemary gets Havok's cooperation, so we have a story to look forward to after Bound for Glory. Hell, even the video packages for Swann/Young and Kylie/Deonna were done well.
Sure, the EC3 "undisclosed location" thing was a little corny, but Impact can get away with that since it's been built into their universe. Shamrock found the perfect opponent to revert back to his old self with, Eddie is a great worker, will bump his ass off and win or lose, they'll both look good. Plus with the tag teams main eventing most of the last few shows, and Full Keg coming right up, I love the spotlight on the tags and the fact they all look great.
Are the Good Brothers gonna have the Go Home curse? Because if you ask me, the team that was made to look the weakest are Ace & Madman; but that could be a perfect team to scumbag into a win for the 3 bigger personality teams to chase.
I'm excited for Bound for Glory are you?