Andrew's Impact Wrestling Results & Match Ratings: 10.27.2020
Demon/Virgin wedding lead by the Sinister Minister! Impact Wrestling bringing all the good Halloween vibes. Now, who wants some candy?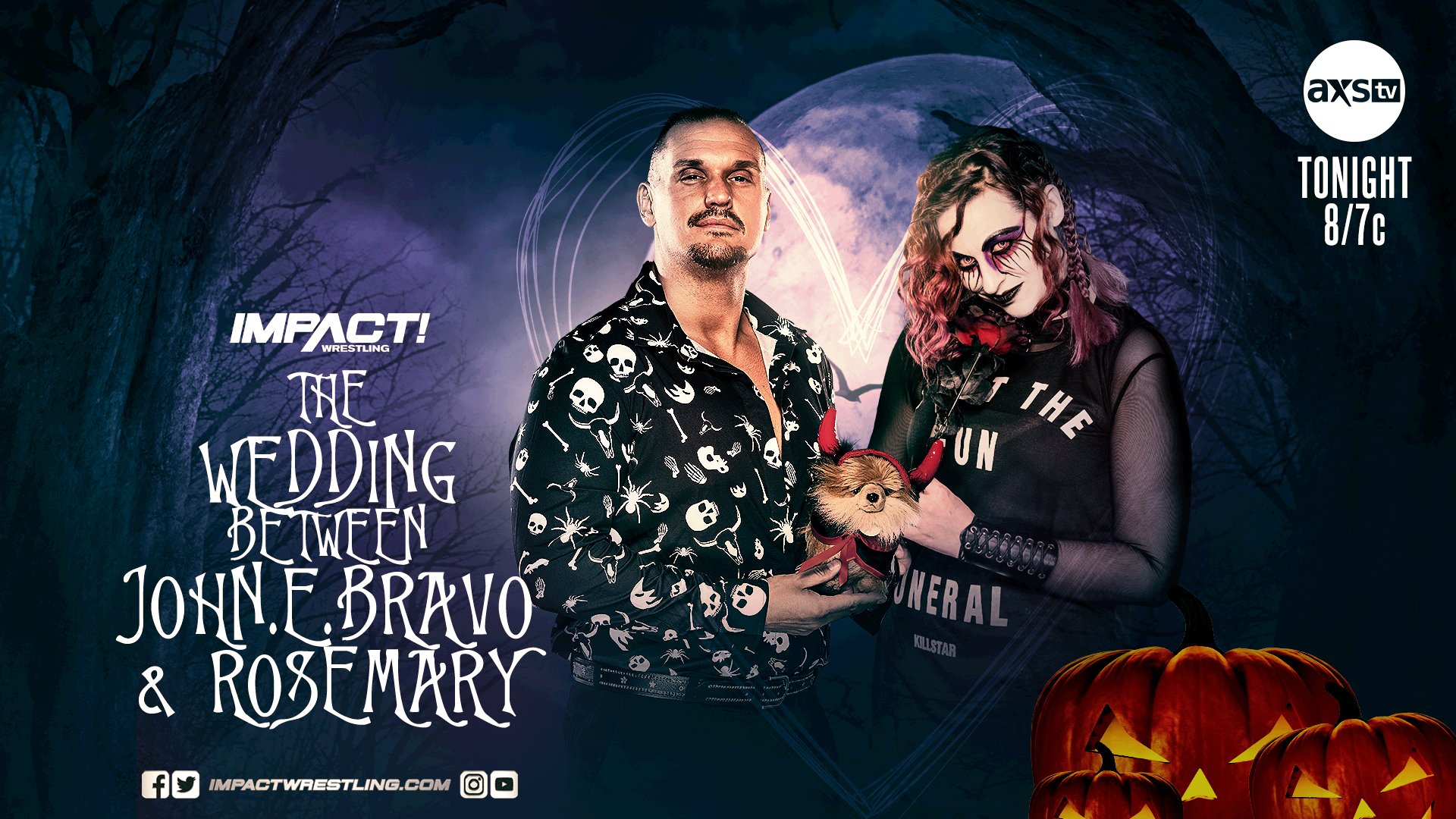 Coming off of a decent Bound for Glory, we get to see where the storylines start heading! I only say decent, since like I said in my review, it felt more story focused than action focused; so that could cause a disconnect with viewers who don't watch often.
Hopefully tonight we get some Kylie Rae answers, I'm guessing the story is that Su Yung either banished Kylie to the Undead realm, or tied her up in her hotel room to protecting her from giving into darkness or revenge. Su cares about her best friend, and it's a good way to preserve the concept that Susie is still good. Yes they could go the whole route of Su is evil and dissolve the friendship, but we've all seen plenty of monster movies where one friend is enough to sway the bad thing at least chaotic neutral.
Now I kinda want Kylie and Su to have a "Sloth love Chunk" moment.
ANYWAY! Let's see who demands rematches and how severe Alex Shelley's neck injury is!
It's done, Father James Mitchel is back and the wedding is on. #IMPACTonAXSTV @FearHavok @nevaehOi4k pic.twitter.com/n0lZfuYuFF

— IMPACT (@IMPACTWRESTLING) October 28, 2020
Ratings:
Impact World Championship: Rich Swann (c) vs Eric Young: Rich retains via Phoenix Splash – ** ½
Hardcore Halloween: Tommy Dreamer vs Brian Myers: Dreamer wins via Death Valley Driver – ** ¼
The Rascalz (Dez & Wentz) vs XXXL: Larry wins via Splash – ** ¼
Kiera Hogan & Tasha Steelz vs Jordynne Grace & Alisha Edwards: Tasha wins via Roll-Up – ***
Results:
The show opens with Eric Young jumping Rich Swann in the back and bringing the brawl towards the ringside area. No mention of it becoming a match, just a pissed off Eric Young, taking his frustrations out on Rich. Everyone allows the brawl to go on for a few minutes before Scott D'Amore, a few referees and security come out to push EY back. EY demands his rematch, Scott says this isn't how it works. Scott keeps telling Eric it ain't gonna happen, but Rich says if he wants it now, I'll do it. Scott agrees and we get the rematch.
Impact World Championship: Rich Swann (c) vs Eric Young
The match opens with the cool corner Flair Flop, run to the other corner spot from Bound for Glory, but EY stops Rich and has a little control before Rich finally starts getting some space with a few kicks, Sole Butts and a Front Flip Leg Drop. The delayed Straight Thrust Kick, Rolling Frog Splash from Rich, and we're seeing a lot a great offense from the dinged up champion, before EY catches Rich and tosses him from Powerbomb position.
Eric goes to the corner, lays in some strikes, shoots Rich to the other corner, Up and Over, Spinning Heel Kick, a few dodges, Lethal Injection and then Phoenix Splash give Rich the defense! Slacks, barefoot and beatdown for the first few minutes of the show, but Eric Young's plan backfired!
Everybody is eying up potential partners for the Knockouts Tag Team Title Tournament – could @MrsAIPAlisha and @JordynneGrace be the perfect team? #IMPACTonAXSTV @HoganKnowsBest3 @RealTSteelz pic.twitter.com/KYBvsqHQvW

— IMPACT (@IMPACTWRESTLING) October 28, 2020
8 Team Women's tag tournament announced, Tasha and Kiera start teasing Alisha since she doesn't have a partner and Jordynne shows up to defend her. I love the "Captain Save-a-Lish" comment. That's good, Jordynne agrees to a match tonight and Alisha is enamored with the idea of tagging with Jordynne.
Hardcore Halloween: Tommy Dreamer vs Brian Myers
Tommy comes out in the Animal face paint again, with a spiked vest, looking definitely more metal than usual. A quick brawl, where Tommy goes to his trash can for a Baseball Jersey (most likely Mets), tries to force him into the vest spikes, Myers counters, a little more moving to the next pile of goodies, and Dreamer hits Myers with a walker.
Dreamer puts a trash can in the ring, hits Myers in the ding ding, with the ding ding (ring bell), and I'm pretty sure the trash can has a pumpkin or something in it. But Myers crotches Dreamer on the guardrail, and hits Dreamer with a metal trash can. Pinfall attempt, apparently Falls Count Anywhere.
Dreamer comes off the apron and Myers catches him with the wet floor sign. Myers starts dominating, Kendo Sticks, chairs and…Carlito gimmick infringement by spitting apples on Dreamer. I mean, I'd just beat him with the bag of apples, but to each their own. Dreamer fires back with the Flip, Flop and Fly, Dreamer hits the Cutter for a near fall. Dreamer grabs a handicap parking sing, and a black bag filled with…CANDY CORN and thumbtacks. Okay, I'm one of few people who enjoy Candy Corn as a treat, so this seems pretty spot on for the gimmick.
Myers takes Dreamer up to the corner, fights back, and Dreamer ends up biting Myers' face and shoving him into the Candy Corn & Thumbtacks. Dreamer then goes for a table after it was only a near fall. Dreamer turns, and Myers hits the Clothesline and Dreamer lands in the corn and tacks.
It wasn't a pumpkin in the trash can! It was Swoggle! Swoggle takes tongs to Myers crotch, Death Valley Driver through the table and Dreamer wins! Swoggle and Dreamer get their revenge from the call your shot gauntlet.
.@Rhyno313 plans to use the Call Your Shot trohpy to challenge for IMPACT World Tag Team Titles with @HEATHXXII! #IMPACTonAXSTV pic.twitter.com/Z2Zu4w71R9

— IMPACT (@IMPACTWRESTLING) October 28, 2020
I appreciate how they're either working the injury into the angle, or the "injury" is the angle. I always like when they take things we believe and twist it.
Fallah gets pressed by Reno Scum and Hernandez, but he's hiding the money in his pants. So he says he doesn't have the cash and he stole it for Bravo. So will Hernandez and Reno Scum ruin the wedding?
The Rascalz (Dez & Wentz) vs XXXL
This is like the third time these two have faced each other in a month. Okay this pairing is getting a little old.
As a small change, The Rascalz try to start fast but XXXL put the brakes on that offense and dominate. Samoan Drops, Splashes, general power moves keep Wentz isolated and reeling. When Dez finally gets in he starts bringing The Rascalz back. Wentz comes in and knocks down Larry, Acey Crossbody kills Wentz, Dez does the Double Backflip Overhead Kick on Acey, which leaves Larry to take care of Dez
Larry goes to the top, The Rascalz try to stop the bigger man and Double Superplex him, but Acey comes back to his feet. European Uppercut on a diving Wentz and then a big Uranage to Dez gives Larry recovery time and a Thicc Boi Splash wins the match for XXXL.
Not a terrible match, but nothing was really different except for the finish. I'd really like to never see these two teams challenge each other again, for a while.
.@DeonnaPurrazzo has enlisted the help of Barrister @Oh_Robert_Evans to regain the Knockouts Championship. #IMPACTonAXSTV @ScottDAmore pic.twitter.com/DJ5JPOyg9m

— IMPACT (@IMPACTWRESTLING) October 28, 2020
XXXL interrupts the MCMG interview segment saying they won't wait 6-8 weeks for Alex Shelley to recover. A little back and forth, leads to the two big boys sandwiching Shelley and walking off. I suppose this is a good way to elevate XXXL and possibly keep a weakened MCMG away from the main event scene right away.
Scott D'Amore addresses Deonna's attempt to get legal intervention to return the Knockouts title to her. Scott refuses to strip Su Yung of the title, but at least the barrister is using Kylie Rae's name in this segment. So hopefully this leans towards a Kayfabe reason why Kylie didn't show up for Bound for Glory. Scott has a great line "I love a good threat, and we love a good lawsuit here at Impact Wrestling". This is a solid segment, Scott gets a lot of gems in and it's generally entertaining how Deonna agrees to Scott's terms. Su Yung hits the ring, Mandible Claws for everyone on the Purrazzo side and bloody mist for Scott.
With @TheMooseNation, @TheSamiCallihan and @ShamrockKen – it seems the challengers are already lining up for @GottaGetSwann. #IMPACTonAXSTV pic.twitter.com/z6oGeyFiBo

— IMPACT (@IMPACTWRESTLING) October 28, 2020
They replay a video package of Ken Shamrock's Hall of Fame induction. Really getting a lot of traction out of Mick Foley, Bret Hart, Chael Sonnen, Bas Rutten and The Rock.
.@OfficialEGO just called @The_BigLG and @MachineGunKA the worst investment IMPACT has ever made and things EXPLODED. #IMPACTonAXSTV @Walking_Weapon pic.twitter.com/a8dkJxJUeQ

— IMPACT (@IMPACTWRESTLING) October 28, 2020
IMPACTPlus Flashback Moment: Rohit Raju vs Willie Mack, X Division Championship, Victory Road October 3, 2020
Jimmy Jacobs shows up first…and probably only to Rohit's championship winning party. Jimmy points out the factual inaccuracies and gets kicked out of the party.
Kiera Hogan & Tasha Steelz vs Jordynne Grace & Alisha Edwards
Tasha and Jordynne start off, which shows a little miscommunication with Lish and Jordynne. Jordynne forces Tasha to powder, and as Jordynne looks for the Dive, Alisha, collects Tasha and throws her back in. Kiera gets the tag and calls Alisha out, which surprisingly doesn't work out too well for Kiera.
Lish starts with a Thesz Press and a few other bigger moves to take Kiera by surprise. Jordynne and Alisha hit a double team move on Kiera but when Jordynne goes for the pin, the referee says he didn't see the tag, so Kiera gets to take advantage of the hiccup. The tag team chemistry is on display with Tasha and Kiera as Alisha doesn't get many chances to tag Jordynne back in.
Finally, Lish sits out on a tandem suplex, and manages to take out both Kiera and Tasha, so she can finally tag in Jordynne. Jordynne really is the main reason the team has hope spots and that's the whole point of the story. Jordynne tags Lish back in, they try a corner train spot, but Lish eats a boot, Jordynne eats the turnbuckle and then Alisha charges the corner, so Tasha dodges, the thrown together tag team smashes into each other and Alisha gets rolled up.
A fun story driven match, with the correct finish.
Moose seems to have inherited the EC3 stoic persona and attacks with random plants. I'm intrigued by this tweak of his personality.
.@JohnEBravo1st was just SHOT! #IMPACTonAXSTV @WeAreRosemary @TheTayaValkyrie @THETOMMYDREAMER pic.twitter.com/hfiBm3sUg4

— IMPACT (@IMPACTWRESTLING) October 28, 2020
Okay I appreciate that the Wedding is apparently a costume party as well. XXXL are the Nasty Boys, Alisha is Dorothy from the Wizard of Oz, Fallah is the Stay Puft Fresh Man, Havok has some Joker makeup, Wentz is in his Race Driver jump suit from the throwback episode, Taya is just in a puffy but nice red dress, James Mitchell comes down after Bravo. Rosemary comes down, in what I thought was Beetlejuice, and definitely looks like it. I like pernicious dark strumpet as a title…and so does Rosemary. Nicely worded. HAHAHA! Mitchell fourth wall breaking a little on the "does anyone have objections" being silent, so he says they dodged that trope. John E. Bravo paraphrases the Addam's Family theme in his vows. I – I don't want to even. I can – I just don't want to. I love how they all hammer home the virginal aspect of Bravo, right before Mitchell declares them wed, the lights go out, shots ring out and we come back to a down Bravo. Dreamer slides in the ring and we get out "Who Shot Mr. Burns" moment to end the episode.
Overall Score: 7/10
Now this was a heavily story focused episode, especially with the last 10 or so minutes dedicated to a wedding. This came off the heels of Bound for Glory well, but I can definitely see some people reacting with a "LOL TNA" kind of mindset. Some things were campy, from the Halloween Hardcore match, a Demon wedding, an Undead champion and an odd couple pairing tag team. So this may be a bit for some people to swallow.
Personally, I enjoyed most of what happened here, getting the Eric Young challenge out of the way immediately is a good pivot point. The fact they're using the Heath injury and Kylie's name in the script tends to lean towards the positive aspects of things. MCMG being dropped down a peg since Alex isn't 100% is perfectly fine, and showing the Good Brothers aren't heels as much as…well they're assholes, but the likable kind that you want to get drinks with.
Only real complaints are that Rohit was an afterthought again, even though he's a champion (that was even said in his quick segment, so I appreciate where the story is going), and having The Rascalz be super buddy buddy with Rich and Willie is a little sus, since they all had World title aspirations a few months ago. Shamrock maybe getting one more shot at a championship against Rich, which could be tremendous. Not a bad episode at all, but I could see how intermittent fans might think this was too cornball.