Andrew's NJPW Strong Ep. 11 Results & Match Ratings: 10.16.20
Episode 11 of Strong brings us a few big man versus smaller man match ups and a main event involving KENTA and Jeff Cobb. Does Bullet Club continue their Strong domination?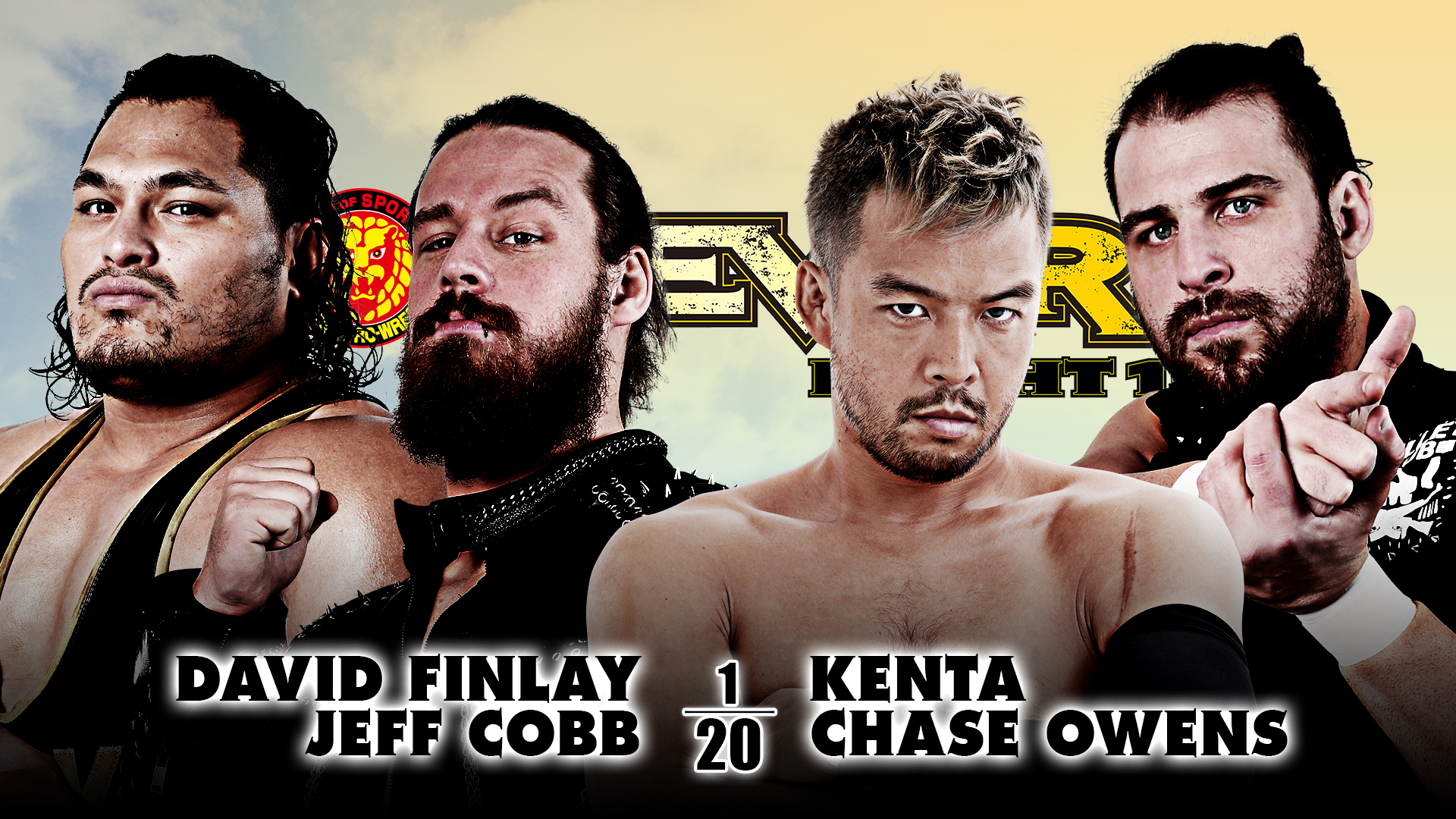 Now some of you may be wondering what happened with Episode 10. To be honest? I completely forgot this was a show last week, and I mean…can you blame me? While the in-ring action has been…alright most of the time, there's nothing interesting going on here. It feels like a ROH lite or an extension of the UWN thing where it's mostly unknown Indy talent and no tangible story to keep me tuning in.
Checking out a New Japan product, ON NEW JAPAN WORLD, and getting Young Lions action with 90% random indy talent isn't a New Japan show. It's like going to a Texas Roadhouse and the menu is all Dunkin Donuts. Sure it might be…ok, but it's not what you really expected, or what was really promoted.
I shall begrudgingly continue to cover this, but if I forget here or there, you've been warned. This is a poor example of a New Japan product, but a perfect example of why New Japan tours tend to fail in the USA. Too many names no one knows or cares about because they aren't New Japan wrestlers.
ANYWAY! On to…whatever we get tonight.
Ratings:
Misterioso vs Danny Limelight: Misterioso wins via MSO Backstabber @6:10 – * 1/2 
Hikuleo vs TJP: Hikuleo wins via Gunslinger @8:24 – *** 1/4 
PJ Black vs Alex Zayne: Black wins via Bad Habit @10:16 – *** 1/4
Chase Owens & KENTA vs David Finlay & Jeff Cobb: Cobb wins via Tour of the Islands @9:37 – ** 3/4
Results:
Apparently the theme of the next few episodes is "NEVER expected matches" so it'll be a lot of Junior Heavyweights vs Heavyweights. Let's see if this sucks.
Misterioso vs Danny Limelight
This match, was so slow, plodding and telegraphed I nearly rethought covering the whole thing before it was over. It's only 6 minutes, but hell it feels like I could've done more productive things with my life than sit through that.
It starts off with a sloppy wristlock flippy escape spot cause Limelight doesn't Kip Up well and there's obvious cooperation. Misterioso mostly misses his Kneeling Rope Senton, which you know from the jump cut. Insanely slow transitions, Misterioso maybe takes 5 moves of offense and sells an Enzuigiri like it's WWE 2k and he's out of stamina. Just…wow, this is awful.
Bad selling, slow movement, the only saving grace here is that Limelight lost. But given how poorly both performed, I can't even confidently say that's really a positive.
Hikuleo vs TJP
Now most of us are aware of TJP and the fact that he's pretty damn good in the ring, just a bit of a charisma vacuum. So this is perfect for him, no talking, just wrestling.
TJP tells a nice story of the smaller man trying to chop down the giant, and the combination of quickness and veteran savvy give him a lot of great hope spots. I have been mostly impressed with Hikuleo since returning. TJP hits a lot of signatures, the Muta Lock, the Triangle Wrecking Ball Dropkick on the apron; just generally putting on a clinic. Hikuleo stays alive long enough to finally utilize his power and size.
A Flying Armbar gets attempted by TJP after a near fall, but Hikuleo easily picks him up and hits the Sit-Out Powerbomb, for 2. Hikuleo psyches himself up and lands the Gunslinger to pull off a very hard fought victory. With that, the Heavyweights are dominating the Juniors in this gimmick show, but at least TJP gave a good fight.
PJ Black vs Alex Zayne
This was a solid match, even if it wasn't part of the concept for the next few shows. Alex Zayne has been one of the more impressive Indy guys, and I pop way too hard over his moves being straight off the Taco Bell menu.
PJ starts off with a few strikes and basic maneuvers early, until Zayne catches him coming off the top rope with a Flipping Enzuigiri. Zayne steered into the younger version of PJ that commentary was trying to push by doing a few higher risk moves and running PJ ragged. He hits the Crunch Wrap Supreme (A Pumphandle Straightjacket Bomb of sorts), for an early near fall. This wakes up PJ, so when Zayne charges him as he's seated on the top rope, PJ catches him and hits the Styles Clash. A Escalera Frankensteiner takes Zayne down and a quick Moonsault gives PJ another close near fall.
Spanish Fly followed by the Placebo Effect, still doesn't finish the match. Zayne has fought through things well, but Bad Habit finally puts the younger wrestler away, and our favorite South African wrestler wins the match!
Chase Owens & KENTA vs David Finlay & Jeff Cobb
The Bullet Club duo start before the bell with the typical ambush. Strategy is simple, Cobb is still nursing a leg injury, so isolate him, work on the leg and try to take the easy win.
So the basic tag team tactics work well early on until Chase gets cocky and kicked over the top rope by Cobb's good leg. Finlay did well in his role to take the hot tag and generally be the gas that got the tag team rolling, even with a hobbled Cobb. In keeping with the next challenge story for the briefcase, KENTA and Finlay tend to tangle often. This proves to be the avenue for the finish, when KENTA takes Finlay to the outside, and tells Chase to finish Cobb while he keeps Finlay at bay.
Chase attempts the Package Piledriver, but Cobb gets out of it, runs him into the ropes, catches him and Chase takes a Tour of the Islands. Decent win to heat up the angle for the show, but really a pretty paint by numbers match.
Overall Score: 5/10
Again, this is just not a captivating show. With the empty arena, the lack of the wrestlers jawing at one another and commentary being…rather lacking, it's just rough. Matches come off much slower and more uninteresting just because there's no organic conversation from competitors or commentary.
There were things to like; TJP, Alex Zayne and PJ Black are enjoyable in the ring, but with all the good wrestling in the world, decent with no story won't hold water. They're trying to build a story with Cobb, Finlay and KENTA, but frankly, that's not an interesting feud. Finlay was mostly an undercard dweeb until his match with Jay White and then he got hurt, so that stunted the push for a few months. I bring that up since, being mostly enhancement talent coupled with 6 months of quarantine, doesn't really set the world afire. Cobb is also an interesting case, since I tend to feel like he should be better. He's got so many clunky or barely average matches in New Japan, that I always kinda wonder what his character image is. He should be a machine like Tazz or Michael Elgin, where he's compact yet a monster…and he's never that dominant.
I don't know, like I said in the beginning; this should amplifies the reasons why New Japan never has a successful tour in the States unless they bring over real Japanese names. Next week's show being main evented by Rocky Romero vs Jay White is a little interesting. Granted, all of the matches involving G1 names were filmed ahead of time (KENTA's hair is the dead give away). So not sure what to expect from canned footage from a month or so ago.
Either way, not terrible, but not really compelling. So if you weren't watching this already, I see no reason for you to start.