Andrew's NJPW Strong Ep. 12 Results & Match Ratings: 10.23.2020
NJPW Strong episode 12 brings us New Japan talent in every match and a grudge match main event! Can Rocky Romero get his revenge on Jay White for all the trouble he's caused both him and CHAOS?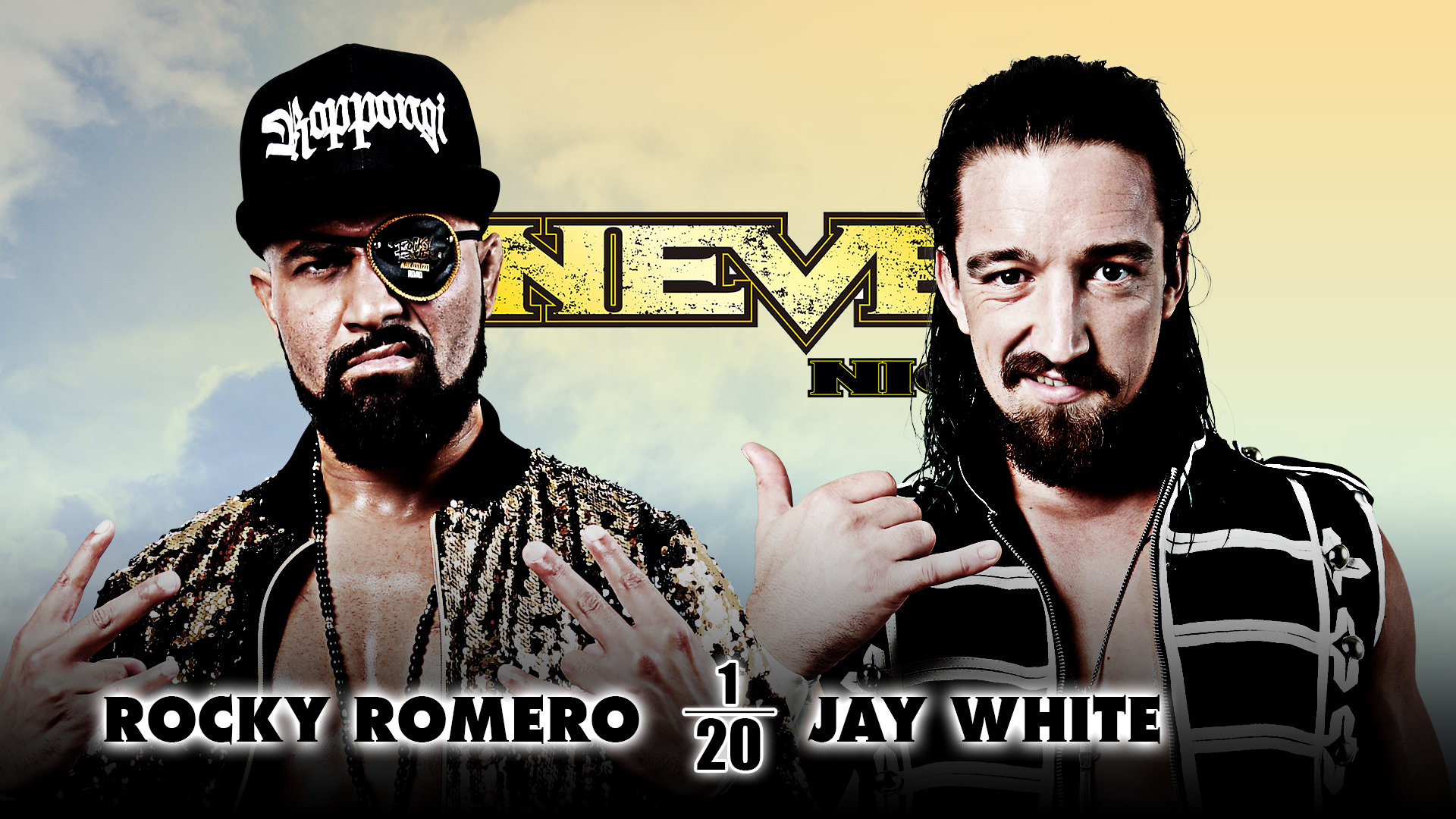 NJPW Strong episodes 12, oh boy, let's see if this card looks lame. Wait – each match has New Japan talent? The main event has history and a solid story? Is this the right show?
I mean I'm a little excited to see Rocky Romero today since we MIGHT see him tomorrow night at Bound for Glory. You know, assuming we can believe the ramblings of two drunk guys, a baby with a beard and Scott D'Amore.
Anyway! Let's see if this show turns out okay!
Ratings:
Fred Rosser vs Clark Connors: Rosser wins via Gut Check @6:00 – **
ACH vs Karl Fredericks: Fredericks wins via Manifest Destiny @6:22 – ***
G.o.D. vs Brody King & Flip Gordon: Tama wins via Gun Stun @8:39 – *** ¼
Rocky Romero vs Jay White: Jay wins via Blade Runner @14:12 – ****
Results:
Fred Rosser vs Clark Connors
Clark started fast but Rosser powders almost immediately to slow down the match. This has been one major blemish on the Rosser matches thus far on Strong, since there's no crowd, his slower style comes off plodding and hasn't really found a rhythm with who he's worked.
Clark tries to bring the intensity up again when he picks the leg of Rosser off the middle rope as he grabs down to try and get Clark off the apron; as Clark follows up with a Spear and some high velocity moves. Rosser slows things down again with a Release Belly to Belly and a modified Cobra Clutch to wear down the younger wrestler.
It looks like Clark might pick up the win as he slaps on the Boston Crab, but Rosser never stops moving and fights to the ropes. As Clark goes for the Middle Rope Spear, Rosser hits a Knee Lift, which gives the opening for Gut Check, and the veteran wrestler pulls this one out.
Like I said earlier, the pace was really slow, especially for an opening match. The story makes sense enough that even after winning Lion's Break Crown, Clark will have an uphill battle to be a legit main eventer.
ACH vs Karl Fredericks
They take a minute to feel one another out, but the more serious ACH must be a way to distance himself from the "smiley" gimmick that lit Twitter on fire earlier this year.
As the match went on ACH was making sure not to waste opportunities and go from one move to the next, but as he tried to wear down Fredericks in a Headlock, Karl started coming back. A few body shots, the Orton Backbreaker, a Backdrop and the Super Mario Elbow, all gave Karl some much needed momentum. ACH did manage to counter the first Manifest Destiny with an escape and Snap DDT of his own. But as ACH went for a Brainbuster, Karl's size and power played a part in the match.
Karl floats over and hooks the Sleeper Hold in, looking a lot like his mentor Katsuyori Shibata, and then makes it his own, by twisting ACH into the Manifest Destiny, and picking up the clean pinfall.
Commentary basically framed this match as a progression match. ACH was an early opponent during Karl's Young Lion days, and this was to prove how far he's come. So the Alpha Wolf is slowly proving himself against veteran and main card performers.
G.o.D. vs Brody King & Flip Gordon
Brody and Flip have been featured as a solid unit and also accomplished singles wrestlers; so we get to see the Guerrillas with their hardest match to date on Strong.
Tanga Loa did most of the heavy lifting, as he started the power battle against Brody, and then when Flip got tagged in, the heel tactics kicked in. Tama picked his spots, usually why Flip was down, so he'd float in with a Senton and then tag out to Loa.
The pacing was solid in the match where it was fairly even and once Loa and Brody wiped each other out on the outside, the acrobatics from Flip kicked in. A Matrix Dodge under the lariat followed up by a Springboard Slingblade made it look like G.o.D. was on the verge of an upset. But Tama likes to call himself the best defensive wrestler in the game, and it showed when Flip went for the Star Spangled Stunner, but ate a Gun Stun instead.
So the match was actually pretty close, but they stand tall after all is said and done.
The next tour is called NJPW Showdown, the lack of any matches or real hype makes it kind of a lame announcement. Who cares what the next few episodes are called if you can't give us a taste of who might show up?
Rocky Romero vs Jay White
These two have a decent bit of history since Jay White turned on CHAOS. Rocky took the betrayal to heart since Okada is his best friend (or so we were told during the entire Balloon Maker G1). Rocky would openly bash him and Bullet Club on English commentary, which would result in Jay sniping back, purposefully using the barricades near English commentary to knock out the audio; just general jackassery. So since Rocky was able to eliminate Jay in a Battle Royal, he finally gets a shot at him.
Jay starts the match cocky and never shutting up. So as he's teasing Rocky, he basically gives him the "what chu gonna do" and Rocky slaps the taste out of his mouth, causing a funny sell face from Jay and a quick roll up which stuns Jay and forces him to powder. Jay tries to come in fast, but Rocky catches the Flying Crucifix Cradle, for a near fall, goes into some Forever Clotheslines…but Jay doesn't take that for long and fixes that with a Manhattan Drop and Snap DDT.
We start to see the cocky Switchblade come out as he dominates the match after that. Utilizing an interesting Hammerlock Neckbreaker submission, and just generally bullying Rocky, even a seated Bear Hug is opportunity for Jay to taunt him with the Too Sweet. The jawing is priceless with Jay condescending rooting for Rocky by saying it's his big moment and time to do stuff, but Rocky starts slumping over and can't even stand, so Jay just chops him for his troubles.
Jay's cockiness gets the best of him, after patting Rocky on the butt and helping him up to hit him more. Rocky peppered in some elbows and finally started his comeback which rocked Jay a bit. Rocky focused a lot of offense on Jay's arm (which Jay sold beautifully during the match), but the other clever aspect was Jay never looked out of control. Even during Rocky's big offensive flurry, Jay laid on the ropes, getting the referee to break them apart and saving himself some punishment.
Rocky had great hope spots, where he had the Armbar on, but Jay got his foot to the rope. A Running Shiranui gave Rocky his closest near fall, but another attempt at the original Shiranui, proved fatal. Jay countered with a backbreaker, and ended the match with Blade Runner.
Jay gives a solid promo afterwards and continues to sell the arm wonderfully. Jay proves why he's in the conversation for best heel in the business. This match was wonderful for the total package. The story, plus Jay's mannerisms, Rocky's heart, good ring work, just a great pro wrestling match.
Overall Score: 7/10
This was the first episode that really had any matches with story that was interesting. Karl's story with ACH was decent, G.o.D. proving their dominance, Jay/Rocky goes back a few years; hell, even Clark's new journey to prove himself against establish talent was fine.
My two main complaints are a lack of tangible reason to care and too many independent wrestlers. At least half of each match was a New Japan roster member and nothing felt like filler. Sure it's still isn't even any C List Japanese talent (YOSHI-HASHI, Yujiro Takahashi, looking at you guys) but at least the New Japan show, showcased New Japan wrestlers.
So I have no real faith in whatever Showdown is, because it's a bad look to announce a name and no gimmick or talent…but maybe we'll strike gold eventually. Just glad it took Strong 12 episodes, but they finally had one worth watching!