Andrew's NXT TakeOver 31 Results & Match Ratings: 10.4.2020
NXT TakeOver 31, 4 title matches and a big stage for a few newer faces! Do we get some big upsets? Swerves? Extra dip for my nachos? What did you think about the show?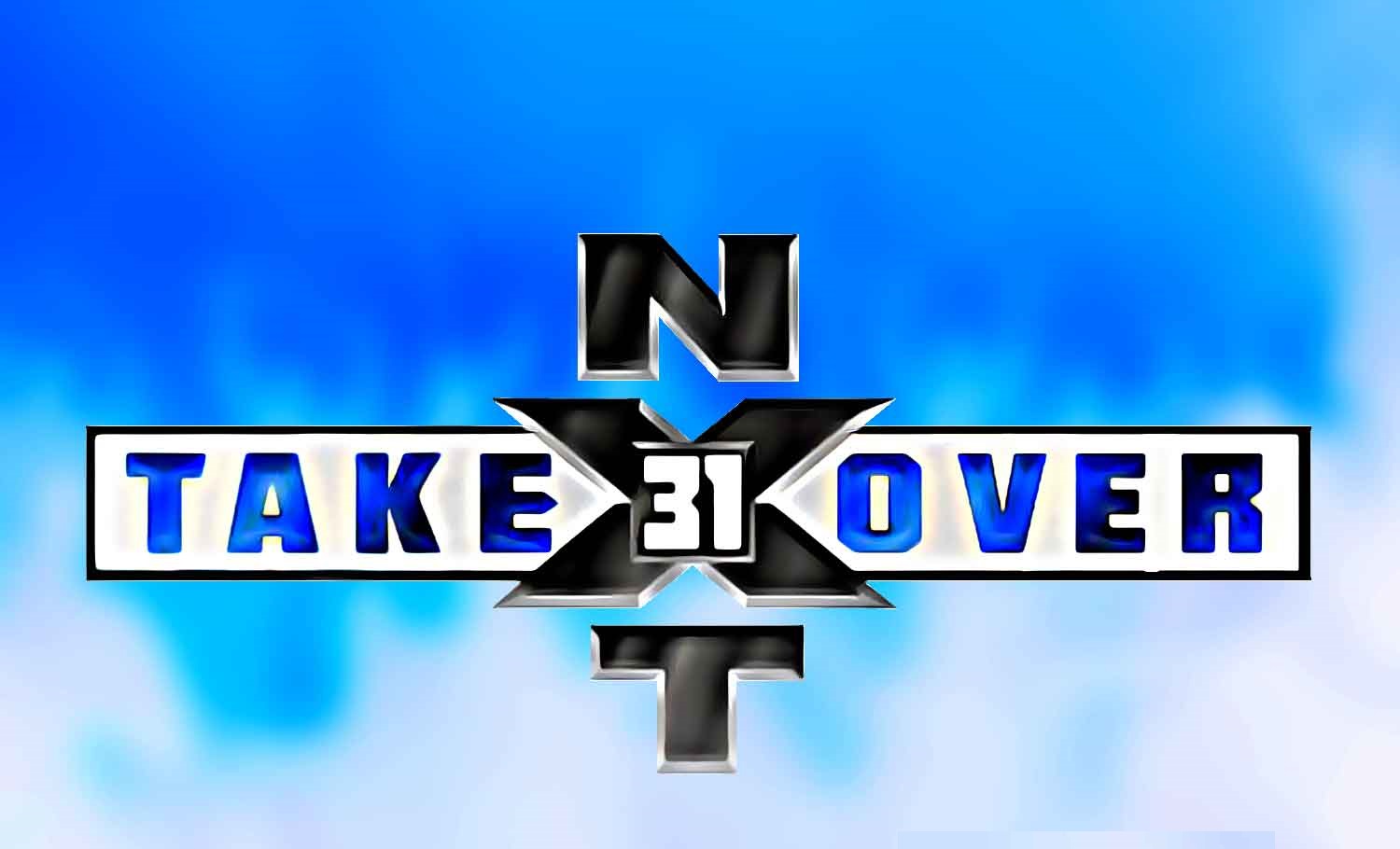 NXT TakeOvers have a tendency to at least be somewhat consistent. With proven commodities like Johnny Gargano, Finn Balor and Io Shirai in the major matches, this has a chance to be a special night.
Does Io cement herself as one of the best Women's champions, or fall prey to the "Gargano Way"? Will Kyle O'Reilly cause some questions and perhaps a power struggle in the Undisputed Era? And the biggest question mark; which Kushida is showing up against Velveteen Dream?
A number of stories can spiral out from here, so I guess let's see what happens!
Ratings:
North American Championship: Johnny Gargano vs Damian Priest (c): Priest retains via The Reckoning @18:39 – *** ¾
Kushida vs Velveteen Dream: Kushida wins via Hoverboard Lock @13:00 – *** ½
NXT Cruiserweight Championship: Santos Escobar (c) vs Isaiah Scott: Escobar retains via Double Underhook Shoulder Breaker @15:14 – *** ¼
NXT Women's Championship: Io Shirai (c) vs Candice LeRae: Io retains via Moonsault Press @16:45 – *** ½
NXT Championship: Kyle O'Reilly vs Finn Balor (c): Balor retains via Coup de Grace @28:28 – **** ¼
Results:
North American Championship: Johnny Gargano vs Damian Priest (c)
The onset is quick and favors Gargano a bit. He uses his speed to get Priest off balance a little and takes him to the outside, a big Dive into the chain barriers, shoves him into the steps and brings him back in for some rope assisted offense. Ties him in the ropes for a big Dropkick, a Draping Swanton and then a Tequila Sunrise to make the match look like a perfect script for Gargano.
However, Gargano goes to the ankle and Priest is able to kick him off for space and build some momentum. A high angle Elevated Flatliner followed up by the Broken Arrow give Priest a near fall, but the momentum is strictly in his court. Priest aims for a Razor's Edge, and early dodge gets paid with a Front Slam, then a second Razor's Edge is countered with a Code Red and near fall for Gargano.
We get a fun strike exchange followed by a little familiarity. Priest tried to counter Gargano's offense with a boot, but Gargano moves so he hits an Enzuigiri to get around the boot. But when Priest connects he goes to the ropes, stalls for a second to throw off Gargano's Super Kick attempt and lays him out with a Diving Forearm. The cat and mouse game continues as Gargano knocks Priest to the outside, tries to Dive, but Priest catches him, tries South of Heaven, Gargano gets out of it, but then he gets tripped up with a Spin Kick and then eats the Razor's Edge on the apron.
The back and forth is entertaining from here since it's just a Kick, a Forearm and just a big struggle. But once Priest gets frustrated and does a huge Dive over the corner, Gargano grabs security into the move and takes advantage of the distraction to hit a Low Blow. Super Kick from Gargano, but only a two count!
A solid struggle from there where Gargano tries the Garga-NO Escape, but Priest won't quit. Then Gargano tries to knock Priest back into the ring steps, but it backfires. A few close calls for both men, Gargano goes for One Final Beat, gets caught, hung in the ropes and Priest hits The Reckoning.
Kushida vs Velveteen Dream
Dream comes out looking like a combination of Doc Brown and Mr. Glass with the grey hair. Kushida takes exception to the Back to the Future jab and comes out hot. He attacks Dream before the bell, and when the bell does ring, he continues to just attack. Dream is rocked until he manages to use a little bit of a referee distraction to find him an opening to Boot Kushida and slowly come back.
Kushida doesn't take long before he goes back on the attack. He viciously goes after the left arm the entire match; pulling Dream into the post, sandwiching his arm between the steps and post and drop kicking the steps, Cross Armbreaker and a plethora of kicks, Kushida is rabid going after the arm. Surprisingly Dream mounts a comeback without much cheating.
Dream Valley Driver and a Purple Rainmaker connect, but on the landing Dream's damaged arm absorbs too much of the bump and he's slow to pin. Kushida tries to fight back, but Dream knocks him down again, goes back up, but Kushida pops up and jumps to the top of the corner. Kushida brings him down with the Avalanche Hoverboard lock and we get close to the end. Dream fights to the ropes, Kushida repositions and keeps the Hoverboard Lock in, Dream manages to fight out, attempts the Dream Valley Driver again, but Kushida grabs the arm, takes the moves and holds on to the Hoverboard Lock, so Dream is forced to tap.
After the match, Kushida remains unhinged and beats the holy hell out of Dream.
Halloween Havoc is officially coming back to NXT. Somewhere Greg DeMarco is as giddy as a school girl.
NXT Cruiserweight Championship: Santos Escobar (c) vs Isaiah Scott
Scott came out looking to wrestle Lucha Libre, and he did a damn impressive job. Throughout this match though, there were slight miscues or little spot misses that made adjustments or sells look awkward at best. Most notably when the rest of Legado del Fantasma come to the ring, whatever Escobar supposedly did looked awful, the Frankensteiner into Wilde and Mendoza was slow and looked more like Scott took the brunt of it. The help for Scott looked mistimed.
So a fairly solid Lucha Libre match was hampered by weird timing and just sloppiness at a certain point. Not bad, but could've been a ton better.
NXT Women's Championship: Io Shirai (c) vs Candice LeRae
Candice did a solid job at only really trying to buy time and no real cheating until towards the end. As decent as the back and forth in the match was, it did come off a little flat to me. Which amusingly, the cheating towards the end was entertaining, but not really for great reasons. Watching the referee take a Back Elbow, and then eat a careening Io off the Moonsault block.
Then Gargano pulls a Bayley and runs down with a referee's shirt, but Io kicks out at fast count 2. Candice clocks her with the title while Johnny distracts the now conscious original ref, but Io kicks out again. Gargano and Candice are beside themselves, and this hokey dorky heel thing is funny…but kinda dumb.
Io then hits a Spanish Fly, followed by the Moonsault Press to retain! Then we get two returns! Toni Storm has a video promo saying she's coming back to NXT and then we get someone ride in on a motorcycle; and when the helmet comes off…it's Ember Moon!
So for a division that was a little shallow and I wasn't sure where it was going, now suddenly became very interesting.
NXT Championship: Kyle O'Reilly vs Finn Balor (c)
Kyle and Finn start mat wrestling and it's nice to see Balor try and keep up with O'Reilly's game plan. This entire match was a beautiful display of both men proving their proficiency in all forms of wrestling. Balor gets a small advantage with a Fujiwara style armbar, and even strums a little guitar before O'Reilly starts to put his skills to work.
Uncalled for. #NXTTakeOver #NXTChampionship @FinnBalor @KORcombat pic.twitter.com/1cMfVz02N6

— WWE Universe (@WWEUniverse) October 5, 2020
After this playful disrespect, the match starts to turn up the heat. O'Reilly goes hunting for a few Knee Bar/Heel Hook combinations, and when not doing that, they are trading strikes. O'Reilly starts bleeding from the mouth fairly early, so the referee does do a solid job at creating distance between the two, but that gives O'Reilly the needed time to start going to work on Finn.
Running Knee Lifts, Butterfly Suplex Takedowns, German Suplexes, mixed between the submissions stylings really gave O'Reilly a lot of hope spots throughout this match. He countered a few John Woo attempts from Finn, even ate an Overhead Kick just to answer back with a Rewind Lariat. Everything fans enjoyed from their pre-WWE incarnations was on display here. Solid selling, great wrestling and competitive striking left this match up int he air to the very end.
The fact that Finn was bleeding from the mouth right before he hit the Coup de Grace added to just how hard of a fight this was. Then after we get Ridge Holland dumping Adam Cole's lifeless body over the barrier, so now you have to wonder what's happening there. Is Ridge just a messenger? Did he do it?
Overall Score: 7.75/10
While nothing was bad in the show, and it was capped off with a really great main event; the show felt…too similar throughout. Even the Dream/Kushida match turned into more of the workrate/counter hold style after the initial aggression. NXT has a tendency to do this and just not book a change of pace match.By that I don't mean comedy or 27 gimmicks shoved in a bag; I mean just a match or two that bring a different tempo. Hardcore, Submission Only, two Powerhouses; something that doesn't make the card look effectively the same just with different players and sometimes no title on the line.
With that said, Ember coming back in time for Halloween Havoc is perfect for the werewolf vibe she used to give off, Toni is a fan favorite and Io is a machine. So the women's division is in great shape especially with Rhea, Shotzi and Xia looming in the main/upper mid picture (I don't care for Raquel, so she has a lot to prove to me before I care about her card positioning).
Aside from that…the other matches do leave something to be desired with where the story is going. The Gargano's are dorks and can't get anything accomplished, so they might as well be faces again. UE is under attack, but that doesn't really involve Finn unless they want it to for Survivor Series or something, the Cruiserweight Division is just kinda there (and I love Legado del Fantasma), but at least the North American is supposed to be more of the mid card belt, so that doesn't always need a clear picture.
In a vacuum this was a fun show that just started to blend together too much. Big picture though, I'm left wondering where the direction is, but also not overly motivated to find out on Wednesday (though I do normally watch it anyway).
Andrew's Impact Wrestling Hard to Kill Results & Match Ratings: 1.16.21
Three title matches, the return of Decay, Barbed Wire Massacre and a main event with Kenny Omega. Impact Wrestling's Hard to Kill definitely sounds like it's got a little bit of everything. Check out how it went!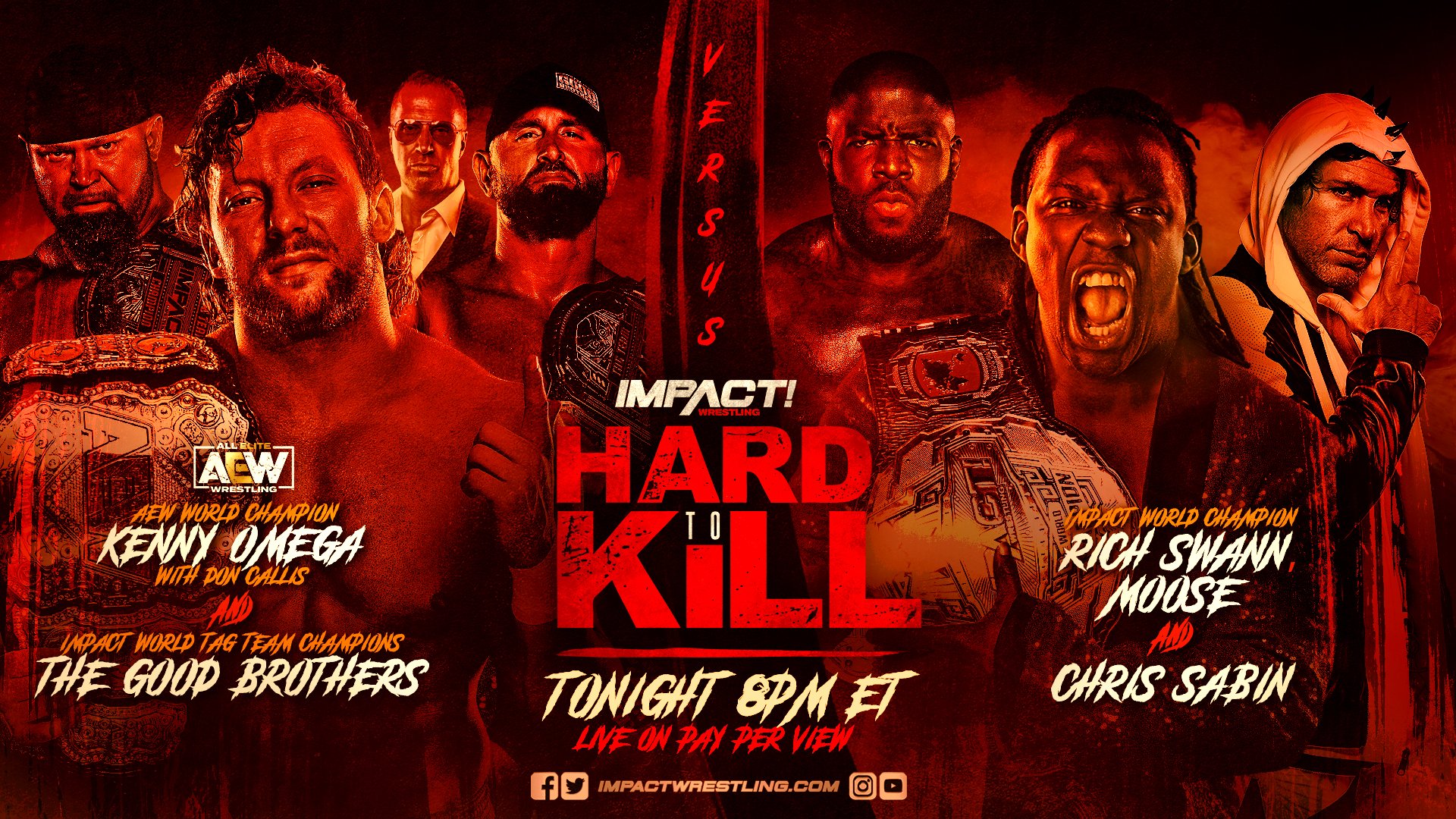 So the news that made many people cry a few days ago, was that Alex Shelley would be out of the main event. He went out of his way to film a response/promo/apology so fans knew it was something non-pandemic related, so that was an effort that wasn't necessary, though appreciated.
Aside from losing it's "Dream Match" luster, we get Moose as a replacement, which could really work for the cold calculated persona he's taken on after his EC3 encounter. We also get to crown Knockouts Tag Team champions for the first time in seven and a half years. Let's also not forget, this could end up being Taya's swan song from Impact, so we should expect a good match but no Wera Loca victory.
Let's see if we get any surprises!
Ratings:
Decay (Rosemary & Crazzy Steve) vs Tenille Dashwood & Kaleb: Steve wins via King Kill 33 @8:55 – * ½
Old School Rules Match: Violent by Design (Joe Doering, Eric Young & Deaner) vs Tommy Dreamer, Rhino & Cousin Jake: EY wins via Piledriver @9:55 – ** ½
Knockouts Tag Team Title Finals: Fire & Flava (Kiera Hogan & Tasha Steelz) vs Nevaeh & Havok: Kiera wins via Face the Music @8:40 – *** – TITLE CHANGE!!
Ace Austin w/Madman Fulton vs Matt Cardona: Cardona wins via DQ @2:30 – N/A
X Division Championship: Manik (c) vs Rohit Raju vs Chris Bey: Manik retains via Ole Cradle @13:50 – *** ½
Knockouts Championship: Deonna Purrazzo (c) w/Kimber Lee & Susan vs Taya Valkyrie w/ Decay: Deonna retains via Venus de Milo @11:40 – *** ¼
Ethan Page vs The Karate Man: Karate Man WINS…Fatality – 200 Stars
Barbed Wire Massacre: Sami Callihan vs Eddie Edwards: Eddie wins via Diehard Flowsion @18:50 – *** ¾
Moose, Rich Swann &Chris Sabin vs Kenny Omega, Karl Anderson & Doc Gallows: Kenny Omega wins via One Winged Angel @20:30 – ****
Results:
During the last few moments of the Countdown, Madison Rayne officially retired from wrestling and from Impact Wrestling. Not sure how long she'll stay a house wife, but good for her. She did great to actually prove to people she was a decent wrestler since her run during the WOH tournament, she was a fun commentator, so good for her.
Decay (Rosemary & Crazzy Steve) vs Tenille Dashwood & Kaleb
The weird thing about this match was the dynamic between who was involved and what went on.  Crazzy Steve showed a very high work rate in this match, with his strikes and moves looking fantastic. But Rosemary got exposed a bit on still being less than 100% with the knee and generally sloppy on a lot of spots.
Kaleb and Tenille definitely tried to add comedy and their quirky personalities, but the fact that we saw a lot of sloppiness, Steve working his ass off and just comedy spots or gimmick spots too often; this was a giant mess of a match. It also didn't help that D'lo and Striker are still getting used to each other, so the announcing was distractingly bad.
It can only get better from here!
Old School Rules Match: Violent by Design (Joe Doering, Eric Young & Deaner) vs Tommy Dreamer, Rhino & Cousin Jake
This starts the same way every Tommy Dreamer match starts, with a brawl and weapon use.  This wasn't a terrible match, but it's really not anything worth going deeply in to. EY did the flair corner to top rope spot, which ended with Dreamer hitting him with a cookie sheet. We had a Tower spot in the corner, with Joe Powerbombing a Suplex, and it landed right into Dreamer's face.
Doering got to look like a beast when the entire team took the chairs to him, and he still fought back, ending up in control. Dreamer introduced tacks, then we saw the Signature/Finisher spam which ends with EY breaking up the pinfall and hitting Cousin Jake with the Piledriver.
Again, decent enough, but nothing really special.
Knockouts Tag Team Title Finals: Fire & Flava (Kiera Hogan & Tasha Steelz) vs Nevaeh & Havok
Oh, Brian Hebner is back for this match. Slightly surprising.
Kiera and Tasha try to start fast, but the bigger women over power the smaller team and throw them around a little bit. Havok beats up on both of them, Neavaeh comes in to keep up the momentum, but eventually Tasha and Kiera start making a comeback. We see Fire and Flava go for a lot of quick spots, fast tags and trying to spin around the larger women, but they just get taken for a ride more often than not.
It's not until Kiera hits a High Round Kick, followed by Tasha with the Springboard Neckbreaker actually takes Havok off her feet. Nevaeh tries to make a save and get things back on track, but Tasha picks her leg, Havok gets wiped out after a great Super Kick from Kiera, Tasha and Kiera use some tandem attacks on Nevaeh, then Tasha slows down Havok as Kiera hits Face the Music and we have new Knockouts Tag Team Champions!
Ace Austin comes out to declare himself into the X Division Triple Threat to make it a 4 way! D'Amore comes out, says he can have a match, just not the title match. Matt Cardona comes out.
Ace Austin w/Madman Fulton vs Matt Cardona
Ace tries to go at Cardona before the ring jacket is off, but Cardona absorbs some offense and then fires back a bit. Fulton gets in the way quite often during this match, so the finish is a little telegraphed. But right as Cardona starts building momentum; Fulton slides in to cause the DQ.
Decent enough way to protect Ace and give Cardona quick win.
X Division Championship: Manik (c) vs Rohit Raju vs Chris Bey
Rohit went after Manik to try and prove his point that it's TJP. Bey seemed dead set on finding a way to win, and as we expected in an X Division match; there were a lot of spots, but they all made sense. Rohit does manage to take off the mask, but TJP painted his face under the mask, so it still throws off Rohit. TJP strings together a few moves, goes for the Mamba Splash, but gets caught by Bey with a Cutter. Bey then hits a Double Art of Finesse, but his brief moment of not knowing who to pin, caused the pinfall breakup.
Rohit almost won the title back after his call back to hitting his Tiger Knee after a Mamba Splash but Bey kicked out. Haymakers get thrown, Rohit hits the Dragon Stomp on Bey, and looks to finish things, but TJP slides in for the style of Cradle he's used a bit lately, and retains his title after a fun, hard fought match.
Knockouts Championship: Deonna Purrazzo (c) w/Kimber Lee & Susan vs Taya Valkyrie w/ Decay
Early on all of the seconds get kicked out, with the beauty of the situation being that Susan pulls out her phone and says she's filming the whole thing. So Susan, really may be a middle aged transformation of Su Yung. Susan might as well be named Karen.
EVERYBODY has been ejected from ringside.

(and Susan is recording everything) #HardToKill pic.twitter.com/9Bh5HwusLy

— IMPACT (@IMPACTWRESTLING) January 17, 2021
As we focus on the actual match, Deonna starts slowly picking apart Taya. Going after her left arm, then her left knee and just trying to apply submission and weaken different limbs. Taya was able to push back and have her own submission attempt moment. Taya went for an STF, but the submission game isn't her wheelhouse.
Deonna was able to pick her apart, counter a pinfall attempt and keep Taya grounded long enough to work in some holds. The normal Fujiwara didn't get her submit, so Venus de Milo followed up and Taya verbally submitted.
Ethan Page vs The Karate Man
Since this is cinematic or at least green screen, I won't rate this as a real match. But it was amazingly entertaining. Dragon Ball Z references, Karate Kid, and Mortal Kombat references, it was just amazing.
GET HIM A BODY BAG! #HardToKill @The_KarateMan @OfficialEGO pic.twitter.com/lcBAX90Sj6

— IMPACT (@IMPACTWRESTLING) January 17, 2021
Barbed Wire Massacre: Sami Callihan vs Eddie Edwards
Interesting pacing to get across the familiarity, twisted respect and love for punishment between these two. We saw Barbed Wire Tables, Chairs, Baseball Bats, Kendo Sticks and even an…N64 Controller!
Sami took a ton of punishment, but the story was basically playing with Eddie's emotions to bait him into bad dives, and openings for Sami to move out of the way, or sneak in a barbed wire shot. Eddie hit a Blue Thunder Bomb on a barbed wire chair, Sami hit an Avalanche Piledriver through a barbed wire table, but none of this was enough. If anything, the Piledriver just pissed Eddie off.
Going for the callback that started it all, Sami tries to hit a Barbed Wire Chair into Eddie's face with a Barbed Wire Bat, but Eddie hits a low blow to get a moment. Sami tries to bring himself up with a chair, Eddie hits the Boston Knee Party, then the Diehard Flowsion for the win!
Eddie hasn't hit that Flowsion in a long time. I did appreciate Sami paying homage to Cactus Jack and Striker acknowledging Jun Akiyama and Mitsuharu Misawa on commentary though.
Moose, Rich Swann &Chris Sabin vs Kenny Omega, Karl Anderson & Doc Gallows
The early onset is interesting. Karl Anderson and Chris Sabin start off and there's some solid technical counter wrestling, and it's fast paced action. Moose and Gallows come in to do a big boy showdown which worked fairly well, where Swann and Omega had a brief lockup before the Brothers come in to start heeling it up.
We get a lot of Japanese tag stylings, from the triple team that Team Impact pulls off, to the way the Club breaks up any type of momentum with their own train attacks into the corner. Moose looked amazing in this match. He went toe to toe with everyone, pulled off great moves like a Standing Moonsault, leaped to the top rope for a Spanish Fly and was a really good teammate, regardless of his issues with Rich Swann. Hell Swann and Moose even hit a Doomsday Device variant together. Small aside, I did like seeing Chris Sabin pull off Cradle Shock, which just doesn't happen often enough anymore.
Omega almost has the match one on Rich, but the only one able to break it up was Moose, and he did so. Omega went into V-Trigger spamming mode to wipe out Moose, rock Rich and then a One Winged Angel won the match for the Bullet Club former members.
Overall Score: 6.75/10
Well this started off pretty bad, but at least it built upwards. The main even had a lot of fun wrinkles which increased the storytelling, psychology and overall enjoyment of the show. Hell even when Callis nearly jumped into the ring to break up a pin on Kenny was a good little nugget.
As I said in the weekly coverage, this is probably Taya's final match, or at least one of the last, especially since they logically moved Rosemary back to Decay with Crazzy Steve. Eddie and Sami had a hell of blood feud and it was nearly cathartic. Let's also not overlook the fact that Tasha and Kiera actually won the Knockouts Tag titles. I almost thought they wouldn't win just because they are so charismatic and attractive without the titles, where Havok and Nevaeh don't exactly have electric personalities. But I'm ecstatic that Kiera finally has a title in Impact!
With the pretty awful start for the wrestling and the commentary, which put the show behind the eight ball; but it did recover fairly well. Not nearly as good as Genesis, but it managed to keep the stories rolling and end on an interesting note. A pretty good show after all was said and done.
Mitchell's WWE 205 Live Results & Report! (1/15/21)
The Dusty Cup comes to 205 Live!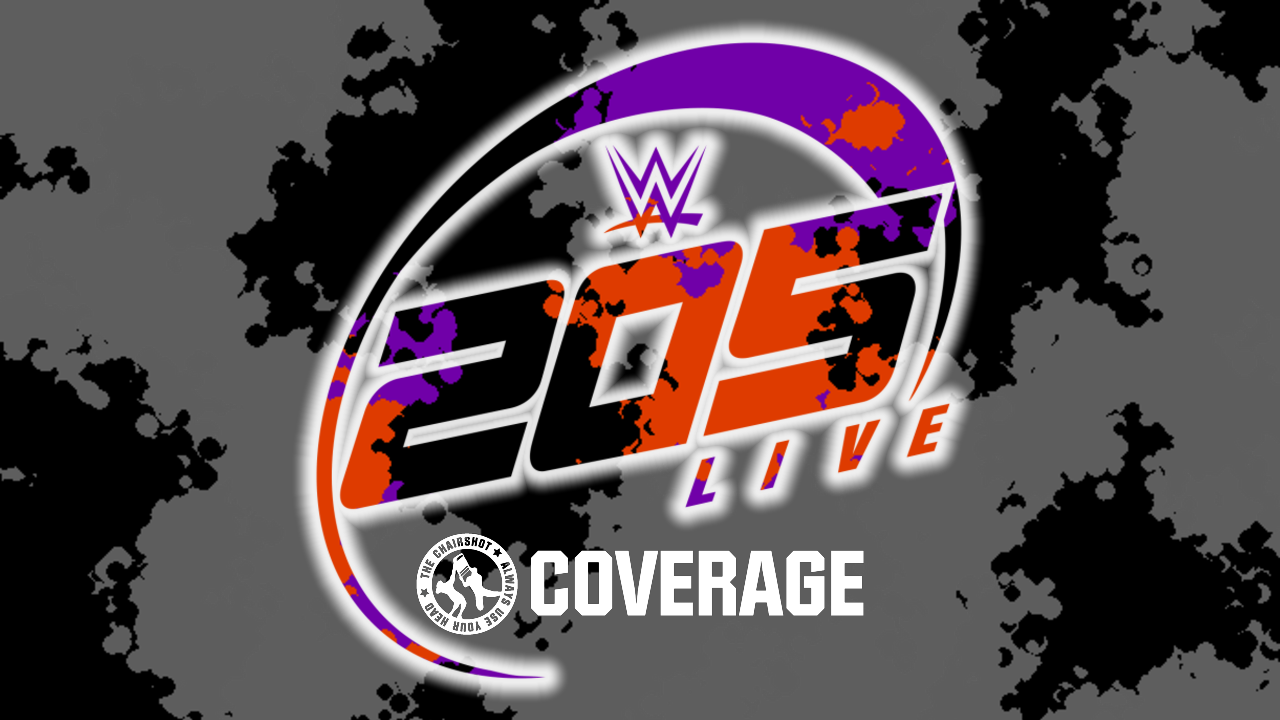 The Dusty Cup features the Cruiserweight Division… and Killian Dain?
For the first time ever, 205 Live gets to be part of the Dusty Rhodes Tag Team Classic! Who will leap out of the sweet sixteen into the second round?
OFFICIAL RESULTS
Dusty Rhodes Tag Team Classic Opening Round: El Legado del Fantasma VS The Bollywood Boyz; El Legado del Fantasma wins and advances.
Dusty Rhodes Tag Team Classic Opening Round: Curt Stallion & August Grey VS Drake Maverick & Killian Dain; Maverick & Dain win and advance.
PLAY BY PLAY
Dusty Rhodes Tag Team Classic Opening Round: El Legado del Fantasma VS The Bollywood Boyz!
Joaquin Wilde & Raul Mendoza want to follow in the footsteps of Santos Escobar, and that means getting titles! But Samir & Sunil Singh want the same, so that they can shine even brighter! Will the lights, camera and Bollywood action be left on the cutting room floor by Death From Above and the Technical Assassin?
The teams sort out and Mendoza starts against Sunil. Sunil and Mendoza circle, fans rally up as they tie up, and Mendoza wrenches to a wristlock. Sunil rolls, wrenches back, but Mendoza wrenches again to wristlock. Sunil gets up, trips Mendoza up and gets a headlock. Mendoza gets up, Sunil wrenches and yanks on the arm over and over! Sunil wristlocks, Mendoza knees low and hard, then whips. Sunil reverses, Mendoza goes up and over and things speed up, Mendoza runs Sunil over! Fans fire up with Mendoza and he runs, but Sunil drops to hurdle then monkey flip! Mendoza flounders up but Sunil clotheslines him out!
Sunil dares Mendoza to come back and Mendoza does, into an arm-drag! Sunil has the arm, Mendoza fights up, but Samir tags in. The Bollywood Boyz double whip, double shoulder and double elbow! Cover, ONE, but Samir keeps on Mendoza down with an armlock. Mendoza fights up, whips free but Samir gets around to crucifix takedown! TWO, and Samir wheelbarrows to arm-drag! Another arm-drag and Samir is back on the arm! Mendoza moves around, Samir keeps on the hold, and fans rally as Mendoza fights up. Mendoza pulls hair to put Samir in the corner, Wilde tags in but runs into a drop toehold!
Samir has the arm, Wilde pulls on an ear and whips, but Samir holds on tight to wrangle Wilde down! Tag to Sunil, they whip Wilde and leap frog, to then double hip toss! Cover, TWO! Sunil wrenches, tags Samir back in and Samir hops up to drop ax handles. Wilde knees low, goes to buckle bump but Samir blocks to give the bump first! Samir ducks Mendoza's sucker punch to punch back, but Wilde gets him for a DDT! Wilde stomps Samir, brings him up and bumps him off buckles. Tag to Mendoza, he CHOPS Samir then taunts Sunil. Mendoza runs in and clotheslines, tag to Wilde! Wilde clotheslines and tags, then Mendoza repeats the process! Double suplex! Cover, TWO!
Wilde keeps on Samir and throws him out hard! Wilde goes out, Mendoza talks trash, and Wilde bumps Samir off the announce desk! Wilde drags Samir back into the ring as fans rally up. Wilde cravats and cranks on Samir's neck, but Samir fights up and body shots free! Wilde whips Samir hard into buckles! Tag to Mendoza, El Legado drags Samir up and double whip him to ropes. Samir kicks back, Mendoza clubs him, then a whip, but Samir reverses to send Mendoza into Wilde! Mendoza shoves Samir to the Legado corner but Samir dodges and Mendoza gets POST! Fans rally up as Samir crawls, hot tag to Sunil!
Sunil rallies on Mendoza with forearms and elbows, then a whip! And a BACK DROP on the rebound! Sunil keeps going, atomic drop and a running WINDMILL KICK! Wilde returns but Sunil DECKS him! Sunil goes out to bump Wilde off the 205 Live logo over and over! Mendoza runs out but he gets the same! Sunil puts Mendoza in, climbs up top and leaps, BIG ax handles! Cover, TWO! Escobar is ice cold as Samir tags in. Sunil hoists Mendoza up, FLYING UPPERCUT SPINEBUSTER! Cover, TWO! Mendoza is still in this but Samir throws haymakers in the corner. Samir hoists Mendoza up top, climbs, but Mendoza fights back! They brawl, Samir clubs Mendoza but Wilde anchors him!
Sunil YANKS Wilde down, tags in and then Samir SUPERPLEXES Mendoza! Sunil add the MACHO ELBOW! Cover, but Wilde breaks it! Not even the Bollywood remake of Power 'n' Glory could do it! Samir goes after Wilde with fury, then whips, only for Wilde to send him into steel steps! The ref reprimands but Mendoza gets Sunil with a FLIPPING DRIVER! Tag to Wilde, Electric Chair FLYING CODE BREAKER! Then the ENZIGURI LEG SWEEP! Cover, and Mendoza intercepts Samir, El Legado wins!
Winners: El Legado del Fantasma, by pinfall (advance to the second round)
Wilde and Mendoza make Escobar very proud, but this was just the opening round. Will Legado del Fantasma grow even stronger as the Dusty Classic continues?
Drake Maverick and Killian Dain make final preparations.
Maverick pins up the doodle of him and Dain, only for Dain to pull it back down. Dain puts on his wrist and hand tape, so Maverick does the same. Dain asks why he keeps mirroring him? Maverick says it's 2021, a new year, a new look as they're now matching. Look, Maverick's a denim jeans guy now! Dain wants Maverick to promise him he fixed the music. He did! The new theme has a lot of rock to open, Dain is satisfied. Will Dain do the dance if they win? No. Not even if they win? Maverick quickly pins up the doodle again, will it be a good luck charm for the odd couple?
Dusty Rhodes Tag Team Classic Opening Round: Curt Stallion & August Grey VS Drake Maverick & Killian Dain!
The Lonestar and #RetroAG did great as a team in their first outing last week, but now it's the real deal! Will Stallion and Grey ride into the second round with high spirits? Or will they be brought down by Rockstar Spud and the Belfast Beast?
The new music hits, and it's to Dain's liking, but then it morphs into a remix of that whistling theme Maverick had in the first place. Well, it's fitting for their brand of dysfunction. The teams sort out and Stallion starts against Maverick. They circle and tie up, Stallion headlocks but Maverick powers out, only for Stallion to run him over. Stallion stares Maverick down as they reset and start again. They tie up, Stallion headlocks again but Maverick works on an escape. Fans rally, Maverick powers out but Stallion runs him over again. Things speed up, Maverick hurdles then throws Stallion out, to do some skipping.
Stallion runs back in but is sent back out! Maverick does more skip step, but Stallion comes back to tie up. Stallion whips Maverick to a corner, Maverick goes up and over and does his trot. Stallion rushes in, only for Maverick to hip toss and calf kick him down to an armlock! Maverick wrenches the arm, but Stallion pushes free to tag in Grey. Grey is fired up because it's the Dusty Classic! He dares "big man" Maverick to bring it, and Maverick says one moment. He tags to Dain! Dain is a bit bigger than 205 but Grey still ties up with him. Dain pushes Grey away to a corner! Grey comes back, ties up with Dain again and gets a headlock, but Dain powers out to run Grey over!
Dain runs, Grey ducks and hurdles, but he decides to avoid the punch. Grey leaps but the crossbody bounces off of Dain! Dain tags in Grey, they double whip Grey and Dain uses Maverick to trip Grey up for the back senton! Human weapon, scoop slam senton! Maverick covers, ONE! Maverick clamps onto an arm, wrenches, and Dain tags in. Dain BOOTS Grey down, then fireman's carries Maverick for the SWINGING BOOTS! Dain even RAMS Stallion with Maverick! Dain lets Maverick go back to the corner so he can CLUB Grey! Dain then fireman's carries Grey but Grey slips out to tag in Stallion!
The Cruiserweights go after the heavyweight together! Mule kick, front kick, forearm and ROLLING ELBOW! They bring Dain in but Dain DOUBLE SUPLEXES them! Grey and Stallion bail out, Maverick tags in and he says Dain is the one to dive?! Fans want to see it and Dain gives it a try, only to pick up Maverick and TOSS him! Maverick topples Stallion and Grey over and fans fire up! Dain goes out to fetch Stallion into the ring and then puts Maverick in. Dain clubs Grey down and Maverick covers, TWO! Maverick hikes up his pants and brings Stallion up, but Stallion hits a REVERSE NECKBREAKER!
Tag to Grey and Grey whips Maverick. Leap frog into HEADBUTT, then the BIG back suplex! Cover, TWO! Grey clamps on tight with a chinlock and Maverick endures. Fans rally up, Maverick fights up, but Grey keeps him from Dain. Maverick keeps trying but Grey wrangles him away. Fans duel now as Maverick fights up. Maverick throws body shots, backs Grey down, but Grey CLUBS Maverick first! Grey back suplexes, Maverick lands on his feet, and boots Grey away! Maverick hits Stallion for good measure, slides under Grey and hot tags Dain! Dain rallies with big clotheslines, then he TOSSES Stallion in! They both get LARIATS!
Dain brings Grey around for an OVERHEAD suplex! Dain runs in to corner splash Stallion, then does the same to Grey! He whips Grey into Stallion and SHOTGUN DROPKICKS them both down! Stallion staggers, but into an URENAGE! SLINGSHOT SENTON! Dain has the fans fired up as he aims at Grey, but Grey dodges, only to get the DIVIDE! Cover, but Stallion breaks it! Dain grabs Stallion and whips him to a corner, but misses to get buckles! Stallion runs at Maverick but gets double boots! Maverick rolls Stallion to his feet for a JUMPING NECKBREAKER! Grey staggers, blocks a kick and KNEES Maverick! Dragon sleeper to a SPINNING POWERSLAM! But Dain drops a senton on Grey!
Fans fire up as Grey runs but Stallion gets around him to waistlock. Stallion tries to lift, Grey SUPERKICKS Dain into the GERMAN! Bridging cover, ONE! Stallion tries a lateral press, but Maverick breaks it! Grey and Maverick brawl, Maverick hits him and Stallion back and forth! Fast hands and feet, but he gets mugged 2v1! Stallion and Grey stomp Maverick in the corner, CHOP him, then whip him corner to corner. Dain puts Maverick on the outside to BOOT Grey and buckle bump Stallion! Tag to Maverick, BOOTS at the corner! Dain drags Stallion up, Maverick LEAPS to take out Grey!
Dain POWERBOMBS Stallion! Maverick wants a high-five, but he gets used as a human weapon again, POWERBOMB SENTON! Cover, Maverick and Dain win!
Winners: Drake Maverick & Killian Dain, by pinfall (advance to the second round)
One of the more unique combinations in this year's Dusty Cup gets through to the next round! But they're going up against a couple of rascals in MSK, will the dysfunction fall apart?
---
My Thoughts:
A pretty good 205 Live that at least got over half an hour this time. Legado VS Bollywood Boyz was a good opener, and it makes sense for Legado to advance. There is always a good story behind a faction wanting to have title belts for each member, but there's a good chance they're facing Imperium next round. Imperium wants to do the same thing between both NXT and NXT UK, and Marcel Barthel & Fabian Aichner will definitely want to get back to the titles. In the end, I don't see Legado or Imperium being Dusty Cup winners, though.
Maverick & Dain VS Stallion & Grey was a good match, but with Stallion having the Cruiserweight title shot in his back pocket, and with Maverick & Dain being a fan favorite combo, it makes sense Maverick & Dain won. I just knew that Maverick's new choice for a theme was really just a swerve. Dain & Maverick are probably losing to MSK, though, as MSK are new and it'd mean a lot more if they got into the semifinals. Though again, I wouldn't see Dain & Maverick winning the cup, even if there is some story there between them and Lorcan-Burch. Though that would be a great shocker.
My Score: 8.3/10