Andrew's…Review? Of Talk'N Shop: Full Keg
#WorstSpecialEver coming at you! Powered by brown liquor, adult cartoons, Scott D'Amore and abs. Join in the idiocy the water's warm.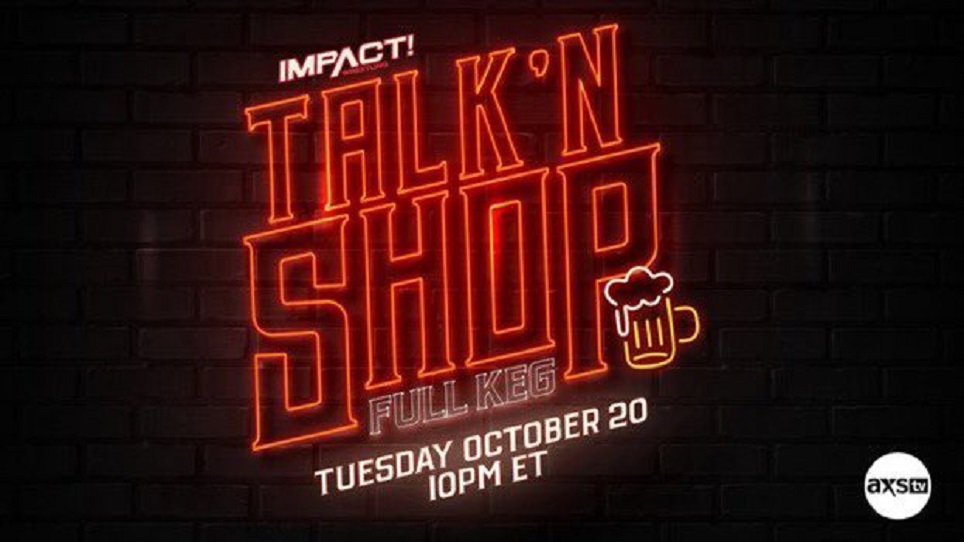 So Impact Wrestling decided to sign off on the Good Brothers doing a Special before Bound for Glory. #WorstSpecialEver
I watched Talk'N Shop-A-Mania so I have an idea what to expect. But there's that pregnancy book, "What to expect when expecting" and in regard to this, I got 3 deuces and a bag of Swedish Fish. Do I win Jenga?
Let's get to drinking brothers!
"If you're sleeping on IMPACT it's time to wake up." #TalkNShopFullKeg @The_BigLG pic.twitter.com/sxicOOP20r

— IMPACT (@IMPACTWRESTLING) October 21, 2020
Rating:
Scott D'Amore is definitely fired Battle Royale: Won by Pelvis Wesley – (Negative Very Yes)
Review:
They're at a bar, looking all kicked back and relaxed. We know they're prolly gonna win another pair of belts, clearing customs and doing that cross branding stuff. Or is it? Aren't they supposed to have a little buddy?
.@azucarRoc has shown up on Talk'n Shop: Full Keg (even if he was left at the airport and had to get an Uber)! #TalkNShopFullKeg @MachineGunKA @The_BigLG pic.twitter.com/SMTVojaNwn

— IMPACT (@IMPACTWRESTLING) October 21, 2020
You know what's best when Boss Hoots isn't expecting to be there? You get to drink alcohol and have your friends talk about New Japan even though there's a weird tension between brands. But forget all about that, and get ready for some new school bad animation pitched for the adult minded.
.@ScottDAmore has come to bring some order to the Talk'n Shop chaos but animated abs can be very appealing. #TalkNShopFullKeg @MachineGunKA @The_BigLG pic.twitter.com/mOBdNbEyeQ

— IMPACT (@IMPACTWRESTLING) October 21, 2020
I wonder if Greg DeMarco is somewhere watching this realizing that Scott D'Amore goes through the same stuff as he does. I wonder if he talks into a Rolex too. SO many questions so little left in my brown stuff bottle.
Man Chad 2 Badd starting a multifarious multifaceted multidimensional, all-encompassing dojo of badass stuff and karate. He loves teaching people different ways to beat up their dad. But don't worry, Sex Ferguson has the answers, cause if you buy Chad's hers then he can't make towns and has to relinquish the Talk'N Shop heavyweight belt and might even lose his dojo like Cobra Kai or something.
Either way, after we get some songs, some shots… OH there's a specialty bourbon or something! Talk'N Shop branded with Good Brothers and Chico on it, not sure if it's available for purchase yet, but I'mma try it.
Scott makes a bunch of jobbers do a Battle Royale, we get some awful commentary, Scott is fired at least twice, Rocky might be hiring, Brian Myers hit people with a toy Impact ring before just walking away, Johnny Swinger was the best wrestler in the town that night but he lost to the power of music and hip gyrations of Pelvis Wesley!
Pelvis Wesley has won the minion battle royal! #TalkNShopFullKeg @HEATHXXII pic.twitter.com/Hy9DQfNuwX

— IMPACT (@IMPACTWRESTLING) October 21, 2020
Scott figures out Pelvis is Heath, so he tells him it ain't Bound for Glory, he then demands that they reveal a guest. They were told no payday with no guest! So they reveal the bright pink stretch Hummer and Nature Boy comes out! NATURE BOY PAUL LEE! Back at it again! Scott saves the day by having Scott Steiner appear, beat up Paul Lee thinking he was Ric Flair, flips off the Good Brothers for stealing the Too Sweet and bounces.
Paul Lee then gets paid in shot, face flops and we about done here boys!
Thoughts:
This was good fun. We knew it wasn't going to be serious, but the amount of things they got away with was amazing. New Japan plugs, alcohol, D'Amore even said they'd be up shit's creek, but turned to the camera and said "It's a TV show that just ended and won 7 Emmys", so that was a cute way to slip one in.
Irreverent and unapologetic. But God damn do I love the fact that one of the executives of Impact is always in these things to get across that it's approved and not full pirate radio. Just watch it, it's an hour, it's fun and there's more references and inside jokes that will keep you laughing even if the major humor falls flat.