Andrew's…Review? Of Talk'N Shop: Full Keg
#WorstSpecialEver coming at you! Powered by brown liquor, adult cartoons, Scott D'Amore and abs. Join in the idiocy the water's warm.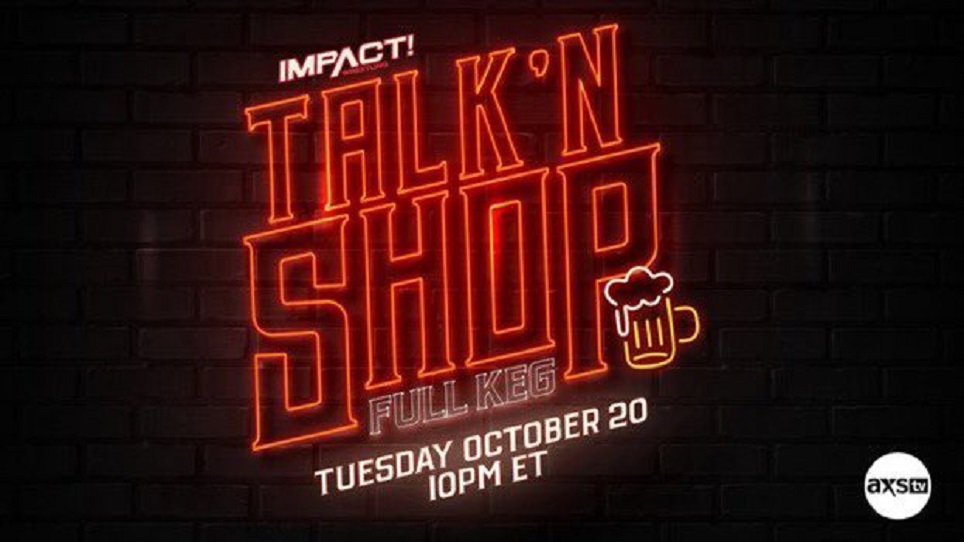 So Impact Wrestling decided to sign off on the Good Brothers doing a Special before Bound for Glory. #WorstSpecialEver
I watched Talk'N Shop-A-Mania so I have an idea what to expect. But there's that pregnancy book, "What to expect when expecting" and in regard to this, I got 3 deuces and a bag of Swedish Fish. Do I win Jenga?
Let's get to drinking brothers!
"If you're sleeping on IMPACT it's time to wake up." #TalkNShopFullKeg @The_BigLG pic.twitter.com/sxicOOP20r

— IMPACT (@IMPACTWRESTLING) October 21, 2020
Rating:
Scott D'Amore is definitely fired Battle Royale: Won by Pelvis Wesley – (Negative Very Yes)
Review:
They're at a bar, looking all kicked back and relaxed. We know they're prolly gonna win another pair of belts, clearing customs and doing that cross branding stuff. Or is it? Aren't they supposed to have a little buddy?
.@azucarRoc has shown up on Talk'n Shop: Full Keg (even if he was left at the airport and had to get an Uber)! #TalkNShopFullKeg @MachineGunKA @The_BigLG pic.twitter.com/SMTVojaNwn

— IMPACT (@IMPACTWRESTLING) October 21, 2020
You know what's best when Boss Hoots isn't expecting to be there? You get to drink alcohol and have your friends talk about New Japan even though there's a weird tension between brands. But forget all about that, and get ready for some new school bad animation pitched for the adult minded.
.@ScottDAmore has come to bring some order to the Talk'n Shop chaos but animated abs can be very appealing. #TalkNShopFullKeg @MachineGunKA @The_BigLG pic.twitter.com/mOBdNbEyeQ

— IMPACT (@IMPACTWRESTLING) October 21, 2020
I wonder if Greg DeMarco is somewhere watching this realizing that Scott D'Amore goes through the same stuff as he does. I wonder if he talks into a Rolex too. SO many questions so little left in my brown stuff bottle.
Man Chad 2 Badd starting a multifarious multifaceted multidimensional, all-encompassing dojo of badass stuff and karate. He loves teaching people different ways to beat up their dad. But don't worry, Sex Ferguson has the answers, cause if you buy Chad's hers then he can't make towns and has to relinquish the Talk'N Shop heavyweight belt and might even lose his dojo like Cobra Kai or something.
Either way, after we get some songs, some shots… OH there's a specialty bourbon or something! Talk'N Shop branded with Good Brothers and Chico on it, not sure if it's available for purchase yet, but I'mma try it.
Scott makes a bunch of jobbers do a Battle Royale, we get some awful commentary, Scott is fired at least twice, Rocky might be hiring, Brian Myers hit people with a toy Impact ring before just walking away, Johnny Swinger was the best wrestler in the town that night but he lost to the power of music and hip gyrations of Pelvis Wesley!
Pelvis Wesley has won the minion battle royal! #TalkNShopFullKeg @HEATHXXII pic.twitter.com/Hy9DQfNuwX

— IMPACT (@IMPACTWRESTLING) October 21, 2020
Scott figures out Pelvis is Heath, so he tells him it ain't Bound for Glory, he then demands that they reveal a guest. They were told no payday with no guest! So they reveal the bright pink stretch Hummer and Nature Boy comes out! NATURE BOY PAUL LEE! Back at it again! Scott saves the day by having Scott Steiner appear, beat up Paul Lee thinking he was Ric Flair, flips off the Good Brothers for stealing the Too Sweet and bounces.
Paul Lee then gets paid in shot, face flops and we about done here boys!
Thoughts:
This was good fun. We knew it wasn't going to be serious, but the amount of things they got away with was amazing. New Japan plugs, alcohol, D'Amore even said they'd be up shit's creek, but turned to the camera and said "It's a TV show that just ended and won 7 Emmys", so that was a cute way to slip one in.
Irreverent and unapologetic. But God damn do I love the fact that one of the executives of Impact is always in these things to get across that it's approved and not full pirate radio. Just watch it, it's an hour, it's fun and there's more references and inside jokes that will keep you laughing even if the major humor falls flat.
Andrew's IMPACT Results & Match Ratings: 5.26.2022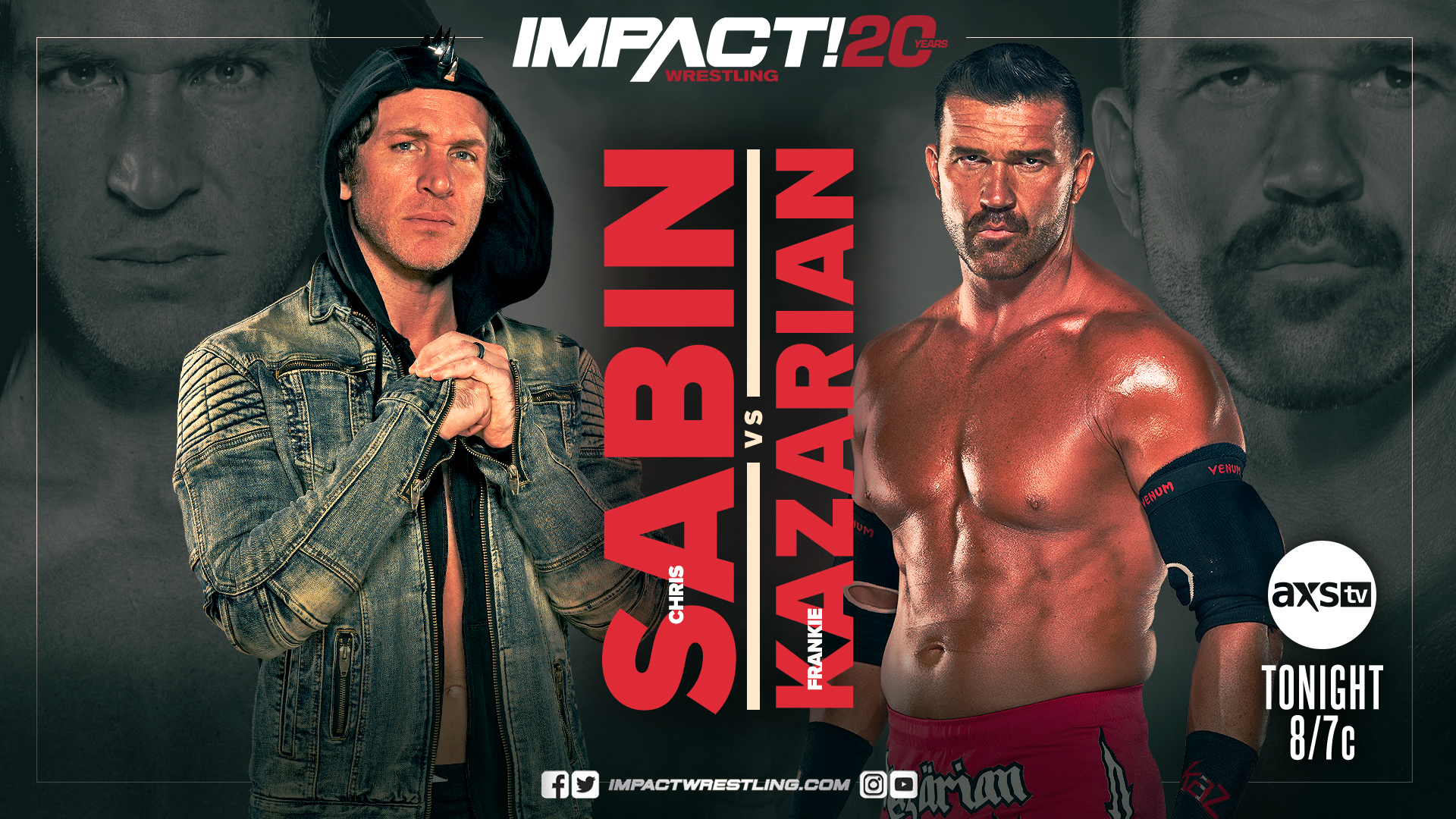 OLD TNA, a sprinkle of ROH and the current IMPACT roster makes for an interesting night! The Battle of Futures Past has to have most TNA fans happy, with a little Frankie Kazarian versus some Hail Sabin. VBD taking on all the gold holders will make for something interesting. You have to assume the heels go over here to stoke the fires for Slammiversary main event, right?
Aside from that we definitely have a small Queen of the Mountain preview with Jordynne and Chelsea. Plus another Ultimate X Qualifier with "The worst wannabe Spiderman outside of Time Square" Trey Miguel facing Alex Shelley. I feel like I can already read the tea leaves here, but I'll save that for drunk thoughts before the match starts.
Let's get the show started!
Since we got some old vibes, IMPACT gave us the old Fox Sports Net intro, with the modern twist!
This is Wrestling Reinvented.

Check out the 2004 throwback intro to tonight's #IMPACTonAXSTV! #IMPACT20 pic.twitter.com/dfo1hfeYni

— IMPACT (@IMPACTWRESTLING) May 27, 2022
Ratings:
Ultimate X Qualifier: Alex Shelley vs Trey Miguel: Trey wins via Crucifix Counter Cradle – ** 3/4
Masha Slamovich vs Havok: Masha wins via Russian Death Device – SQUASH
Chelsea Green vs Jordynne Grace: Jordynne wins via Grace Driver – ***
Battle of Futures Past: Chris Sabin vs Frankie Kazarian: NO CONTEST – ***
Shera & Raj Singh vs Bhupinder Gujjar & Massive Cassidy: Gujjar wins via Gargoyle Spear – ** 1/2
Violent By Design (Eric Young, Deaner & Joe Doering) vs Josh Alexander & The Briscoes: EY wins via Piledriver – *** 1/4
Results:
Ultimate X Qualifier: Alex Shelley vs Trey Miguel
So Shelley has been on a tour of putting over the newer X Division stars. As much as I hate Trey, I expect Shelley to lose this but put up a damn good fight. 
They set the stage that during the small stint where The Rascalz left IMPACT, which ended up with Wentz & Dez heading to NXT with Trey coming back a little later; apparently Shelley trained Trey. Sadly for Shelley, it hasn't done anything. Sure Trey has learned a few more moves, but he can't put a match together to save his life, can't cut a promo and doesn't evoke sympathy or anger, he's just a waste of space.
We get a little back and forth early, Trey thinks he's got a bit of an advantage when he turns around the offense on the outside so he taunts a bit with Push Ups in the center of the ring. Trey turns things around shortly after the taunt, as the crowd goes mild. Trey slides in Shelley, attempts a Senton but Shelley avoids and aims for the Basement Dropkick sending Trey Ass over Tits. A little corner work as Shelley props Trey in the ropes and wrenches with a Dragon Screw. Shelley is playing the arrogant role again, and much like again Mike Bailey, I don't foresee this ending well.
Some solid strikes from Shelley, PK to the shoulder blades, rolling into the Border City Stretch but Trey gets a foot on the ropes. Trey starts trying to fight back the close chops, Shelley goes to run the ropes, and we see a clunky but somewhat effective Sliding Dropkick/Jump Over Double Stomp spot. After some recovery time, Trey is posted in the corner, Front Flips over Shelley, doesn't sell the dinged up knee, really weak strike combination into a Stomp to the back and it all just looks terribly choreographed including the bad miss from Shelley into the Death Drop float over to Dragon Sleeper Stretch.
Trey's offense is just one bad move after another, he is truly everything bad about early years Ospreay. Moves with no purpose aside from the move looks cool. Shelley tries to sell and slow things down from time to time, but Trey's lack of understanding how to wrestle makes this match hard to watch. Trey doesn't even sell convincingly…ugh this is sad. Shelley must understand the match is lacking because he tries to turn up his cruelty, and that helps but seems hard to buy since everyone loves Shelley.
One thing I do love is Shelley pulls out Marufuji's Pole Shift Flowsion for a close 2, Automatic Midnight (Air Raid Crash) is a near fall but Shelley immediately goes into the Border City Stretch. We get a few cradle counters from both until Trey apparently gets the best of the counter roll garbage. The crowd reaction was Kyle Petty sour.
Trey is trash, stop pushing him until he learns how to wrestle. 
Masha Slamovich vs Havok
Masha's first somewhat real test, so lets see if Havok's gatekeeper status continues.
Masha and Havok go for tough strikes, Masha hits the Headbutt and Havok tosses her showcasing the power. Masha eats a corner splash, then comes out of the corner, Spinning Heel Kick, lights up Havok and Russian Death Device.
I expected Gatekeeper status, but Masha put this match away so fast all of Decay comes out and are completely confused. Either Havok is on her way out, or they might go for some super natural power up storyline.
Chelsea Green vs Jordynne Grace
Chelsea tries to powder early to mess with Jordynne, but Jordynne chases her down and pounces. Chelsea is just eating offense for a while, until she manages a Middle Rope Rewind Kick and then starts handling Jordynne on the outside. We go to commercial, come back and Chelsea has Jodrynne in the corner landing that Double Wrist Capture Curb Stomp into the turnbuckle.
As Chelsea keeps up some offense, Jordynne seems to be getting more and more pissed off. Chelsea hits the ropes for a Big Boot or something and eats a Spinebuster for her trouble. Strike/Scoop Slam exchange but Chelsea actually got the best of things until we get an awkward spot in the corner that Chelsea looks like she had to stick around too long to tell Jordynne to grab her in the Sleeper.
Big Power moves after make you forget about the bad spot for a while. Spinning Torture Rack Bomb gives Jordynne the 2, and Chelsea barely kicks out a few times. Jordynne tries to pull out the Muscle Buster as shades of her past and TNA past. Lifted Flatliner gives Chelsea a near fall. Grace Driver attempt but Chelsea fights back before Jordynne lays in some Vader Hammers. UnPretty-Her attempt number two, and countered yet again.
After a One Winged Angel or Japanese Ocean Cyclone Suplex potential fake out, Chelsea slips out of the Electric Chair and then gets captured in the Grace Driver for the pinfall.
.@DeonnaPurrazzo and @RealTSteelz may be opponents at #Slammiversary but they have a mutual enemy in @MiaYim. #IMPACTonAXSTV @SavannahEvansNV pic.twitter.com/cfBz4Hn72R

— IMPACT (@IMPACTWRESTLING) May 27, 2022
Battle of Futures Past: Chris Sabin vs Frankie Kazarian
Quick attempts at offense before Kaz hits the Shoulder Tackle right into the Ground Headlock. Kaz is doing a good job trying to wear down Sabin and keep him off his feet. Holy crap Ole Dinosaur Bone referenced Serotonin as part of Kaz's past factions. Big props to Tom for that pull.
A small series of roll ups keep the even footing moving, while if you were scoring things Kaz might be a little ahead since he was using a lot of the Headlock control, before Sabin just dumps Kaz out and over the top rope off the apron. From this point, Sabin drives Kaz into the post, hits an Apron Soccer Ball Kick and generally keeps control.
Kaz tries to pop back into the fight when they're back in the ring, but Sabin stifles all of that with a damn good Lariat. Then a Foot Choke in the corner (Sabin didn't team with Nash, what the hell man). Rocks Kaz, puts him in the Cross Arm Bow and Arrow before Kaz tries to rise out of it. Sabin sees the situation changing and German Suplex, drives him into the corner, stomps, tries to pull him out but Kaz lands on his feet and we get some classic Kaz offense! Up and Over, Alley Oop into the Springboard Guillotine Leg Drop. Back and forth, transition through the ropes, Sabin tries to follow but the old Leg Cutter with the middle rope stuns Sabin. Outside In Slingshot DDT, for 2.
Cradle Shock, slip out, Enzuigiri, Yakuza Kick and Sabin is rolling a few things together all of a sudden. Tornado DDT and it's only 2. Kaz counters the corner attack with the back elbow, tries to jump to the top rope, Sabin follows for the Avalanche German, and near fall again! Both men try for some move to give them momentum, counters all over, both run the ropes, Double Crossbody spot.
As they sell, Honor No More hits the ring and ruins a really damn good match.
Honor No More are furious with what they call "20 years of lies and disrespect." #IMPACTonAXSTV @TheEddieEdwards @KennyKingPb2 @PCOisNotHuman @TheHorrorKingVM @RealMikeBennett @MattTaven pic.twitter.com/QnuLl7C9z9

— IMPACT (@IMPACTWRESTLING) May 27, 2022
Taven with a fantastic line after Heath says they sound stupid and he just chirps "With that accent". Why is IMPACT Taven 10000% better than everything he did in ROH? Dammit why. 
Shera & Raj Singh vs Bhupinder Gujjar & Massive Cassidy
Cass gets the best reaction of this crowd all night. It even seems to hype up Gujjar a little.
Raj and Gujjar start, which makes sense given the story they were working with of Raj trying to manage Gujjar and attach his name to the successful newcomer. Gujjar hits a Slingblade into Fame Asser before tagging in Cass. Cass Scoop Slams Gujjar into Raj, counts 2 big elbow drops while pointing at Gujjar so he can tag him in, Slingshot Elbow for the babyface team. It takes until Shera distracts Gujjar and the mob mentality backfires for the faces since Cass is mad and keeping the referees attention.
Shera and Raj double team and beat on Gujjar until the Power Slam on Raj gives the opening. The Massive One runs with the hot tag and eats all of their lunches. Shera postures up to Cass, Cass hits the Big Boot and Lariats him out, Gujjar gets the Crossbody on the outside. Cass Chokeslams Raj, motions to Gujjar and asks the crowd "him" which gets a decent reaction. Gargoyle Spear looks a little less ridiculous in tag team action.
"@TheSamiCallihan is the biggest fraud in professional wrestling." @TheMooseNation had some strong words for the Death Machine. #IMPACTonAXSTV @SteveMaclin pic.twitter.com/QaNDVGRNo0

— IMPACT (@IMPACTWRESTLING) May 27, 2022
Violent By Design (Eric Young, Deaner & Joe Doering) vs Josh Alexander & The Briscoes
Josh leads off against…Deaner. Well nice to know the faces will get the early momentum. Josh works a Wristlock, keeping Deaner grounded of flipped but always controlled. Sussex County Chicken next in and lets Deaner slap and just sparks up the Red Neck Kung Fu. But Deaner gets the best of the situation and brings in EY. EY was caught a little unawares by Mark's…well Mark offense, and Jay gets tagged in. Let's also remember that Jay is a two time ROH Heavyweight Champion. So he starts to take it to EY and that shouldn't be seen as a surprise.
Dogpile moment with Jay hitting the Tope con Hilo and Mark with the Corkscrew Splash into all three VBD members. Commercial break comes back with EY taking control back from Jay but there's a bit of a back and forth. Jay tags in Josh, and EY doesn't run for the tag. He wants to lead by example. Josh rocks him in the corner, 10 count punches, throws EY into the other corner for the Flair Up and Over, but EY ducks down getting Josh caught in the ropes, Deaner side swipes Josh as Joe distracts the referee.
EY tags in Deaner, Deaner hits some frantic offense, EY comes back in for a few near falls and a corner Neck Jammer using the quick tag with Deaner to keep thing fluid. Great tug of war momentum spots where Josh tries to fight back, but VBD pulls him back, and Josh has to fend off the entire faction before finally tagging in Mark for the Chicken Flavored Hot Tag. Jay blind tags to hit the Neckbreaker, Froggy Boy combo, but VBD breaks up the pin.
Big Joe hasn't been the legal member yet, but he keeps making his presence felt. Jay has to fight back, EY tries something off the ropes, Jay hits the Frankensteiner. Assisted Powerbomb for 2, Doomsday call, but a distracted ref allows for a flag hit on Mark. Deaner DDT, but Josh breaks it up. Josh tries to finish Deaner, but EY dumps him out and Joe comes from off screen with the Flying Crossbody to squash Josh. Casey Jones mask usage, EY with the Piledriver, and VBD pick up an interesting win.
Overall Score: 7/10
Well the main event not utilizing Doering in the match and just having him run…legal interference is an interesting strategy that ultimately worked. So you know, you can't argue with results. Getting some Dusty BS finish on the Battle of Futures Past makes me hope it's leading to OGK + Eddie vs MCMG + Kaz. Yes that's the Mark in me just loving Motor City and all things old school TNA. Havok being completely destroyed corroborates what I said after she lost to Tasha where she's useless now. Granted yes Decay has all the spooky stuff, so maybe they can give her a magic potion, James Mitchell comes back, sacrifice Sunny's sex tape or something, bring back some of the old Disciples of the New Church, like Vampiro could be cool. OR – she's on her way out of the company. Either way, I like it when the card logically shakes out how the visual presents things.
I think my last real talking points are: 1. What move was Jordynne going for from the Electric Chair? 2. Ain't it nice to see Cass help Gujjar get over a little? – Never really expected Cass to be back in a position to help anyone else like this, but it's nice to see. So all in all, solid show with decent implications leading to Slammiversary.
Andrew's IMPACT Results & Match Ratings: 5.19.2022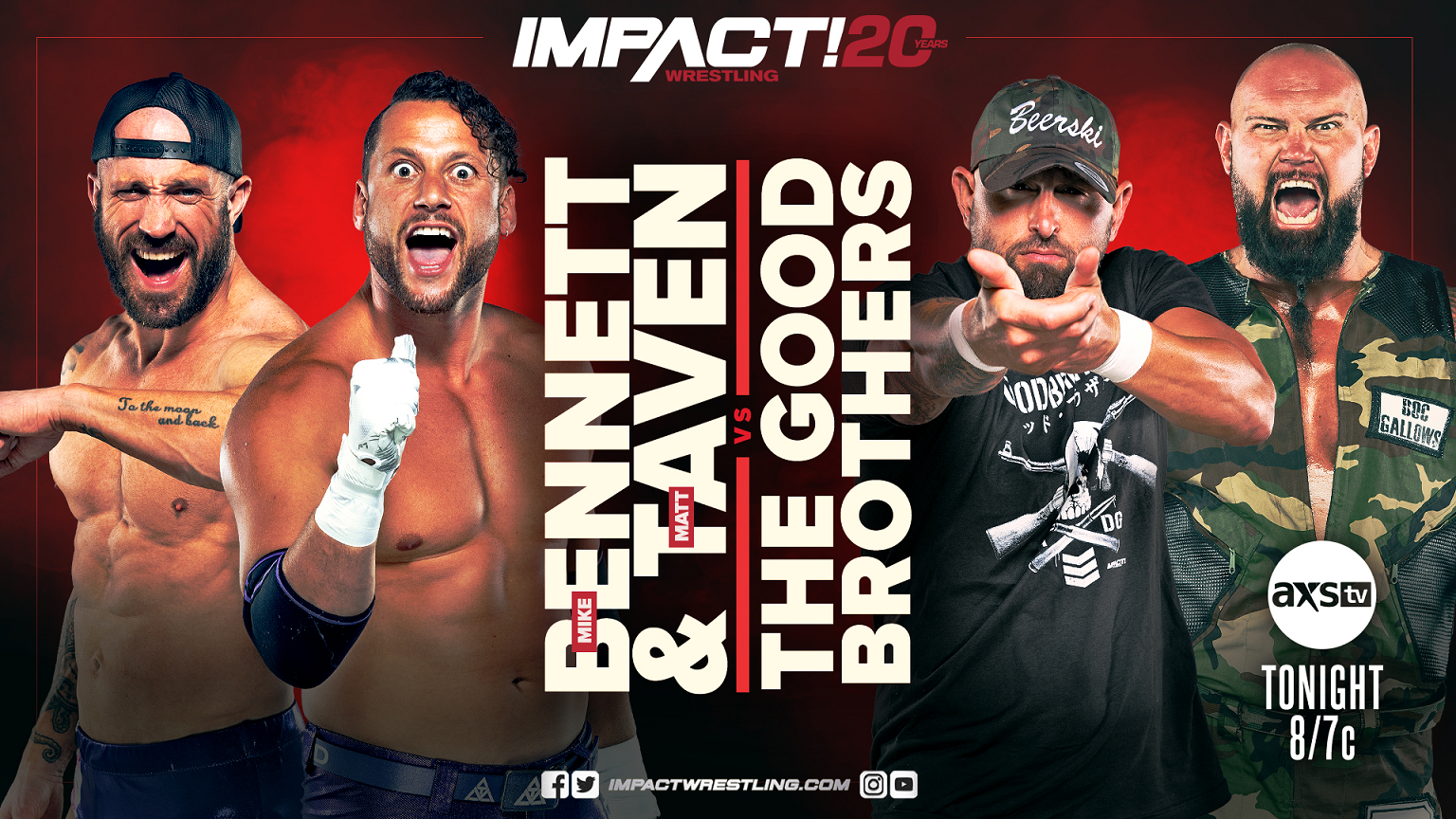 With about a month to go before Slammiversary we at least know the main title match. We've got some Ultimate X to work out, house keeping between Honor No More and Bullet Club; then there has to be more for 2 hours.
Let's see what other big guns they pull out for Year 20. Seems like there might be some future turning into present.
"The battle of The Futures is now." @SuperChrisSabin has issued a challenge to a former long time rival – he wants @FrankieKazarian NEXT WEEK on IMPACT! #IMPACTonAXSTV pic.twitter.com/MHd3u57IJB

— IMPACT (@IMPACTWRESTLING) May 20, 2022
Ratings:
Ultimate X Qualifier: Laredo Kid vs Speedball Mike Bailey: Speedball wins via Cradle – ***
Deonna Purrazzo, Tasha Steelz & Savannah Evans vs Taya Valkyrie, Mia Yim & Jordynne Grace: Mia wins via Protect Ya Neck – ** 1/4
OGK w/Maria vs The Good Brothers: Karl wins via Gun Stun – ** 3/4
Masha Slamovich vs Shawna Reed: Masha wins via Russian Death Device – SQUASH
IMPACT Tag Team Championships: VBD (Joe Doering & Deaner w/Eric Young) vs The Briscoes (c): Dem Boys retain via Electric Chair Cradle – ***
Results:
Ultimate X Qualifier: Laredo Kid vs Speedball Mike Bailey
Early on it's a lot of rolling through Arm Drags, counters, Handspring flourishes and just action that doesn't really make contact. Until, Laredo tries to follow Speedball to the outside and Speedball catches him. A few quick strikes and solid moves finally gives someone a clear advantage. Avalanche Double Knee Splash with a near fall from Speedball. Laredo finally tries to slow down Speedball by catching him with kicks from the corner. Speedball manages to stifle it a bit, starts a bit of a Marufuji style combination, before missing the Roundhouse Kick and Laredo begins a comeback.
Laredo does start hit comeback a little risky with an Asai Moonsault that almost goes too far, but things look close enough. Solid lucha action, "Uno Mas" on the Avalanche Splashes, but Speedball dumps Laredo through the ropes and gets his footing back. A few solid moves, Corkscrew Shooting Star for a near fall. Laredo tries to strike back, Speedball chases him back to the corner with his Tornado Kick. Ultima Weapon attempt, but miss! Cradle for 2, Laredo Driver for another 2 and Kid goes to the top rope for something. Speedball meets him up top, scuffle, Laredo with the headbutt sending Speedball down but the Enzuigiri on the way back up makes it look like Speedball has the position. Push off, Sunset Roll Through, PK from Bailey, Moonsault Double Knees from Bailey, Buzzsaw kick, pinfall attempt, Laredo turns it into a counter Cradle, but Bailey counters with his own Cradle…just precariously positioned. But a win, is a win for Speedball.
Deonna Purrazzo, Tasha Steelz & Savannah Evans vs Taya Valkyrie, Mia Yim & Jordynne Grace
Stoking the flames with most of these participants being in Queen of the Mountain, this also gives us our first official look at Mia Yim during this return stint. The embarrassing thing here is that with all the talent in the match, Tasha is somehow the Knockouts Champion. Hopefully Queen of the Mountain gives us a new champion and we can actually revitalize a Knockouts Division that has had a few strong pieces, but people in weird spots because of the tag belts.
As for the action, Taya toys with Tasha, Tasha tries a little but then Jordynne comes in and Stalling Suplex to Tasha, which can't be hard, she's like 90 pounds soaking wet after dinner. Jordynne does hold Tasha for a 30 count before the half assed pinfall and Savannah breaks it up. Heels take a few shortcuts and work over Jordynne a little, before Tasha comes back in and gets some offense in before a Snap Suplex gives Jordynne space. Mia gets the hot tag, big strikes, Shotgun Dropkick, Yakuza Kick, a little twerking taunt back at Tasha and Mia keeps the offense going.
Signature spam from everyone which ends up with Deonna and Mia going back and forth a bit. Savannah gets tagged in, almost looks to take over before Jordynne wipes out the other two heels, Mia puts Savannah on the middle rope to set up Taya for the Sliding German Suplex, Eat DeFeet, or Protect Ya Neck wins the match for Mia!
.@WeAreRosemary and @FearHavok are on the hunt for a shot at @MadisonRayne and @TenilleDashwood's Knockouts World Tag Team Titles. #IMPACTonAXSTV @swinger_johnny @ZickyDice pic.twitter.com/b4a2sWVZbE

— IMPACT (@IMPACTWRESTLING) May 20, 2022
IMPACT Plus Flashback Moment: Franke Kazarian vs Chris Sabin, Battle of the Futures, June 25, 2003
OGK w/Maria vs The Good Brothers
A basic enough opening with Mike and Karl, while Tom grills Maria on commentary about her "relationship" with Karl. The commentary is more entertaining than the match so far, not because it's bad, but they're just going through the paces.
Taven gets tagged in an automatically derailed by a Pounce from the Dangly Daddy Big LG. Abdominal Stretch into tagging Karl back in, and Karl works over Taven. Mike gets a quick blind tag, OGK send Karl up and into the ropes Flapjack Stun Gun type of thing. Now OGK is taking control of the match. Mike kicks Karl a few times, runs the ropes back and forth while Karl sells, stops…and just poke him in the eye for the rub ins. Quick tandem strikes as Taven comes in for a quick 2.
Maria is actually kinda charming back and forth with Tom, even mentioning the old Miracle gimmick. Mike went for the Spinebuster for more salt in the wound, Karl blocks, hits the proper Spinebuster and LG gets the hot tag. Diving Shoulder Rush, Superkick, TKO from Gallows for 2. Magic Killer attempt, OGK with a quick assault though. Karl is taken out, LG is getting lit up like the dummy in 3 Ninjas, LG dodges a Superkick and OGK miscommunicate. Tandem moves from Good Brothers until Maria finally makes her presence known.
Karl looks to Gun Stun Mike in front of Maria, Maria gets in the ring, Mike tries to ambush a distracted Karl and Spears Maria. They argue over who's fault it is for a moment, and then Gun Stun on Mike for the Good Bros win.
.@TheSamiCallihan has spent the better part of the last year in isolation thinking about all the ways he can make @TheMooseNation's life a living hell. #IMPACTonAXSTV pic.twitter.com/Sc4vlev4Tj

— IMPACT (@IMPACTWRESTLING) May 20, 2022
Masha Slamovich vs Shawna Reed
Sheesh they may have found the most basic green looking girl in the history of pro wrestling training. Masha kills the girl, as we expected. The squashes need to stop.
Oh thankfully someone else agrees with me and Havok comes out. Granted she just lost to Tasha, who is the size of her left leg, so it's nice to see Havok is more gatekeeper than anything relevant. So we may see Masha's first real match in the coming weeks.
Backstage Shera and Raj are going to go after Bhupinder, but he shows up and apparently Massive Cassidy has  Bhupinder's back. 
IMPACT Tag Team Championships: VBD (Joe Doering & Deaner w/Eric Young) vs The Briscoes (c)
It looked like Deaner and Mark were going to start off, but Deaner brings in big Joe and Mark wants to try his Redneck Kung Fu on the big tree. Jay tags himself in when Mark ain't very effective and Jay doesn't do a ton better. Deaner tags in and now The Briscoes are rollin',
Quick strikes, Mark tags in, kick to the gut, Twisted Brainbuster and a quick pinfall. They start trading chops before the Kung Fu kicks in and we see some tandem dancing feet from the chicken farmers. Mark holds Deaner and Jay lights him up with some jabs, Mark with the apron Blockbuster and Doering cuts off Jay with the Fun Splash, so we finally see VBD remember they're supposed to hit back.
After commercial Doering hits a Scoop Slam into the Rebound Elbow and Jay is rocked. Deaner tags in, tandem boots to the head and a quick 2. Joe whips Deaner into a John Woo dropkick, doing that corner Neck Jammer spot on Jay. Jay starts swinging wildly, finds space and now we got some Sussex County Chicken on a rampage! Mark wipes out everyone, let's out a Ka-keka-ka-KOW, Iconoclasm on Deaner and 2 count. Avalanche Karate Chop from Mark after dodging Doering, into a Tandem Crucifix Bomb/Neck Breaker for 2.
Jay gets the tag and Mark gets handled by Doering. Deaner gets some space and makes Doering legal and now Jay is gonna have to work uphill alone. Spinebuster from Doering, tags in Deaner, Fireman Carry Slam into Diving Headbutt, but Mark makes the save. Jay 2 Superkicks and a Frankensteiner later, Doering is finally on the outside. Rolling Elbow to a bozo's jaw, as Jay is trying to set up the Doomsday Device. Doering intercepts Mark, Deaner tries to fight from the Electric Chair and roll down, but Jay sits down and picks up the pinfall.
VBD mob The Briscoes, but Josh Alexander makes the save. Has a stare down with EY allowing for VBD to hit the ring again, and The Briscoes return the save favor. So Briscoes and Josh are standing tall in the ring, VBD slowly retreating and jawing from the ramp. 
Overall Score: 5.75/10
Hard to really love this episode, but it was definitely okay. The information about Kazarian coming back for a brief stint hits enough nostalgia buttons to get me a little excited for next week and potential Slammiversary ramifications. OGK just costing themselves an easy win is on brand for how silly they are sometimes. Brisoces teaming with Josh since EY has VBD evens the playing field for the next few weeks, so that's solid enough.
But aside from that, the rest of the show was mediocre at best with 3 things that bother me, 2 of them being Havok (no that's not a fat joke, it's 2 separate issues). 1. Havok has lost all credibility after losing to Tasha so even playing with the idea she can just insert herself into the tag picture is sad, but also shows how useless the Knockouts Tag division is. 2. Havok ain't beating Masha, no that's not a spoiler since I refuse to read those, it's common sense. So she's just a gatekeeper with less and less credibility. 3. Bhupinder is laughably bad when it comes to cutting a promo/acting. It was like watching someone who's learning English phonetically and doesn't actually know what they're saying.
So all that, it's a weak episode, but not unwatchable. You can definitely see who and where need more polish since they are picking a weird time to expose major flaws going into their second biggest show of the year. Curious to see if this helps anything or leads anywhere positive.