Cook: Long Live The Alpha Male Monty Brown
The out of left field promo from Monty Brown allowed Steve Cook to reminisce a little. Let's take a look back at the Alpha Male!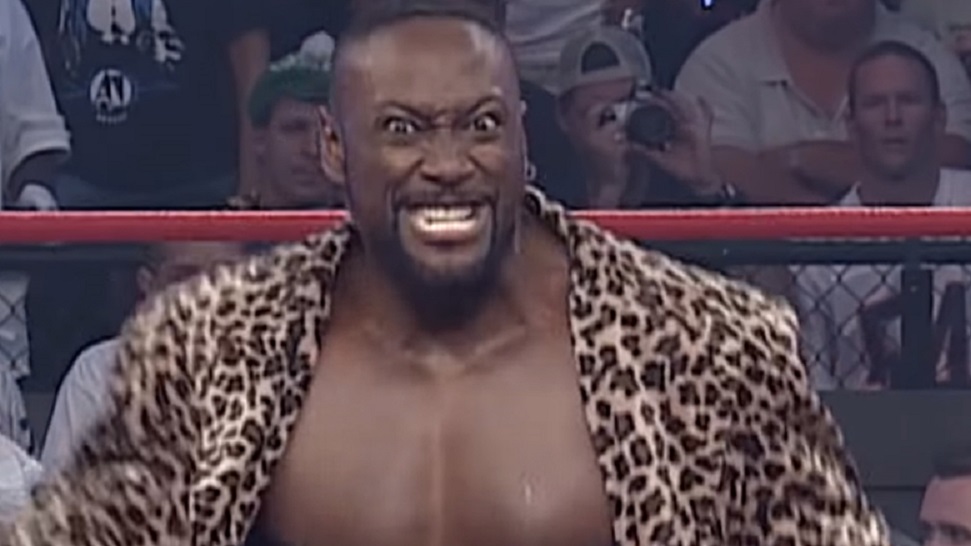 I was ready for pretty much anything on Wednesday night leading into AEW Dynamite's Anniversary episode. I expected them to pull out all stops to hype the show. All the titles on the line, all the stars in the house, it was bound to be a big night and AEW would do everything they could do to hype it up. As allergic as I am to hyping my own damn self up, I get where they're coming from.
You know what the last thing I expected to see was?
Well, I can't say for sure it was the last thing I expected to see. I can come up with more ridiculous things that would never happen, like Vince McMahon hashtagging AEW Dynamite. But I can say that I never expected a certain man to pop up on the radar during all of this hype. Sure, he was in TNA with Lance Archer back in the day. Not surprised they would be good friends. It was still not a name I expected to pop up on social media heading into Wednesday evening, considering how quiet he has been for the past thirteen years since he retired from pro wrestling. Man doesn't even have a Twitter account! Nevertheless, Lance Archer had some folks backing his cause, and one of them was a man that was important in my early years as a wrestling writer.
THE ALPHA MALE!
I broke into 411mania recapping TNA Impact on Fox Sports Net. One of the stars of the show was a man known as the Alpha Male, Monty Brown. Monty had been an NFL player, playing three seasons with the Buffalo Bills & one with the New England Patriots. He had a taste for pro wrestling, as he admitted later on that he signed with the Patriots to get closer to WWE headquarters in Stamford, Connecticut. It wasn't to win rings, as in the early 1990s the Patriots hadn't found Bill Belichick or Tom Brady yet. An ankle injury switched Brown from football to wrestling. He appeared on some early TNA shows, as he'd gotten some hype from being trained by Dan Severn & Sabu. He wasn't quite ready then, but after a hiatus he was ready.
The man had charisma on the microphone, he had the look, and he could carry his way in a decently booked match. I'll never say that Monty Brown was a great bell to bell wrestler that could carry anybody to a great match, but he could work a damn good squash. That six-sided Impact ring made for a great POOOOOOOOOOOOOOOOUUUUUUUUUNNNNCCCCCCCCEEEEEEE. He also carried himself well outside the ring and felt like somebody that TNA could build around as a homegrown champion.
That didn't happen.
TNA opted to keep Jeff Jarrett as NWA Champion throughout their stint on Fox Sports Net. Shades of territories back in the day that kept the booker as champion since they could trust them not to leave. They had no intention of putting that title on Monty Brown, no matter what reaction his squash matches got from people. Even if he had that real athletic background, even if he would have been a great guest on any talk show…TNA wasn't going to put that belt on Monty Brown! Such a shame.
Monty eventually left TNA for WWE, and became Marcus Cor Von on the ECW brand. Some family issues led to Monty tapping out of that and ending his wrestling career. It's tough to say what the future could have held for Monty Brown, but certainly the timing didn't work out well for him. A shame, because from what I saw, Monty Brown could have been one of the top wrestling stars of the 2000s. He had that charisma, and people still remember him to this day.
The Alpha Male Returns
Lance Archer was looking for some good endorsements this week leading into AEW Dynamite's Anniversary, where he would challenge Jon Moxley for the AEW Championship. He found two of the best endorsements he possibly could. One was "The King" Minoru Suzuki, which will surely continue the AEW/New Japan speculation that I don't want to give too much speculation to but would make all parties involved happy. You want these two kids to get together, right? I certainly do, but I don't want to say it will happen.
The other was the Alpha Male. I had long since given up on hearing from Monty Brown again. He had other issues to deal with, and we hoped those were going well for him. It was one of those things where you wished he could have been a bigger star, but maybe it worked out for the best for his family, and once a certain amount of time passed you didn't expect to hear from him again.
"It is what it is" is the term, I'm pretty sure. Then Lance Archer posted this video on Monday, and I lost my mind. I wasn't expecting this to happen…
The one the ONLY Monty Brown is a MURDERHAWK from the Serengeti! @AEW @AEWonTNT @tntdrama pic.twitter.com/a9VX4MjABQ

— The Murderhawk Monster Lance Archer (@LanceHoyt) October 14, 2020
Maybe it was as simple as finally one of Monty's old friends asked him to cut a promo for them. Could have been. All I know is that one of TNA Wrestling's living legends finally emerged on Wednesday, and we can only hope that he appears again. Surely, Moose must worship at the altar of the Alpha Male. Folks like me wouldn't mind a Monty Brown return to Impact Wrestling, or even AEW. Sadly WWE already folded ECW or I would have mentioned them too.
We've all made lists of our favorite wrestling legends. I think Monty Brown would be at the top of a list of wrestling legends that never came to be. A damn shame. One of the biggest missed opportunities for TNA in the mid-2000s. If they had pushed Monty Brown to the top…who knows what could have happened?
Maybe it would have worked, maybe it wouldn't have, but we'll never know because certain people were too scared to take the risk. Hopefully AEW learns a lesson from this and won't be too scared to take the risk on homegrown talents like TNA was.