Cook's Top 5: AEW Dynamite Moments (Year One)
Steve Cook celebrates one year of a legit #2 in American TV wrestling with his Top 5 AEW Dynamite moments from their first year!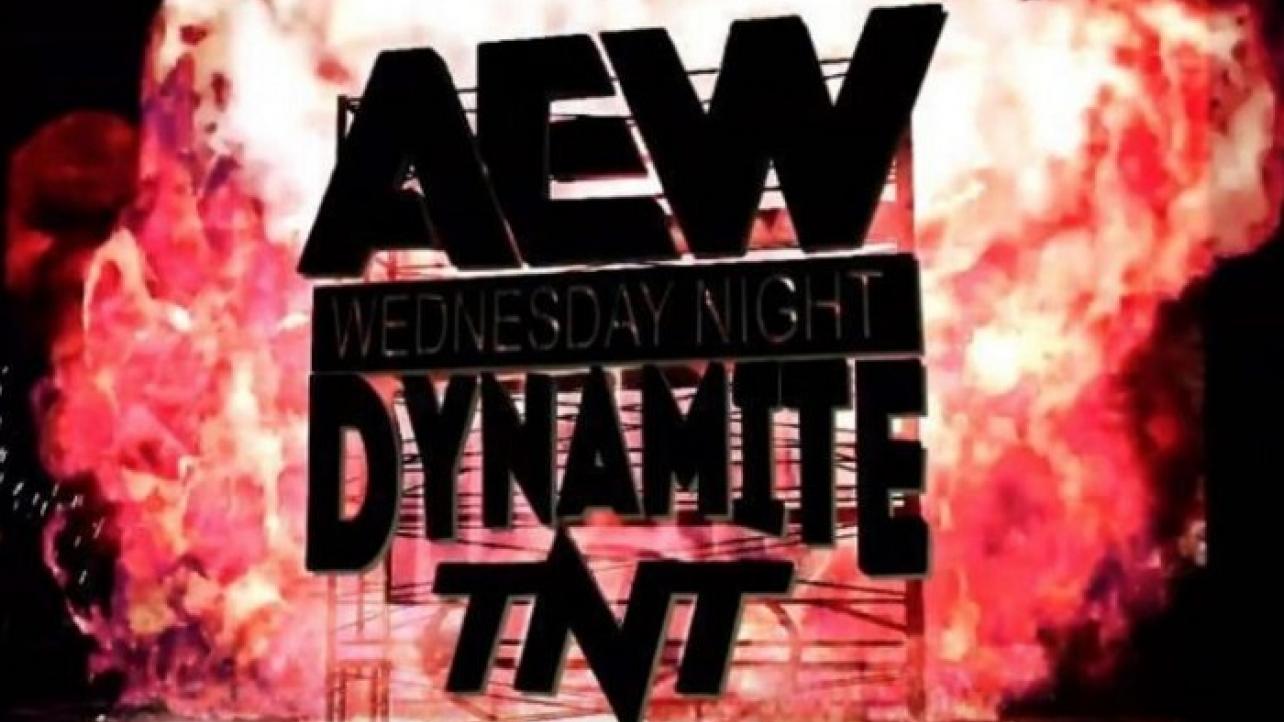 Steve Cook celebrates one year of a legit #2 in American TV wrestling with his Top 5 AEW Dynamite moments from their first year!
Whether you love or hate All Elite Wrestling, it can't be denied that the company has made the wrestling business more interesting. It's given us all sorts of new things to talk about and kept us from getting bored. Maybe it's just me, but all these years where WWE was the undisputed #1 promotion with other federations nowhere near them in relevance were pretty damn boring.
Sure, you could write about Impact or ROH, but who was going to care? Japan could draw some Internet eyeballs, but it was still quite the minority compared to WWE. I don't mean to totally bury WWE, as they've produced plenty of outstanding content through the years. But sometimes you gotta switch it up, right? You can't have McDonald's everyday, you have to mix in some Popeye's every once in awhile to keep things fresh.
AEW Dynamite is having their anniversary show this week. It's been a little over a year, but we all know anniversaries can be held whenever. Let's celebrate by looking at my five favorite AEW Dynamite moments of the first year.
5. Eddie Kingston Debuts
I've been an Eddie Kingston fan for a long time. In my opinion, he was the best promo on the indies for most of the twenty-first century. He had a couple of things keeping him from getting to the next level. Some of it was that nasty physique bias that promoters (and a lot of fans) tend to have that makes it take much longer for certain people to make it big. Some of it involved personal demons.
Eddie seems to have kicked all of these things aside in recent years. He's appeared on Ring of Honor, Impact Wrestling & NWA Powerrr, but AEW Dynamite on July 22 marked his biggest TV shot to date, as he answered TNT Champion American Nightmare Cody's open challenge. He got to speak his mind on the microphone and have his match, and you knew that AEW was going to bring him on board. Unless WWE snuck in there and signed him first, which they tried to do! King went with AEW, and now he's got his own crew to go after world champions with. It's amazing how life can change within weeks.
4. Jake "The Snake" Roberts Emerges
Those of you who have followed my journey as a wrestling fan know that Jake "The Snake" Roberts was my very first favorite wrestler. He had a knack for being involved in interesting stories back in the day, had a snake & the DDT. What wasn't to love? Well, a lot. It's somewhat amazing that Jake is still with us after years of drug abuse. Fortunately, one of Jake's best friends is Diamond Dallas Page, who excels at helping folks who are addicted to drugs kick the habit. Roberts got clean and has done his best to stay that way for the past several years.
Even if Jake returned as a bad guy intent on taking Cody's share of AEW, and now has Lance Archer focused on taking the AEW Championship, you still have to root for the guy. I do, anyway. It's great to see Jake Roberts on my television in any capacity in 2020, and his return on the March 4 edition of Dynamite, one of the last before the pandemic set in, was a sight to see.
3. Darby Allin Attacks Chris Jericho on a Skateboard
You have to go to 4:27 of the above video to see the moment that made Darby Allin a star with AEW fans. Episode 2 of Dynamite saw Allin win a match against Jimmy Havoc to earn a shot at AEW Champion Chris Jericho on the next week's episode. It was fair to wonder what Allin or Havoc had done to earn a title shot at that point. Allin had wrestled Cody to a time limit draw at Fyter Fest, so he did have that going for him, along with a unique look & persona.
Things were breaking down at the end of the show, as is wont to happen during wrestling television shows. Jericho & his friends were busy fighting off the Elite, but Allin needed to make his impact felt to set up the next week's match. What better way than to ride down the ramp on a skateboard and jump into Chris Jericho? It established Allin as somebody that would do damn near anything at his own personal expense in order to get the job done, and he would do crazier things going forward.
2. Cody brings backup to fight the Inner Circle
Pittsburgh, Pennsylvania hosted the fourth episode of Dynamite. While the Inner Circle wasn't booked for any matches that evening, they still had tickets! Chris Jericho, Sammy Guevara, Santana & Ortiz used airhorns to drown out Cody's planned announcement, which drew Cody to the barricade. Jericho was confident that Cody wouldn't run into a 4 on 1 assault and kept insulting his upcoming challenger. Dustin Rhodes came out, followed by MJF, then Diamond Dallas Page (with a Road Warrior pop, no less).
Unfortunately the videos leave out the part where Jericho turns from an overconfident asshole into a worried asshole. They do capture Cody wrapping MJF's scarf around his hand to smash the glass window, open the door and drag Chris out for a fight. Just classic pro wrestling drama throughout this segment, and as usual Jericho was saying things that would end up on t-shirts.
1. Parking Lot Fight
Recency bias? Maybe! But this brawl involving the Best Friends taking on Santana & Ortiz was just a tremendous piece of business the likes of which TNT Standards & Practices never would have allowed back in the day. It was a classic CZW-style brawl, topped off with an Orange Cassidy appearance & Sue driving her boys away…
and flipping Santana & Ortiz the bird. Does pro wrestling get any better than that?
You may have different favorite Dynamite memories than I. Shoot them into the comments or let me know on the Twittah!
King's WrestleMania Rewind: Stone Cold VS. Scott Hall (WrestleMania X8)
Chris King is back with another WrestleMania Rewind, looking at the NWO's Scott Hall battling Stone Cold Steve Austin at WWE WrestleMania X8 from Toronto!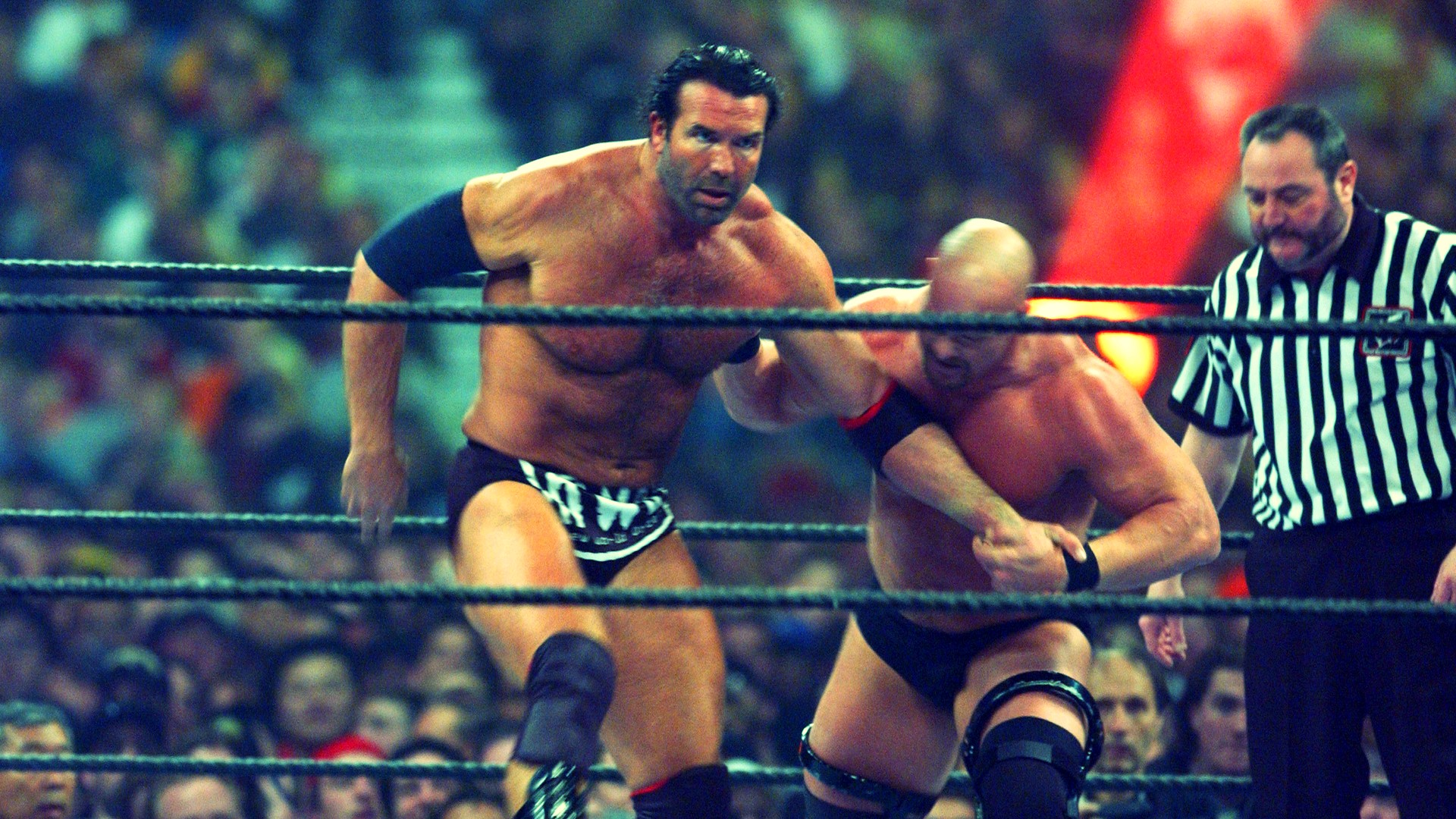 Chris King is back with another WrestleMania Rewind, looking at the NWO's Scott Hall battling Stone Cold Steve Austin at WWE WrestleMania X8 from Toronto!
Chris King is back this week with another edition of WrestleMania Rewind, where he is rewatching all the past Mania matches and feuds. This week you're in for a treat as we look back at 'Stone Cold' Steve Austin vs. Scott Hall at WrestleMania X8.
In late 2001, Vince McMahon bought out his competition WCW and acquired the rights to a plethora of talent including Booker T, Eddie Guerrero, Chris Benoit, and the iconic trio known as NWO. Hulk Hogan; Kevin Nash, and Scott Hall were hell raisers, and what better way to make a name for yourself than take out the two top superstars in the WWE The Rock, and Stone Cold?
The NWO cost Austin his chance at becoming the Undisputed Champion at No Way Out during his match with Chris Jericho. Adding insult to injury, the NWO spray-painted 'The Texas Rattlesnake' with their brand logo just like they did in WCW. As you can imagine, Austin was pissed and out for revenge against the group and primarily Scott Hall.
Hall would challenge Stone Cold to a match at WrestleMania 18. Both superstars beat the living hell out of each other leading up to this highly-anticipated match for who runs the WWE.
The glass broke and Stone Cold made his iconic entrance, and black and white NWO covered Halls' entrance alongside Kevin Nash. With the odds stacked against 'The Toughest S.O.B' could Austin or NWO prove their dominance? Sadly the NWO  broke up that very night when Hulk Hogan came to the aid of his adversary The Rock after their 'iconic' dream match. Stone Cold would ensure the victory with the Stunner. Hall would perform an Oscar-worthy sell over the finisher.
What a time to be a wrestling fan in the 2000s when nothing was impossible for WWE. Who would've thought WCW would go out of business and Hogan would make his long-awaited return to WWE?
King's WrestleMania Rewind: Seth Rollins vs. Kevin Owens (WWE WrestleMania 36)
Chris King takes a look at the most underrated WWE WrestleMania matches, and starts off with Seth Rollins battling Kevin Owens at WrestleMania 36!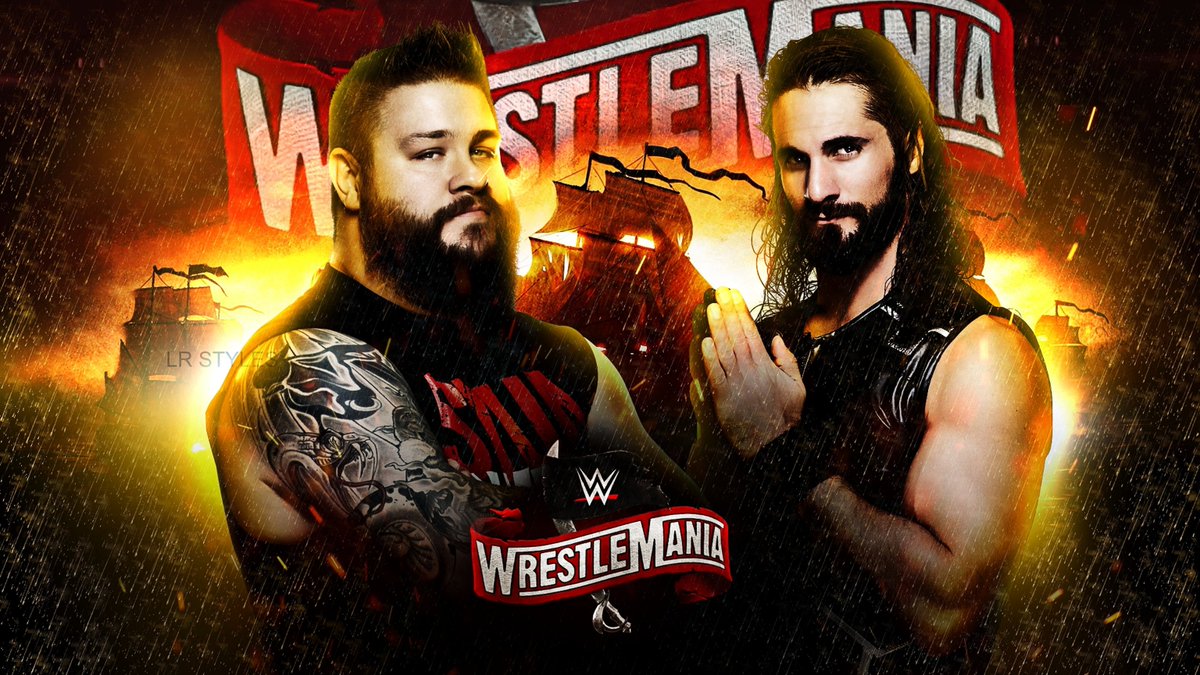 Chris King takes a look at the most underrated WWE WrestleMania matches, and starts off with Seth Rollins battling Kevin Owens in the WWE Performance Center at WrestleMania 36!
Chris King is starting a new series heading into WrestleMania season dubbed WrestleMania Rewind. Each week he'll be going back and sharing his insight over underrated matches at the Show of Shows. First up, is Kevin Owens vs. "The Monday Night Messiah" Seth Rollins at WrestleMania 36.
At the 2019 edition of Survivor Series, Rollins sacrificed himself during the men's traditional match allowing SmackDown to ultimately gain the victory. The following night the self-proclaimed Messiah, berated the whole roster but KO was not having any part of it. Owens quickly became a huge barrier in Rollins' cause for the greater good. The Authors of Pain attacked Owens with Rollins' character in question.
Owens finally had enough of his rival's mind games and torment and challenged Rollins to a match on the Grandest Stage Of Them All. Rollins mockingly accepted his challenge and the match was made official for night one of WrestleMania. Owens came out of the gate beating the holy hell out of the Monday Night Messiah trying to achieve his long-awaited moment at Mania but, Rollins tried to steal a disqualification victory by using the ring bell.
Owens hellbent on revenge provoked Rollins into turning their encounter into a no-disqualification contest where the fight could be taken all over the empty arena. The highlight of the match, was when KO used the WrestleMania sign to deliver a thunderous senton bomb through the announce table. Owens would secure the victory with a Stunner in an incredible match. Despite having no crowd during the pandemic era, both KO and Rollins put on an intense performance under the brightest lights.
In my personal opinion, this was a great feud that helped both superstars in their transformation as compelling characters for years to come.