Cook's Top 5: Suspects in John E. Bravo's Shooting
Love it or hate it, Impact Wrestling is making headlines! Broken Universe, Undead Realm, Hacker Magic, and now a Murder Mystery! Who shot Bravo?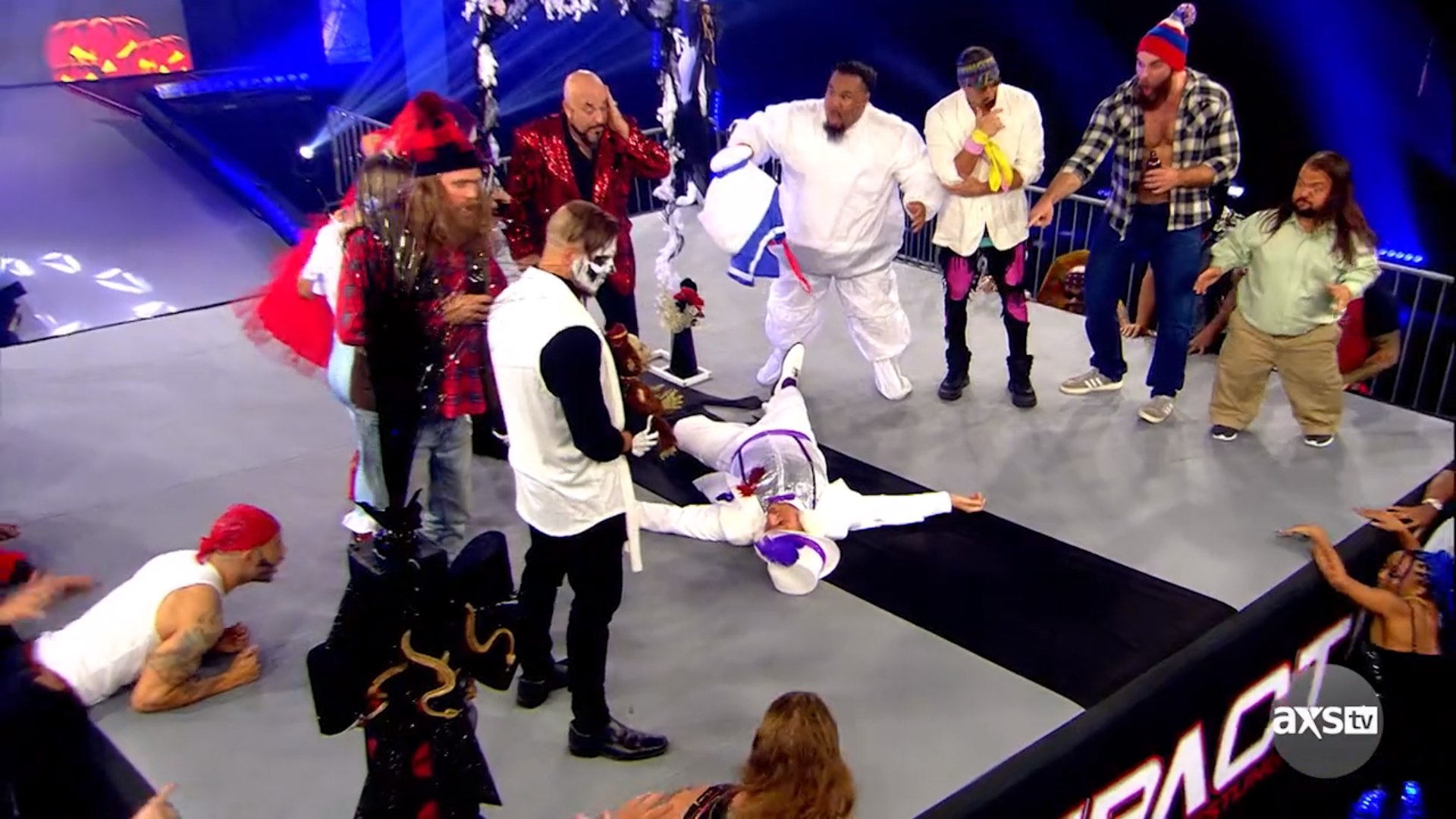 Love it or hate it, Impact Wrestling is making headlines! Broken Universe, Undead Realm, Hacker Magic, and now a Murder Mystery! Who shot Bravo?
A little birdie told me that this week's episode of Impact Wrestling was going to end with a bang. No, not the return of Diamond Dallas Page. Nope, somebody was getting shot! With a gun!
Wrestling and guns generally don't go together, but let's be honest. It's Impact Wrestling. A company where we've seen undead realms, drive-bys, broken universes and all kinds of crazy shit. What's a shooting other than just another day at the office? Especially involving the cast of characters that were on hand for the wedding between Rosemary & John E. Bravo.
Wrestling weddings always end in disaster, but this was ridiculous.
Tommy Dreamer asked it, and we've got to try and answer it. Who shot John E. Bravo? Believe it or not, I have five prime suspects…
5. Johnny Swinger
Swing Man. The real bestest man daddy. #IMPACTonAXSTV https://t.co/QwzK7g4lFM

— Johnny Swinger (@swinger_johnny) October 27, 2020
We all know that the Swing Man is one of the legendary shooters in the business. He was stretching fools from territory to territory while Kenny Shamrock was still in diapers. We also know he wanted to be the best man & was denied the honor, he's always jealous when he isn't the center of attention, and he was wearing his trademark fanny pack during the ceremony.
One can easily keep a handgun in a fanny pack is all I'm saying. And I'm guessing security at Impact's entrance isn't exactly TSA.
4. Fallah Bahh
😢😢😢😢😢😢 https://t.co/O7pzeh7zUb

— FALLAH BAHH (@FALLAH1) October 28, 2020
He did it for the Rock.
He did it for the people.
No, Fallah Bahh isn't Samoan. He does wear a sumo outfit, and has generally been a happy go lucky guy, so there is a Rikishi comparison to be had. Most glaringly, he had a bit of a falling-out with Bravo after stooging him off to the next person on our list.
3. Hernandez
Looks like @SuperMexCTM is coming for @JohnEBravo1st to get his money back… #IMPACTonAXSTV @FALLAH1 @Thornstowe_Scum @legendbaby81 pic.twitter.com/T2DSyoQM3m

— IMPACT (@IMPACTWRESTLING) October 28, 2020
The man wants his money. The man thinks Bravo has it. He's certainly prone to taking extreme actions against people on his bad side. Remember when he, Homicide & Eddie Kingston took out a kid?
There's nothing this guy isn't capable of. He'd definitely shoot Bravo, or have one of his cronies do it.
2. Rosemary
😂😂😂 @WeAreRosemary #WhoShotBravo #IMPACTonAXSTV pic.twitter.com/3aOGboGxqu

— Impact Wrestling News (@TalkingImpact) October 28, 2020
She seemed pretty calm about her new husband getting gunned down, didn't she? If Rosemary didn't do it herself, I have a pretty good feeling she knows who did. I also have a theory on why it was done. Did you notice during the ceremony how Father James Mitchell kept referencing Bravo's "virginal" status? We all know how popular virgin blood is for feeding of spirits & various rituals. Perhaps Rosemary (or her friends) have more use for Bravo's blood than for Bravo himself.
Pretty dark, right? But it's not like there aren't people in that ring that would have plenty of use for virgin blood. I think Father Mitchell has at least one glass per evening.
1. Swoggle
I present two key pieces of evidence for why I feel Swoggle has to be considered the prime suspect here.
Exhibit A: Who is Mr. McMahon's offspring?
Exhibit B: Who is the Anoynomous Raw General Manager?
Whenever we're wondering who did something, or who is something, it inevitably becomes Swoggle. Hey, it's not like people were getting shot on Impact before Swoggle showed up! The guy just has a penchant for causing trouble, what can I say?
Who do you think shot John E. Bravo? Let me know on the Twitter or in the comments!