Mitchell's Raw Talk Report! (10/12/20)
Raw Talk gets Phenomenal!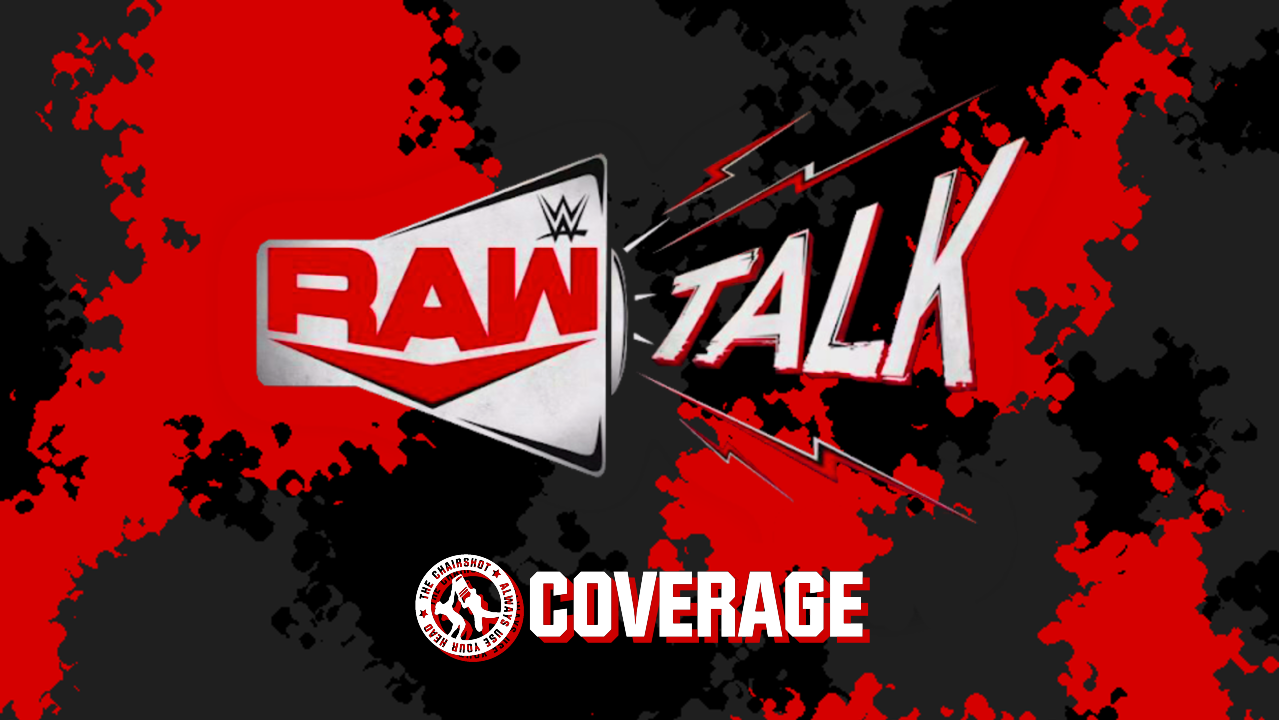 Raw Talk has a PHENOMENAL WWE Draft edition!
Monday Night Raw ended but the Draft has not! Raw Talk will give us one final round, who will be Mr. (Or Ms.) Irrelevant 2020? AJ Styles, the New Day, and the NEW #1 contender to the Raw Women's Championship, LANA, will be here to talk about their own experiences tonight!
Charly Caruso and R-Truth welcome us back!
#CharTruth is still sticking together thanks to the WWE Draft! Charly was afraid he'd get drafted to SmackDown, but so was he. He congratulates her for being drafted. Well, no, she's technically undrafted. But she's been on Raw for four years, so she's just hardcore Raw. Truth says Charly might've been drafted to NXT UK. Does she have to move overseas? Well she'll get frequent flyer miles then. But Truth still has his 24/7 Championship, but new competition is moving in. Is there anyone he worries most about? He'll get back to her on that. New names include some heavy hitter. The Fiend, Bray Wyatt. The Monster, Braun Strowman. The Bro, Matt Riddle. The Charismatic Enigma, Jeff Hardy. The Limitless One, Keith Lee, is still here on Raw. The literal size of the competition is massive!
Truth says he's friends with all of them. Really? There have been a lot of friends who stop being friends because of titles. Charly has Truth's back but she just wants him to watch out. There's more competition now than ever before. This started off nice, but Truth is all worried now. Charly wants to see Truth's aggressive side! No, he's just minding his business! There are all these people coming over, they can do a lot of other business. Retribution was also drafted to Raw. They've been causing trouble but now they're truly on Raw. That's a dilemma. Yes, it is for everyone. But one name she hasn't even brought up, a former Raw superstar before going to SmackDown for a few months, it is… the PHENOMENAL AJ STYLES!
Charly throws it to footage from Friday, where Styles told the world he should be offended SmackDown didn't make him the #1 pick overall, BUT he isn't. Styles is actually relieved. "A person of my skill and as respected as much as I am should not be surrounded by cheaters like Jeff Hardy and that neck-bearded loudmouth, Sami Zayn." Styles is Raw, and the future is phenomenal! And speaking of…
AJ Styles joins Raw Talk!
Styles likes they played his video. But Charly says he seemed "a little sensitive." He still got drafted in the first round. Of course! He's salty because now Hardy is coming along, too! Hardy's a cheater. Truth knows that, right? You guys go way back. Truth defends Hardy, he is not a cheater. No, he cheated in that match with Styles. No, Styles cheats. Not if you get caught. Okay he has a point. But Charly asks A) his reaction to going back to Raw and B) his reaction to Hardy coming to Raw, too. Is it that much different from Raw to SmackDown and back? It is still the WWE. But as he said, if he'd known Hardy was coming to Raw, he could've talked to someone about it, gotten it blocked or Hardy traded right away. Truth points out that there are differences: Raw is red, SmackDown is blue.
Truth does want to ask Styles something, though. Truth knows SmackDown was the House that AJ Styles Built, but did he do it as a duplex or something? Or a little home. True, little homes are popular now. Styles says Charly is an enabler. Truth talks nonsense but she plays along. Yes, there are different sized houses and the shows are different colors. But other than that, this is ridiculous. What is going on here? But he said he built the house that SmackDown is. He didn't literally build a house! Truth was hoping to get Styles' help on something. Well, it's just that SmackDown wouldn't be what it is without him. So Styles didn't build it? Charly, please help.
Charly moves things on to tonight, the Triple Threat on Styles' first night back, with Hardy and Rollins. Hardy got beat! By Styles! Styles won! Yes, Elias hit Hardy with a guitar, but Styles didn't ask for it. Elias did it, he just doesn't like Hardy. So Styles didn't win. He did, because he pinned Hardy! 1-2-3. But thanks to Elias. Well whatever. Hardy could've kicked out. If it quacks like a duck… Charly asks if Styles thanked or talked with Elias. Why would he? Elias has his thing, Styles gets it, he'll let it be. What's Styles' thing with Hardy? Hardy cheats. So he got caught cheating? After all, Styles said himself that it isn't cheating if you don't get caught. Styles changes the subject back to Charly enabling Truth. Hog wash!
Styles asks Truth about the WWE 24/7 Championship. He doesn't know. Can you get rolled up at an airport? Yes or no? Charly says it's anywhere, any time, so long as a referee is present. Whose side is she on!? She was just explaining! They're #CharTruth, not the House that AJ Styles Built! Styles asks why Truth is upset. He's just asking a question. Truth says this is not what Styles wants. Styles says he doesn't want it, he just wanted to know! If Joseph Park was here tonight, he'd bust out analytics and see the chances of getting that title.
Truth has analytics. This belt is defended any time, anywhere, any place. A legitimized ref. As in legitimology. Truth is a legitimologist. That's a word? Yes. Well Charly says it's great to have Styles back, he'll be a great addition to Raw. And he should go before there are issues. Styles says it should be Truth 'n' Charles, not Charles 'n' Truth. Whatever. Bye, Felicia. Styles leaves, Charly and Truth feel Styles was trying to stir things up between them. But that's what makes Raw Talk exciting. Raw Talk brings the scoops, because…
Raw Talk has MORE WWE Draft picks!
The seventh round on the night, either the 11th or 12th round in total, is announced! Raw takes… LANA! The Ravishing Russian did win the battle royal tonight, so of course the #1 contender is staying on Mondays! SmackDown takes… NATALYA! The Queen of Harts goes back to Fridays! Raw takes… RIDDICK MOSS! Another Underground regular, will the Riddick Regimen be ready to throw hands? SmackDown takes… THE RIOTT SQUAD! The WWE Women's Tag Team Championships go to all brands, will they still be able to challenge Nia Jax and Shayna being on Fridays? Raw closes this round with… ARTURO RUAS! Yet another Underground prospect, will the Brazilian blackbelt bring the fight to the entire brand? And anyone undrafted are now free agents, who will go where of their own free will?
Lana joins Raw Talk!
The Ravishing Russian is emotional, but it has been an emotional night. What did the victory in the main event mean to her? Lana says 2020 has literally been a hard year for everyone. Her divorces, her drama, and constantly trying to get better under the wing of the #BOAT, Natalya, only for her wanting nothing to do with Lana anymore… Damn, she a wreck. Charly knows Lana has been through so much, and now she has this huge moment. Tonight is career-wise can't be put into words. Lana says she has no words. America is the land of opportunity! She moved here from Russia to pursue her dreams in the WWE, and they say if you work hard, it pays off. She kept saying that if she kept working, kept getting back up and enduring, one day it'll be her night, and that was tonight. Lana says she will become Raw Women's Champion!
Truth loves that! She went from crying to all, "HEAR ME ROAR!" Charly agrees, this is an incredible journey. But she's not up against just anyone, it's ASUKA. There are very few people who have been ready for Asuka. Well you don't know until you try. Luck is when opportunity meets the prepared. She is prepared, she won't fall short, she visualizes it in her mind and with posters. A vision board! Yes, a vision board! Lana won't fail. But if for someone she doesn't win, she will look at everyone and say, "I am your hero. I am your inspiration." You may not like her for being pretty, and having a lot of followers on social media, but she IS an inspiration, at least to herself. She knows she is amazing, she knows she is amazing, she can do anything she puts her mind to! Just get back up and keep going! That is what anyone does in this world!
Charly and Truth thank her for all of that. Maybe this week, she does less TikTok, more serious training. Oh, Charly, Lana puts "training video TikToks" out to inspire people. It's the next big thing. That would be something Charly would watch. Truth says watch out for the green mist. Lana is ready for that, even if Asuka is one of the best, because Lana is one of the best. "Dreams come true!" Charly loves the inspirational energy. But speaking of positive vibes…
The New Day joins Raw Talk!
Kofi Kingston and Xavier Woods have title belt cheers with Truth! And they brought some ice for him to put on those biceps. Charly says they're two amazing additions to Raw, and now they're the new Raw Tag Team Champions after a peaceful title swap. Yes, big swap. Was that something they were okay with? Well they said as they were doing it, it was the most logical process. It's totally cool. They're on the red brand, these are the red belts, it just makes sense. Wait, Truth wears green. Because the 24/7 title is green. Well what brand is that? Money. Makes sense. Look at the new shirt! WWE Shop, baby! Or try the UUDD Shop for the UpUpDownDown merch! Great plug. That's how you do it!
But having their first title defense tonight, wasting no time, Ziggler & Roode, how was that? Kofi was out two months, Woods was out about a year, but they came back and picked up where they left off. Like riding a bike! They don't forget, like an elephant! Elephants don't forget how to ride bikes! But were there any doubts? Kofi and Woods are ultra talented, lacking in nothing, but there had to have been a small part that said, "What if?" No, that's the difference, they don't let negativity creep in. Negativity is like a seed that gets inside your brain, if you water it, it grows and becomes a negativity bush! Cut that bush before bad things happen! The power of positivity is real! Charly understands but-
How many times did they say Kofi would finally become world champion? Many times over many years. And then it happened! Because they said it, they visualized it. They became champions together again that same way! Now, King of the Ring? It's coming! No limits! Woods has a good head for a crown. Woods is warning us now, saying it live, his last goal in LIFE- Well, wrestling, is to be KOTR! Put it out into the universe, and it will happen. Vision boards, like Lana! Lana wants to be Raw Women's Champion, says she will, but… But what? Don't doubt! What's with all the doubt? Charly is just saying a lot of people go "no way," but Lana is believing it. When you have that conviction, you feel it! It's like with New Day. That's why Truth brought Woods in way back in the way.
Remember, Truth? You introduced Woods as your "buddy," Woods had that old jacket. Truth almost forgot that, but yeah. "And look at us now!" They're all champions, hanging out with Charly. Charly thanks them for coming to Raw Talk and welcomes them back to Raw as the new Raw Tag Team Champions. Only the best hold titles. So on behalf of everyone, Charly thanks us for tuning in, see you next week!
---
My Thoughts:
A real fun episode to finish up the draft picks. Obviously Lana stays on Raw, because win or lose, Raw needs the contender to stay just in case. I did like Lana's promo, she was basically going back and forth between the standard Face and Heel mannerisms. She talked to the American dream and wants to inspire others, that's Face. But then she gets a bit superficial about it, complimenting herself, that's Heel. Charly was the realist here, but also probably the one who knows what she's talking about. I said in the Monday Night Raw article that Asuka is retaining because she's Asuka, and whoever the HIAC challenger is makes her presence known. Natty going to SmackDown is the surprise, but at the same time, how interesting would Natty VS Lana be? Well, I could see it in my head, but that doesn't mean it'd work out that way.
The Riott Squad being moved to SmackDown sucks for them. The WWE Women's Tag Team Championships are supposed to be for all brands, but we haven't seen that in a good stretch. Granted, Ruby & Liv lost to Nia & Shayna, but that match was so good I would've loved if there was more. I'd love if they surprised us and had Nia and Shayna show up for SmackDown's season premiere to set things up, but given what we saw on Raw, Mandy & Dana feel like the next team up and that's Raw VS Raw. AJ Styles had a good time on Raw Talk, and I like that he at least teased going after the 24/7 Champion. I've wanted to see if that title could be treated seriously for just a second, so Styles having some great matches as well as backstage segments with this belt could do something mostly for the belt.
The New Day were also good, and I like that Woods floated the idea of KOTR coming back and him winning it. Any member of the New Day, Big E included, becoming KOTR to finally "dethrone" Baron Corbin would be great stuff. King E VS King Corbin, undisputed king of SmackDown, BOOK IT!