Mitchell's Raw Talk Report! (10/19/20)
Raw Talk is AWESOME!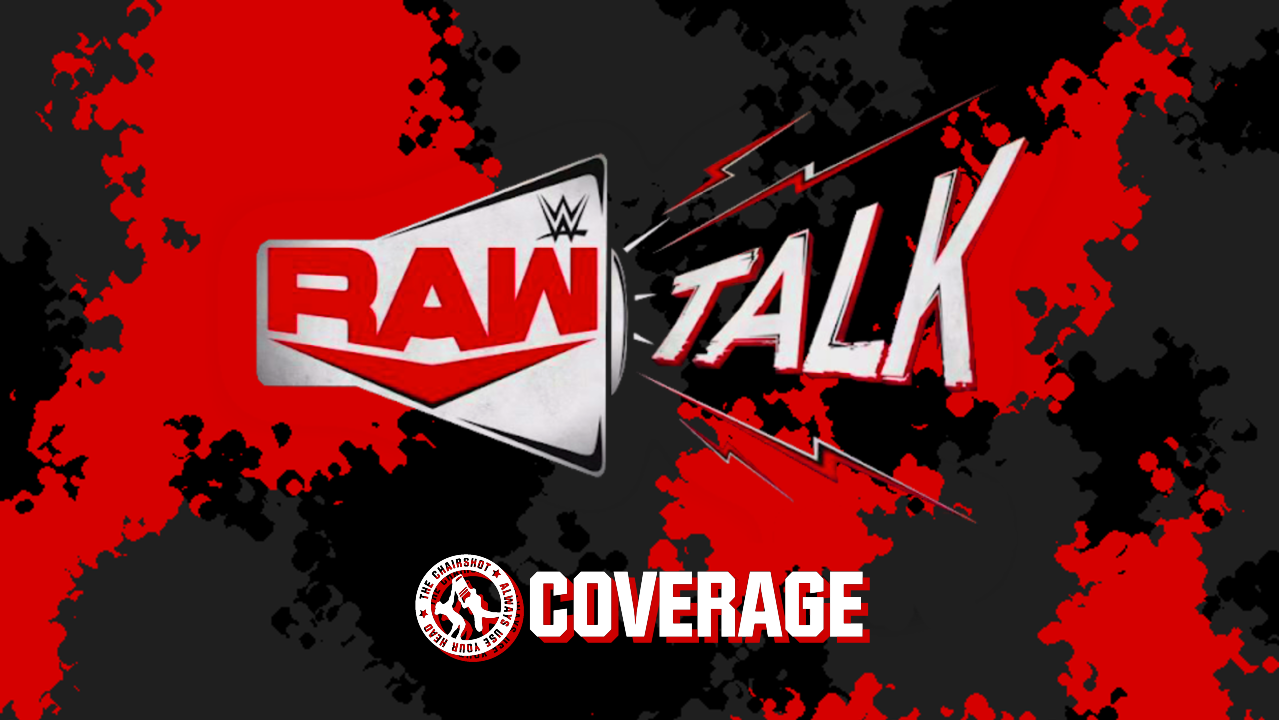 Raw Talk is going to get crazy, charismatic and AWESOME!
Hey hey! Ho ho! The Miz and John Morrison join the show! But so will Jeff Hardy and Nikki Cross, all of them wanting to talk about what went down on the Raw season premiere!
Charly Caruso and R-Truth welcome us back!
#CharTruth is still standing after the wild Raw we got. Truth is better, because of the 24/7 title. He's got people following him. Akira Tozawa, Drew Gulak, and now the Lucha House Party! There's even people he doesn't know! Charly says he knew what came with the 24/7 7/11 747 1942 Columbus Sailed the Ocean Blue. But it's Truth's baby! Yes, that's true. So then it should be rightfully Truth's! He can't even watch Raw! Then what does he do while he's here? He runs. So he's getting his cardio? He run Forrest, runs. Okay then.
But to focus on Raw itself, what we saw as we went off the air was McIntyre using BOLT CUTTERS to get inside the cell! Orton was surely intimidated with McIntyre finding all these ways of getting at him. Yeah, it ain't no fun when the rabbit's got the gun, Elmer. Though Orton didn't look that afraid with that chair. But when McIntyre had the cutters, Orton had a flash of fear on his face. When they meet inside the Cell, just saying, Charly's worried for both of them. Orton spoke to his experience inside the structure. Things could go either way. Experience usually plays to the veteran but McIntyre had something for it. Truth might get some popcorn with extra butter for that one.
We also saw the Raw Women's Championship, Asuka VS Lana. #CharTruth was hyped for how confident Lana was, but in the end, Lana lost. Asuka is a different thing entirely. She does that thing, too, that dancing. Yes, Asuka was a great guest, too. Yes, but Lana was a "hot mess." Crying and emotional. That can either make you hot or burn you up. Lana's Instagram was showing she was ready, but you got to back that all up.
Another thing Charly touches on before the guests… The Fiend. Disturbing as it was, he was taking it to Retribution. No one could stop him! But then later, what was more disturbing was Firefly Fun House coming to Raw and adding Alexa Bliss to it! She's caught up in "this entire mess," and Charly is worried for her. Truth has never seen this side of Alexa. Alexa might be getting paler, too. And just deranged. Truth has problems, Alexa has PROBLEMS. Alexa's been dragged down the rabbit hole, pardon the pun about Ramblin' Rabbit. But first, we have the Charismatic Enigma!
Jeff Hardy joins Raw Talk!
Hardy sees the cell is still there, and notes how scary it still is. Hardy has had plenty of his own experiences. That one match with Orton was enough. Luckily he's not in such a match. But before even getting to tonight, we need to look back at May. Elias was the victim of a hit & run accident, Elias still thinks it was Hardy behind the wheel. But Hardy was not found guilty, despite there being no culprit found. Is he still innocent? Yes, they let him go quickly because someone pointed out a redheaded man. Hardy had an awakening like never before, but Elias hasn't accepted it yet. Oh so it was Sheamus? Last we knew, yes. Charly will believe Hardy, she's not here to point fingers. Anyone can speculate. Truth's never speculated before in his life.
But moving on, there was tonight with Hardy going after Elias in return. Elias then told us that he wants a match with Hardy this Sunday. Hardy accepts the challenge! Hardy is fired up for maybe some battle of the bands stuff! Hardy has to admit, Elias' songs were good! So no hesitation for a match? Yes, a regular match, at the HIAC PPV. Maybe this can solve something. Then can the hostilities put behind them? Or will they not know? Hardy hopes it can be put behind him, and is extra serious about that battle of the bands. So Hardy really likes it? Yes, Elias was serious and spitting some truth.
Truth asks Hardy what Nancy Drew is like? Oh, she was very serious, working on this mystery for him. No other female like her. Charly loves Nancy Drew. Truth knows Nancy can figure out who put what where. Hardy says her dog is named Scooby. Yeah, but not Doo. Nancy was a fan of Scooby-Doo, though. Oh wow! Charly thanks Hardy for being on the show and being man enough to step up to the challenge. She looks forward to this match. Word is bond.
Nikki Cross joins Raw Talk!
The Twisted Sister, the Loony Lass, is so excited to make this Monday Night Nikki! The chair is tricky, though. Charly welcomes Nikki to Raw, and Nikki says she is so excited and happy to be on Mondays! She's taken a step back, got her head together, did some training to stay sharp, and she is ready! So excited! Truth likes that energy! Charly does, too, but she's a bit surprised to see that given what's going on. Her former tag partner and friend, Alexa, is being sucked into something rather dark. Truth says he once lost Lil' Jimmy. Maybe Nikki can get back what she lost. Oh, is Jimmy here now? Right over there. Oh, she'll make room. Nikki has NO clue what's with Alexa, and it's scary.
But this is what The Fiend does! He changes people. This isn't the Lexi she knows. Not the Lexi that she won the tag titles with, and spent hours on the road with, drinking cups of coffee with, hosted talk shows with. Nikki will say this: "I'm not going to lose her. I'm not going to give up on her." Bray can play his games, but Nikki won't lose her friend. The thing is, and she wants to say this directly to Alexa if she's listening. "Let ME in." Whoa. But if she's in the Firefly Fun House, Truth wouldn't advise going in after Alexa. Especially with Abby the Witch. Is Abby and Alexa hanging out? Truth had to keep Lil' Jimmy from hanging out with a bad crowd. Bray has the Fiend and his puppets. Charly agrees, Alexa is joining them. Alexa is at a point that could be beyond reach.
Nikki says she's still not giving up on her best friend and tag partner. For the last year, Alexa has been Nikki's rock. She can't give up on Alexa. It's like Jimmy! But Jimmy never played with puppets. Wait, what's the difference between a puppet and Muppet? Nikki thinks it's the eating habits. Maybe. But you can't trust people who play with puppets and Muppets. Can Truth trust Jimmy? All day, erryday. Moving on, Charly says that while Nikki's bond with Alexa is strong, we don't know what's going to happen with Alexa. We want her to find her way back, but she's in Fiend's web. Nikki needs to watch out for herself. What are Nikki's goals on Raw?
Nikki's glad Charly brought that up. As much as Nikki wants to win the Women's Tag Team Championships again for a third-time, against Nia Jax and Shayna Baszler, it's okay if it doesn't work out. Nikki left Glasgow to live her dream, and that includes the Raw Women's Championship. Asuka and Nikki haven't faced each other on Raw 1v1. Nikki assures us that she IS ready for Asuka! Charly and Truth love the confidence! Thanks for coming, Nikki, and best of luck reaching Alexa and bringing her back. But be careful before you go in that Fun House. Nikki thanks them and appreciates them letting her speak her mind. Nikki fires up and Truth fires up with her! And they stare off into space for the Greatest Tag Team of the 21st Century!
The Miz & John Morrison join Raw Talk!
From Talking Smack to Raw Talk! Look at them. Miz wants Truth to realize he cost them a match! Why was Morrison hugging him? Didn't Morrison see what happened? Truth says he said, "Excuse me." Yes but that was a match! Yeah but Truth went in and out. But that was all a distraction and then he lost! Miz couldn't help but look at Truth as he ran past! Speaking of that match, they did lose to a team they have personal history with in Otis and Tucker. Charly notes that Miz feels more worthy of the Money in the Bank briefcase. Isn't he, though? Charly isn't here to make assumptions. But isn't he, though?
Charly watches the shows, right? She has an opinion, right? "Is Otis a WWE Champion or Universal Champion, is he that kind of caliber?" Yes or no, Charly? Charly says Otis earned the contract. What?! He didn't even climb a ladder in that match, it fell into his hands! But bottom-line, he had it! Truth agrees with Charly. They were talking with producers about this, but it was "fair and square," that makes him deserving. Okay so she is saying yes. Miz must be asking the wrong people. Charly and Truth don't know what it is to be THE WWE Champion! There are pressures not just in the ring but all over! "You are the poster child! You are the representative of a BILLION DOLLAR COMPANY!" That's a lot of Lil' Jimmies. And yet you're telling Miz that it's OTIS?! Truth says Otis is deserving! NO HE'S NOT!!
Truth says Miz messed up. How? Truth has been watching and researching. MITB! Miz is in here. That's not a real guide, that's an old magazine from 2013! And who is on it, though? Truth's childhood hero, John Cena! Well Cena is a liar, we can ALL see him! You heard it here first. Charly's point is that Otis may have the MITB contract, but there's no guarantee he'll win a title. That will prove if he's worthy. But that's the thing! Miz sees the up-and-coming stars, and asks himself, "Who is the next top person?" THAT person should have the MITB contract! And if they don't, then Miz might as well have it. Otis has it, no one else is stepping up to the plate, and that is a problem in itself! Miz has been here 15 YEARS! There's a reason Miz is still here! There's a reason TRUTH is still here! There's a reason Morrison is still wrestling, was here, left, came back, and is bigger than ever. And STILL hungry!
But what about the new stars? Well, Otis is literally hungry. But having just meat is not healthy. Have they had deli meat? Truth doesn't. Neither does Morrison. Truth thinks Miz needs a chill pill or something. Oh, sorry for having passion. There is a reason Miz is the face of the USA Network. Well there is the custody trial of the MITB contract. yes, Miz will win that, then use the contract to cash in on McIntyre and then once again be WWE World Champion and once again represent this company the way it should be represented.
Morrison does his best Scottish accent, which is to say not a very good one, as he pretends to be shocked Miz is cashing in. "Aye, you could've counted to a hundrrred with that finish a yers!" Truth says Morrison should stop, but he is laughing at the accent. Charly says Miz thinks the trial is in the bag? Yes. Does he have great representation? Do you know how many lawyers he has? So many! He's making a deal with the cops? No, Truth, cops and lawyers aren't the same thing. And thanks again for costing Miz the match. Truth defends he didn't cost Miz anything. They used to be The Awesome Truth, and this is how Truth treats Miz. Charly tries to outro the show but they keep arguing. See you next Raw Talk!
---
My Thoughts:
This episode actually was awesome. It would've been even greater if there was carryover from how Raw ended since Raw Talk was going to talk about it, but oh well. Hardy announcing he accepts Elias' match for HIAC PPV is great, as is his idea of a battle of the bands. I'm definitely sure the feud continues past the PPV so having that as part of the story would be great. And Sheamus being on Raw, too, the story can even bring him back around into it. Elias and Sheamus VS Hardy and Riddle VS The New Day, for the Raw Tag titles? Sounds pretty good to me. Nikki Cross was great, I like that she is going to try and get Alexa back, and that can make for a great part of the story that is building. Mia "Reckoning" Yim will need someone to face, too, so a Triple Threat of Yim VS Nikki VS Alexa wouldn't be so bad.
Miz and Morrison being on the show was a great way to cap this off. How they were talking about Otis and the MITB briefcase reflects how fans have been arguing about it, and I like when the superstars can mirror that stuff. Miz has the fire, but I bet Miz going after Otis so strongly is a reverse psychology way of getting Otis over with those who still doubt him. Miz is legitimate, and if he can bring Otis up some levels through their matches and segments, much like tonight, Otis will start to look like the right pick after all. And I appreciate that Charly even brought up that Otis could try and fail. I've been wanting Otis to cash in before the court case as a way to take this out from under Miz, so maybe they go that way after all.