Mitchell's Raw Talk Report! (10/26/20)
Raw Talk with Elias!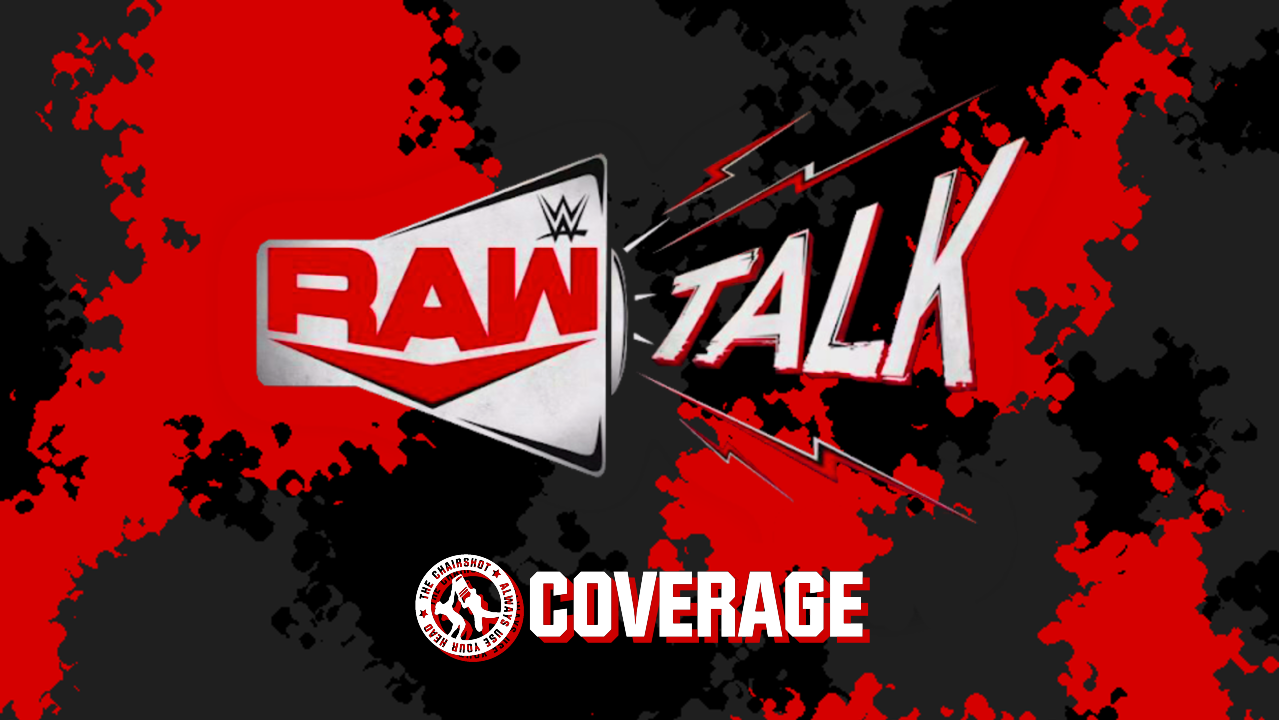 Who wants to Talk with Elias?
After seeing the aftermath of Hell in a Cell and learning much about Survivor Series 2020, The Drifter, The Fella, and the #SexyMuscleFriends are here for some Raw Talk!
Charly Caruso and R-Truth welcome us back!
#CharTruth is still here, even after the wild last few days! How is Truth doing? Good, especially after his hands have been full with the title. But he was tired of running and hiding, he was scoping out his competition. But he still had to run. He used to do that. Used to is a rooster from Brewster. Punky Brewster? Um, sure. Charly congratulates Truth retaining the title. But the chase continues, because that's how the 24/7 487 7/11 I-95 South European Television Championship goes. Everyone wants a title, of course. The WWE World Championship has changed has as Randy Orton becomes the 14-time champion. He's coming up on Ric Flair! Will he get there? Who knows. But someone Flair isn't dealing with his The Fiend! He was so scary! Charly and Truth do not want any part of that.
Orton knew the Fiend was there, but he had a choice. Face the Fiend or fight with McIntyre? He chose McIntyre. Lesser of two evils or what? Orton and McIntyre were fighting even as Raw went off the air. But the Fiend will not be left out for long. We'll see how that plays out with Survivor Series coming up. A lot went into building those teams tonight, such as their guests. Charly knows their first guest has a lot to be happy about, such as his now NUMBER ONE album on iTunes!
Elias joins Raw Talk.
The Drifter revels in being #1, and Charly says it's wild. They were watching it move up the whole night, and it started Raw as #2 but then shot up! It's unbelievable. Elias wonders how they feel sitting with the #1 artist in the world. They love it! Truth asks, though. He has a cousin, Pretty Ricky, who has been trying to get signed. Can Elias help him out? Sure! They can talk after. Charly says Elias is great, willing to help out. Most would get egotistical being #1. Elias is on the mountain top, but he figures he can bring others up. How many people have walked with Elias, exactly? Elias isn't sure the numbers, but to be #1 album in the world, that has to be a billion or something. Wow! Universal Truth, walk with Elias, simple as that.
Charly congratulates Elias on this accomplishment, but she does want to bring up someone who walked with Elias. Keith Lee beat him for a spot on Survivor Series. Elias says Keith cheated because he and Hardy used that music intro as a distraction! Ten out of ten times, if it's straight up, Elias wins. Truth wants to take what he said back. Keith didn't cheat. Didn't Truth see it? Or was he too busy running away from those other guys? Charly wants to make it clear, it probably wasn't Keith cheating but Hardy getting back at Elias. True, that's a great point. But Elias is #1 on the charts, and #1 in whooping Hardy's ass. Hardy hit him first, with a CAR! That is an ongoing investigation. But Elias has a lot going on, #1 in the world is good, though. But the disqualification at HIAC means there was no real winner. No, Elias won. Using a weapon in a match is a DQ, that's a win!
Charly doesn't mean to take anything away, but no pinfall or submission, surely this is going to continue. Elias says Hardy distracts him, Elias gets hit by that huge powerbomb, and then Hardy smashes Elias with a guitar. Two nights in a row! How many guitars will be ruined trying to settle this? Charly wants to see them play those, instead. Elias agrees, and Fender sponsors Elias so he'd rather play them. But people interrupt, try to run him over, Truth has to know a little bit about this. Charly says rockstars live wild lives with twists and turns. Elias says there's a lot of that here. Truth wants to hear both sides of the story. Elias says he calls the album Universal Truth because he speaks the truth, to Truth! That's a lot of truth going on. Amen.
Charly again congratulates Elias, and asks how to access that. If you don't know how, living under a rock, get on iTunes, Apple Music, Spotify, find it, it's #1 worldwide! Charly says Elias has done a great job promoting the album, and people love it. WWE will walk with Elias but it's time to move on.
Dana Brooke and Mandy Rose join Raw Talk!
The Buff Blondes, the #SexyMuscleFriends, whatever their team name, the "Two Carmellas" are back. Truth, focus, this is Raw. Charly congratulates them on being Team Raw for Survivor Series, but there was a bit of confusion as to who was worthy. Adam Pearce and Pat Buck made it definite by naming them, as well as Nia Jax and Shayna Baszler. Well it makes sense. They've been working their butts off, and while they didn't qualify like Lana did in the Fatal 4, the hard work pays off. It goes to show that their undefeated streak in 2v2 means something. Working butts off? Like glutes? Didn't you see the Instagram posts? Yes, that was a test, and they passed.
But speaking of Lana and the qualifier, it's shocking that she took the fifth and final spot. Hey, she won the match, she earned it. But the team has to be on the same page. Whatever this is with Lana, Nia and Shayna, they need to put that away. Nia and Shayna, too, for that matter. They're WWE Women's Tag Team Champions but still argue and all that. And they were arguing with Dana and Mandy, saying Mandy and Dana were joining them on the team, not the other way around. They are all a team now, and Lana "stealing" the win from Natty and then stealing a win in the Fatal 4, she really needs to step things up. So does it seem like Lana is just worrying more about herself and not Raw's? That could be, but they hope note.
That goes for Nia and Shayna, too, that they need to want to work together. They always butt heads, it seems. This is a strong team, obviously, given Nia and Shayna, and then them. This is their passion, they want to succeed and are going to shine in this opportunity. Truth asks, "First time, shame on you. Second time, shame on me. Third time's the charm." Wait, Truth has the first and second times swapped. But whatever! How many times is Lana going through the table?! Lana was rather emotional the one time, she must be a mess now. She didn't deserve this time. That's Dana's point! This team isn't working together at all. Well they have a month before Survivor Series, so what do they need to do? Strategize, unite, and put this aside, whatever it is. Raw has had wins in Survivor Series, but specifically for Dana and Nia, they always seem to survive. Maybe that happens again.
Truth suggests a huddle, a pow-wow. Exactly. Lana might want to do a TikTok but maybe they can get her to focus. Charly asks them that being a successful team, Nia and Shayna being champions, will they be able to coexist with those titles out there? Dana is confident she can. This is the task at hand. There's short term goals and long term goals. The short term is Survivor Series, then the titles are next. That's a great way to think about that. Truth would've put it that way, too. But maybe mix it up? Yes, that's true. Charly says they love having these two on, and maybe next time, they'll have the gold! That's the plan!
Sheamus joins Raw Talk!
The Fella is still sore from his fight with Matt Riddle, and hydrating with plain water. Sheamus feels like he was in a car crash, but he got through the other side and is now on Team Raw. It was well earned, but not easy. He, AJ Styles and Keith Lee will be joined by two others, but how is he feeling just knowing those two? Ever since Sheamus came to the WWE, he's always made it about Sheamy. He does like that Keith and Styles are buffers for him, because it doesn't matter who SmackDown has, he'll be the sole survivor. He's been here since 2009, he wanted to be Intercontinental Champion on SmackDown, but it seems the "powers that be" didn't want him becoming the most decorated superstar in WWE history. Now he's on Raw, doing what he does best: getting into wars with people and winning. Survivor Series won't be any different.
So he wants to use Survivor Series to propel himself to being the most decorated superstar ever? Only if someone gives him that IC title. But as he's said, since he came back, people have been asking for "Too Many Limes," so he promises that when he becomes the first ever ULTIMATE Grand Slam champion, that music will be the only thing playing over every single speaker intercom in the building. That's who Sheamy is. Truth likes that. Charly brings up Matt Riddle and the tension between them. Was there any doubt that Sheamus would capture that win? Never. The whole world just saw how tough Riddle is. Riddle's a bro with flip flops and all that. Not sure how hygienic that is with bare feet. People are putting foot powder all over after he's done.
But Sheamus knows Riddle is tough, and he loves bringing out that other side of others. Big E, Kofi, Jeff Hardy, Matt Riddle, that's what he does. Win, lose, what matters is the battle. That's what it's been since day one. Tough as nails! So Survivor Series, that will be here before we know it and Sheamus will have his work cut out for him alongside Styles and Keith. Charly thanks Sheamus for being here. Sheamus wants to bring up Charly's weird shirt being two colors like that, it's throwing him off. Well that's it for Raw Talk, see you next week!
---
My Thoughts:
This was a pretty good episode, but went a bit faster than I thought. For one, not a lot of time in between guests for Truth and Charly to talk, but WWE always seems so adamant in sticking to a time constraint when it should be more loose about this stuff. Raw Talk and the returning Talking Smack will never be as great as original Talking Smack if they're so strict about this stuff. Elias was alright, but he stuck to the same things for his motivations against Hardy. No tease of a battle of the bands? C'mon, Elias. Dana and Mandy were good, but it felt like it was mostly Dana talking for the #SexyMuscleFriends. They did do a great job framing the women's team for Raw, though. I wouldn't mind seeing at least one segment where the five sit down, with the intention of just talking it out and not fighting. Obviously it can devolve into fighting, but it should start out calm, much like a talk show or contract signing segment.
Sheamus had a good segment, and I like that he wasn't really Heel or Face about his run in the WWE. He loves to fight, he can bring the fight, he and Riddle definitely did that and he even gave Riddle some respect that even commentary pretends like there isn't. I was hoping Raw Talk would give Sheamus time to talk about his Survivor Series partners, and even theorize who is going to join them. Sheamus has been around 11 years, he has to have an idea of who would make for good tag partners. We didn't see Strowman at all, so maybe he's in? Plus, the physical man power of Sheamus, Strowman and Keith, that's an incredible team.
And as Sheamus brought up, he really has done just about everything in the WWE. Three-time WWE Champion, as in the title of the company. Three-time World Heavyweight (Big Gold Belt) Champion, two-time US Champion. He and Cesaro as The Bar were five-time tag team champions, four of which were on Raw, putting them in the same club of having held both Raw and SmackDown titles as The New Day (and now Street Profits). He was King Sheamus back in 2010, he was the Royal Rumble winner in 2012, and was Mr. Money in the Bank 2015, who successfully cashed in at that.
He's even a four-time Slammy Award winner, two of which were serious (Breakout Star in 2009 and Greatest Feat of Strength 2012), and two of which were more like Razzies (Wrestler Most in Need of Make-Up 2010 and Outstanding Achievement for Resembling a Muppet 2011). But if Sheamus were to be traded back to SmackDown, and he were to beat Sami Zayn (or whoever will have it) to finally get that Intercontinental Championship, that'd be amazing for Sheamus to be THE most decorated superstar ever. Not Cena or The Rock, who aren't even Grand Slam Champions (Cena is missing IC, Rock is missing US, and neither were KOTR), but Sheamus. Only Edge would have more: both the WWE and Big Gold Belt world championships, the IC and the US (though the US was apparently still the WCW title at the time?), all the tag titles available at the time, as well as KOTR 2001, two-time Mr. MITB and a Royal Rumble win, on top of his 2012 Hall of Fame induction. And y'know what? I think Sheamus deserves it.