Mitchell's Raw Talk Report! (10/5/20)
Raw Talk is not ready for ASUKA!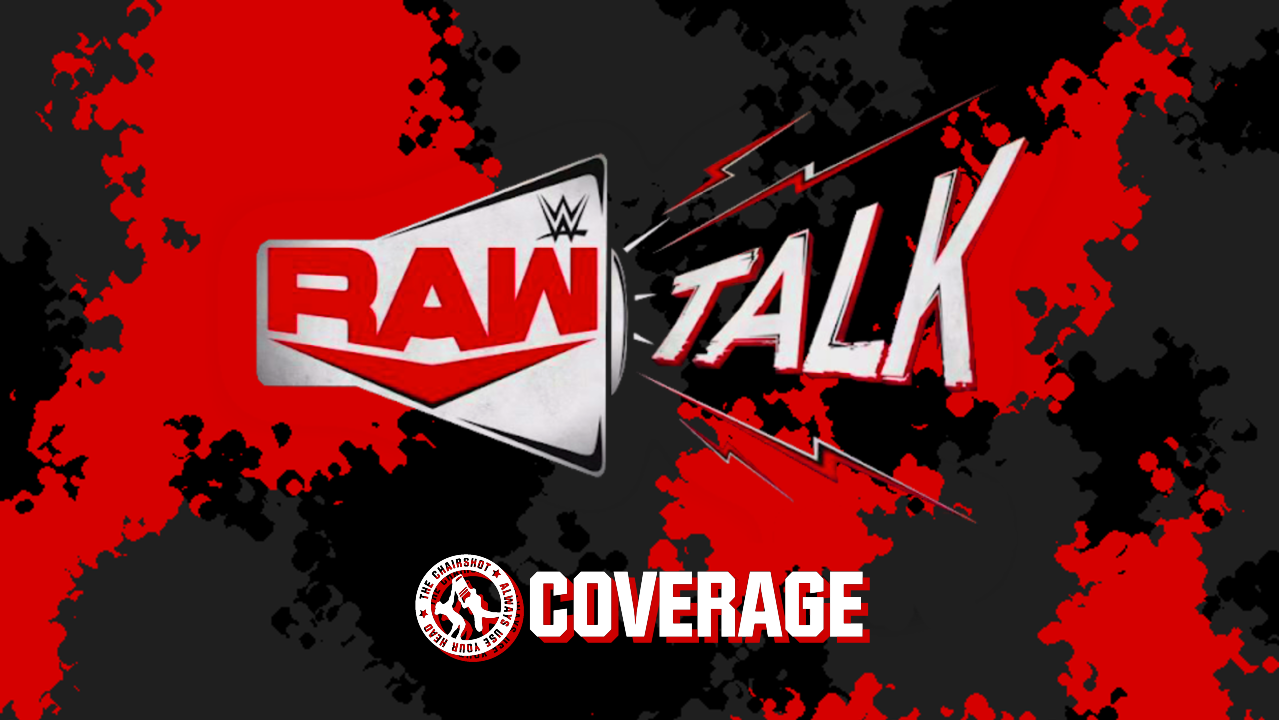 Tonight, Raw Talk is GLORIOUS!
The Raw Women's Champion, the WWE Women's Tag Team Champions, and the GLORIOUS Show-Off are all here with R-Truth and Charly Caruso! Will be the last chance any of them get to be on Raw Talk before the 2020 WWE Draft changes everything?
#CharTruth welcome us back to the show!
Charly Caruso says R-Truth still smells a little from the trash fight earlier. Is it a stench? Well, it's a little something. But the guests will be closer to him than her so… But the 24/7 Championship is causing even more problems than usual. Truth lost it then won it back and we're on… 42! That's Fo'ty-Two. But yes, problematic, because people are jumping out of dumpsters and dressing up as janitors. It's crazy! But that's what it takes to be the 24/7, 48/7, 7/11, I-95 South Champion. Don't forget the 2020 in there, because this entire year has been crazy. Truth vows to finish the year champion, too.
But one champion to another, things were crazy for Drew McIntyre and Randy Orton at the end of Raw. Orton left Clash of Champions in an ambulance but is back for more. The Hell in a Cell Match is happening, and you'd think that'd end it. People are being hurt, legends are being attacked, things are a bit much in the ThunderDome. What does Truth expect from that match? It won't be about winning but about hurting each other. And not like Clash of Champions. This is going to be hurt hurt. Career ending or something. What a shame if that'd happen. McIntyre is just beginning his historic reign and an important career.
But we saw another former champion on Raw, in the form of a very large man from SmackDown. Braun Strowman came here to hurt someone and nothing more. He didn't even care who or where! And then Keith Lee, another mountain of a man, took the fight to him. Truth gives props to Keith for that fight, and how he wasn't afraid of Braun. "If you hungry, come and eat me, I'm your meat." Truth says that's how Keith put it to Braun, because Truth would never egg Braun on like that.
Then there's also things breaking down between Seth Rollins and Buddy Murphy over Aalyah Mysterio and the Mysterio family as a whole. This is the definition of an entanglement, and those don't end well. Remember hers with that guy, that loser, Angel Garza. She's done with that. But as she said, stuff like that doesn't end well. Murphy was brutalizing Rollins, his mentor and leader. Truth feels these guys are sick and twisted. Especially Rollins going after eyeballs… Rollins calls Murphy out on those messages, which apparently extended past casual conversation. Of course, calling Murphy out also exposed those things he said he didn't want to…
But Charly wants to know exactly what is going on with Murphy and Aalyah, there's still so much more to this. Aalyah did shield Murphy, and that signifies something more than we knew before. But speaking of strange relationships…
Nia Jax & Shayna Baszler join Raw Talk!
"Aaand STILL…!" Yes, they're still the WWE Women's Tag Team Champions. Truth lost their title but won it back. Truth smells! He blames Charly but they know better. Truth had to fight in the trash, they did what they had to do to win. But they don't stink. And they didn't lose in the middle. It's their thing. But let's talk about that match. Their first title defense- No, their second! They had the rematch with the previous champions, Bayley and Sasha. Shayna is fired up and Nia can't do a thing to calm her down. Charly said this is the first defense against the Riott Squad. This had to wait because they couldn't at Clash of Champions. But how does it feel to beat the team they said they'd have no problem with?
Yeah, they didn't have a problem at all, and it was great. Winners win, they won. How does it feel to tell the truth? They said they'd win, they did. They said that they'd look great, and Nia does. Shayna says Nia lied, though, she was going to wear purple like Shayna did but that was blue. No, it was blurple. That's not a color! It is! Blue-purple, blurple! Nia almost had Shayna with the purple and gold, but then she didn't go with it. Charly wants to know more about their growing dynamic. They're very powerful. Yes, Nia bench presses 205 easy! Can Shayna? That's not translating in the ring. Did she bench press anyone in the ring? Nia struggles to focus because of the stink coming from Truth.
Charly says there's still discord despite the success. Where do they see each other in terms of that? Are they on the same page outside the ring? The only answer they need is the title belts. So only that matters? Well what's the point of being here? To win! The friends, Ruby and Liv, lost. The former friends, Bayley and Sasha, lost. The belts are all that matters. They don't see or follow each other outside of the ring. They show up to work, win, and leave. Shayna is thankful she doesn't have to be around Nia. Does Nia know Shayna eats fish without tartar sauce? What's wrong with that? Shayna made her own sauce! Wow, Nia defended Shayna! That's progress! Nia says she can make fun of Shayna, but no one else can.
Shayna says she'll share her homemade sauce Nia. No, that's too much. Fine, Shayna still hates Nia. But congratulations to the win. Wow, that took Charly this long to say that! No, Charly already did congratulate them. Shayna tells Nia to stop dancing around. Nia wants to spray Truth. Charly apologizes that Truth didn't bring more sauces but Shayna says she already won the sauce debate so whatever. No more sauces! Nia says to keep sauces to yourself. It's whatever. But moving on to another champion…
Asuka joins Raw Talk!
What's up? What's up? High fives for everyone! Look out for Lil' Jimmy. Oh! High five for Jimmy! Love it. How did it feel to team up with Mandy Rose and Dana Brooke? So much fun! Mandy and Dana are the "sexy muscle friends." That's a great way to put it! And or The Other Carmellas. But Sexy Muscle Friends is definitely good. So how did it feel to get that win again and beat Vega again? Asuka HATES Vega, and Charly is with her on that. Vega is small and light, but it's hard to predict her next move. And she talks a lot! Too much talking! Too much whining! Asuka and Charly share a good laugh over that.
Charly asks Asuka but has a feeling she knows the answer: "Can anyone beat Asuka? And more than that, is anyone ready for Asuka?" NO! No one is ready for Asuka! But the Draft is coming up. Does she care? No! She'll go to any brand and welcome anyone to Raw. For example, Bayley! Not ready. Sasha. Not ready! Shayna. Not ready! No one is ready! Bring it on! Asuka's ready, what's up!? Asuka says Truth is a great friend. Sexy Muscle Friend? Yeah, of course! Charly is skeptical but that's just the smell. Asuka admits she smells it but Truth knows it's just how it is. Charly thanks Asuka for being here, but here come Ziggler and Roode! "Did someone say sexy muscle guys?" Yeah, that's these two.
Ziggler says hey to "Ronny" and Chaz. They're crashing the interview, heard Sexy Muscle Friends and just wanted to be part of this. Asuka knows GLORIOUS, so yeah! Asuka takes her leave, but they need more chairs. The crew gets Roode his seat and now both the Glorious Show-Offs truly join Raw Talk. And Ziggler asks about Truth's title reigns again. It's 42. Wow, Truth is only 42? He looks 65! Ziggler and Roode remember watching Truth when they were growing up. No, Truth remembers watching Roode when he was growing up. He fought Cena all the time! And Ziggler's superkick, too. Truth is probably mistaking Roode and Ziggler for HHH and HBK, aka DX… Ziggler plays along, doing the Sexy Boy.
Charly asks Bobby, who corrects her that it's "Robert" now. It's been a long time but hey. Charly is sorry for being informal. Roode says it's fine. It's GLORIOUS to be back on Raw, especially with his good buddy, DZ, Dolph Ziggler. How great did they look out there? Really good. They weren't aiming any lower than the top in Drew McIntyre. What what did she expect? 20 years in this business! That's how long Roode has been doing this and why else would he be here? Charly points out how they teamed with Orton. Is there an alliance they're trying to form? A new Kliq or something? They're businessmen. They want the best. They went after McIntyre who had a title. The Profits have titles. The Cleveland Browns won and might be Super Bowl bound. Bobby is BACK! Sorry, Robert. Roode. Whatever you call him, call him a contender.
And by any means necessary, right? Teaming with Orton, and his actions have been despicable lately. Do you want to follow the rules and just hope things work out? Or do you scratch and claw and do everything in your power to succeed? There's no one else on Ziggler's side, he just has Roode. Truth's choice is Option C, the running and hiding. Truth got pinned in the dumpster! Lil' Jimmy went in there. Isn't Truth the leader? And they DON'T see Jimmy! Truth says they ain't gonna make it being this selfish. Show them the Jimmy! It ain't time! That's why you two ain't getting gold!
So it's the Raw Tag Team Championships then? Truth says it ain't coming from the Profits. Ziggler says those two are good kids, love the fans and the fans love them. They have a bright future, as former champions. Strong words and a challenge unofficially issued. Truth says they aren't going to win without Orton. Charly calms everyone down, thanks Roode and Ziggler for coming on the show, and thanks us fans for tuning in. Roode still wants to see Jimmy.
---
My Thoughts:
A really fun episode here, a slightly less formal structure with Asuka almost crashing the Nia-Shayna segment and Ziggler-Roode literally overlapping with Asuka's. I think Asuka just came up with a great name for the team of Mandy and Dana with "Sexy Muscle Friends." Nia and Shayna are getting better with this awkward duo charisma, and I hope it stays this way for a long time. Asuka is always a lot of fun, and I like that Ziggler and Roode put forward that they're after the tag titles, mostly because it was obvious so why wouldn't they say something? I just hope this means the Draft keeps Ziggler and Roode here. While the Draft should move some people, it'd be really stupid if it also undid some great things Raw has been setting up.