Mitchell's Talking Smack Report! (10/10/20)
The Draft is all anyone can talk smack about!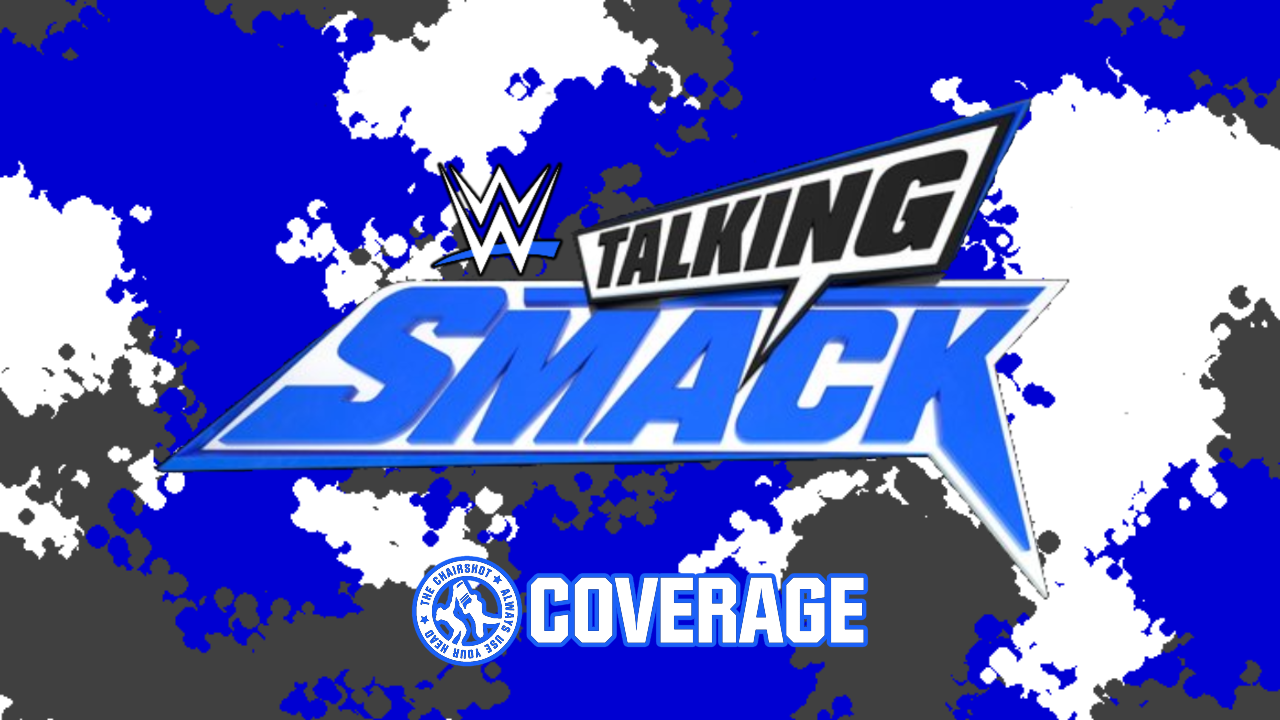 It's the Talking Smack Draft Special!
Just because the Draft started on SmackDown and ends on Raw doesn't mean it can't continue on Talking Smack! Learn more of who goes where!
Kayla Braxton and Sami Zayn host this 2020 WWE Draft edition of Talking Smack!
Kayla and the undisputed WWE Intercontinental Champion are excited for the WWE Draft and the coming Hell in a Cell PPV. And yes, Kayla has a new cohost. Sami gets the championship framed just right as she introduces him. It's interesting being on the "same team" now, since she's always so adversarial with him as a guest. Not that he's pointing fingers or anything. But that's all in the past! It feels good to get along. Is the title in the shot? Yes. But big things happened on the first night of the draft. First, one man who was after Sami's title is now on Monday Night Raw. Oh no~! AJ Styles, the winner of the fraudulent tournament, is gone! Sami feels good about it. Sami wants to say he'll be missed but he won't. Good riddance! Kayla will miss Styles.
But someone who joined SmackDown is Seth Rollins, and he might want that title. Well Sami will worry about that when it happens. But yes, that was a jaw-dropper for even Sami. Rollins has been consistently on Raw since 2012. And it was the 2016 Draft that kept him there. It's surreal to see Rollins with a SmackDown logo. Bayley and Sasha had an eventful Friday with their SmackDown Women's Championship match, even though it didn't end well. A disqualification, specifically. But at Hell in a Cell, inside the Cell, it will be the rematch! That's crazy! Two of the best women who thrive under pressure. Now, Sasha's been in the Cell, Bayley hasn't. Then there's the story of betrayal. They had monumental matches even back in NXT, but this is the biggest of all. Sami is excited as a fan to see this.
To keep rolling with news about the Women's Division, tonight's first guEST is the strongEST, the fastEST, the toughEST and all around BEST!
Bianca Belair joins Talking Smack!
The EST was Raw, now she's SmackDown, and she has red and blue to match it all. Sami welcomes Bianca. Kayla confirms she changed from red lipstick to blue, and Bianca says it was only right. How does it feel to be Team Blue? She's excited! Sami makes sure she's closer to the mic. He's just trying to help as a cohost. She thanks him, he's very helpful. She is happy, eager and pleased to be on SmackDown. This is a great place for a lot of opportunities, ready to fight whoever is going to be on SmackDown. Eyes on anyone in particular? Bianca would love to face Sasha, who was drafted right before her. Sami would love that match, too. That'd be magic. Bianca is hoping that Charlotte comes back to SmackDown, they have some history as well. And Carmella is coming back, she has something to prove but so does Bianca. Bianca is the new face, she needs to shine, Carmella is trying to take that shine already.
Kayla hopes Bianca gets some gold, she's been deserving some. Bianca agrees, it's about time. She is ready. Sami says he is a big fan of her video packages. It is great to find a fellow intellectual. Bianca really is a complete package. Sami loves that SmackDown is the land of opportunity. Yes, it's a tag line, but it is historically true. Sami feels this is the perfect fit for her. Kayla reads the resume real quick. A) Bianca can dead lift 415 pounds. Can Sami do that? No comment. B) Bianca lasted 33 minutes and eliminated EIGHT competitors in the 2020 Women's Royal Rumble. That's gotta be historic, right? They can double check but if not, that's something Bianca can aim for next time.
The WWE Draft continues on Raw, and that is where the Street Profits, Angelo Dawkins and Bianca's husband, Montez Ford, are up on the board. Have Bianca and Ford discussed what happens if the Draft splits them up? Of course. Ford is a tag team champion, they love to spend time together and work out together, but tonight is about her. She got drafted to SmackDown, she's ready to go. It'll work itself out. Sami doesn't want to overstep but he has this feeling. Relationships are great, but is there a part of her hoping the Profits stay on Raw so she can create a name for herself by herself? That is true, she can stand on her own. But at the same time, if they're together, it's great. It works either way. Good to know.
Kayla says this is now the B-E-S-T episode thanks to her. Kayla is excited to have Bianca on SmackDown. She had nothing to do with the pick but it's still great. Bianca thanks them for having her, they're great. Sami is genuinely looking forward to Bianca's development. Kayla's outro was a bit much, though. Not that he's trying to criticize. Kayla gives Bianca another outro, and maybe she can replace Sami. She can dead lift him, that's for sure.
As Bianca leaves, Sami keeps getting on Kayla's case about that outro. He doesn't get the B-E-S-T but she says it was an obvious play on Bianca's nickname, The EST. Sami thinks Bianca left just on how awkward that was. Kayla says he's not making this any easier. He says it's her fault! But moving on, it's Mr. Money in the Bank, Otis, and his best pal, Tucker!
Heavy Machinery joins Talking Smack!
OOOH YEAH~! Otis and Tucky say it's time for lunch. Sami wants Tucker to give him some space. It's spreading the love, Sami. Pure love. Kayla says it's wild that these guys have been on Talking Smack plenty of times. Is it weird seeing Sami as the cohost? It's definitely a surprise, Spicy Pepper Kayla. Who talks like this? What human talks like this? This is the enigma, the love machine! Okay, if you say so. It works since he's dating Mandy Rose somehow. If Sami needs translation, Tucky can translate Otis to English. Any snacks in the lunchbox this time? Did, but he ate them all already. He doesn't like to talk on an empty stomach. Now it's just secure documents.
Sami is reminded when they offered him a 40 pound HAM as a gift! And he DROPPED it! Sami's VEGAN! Well they didn't know that! What even is a vegan? Sami couldn't give that ham to his non-vegan friend(s)? Speaking of the holidays, Tucky's showing off the new hoss wear, "I'm Dreaming of a WIDE Christmas." Bygones are bygones, moving on. Kayla brings up SmackDown's news that Miz wants a continuance in his "bogus" lawsuit. Very litigious, that Miz. This is being drawn out, but Otis was ready to rock 'n' roll! Miz is just playing games because he has no leg to stand on. But he's just after the bank account. The juice! Sami doesn't want to start on the Miz, either.
Kayla has BREAKING NEWS!
Right here on Talking Smack, the WWE Draft picks CONTINUE!! Right now?! Yes! The first pick from Raw: HUMBERTO CARRILLO! A great looking guy, for sure. SmackDown takes: BUDDY MURPHY! Seth Rollins' former disciple is following him, just like the Mysterio Family is! Oh sweet irony! Raw takes: DREW GULAK! The Philly Fury is gone, Sami says good riddance again. SmackDown takes: KALISTO! But not the rest of the Lucha House Party? And to close out this surprise fifth round, Raw takes: TUCKER?! Heavy Machinery just got broken up, too?! Sami is laughing too hard, but he does point out how Otis worried about this on SmackDown! Kayla wants to be sure this is real. Apparently, it is. Big brother Tucky is being taken away! What is with teams being broken up lately? Is this Miz's newest move?! He took Mandy, he wants the MITB briefcase and maybe now he took Tucky from Otis?
This was four years of brotherhood and more. They've been together traveling, eating and staying in hotels. Kayla wants Sami to stop being himself for a moment so Tucker and Otis can get through this. Tucker says maybe Sami can't understand because he has no friends that'd go to the end of the world for him. Tucker and Otis would, but now they won't see each other each week. But they're both still WWE Superstars, they both know what to do in that 20 by 20, and we'll see what Tucker can do as one man. What goes around what comes around like a carousel. They're not done, but they will be apart. Sami admits, this will be great opportunities as singles wrestlers for both men. What a couple of weeks, though. Kayla wishes them both the best as they head out.
Sami hopes he wasn't insensitive. Kayla doesn't think he should stick around because of who their last guests are. Sami apologizes, and wants Tucker to finally shine on his own. People forget about Tucky because of Otis' charisma and antics. Tucker is smarter and faster than people realize, so he'll have great opportunities. Just seems funny how this happened. But now, the NINE-TIME W, W, E, Tag, Team, CHAMPIONS~, the NEW DAY!
The New Day joins Talking Smack!
Woods wants his seat back! Move, Sami! What seat? This isn't Woods' seat. He's the cohost, they're the guests. Well whatever. Sami has a foot rest, but Woods doesn't do that as a cohost. Fine, fine, the cohost will stand. Kofi and Woods put their SmackDown Tag Team Championships on the desk but Sami moves his Intercontinental Championship over so they don't touch. Oh, is that the replica Sami took home with him? Oho, Woods got jokes, huh? Sami would normally rip into them but he knows things have been rough. Kayla thanks the New Day for coming and says she will miss Woods so much. Woods shakes her hand because he'll miss her, too. He apologizes that Sami is his replacement.
Sami says they should stop and have some decorum. Let them have their moment, Sami! Sami, your hands are disgustingly dry, get some lotion. Kayla holds hands with Kofi and Big E in the meantime. Moisturize, Sami. And have some courtesy. But to SmackDown. It started with high spirits because they were reunited, but then it came down because it is the end of an ear. Big E stays behind on SmackDown while Kofi and Woods go to Raw, but congratulations on becoming seven time SmackDown Tag Team Champions! Yes, seven SmackDown, two Raw, nine total. Sami says Kayla saved it. Because she's a good human, Sami. But Kofi and Woods to Raw. How are they feeling?
Big E is clearly still a bit emotional. Well they've been together for over six years. This is a genuine moment. Big E is supposed to be the goofy one, having fun, but lately it's just been sad stuff. Stop the sad stuff. But yes, it's hard to put into words how much the last six years have meant to them all. And now it's put on pause or whatever, it just hurts. It can be cliché to say these are his brothers, but when he saw them both back, he was moved! They hadn't been together in person since January, and haven't wrestled together since October! A year! Kofi doesn't have much time left, y'know? GOTEE! Big E still has the jokes, even in the saddest of times! Kofi doesn't want to be "lingering." If he's here after another 10 years, something's wrong.
Woods says it is sad, but what people need to understand is that New Day is a brotherhood. Regardless of the Draft, they're still a team. Now the bright side is, you get New Day on Mondays AND Fridays! The titles have to be defended, but how does that work? SmackDown titles on Raw? Well the titles went with the champions this time. How long as Sami worked here? And now he's trying to use logic? C'mon, Sami! Sami admits that's true, he's the host but standing. Weren't there like 19 Intercontinental Champions just last week? Ha ha. Let's focus on the New Day. Real talk, Sami loves the New Day, he respects them. To say one thing, they've been this since 2014. Six years! The WWE does a LOT of content in even one year. Somehow New Day kept it fresh all the time. Sami is really a little sad to see this break up for a moment.
But Big E has had a ton of singles momentum! He won that amazingly brutal Falls Count Anywhere match! People keep wanting Big E to turn a corner, get serious and all that. You know what scared Sami about that match? What impressed him the most? Big E was telling the ref to get out of the way! Sami saw something in Big E that he hadn't seen before from all the fun! There's a monster inside Big E. But what does the monster want? Uh oh… There is another title on the desk… Hey, don't come on Sami's show and threaten his title. Kayla says it was six years ago on SmackDown that the New Day debuted. And with the Fox season premiere, SmackDown will give them their Farewell Six Man Tag against Sheamus, Cesaro and Nakamura. Everyone might get emotional watching that. It's all good.
But now there's a lot of opportunity. Now they can dominate both brands. That is their goal, they're kinda greedy. Tag titles! Intercontinental title! Women's title? They want it all! Cruiserweight even if that's possible! But the New Day will be alright. Kayla thanks them for being on Talking Smack, and thanks us for tuning in! Get ready for more WWE Draft with Raw this Monday!
---
My Thoughts:
A really good Talking Smack, and Kayla might be right, with Bianca this become the B-E-S-T episode so far. It was natural for Bianca to talk about the dynamic of her and the Street Profits, but it's pretty clear the Profits are coming to SmackDown. Between her and Montez Ford being a married couple and WWE doesn't have couples on opposite brands, and with New Day going to Raw with the SmackDown titles, there's going to be an unofficial trade.
And I like that during the New Day's segment, Sami brought up how that would work. Raw superstars that still need to defend the SmackDown titles, are the New Day just going to float between the brands? I'm hoping they do that with both teams for just a few weeks and then everyone involved goes, "We should do something about this," and then boom, double or unified tag championship match. It'll probably be at Survivor Series since that's meant to be about brand warfare. If not, make it no later than Royal Rumble. Granted, double/unification title matches are usually a WrestleMania thing, but they can NOT stretch this out that far.
The fifth round of the draft happening here was fine, the WWE really should take advantage of all their outlets to do this stuff. I'm just surprised to see some of the picks that happened. Carrillo staying on Raw but Murphy going to SmackDown is fine. Murphy has to be part of the story with Rollins and the Mysterios, so it just makes sense. Gulak was almost obviously going to Raw since he was part of the 24/7 Championship matches the last couple of weeks. The 24/7 Championship, much like the WWE Women's Tag Team Championships, ended up just a Raw/USA Network exclusive division, so anyone involved with that will end up on Raw.
But the surprises, to some disappointment, were Kalisto and Tucker. Yes, Kalisto and the rest of Lucha House Party were breaking up, but it shouldn't be the Draft that causes the separation. There should've been a definitive moment of LHP breaking up, and then Kalisto can be drafted separate of Lince Dorado and Gran Metalik. Heavy Machinery being split up by this was also a bit bunk, even though they did a great job of accusing Miz of playing more games. Obviously Vince wants Otis to be solo, why else would he be Mr. MITB in the first place? But if anything else is telling us that the tag division is downsizing and both titles will be on one team, it's the breaking up of teams.