Mitchell's Talking Smack Report! (10/17/20)
Say YES to Talking Smack!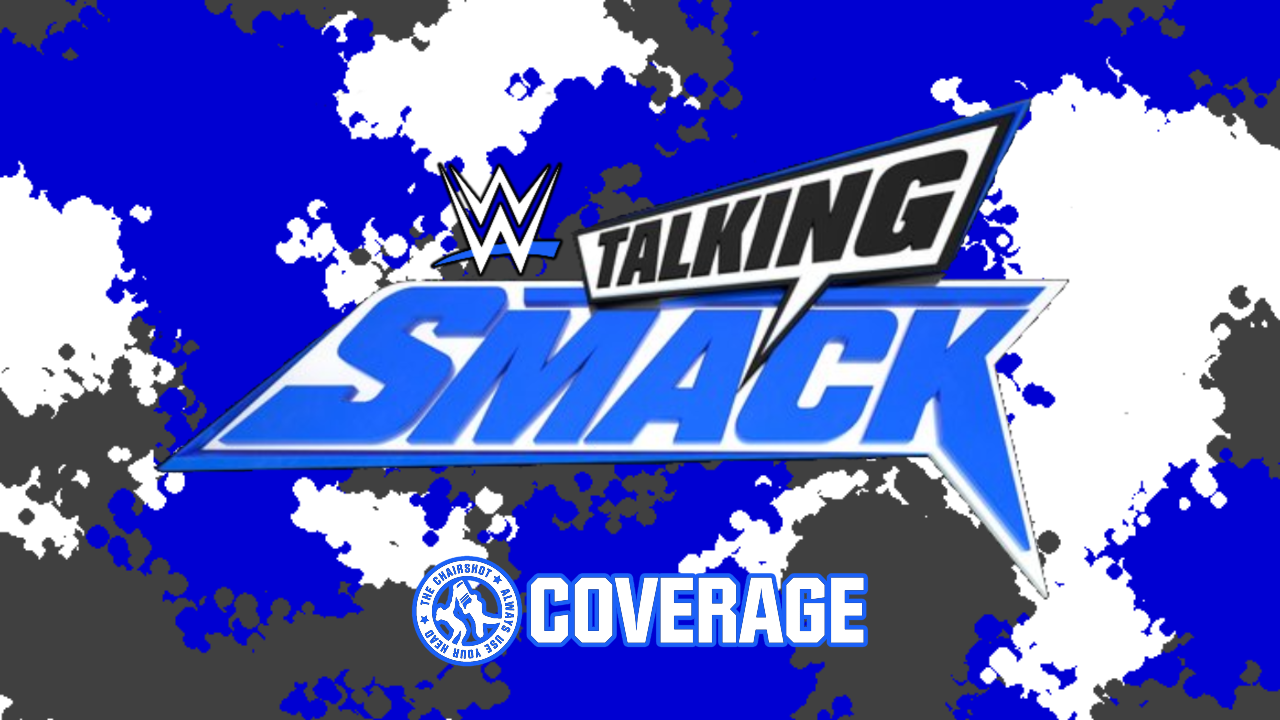 Look who's back on Talking Smack!
It's DANIEL BRYAN! He'll still be a guest, but that means he can speak his mind! What will he say about last Friday night?
Kayla Braxton and Sami Zayn welcome us back!
The season premiere of SmackDown was big but Hell in a Cell is also one week away! Luckily, to Kayla's "utter joy," Xavier Woods runs in! But Sami tells him to stop and go away. Woods has to go to Raw! Unprofessional! Is this how Kayla runs things? Zero decorum. But Kayla says it's nice to have Sami, too. The undisputed Intercontinental Champion points out that everyone actually did like his first episode last week. Yes, people enjoyed the banter. Is the belt in the shot?
Now, in SmackDown's main event, Roman VS Strowman, the Monster Among Men tapped out and heads to Raw. The same goes for Woods and Kofi Kingston, though the New Day was successful in their farewell. Bye, Woods! Is Sami jealous? Of Woods? No, he's insulted. Stop smirking, Kayla. Moving on, tonight's episode has great guests. First is the father and son combination that came back to SmackDown, Rey and Dominik Mysterio!
The Mysterios join Talking Smack!
Sami is happy to see them, and Kayla officially welcomes them. Sami wants to finish his compliment to Dom. Right, sorry, it was nice. But to start, how does it feel to be back on Team Blue? Rey called SmackDown home for years, so he's back home. Blue mask for SmackDown, it was meant to be. This is where Rey Mysterio was recognized worldwide, with Eddie Guerrero, Kurt Angle and Batista. Such good memories, and now they're even more special to share with Dom. Was there any part of them that was frustrated to learn Seth Rollins AND Buddy Murphy are here? AND Murphy! Sami points out Rollins is bad enough, but Murphy, too? What is going on?!
Kayla does point out that Murphy turned on Rollins, tried to extend an olive branch to the Mysterios, but the Mysterios didn't accept. Sami wants to know what's going on, because it looks like a mess to him. Rey says big brothers can be overprotective of younger siblings, especially sisters. Dom is that type, he looks after Aalyah. Dom answers that he's happy to be on SmackDown, but this doesn't change what it was on Raw. What Rollins and Murphy did to him, his dad and the family, that's not going away. Sami asks if there was relief for that moment when they thought they were on separate shows. After all, Rollins tried to take Rey's eye and was trying to ruin the family. There was no disappointment in the draft pick, just that Rollins was leaving. There's unfinished business and Dom wants to finish it. That'll happen now on SmackDown.
Rey said what was scary would've been if they were drafted separately. But the family was drafted together, so now they can finish this. Kayla says Dom has been very impressive already in the ring. He proved himself at SummerSlam in the Street Fight. WWE Chronicle: SummerSlam has the interaction with Dom and Vince backstage. Vince congratulated Dom, said he was proud of him, and HUGGED him! Sami's never gotten any of that from Vince. SmackDown could be Dom's house now. Dom was just happy everyone else was happy. Good answer. Dom himself was happy of his performance. That was a hell of a debut. Everyone else's first match usually goes bad. But to start in WWE, at SummerSlam, that's a lot of pressure, and Sami commends Dom for handling all that.
Sami has a question, if Kayla is okay with that. Sami keeps saying Kayla is very strict. His question is for Rey. How is the eye? Rey and Dom are here together, Sami has a lot of respect for Rey, but can Rey still "go" in the ring? Yes. Rey was concerned, but he's at about 99%. He's ready for big things to come, once he and Dom get past Rollins and Murphy. But Murphy trying to get on Aalyah's good side… Sami says that's really messed up. Kayla ends on a positive note. Dom's bucket list is a tag title reign with Rey. But the very last item is…? Dom knows Rey owes him some spankings, so maybe they can go 1v1 one day. But that's the far future.
Sami was worried he was going to say the Intercontinental Championship. Oh that's on the list somewhere. Sami says he respects them but just stay away from the belt. Well Rey knows Dom would love to face Sami. Sami would love to face each of them in turn, just not for the title. Kayla thanks the Mysterios for being here and wishes them luck.
Kayla and Sami talk about the great depth of talent on the SmackDown roster. Sami was looking at the roster list, there are some great match-ups now. Speaking of, their next guest is an incredible addition. A former WWE Diva's Champion and former SmackDown Women's Champion, and the legacy of the Harts! It's NATALYA!
Natalya joins Talking Smack!
The Queen of Harts is back on SmackDown, Kayla is selfishly happy for that. Sami asks if it's embarrassing for Kayla to gush like this. Natty says it's fine, she loves Kayla, they're friends. To get to business, Natty is one of the most impressive women in WWE history. A locker room leader, and the anniversary of history is coming up. October 30th, 2019, Natalya VS Lacey Evans was the first woman's match in Saudi Arabia. Is it still surreal? Natty thinks back to that, it was special because Lacey has become one of her favorite opponents. She says this after getting a tooth knocked out by Lacey! Yes, Natty is glad Sami brought that up. Natty has faced the best! Charlotte Flair, Asuka, Becky Lynch, Sasha Banks, Naomi, Tamina, on and on.
One thing Natty will say is Lacey is one of the hardest hitting women. Natty doesn't usually put a lot of girls over, but Lacey is one of the few women who could knock her tooth out and Natty would still like her. Natty says when Lacey is in the ring, it's go time. Kayla shares the tweet from after. Natty shows her missing tooth and gives a shout out to Lacey for it. #Respect! There's clearly different kinds of respect because Sami wouldn't have been so gracious.
What does Natty think of Lana? We saw Lana survive and win the Women's Battle Royal to face Asuka. Natty says she has a complex relationship with Lana. Their dynamic on Total Divas shows they're like sisters. Natty will tell Lana off and yet they're still close. They fight, hug it out, and so on. Natty said they're not working as a team anymore, because she is the #BOAT, Best of All Time! She's the most winningest woman, the numbers show it! Kayla gets on Sami for wanting to fact check and Natty tells him to double check. She's won the most, had the most, had the most PPV matches, which many she's won! Sami is amazed. He thinks of Natty as one of the best, yes, but thinking about who's won the most and done the most, that's Natty.
But Natty told Lana that every time they're together, for some reason they lose! Lana gets her head kicked in, or goes through a table! Natty has to move on already. She isn't looking for anything less than the best. Natty is pushing Lana to be her best, even if it has to be apart. Lana can be champion! Sami says you can't eat ice cream every day, y'know? Natty and Tyson Kidd have been training Lana and they see her potential just on her passion and work ethic. But she needs to understand it takes time and focus. Lana can beat Asuka, Natty knows it. Kayla clearly sees Natty is a great friend. Sami thinks it's odd, she's so nice to people who did her wrong. Well, keep friends close and enemies closer.
But Natty is back on SmackDown, where she became champion, maybe we see her become champion again. Natty says it feels great being back. She's ready to be the champion again, and to prove she is the #BOAT. She even likes seeing Sami. Okay, bye!
Sami asks Kayla if it was fun "conspiring" with Natty against him, taking shots. It was not her plan. But their last guest of the night is the man who put this talk show on the map! He's still SmackDown blue, was in the ThunderDome for the first time last night and is still the leader of the Yes Movement, it's DANIEL BRYAN!
Daniel Bryan joins Talking Smack!
Bryan wants to get a Yes chant but Sami says there's no fans to do that with. Technically, Sami is in Bryan's seat. Well technically, the Intercontinental Championship used to be his, too, but look who has it! Sami has the title, has the seat, but it's all okay. Kayla gives Bryan a notepad to keep score of how Sami does. Sami asks, then, to be perfectly honest, Bryan had the hype. We haven't seen him in months, Sami respects Bryan a lot, and Bryan's comeback "was largely uneventful." Sami takes some personal exception. He was gone a few months, while champion, but he got no hype for his return. But oh, the great Bryan gets all the hoopla, and then squanders it. Kayla says he didn't.
But Sami wants Bryan to admit it wasn't his finest hour. Bryan says it wasn't the worst thing, either. Oh, setting the bar high~! But everyone has highs and lows, even Bryan. Well that wasn't what the fans were waiting for in the great return of Daniel Bryan, right? Well Bryan's at a different point in his career now. Bryan wanted to bridge the enthusiasm fans have for him, to the enthusiasm for SmackDown. Bryan was excited to have the Street Profits here! He loves those guys! Yes, he's Daniel Bryan, but look who is here now. Seth Rollins going on about his vision, but the vision is all about Seth Rollins. Bryan talked about this before leaving. He has a better vision for SmackDown that's about SmackDown.
For example, the Intercontinental Championship should be defended on television more often, against those who deserve a chance. Despite arguing with Sami in the past, Bryan respects Sami's ability in the ring. So Sami VS Shorty G Chad Gable. Sami VS Cesaro! Sami VS Big E! Or even Sami VS Otis after that confrontation "last night." Sami says those are great marquee matches, those could main event SmackDown, but those guys need to earn their keep. Kayla asks about Bryan's own interests in the title. After all, it was June when Bryan lost to AJ Styles in the tournament. Sami says that was fraudulent. But the point is, will Bryan get back in the title hunt?
To be fair, Bryan won't pick a fight, but a dream, a bucket list match, having been Intercontinental Championship before but having to give it up because of injury and retirement, is to make the IC title a true workhorse title, defending it week after week, maybe even every week! There are so many people Bryan hasn't faced yet! Bryan VS Metalik would be amazing because Metalik is one of the best luchadors! Or then Big E, Chad Gable, and yes even Sami Zayn, without someone interfering. Yes, that was at WrestleMania, Sami won and retained, that is worth noting. But Sami says Bryan comes here, talking like he's this ultra good guy. Bryan is a good guy, and Bryan has to admit here that he had a plastic water bottle and felt awful about it.
But Sami's point is that Bryan's here, being all altruistic, talking about it's for everyone else and not himself. Forgive Sami here for not buying that. To be fair, Bryan becoming champion again to defend against everyone else isn't so much for everyone else but for Bryan, as a test of himself. Bryan is at a point in his life and career where he wants to test himself against the people he hasn't faced yet, or even those he has, because everyone is getting better. Bryan noticed when he lost to AJ Styles, he has less spring in his step the longer the match went. It's not that he gets tired, he just can't jump as high as he could, but Styles can and Styles is older! As we grow and evolve, wrestling changes. Bryan says this is his martial art, a test of himself. Bryan tests himself every match, and his opponents show what he needs to work on as a human and as a wrestler.
Sami says that's interesting, the talk of evolving. Looking at Bryan now, Bryan might be devolving. This isn't the returning Bryan, this is a GM era Bryan. Is that not the vibe Kayla gets? Kayla says they have to go, the music is playing. What? Back in Bryan's day, things went off the rails and went longer! Sami agrees, they should get at least four more minutes! Make this a full half hour! Now things are going off the rails! FLAT EARTH!!
---
My Thoughts:
A great episode for Talking Smack! Woods rushing in for one last appearance, Sami being Sami and all the guests were great. Rey and Dom were a good start, taking it easy, and they did the usual for this continuing rivalry with Rollins and Murphy. Natty was good, and it was interesting for her character to spin things that way with her and Lana. Maybe because she's back on SmackDown, Natty will try being Face again. The Hell in a Cell SmackDown Women's Championship match honestly could go either way, though I'm hoping we get Sasha becoming the third-ever Women's Grand Slam Champion. If not, the only way Natty gets a match for the title against Bayley is as Face. Bryan's segment was of course the best, he and Sami had good back and forth, and I like that Bryan is still pushing the idea that the Intercontinental Championship will be the television title for SmackDown.
And Bryan is right about the meta, let Talking Smack be more freeform so we can get more classic moments. I like that he shouted "FLAT EARTH" at the end just to tease AJ Styles from their own classic moment. At the same time, Talking Smack needs to be put out on Friday nights. Yes, there's 205 Live but that is the show that's prerecorded, so just pretend it gets bumped back by Talking Smack going over a little. Or record Talking Smack while 205 Live is airing and put it on right after. There's no point in trying to kayfabe Talking Smack as a Saturday morning show if everyone keeps forgetting during their interviews!