Mitchell's Talking Smack Report! (10/23/20)
It's a special Backstage Talking Smack combo platter!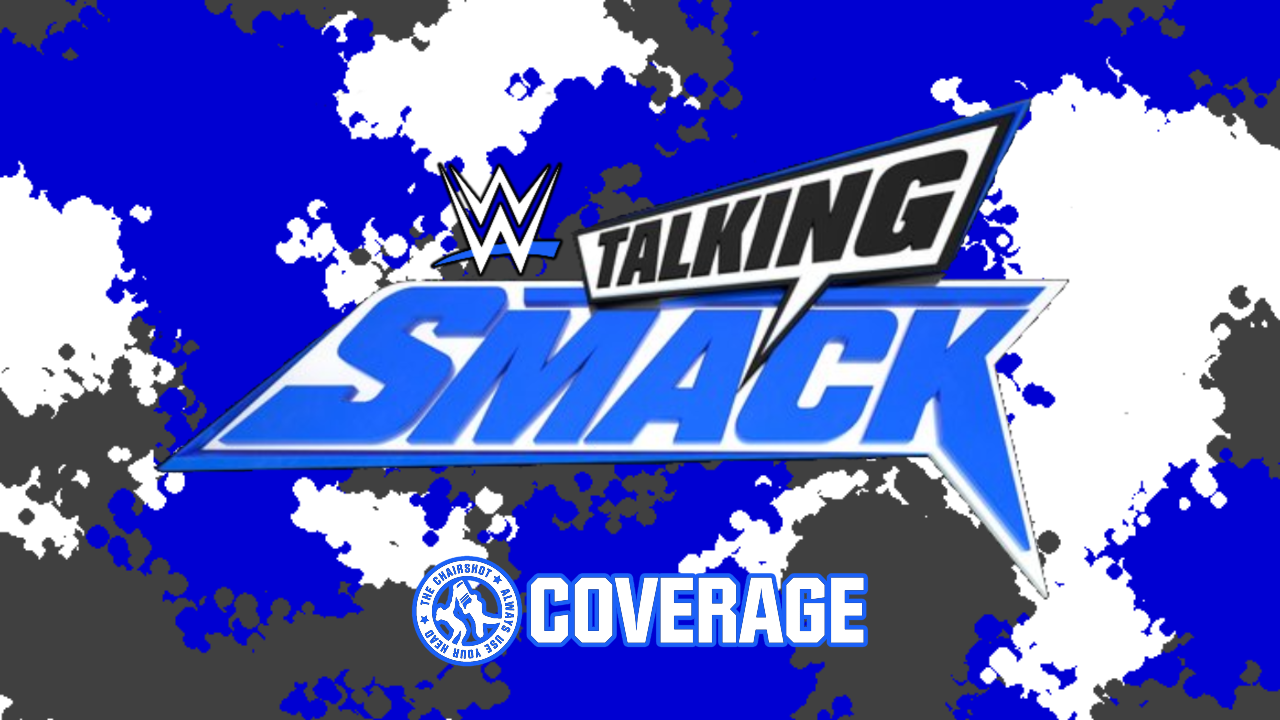 It's a special ONE HOUR Talking Smack on Fox Sports 1!
In a special FS1 edition, it will be ONE HOUR of Talking Smack! And WWE Hall of Famer, Booker T jumps in to talk with the guests ahead of Hell in a Cell!
Kayla Braxton welcomes us back!
Hell in a Cell in the ThunderDome for the first time ever is exciting enough, but tonight really set the stage. To introduce her cohosts tonight, it is the TWO-TIME WWE Hall of Famer, Booker T! And he's ready to get deep and dirty! And then one half of the #TripleCrownProfits, who were victorious tonight on SmackDown, it's Montez Ford! He thanks them for having him on Talking Smack.
Now, we'll have Paul Heyman, who will surely have a lot to say about Roman Reigns' combination Hell in a Cell and I Quit match, as well as Daniel Bryan, Ford's lovely wife Bianca Belair, and The Boss, Sasha Banks. To acknowledge how SmackDown ended, things are more tense than ever for HIAC so let's just take a quick look at what we just saw. It was the Usos pulling some Twin Magic on Roman only for Roman to counter with the ultimatum: if Jey says "I Quit," he and Jimmy must fall in line behind their Tribal Chief; if they cannot, they are NO LONGER part of the Anoa'i family! It does not get any more serious than that, but here with his own insight, it is the Tribal Chief's Special Counsel!
Paul Heyman joins Talking Smack!
Heyman shakes everyone's hands as he sits with the panel. Kayla notes how the show ended just moments ago. Two nights left, and it looks a little like Jey got in Roman's head. Heyman says he didn't, this is where Roman wants Jey. Think about the bloodline and what that means. Think about the savagery that shocked people in the late 70's, early 80's of pro-wrestling, from Afa and Sika. Think about how any time the Wild Samoans were on TV, they defined "Parental Discretion Advised." They're walking into Hell in a Cell, with both WWE Universal Championship, moniker of Tribal Chief, and mantle of biggest star in the WWE on the line!
"Do you think Roman Reigns just wants to walk through his cousin? A champion is only as great as the challengers that he puts down!" Jey finally showed that Samoan ruthlessness that means he is willing to do whatever it takes, "even jump his own cousin from behind," to be the head of the table, family and WWE. "That is the type of challenger that Roman Reigns wants to put down."
Booker says that he's seen Heyman do work for so many years, and Heyman's hypocrisy knows no bounds. There have been 13 #HeymanGuys. And to just name a few, Rick Rude, Bam Bam Bigelow, RVD, Rey Mysterio even, then CM Punk and Brock Lesnar, and now… Roman Reigns. What is it that makes "the perfect Heyman guy?" Good question. Heyman says a "subservience to the bigger vision, from both the talent and a willingness to do everything and anything to serve that talent from me." Heyman isn't here reading a script. He's never been good at that. If he was doing that, he would've sucked at it. Everything Heyman has said about the list of men Booker just gave, whether it was CM Punk, RVD, Rey Mysterio, Brock Lesnar or Roman Reigns…  And for that matter, Roman isn't even really a Paul Heyman Guy. Heyman is more a Roman Reigns Guy.
But still, looking at it, these men were subservient to a bigger vision. If you're in politics, and in it for the right reasons, you are in it for serving the people. The talent serves the vision, and on behalf of the talent, Heyman will be a fixer, and advocate, a special counsel, and to do anything, even selling his dignity, for the vision of the talent for themselves. If they don't think of themselves not even worthy of a wrestling Mount Rushmore, but of the entire mountain so that WWE becomes their company. Heyman thinks of Montez Ford as a man who could do that!
"When WWE bought out WCW, who was the biggest star that turned down the Turner money, and came to WWE for the mere opportunity of being a WWE superstar, let alone a top WWE superstar, mixing it up with Stone Cold and The Rock?" Heyman is obviously looking at that man, in Booker T. And why? Because Booker believed in himself. THAT is what it takes. Booker says Heyman isn't just a manager, but a true Rosenhouse of this business! Heyman thanks him for that. Heyman points out he's Jewish, and therefore great with numbers.
Kayla knows there's clearly a lot of pride in that I Quit match on Sunday. Maybe even ego. Ford, someone will say "I Quit." If he were in that situation, would it be difficult to even show yourself after saying those words? Ford agrees. But this is a different situation entirely, unlike anything before, because it is for the Universal Championship. And the championship is the pinnacle, so why would you quit in the vis-a-vis top match? This match, the repercussions, are even more detrimental. Like Heyman said, it's about sacrifice. What do you ultimately want to do as champion? Booker wants Heyman to speak on this, too. Booker sees it differently. He's been the little brother before. He was always taking seconds, wanting to be like another. All those photos, looking back at the family, Roman is always in the middle, standing tall. Jey is at that point where he has something to prove to no one but himself.
Heyman agrees, and as Booker can attest, the ones that got beat up as kids are the ones that end up fiercer as adults. Jey doesn't want to be second fiddle. But this is the entire family. The Wild Samoans, Afa and Sika, were on top together and fed everyone in the family. When Yokozuna was on top, he fed everyone. Generations before and generations to come. When The Rock was on top in the ring, he fed the entire family. Roman is doing that now. Roman takes care of the elders, the children, and the children's children. That includes aunts, uncles and cousins. Jey thinks he's man enough to be chief. He has an opportunity this Sunday to prove it. Because he got beat up so many times, he is coming with everything he has, as he proved tonight. Booker says it takes a village.
Kayla brings up the consequences have been set high. If Jey loses, he must do Roman's bidding. If Roman loses, his consequences are "a fall from grace, the likes of which we have rarely seen in the WWE." Roman was gone since before WrestleMania, not even considered part of the show. But he returned at SummerSlam and since then has been THE most dominant performer in the WWE, that's Raw and NXT included. If Roman loses now, to a member of his own family, the shame, embarrassment and humiliation of it all…? Saying he quits, but then giving all of that up? Heyman won't say Roman is never coming back because that's passé, it's all hyperbole. But how would Roman ever show his face? And what would the look be on that face? Roman would be giving himself up!
Kayla wants the consequences listed again for viewers. Heyman gets a quick note from Roman. He doesn't like these questions. Oh, sorry… But what does she want to know? Name what's at stake for Roman. If Roman says "I Quit," he will no longer be Universal Champion, "which is his identity in WWE." If Roman says, "I Quit," he will no longer be head of the family, "which is his identity in the Anoa'i and Fatu family, which has spanned how many generations?" If Roman Reigns says, "I Quit," he will no longer be in the position of control of the family, he will no longer be the leader of the family as anointed by Afa and Sika and the generations to come as THE MAN of the family! Roman gives up his position as the number one earner, the single biggest star of the WWE.
"What are the consequences for Roman Reigns? I dare say they are dire. I dare say they are career threatening." Roman's dignity, purpose, soul and identity in both WWE and in his family, are all on the line! THOSE are what Roman agreed to in this first-ever I Quit inside the Cell! NOW you know why Roman doesn't like this line of questioning. It isn't just professional but personal! And Heyman apologizes for getting emotional because he cares about Roman. Kayla thanks Heyman for his time as Talking Smack goes to break.
Talking Smack presents: Wrestling with Your Feelings with Rachel Bonnetta.
The Street Profits have a turn. But once they knock- She can hear you guys! Oh… Montez Ford and Angelo Dawkins go inside and take a seat. There are no alcoholic beverages allowed, she'll have to take it away. Ford makes a move and Rachel says he needs to not lash out like that. She allows his drink one time, if he leaves it with her administrator, Susanne. Susanne's a nice lady, she makes great banana bread.
Rachel wants to discuss Ford calling himself, "King Tez." Why is he so full of himself? Is this therapy or a roast? The WWE Roast of Montez Ford. How does Dawkins deal with this? Dawkins won't let her burn Montez. Rachel wants them to have a session a week for the next year. The next year!? Yes, and they will work on "this" every week. Ford blames Dawkins' emotions but Dawkins blames Ford's energy. Do not bring that cup into her office again. Unless he's willing to share. Rachel wants a sip? Well they've got all year now. Laters! Susanne! Where the banana bread at, fam?
The panel briefly discusses the therapy session.
Ford says that was one-sided. Booker isn't a fan of Rachel. Kayla loves Rachel's style. But Ford had a great night, winning that big 8 Man Tag, and let's welcome one of Ford's teammates in that…
Daniel Bryan joins Talking Smack!
The Yes Movement is back again and Kayla congratulates his return to the ring. Bryan says the big story was that it was Ford who got the pin. This is why Bryan is excited to be on SmackDown. Seeing all the young talent was great. Bryan was there, people were interrupting, but the Profits interrupting was great, and Bryan just went, "Whoa! I didn't expect this, this is fun!" Yes, a lot of fun. Bryan needs a Solo cup. Ford will get a custom one. Oh wait, Bryan isn't a fan of cups. No, these are reusable! But the last time Bryan was in the ring was June, the Intercontinental Championship tournament that AJ Styles won. But Bryan still has passion for the title and how it should be handled. He again said it should be defended way more often and again Sami didn't agree with him. Booker T being a former Intercontinental Champion, who does he agree with?
Booker says he agrees with Bryan. That title always made you feel like you made it because of the lineage who held it. It makes you want to work a little bit harder. Bryan says that he sees it like this. Bryan really liked Harlem Heat. But what pushed Booker to the next level was the TV title. Booker was on TV, defending the belt almost every week. Fans got to see, though they'd seen it before, how athletic and great he was. But you got to see Booker week in and week out, not just athletic, but how much heart he had. Doing that every week brings out the best in the champion and in the challengers. Winning this means you're the champion, and it makes people work harder. Bryan wants to wrestle against all these different stars at their best.
Booker agrees. Time to talk smack on Talking Smack. Bryan was clearly buttering Booker up, but Booker asks Bryan this: He's back, and while it felt like a minute ago, he was a kid in NXT. One of the youngest guys in the locker room, but now one of the oldest. To be fair, not that old, just acts the oldest. #DadLife. But he's working with so many young guys, and Booker heard how Bryan felt he'd lost a step. Losing a step in this business, you know it better than anyone. Booker knows it from dancing as a teen. When he was 16, he was incredible. But in his 20's, the 16 year olds then were taking him out. Bryan is getting to that point, so what does it feel like? In a way, it's awesome. Obviously Bryan was watching Booker rise up, but what no one has done is realizing the young stars need a spotlight. They've had so much time on TV, fans get excited for them, so that's why they're still on TV.
but Bryan realized that what makes Bryan good is his brain, not his body. He sees people like the Profits, or Buddy Murphy even, these hyper athletes. Bryan's viewpoint on life now, he wants to leaves everything better than he found it. That is for both the WWE and this planet. Native Americans had a concept of being a good ancestor, so that the next generation has it better than you did. Bryan isn't humble bragging, but he just loves competing. Even when they were in the Performance Center with no live audience at all, there still wasn't a single person who didn't love going out and competing in the ring like he did. But then he also realized, what will get young fans and others like when Bryan was a kid, who is now a 40 year old dork of a dad, like we saw earlier, it's just one of those things. Bryan sees the young stars can bring the young fans in.
For example, the NBA. You see these younger guys getting better and better and cooler with each generation. Bryan loves being a dad, and though he hasn't said anything, this could be his last run as a full time superstar. You heard it here first! Booker calls it a scoop! Bryan says it isn't that much of a scoop. You see it in how he does things now. And it's not about proving HE is the best, just seeing what he and the younger talent can do. Kayla thanks Bryan for being here and hopes to see much more of him.
WWE and football have a close relationship, and clearly an influence on each other.
Football greats like Lawrence Taylor and Rob Gronkowski made their impacts in pro-wrestling, but many more football players love pro-wrestling. Big Cat, Ernie Ladd's combined career, The Fridge VS Andre the Giant during WrestleMania II's battle royal, and once again, LT being in WrestleMania 11's main event with his fellow football players. Gronk got in on WM 33 to tackle Jinder Mahal and help his boy Mojo Rawley, while a select few make the full transition from gridiron to squared circle. Just look at Baron Corbin, Big E, Roman Reigns, Brock Lesnar and Goldberg. Spears and pounces, anyone?
The work ethic learned through college football was big for Big E. Roman says there's a swagger and charisma found in both the gridiron and the wrestling ring. Jey says there is the energy from the fans as things get physical that prove the two mesh. That noise is definitely a powerful element that connects fans and athletes in both sports and sports entertainment. Big E gets chills thinking back to those days. Corbin would not trade that experience for anything.
Bianca Belair joins Talking Smack!
The EST made the biggEST impact in her debut throwing Zelina Vega around and getting the win. The panel gives her congratulations, and King Tez is so proud of his lady. Bianca knows what those "OH! OH!" all mean. But how is she feeling after her debut? It was amazing. Bianca is blazing her own trail among her family of trailblazers, her parents wanted her to be the best. Do not shrink yourself over anyone else's insecurities, know your worth and go out there and show it. Bianca knows she is the best, she won't be shy. She showed up, showed out and showed SmackDown we're going to have a lot of fun.
And of course, we have KING Bookah. Any advice on how to stand out? Booker does his best to help out the younger generations. But whenever he says stuff, people take it out of context and criticize him. He tried saying something about Naomi and they blew it out of proportion. Same for something he said about Sasha Banks. It's hard to say what she should and shouldn't do. But he will say this: she's on the right track, has all the tools to be the next top star! She can take over the women's division. He knows she's very smart, went to three different colleges, and did track & field. Booker would love to network with Bianca, but not on TV. He needs her to know exactly what she'll be dealing with when it comes to reaching the next level, staying at that level, and then dominating. Give him a call! Tez will help with that, too.
Bianca appreciates the advice. She knows as an athlete that you need to be comfortable being uncomfortable. Booker is a legend, so she's open to hearing from him. He says it's about switching gears, changing levels, making everyone watching feel it. After all, he has a little promotion down in Texas called Reality of Wrestling. A small company but a hardworking one.
And before Bianca goes, she has personal goals her eon the blue brand. First, she wants to let everyone know she is the strongEST, the fastEST, the roughEST, the toughtEST, the greatEST! She showcases that to show who she is, and is very excited to see who comes out on top between Bayley and Sasha, because she's coming for the title. Booker T says cream always rises to the top. Bianca is ready, she blows some quick kisses to hubby Ford, and off she goes!
Booker T teases David Ortiz.
He tweeted out real quick, "Like your suit game," with a picture of Ortiz next to a plaid couch. But Big Papi responds! "Booker T, let me tell you something! I really liked you before, but now that you are doing this to me, I got this for you, buddy." Is that a vacuum? He dares the "big water buffalo" to settle this with him! They're both on Fox Sports! Booker can see Ortiz isn't ready. Ortiz toned it down from last time, and Booker says this is coming. "Let me catch yo' ass at Starbucks, with your little pumpkin spice latte!" Will we really see Big Papi VS King Bookah?
Sasha Banks joins Talking Smack!
It's BOSS TIME! She made Bayley sign by any means necessary! Booker gives her props. He was going to get into it with her after their social media beef, but he's letting that go. No, if he wants to, let's go! No, no, no, it's fine. It's fine that she's done more than him? That she is the GREATEST? Well in reference to her saying she and Bayley were the greatest tag team of all time, but then Bayley goes and stabs her in the back… Booker and Stevie Ray never had something like that happen.
But moving on, Booker wants to know where does Sasha see herself in the WWE Women's Division of ALL TIME? Of all time? Yes, of all time! Sasha Banks, TIMES FIVE for the top five! Best superstar! She passed his test. What test? That's just fact. Kayla asks Sasha about going up against a former friend. Bayley is the longest reigning SmackDown Women's Champion ever now, a Grand Slam Champion, and perhaps that makes her the greatest. Counting up all the days of all her reigns ever, she's almost at ONE THOUSAND days! Only one other woman is above her in that. But what we're forgetting is that Sasha has been inside the cell two different times. Do the accolades matter if Bayley's never been in the cell?
"A former NXT Women's Champion. A five-time, five-time, Raw Women's Champion. Two-time and first-ever WWE Women's Tag Team Champion. And the list can go on and on and look at Wikipedia yourself, Kayla." Sasha won THE GREATEST match of 2015. There is a reason Sasha is Sasha Banks and her name is bigger than the title. There is! It's because Sasha is the star, is the marquee, is the conversation, and the #LegitBoss of the WWE. Sasha has no fear. This will be her THIRD HIAC, and she is the Boss of the Cell. And Sunday, she will be SmackDown Women's Champion to add to the list! Kayla thanks Sasha for coming, Booker is pumped for the match, but Talking Smack will still be back, after the break.
Talking Smack gives final predictions of the HIAC card!
WWE Universal Championship Hell in a Cell I Quit match, GO! Ford goes with Jey, Booker goes with Roman. Money in the Bank ownership, Otis VS The Miz, GO! Booker goes with Miz, Ford goes with Otis. Elias VS Jeff Hardy grudge match, GO! Ford says Hardy, Booker says Elias. WWE World Championship Hell in a Cell, Drew McIntyre VS Randy Orton, GO! Ford says Drrrrrew, Booker says Orton! And with that, Talking Smack is out! See you Sunday for HIAC and next week for more Talking Smack!
---
My Thoughts:
This was a really fun Talking Smack with a little bit of WWE Backstage mixed in. It's a little weird for them to throw in the Rachel Bonnetta therapy skit but that was to fill time. I like that they updated and added to the WWE x football vignette, getting some comments from the former football players this time around. Heyman and Bryan had great segments to really dig into their characters. Bryan burying the lead saying this is for the most part his last wrestling run in WWE, so I really do hope that means he gets to win that Intercontinental Championship off Sami and make it the weekly title the same way John Cena did for the US Championship for a time.
Bianca and Sasha also had good promos, and I enjoyed the natural and obvious chemistry of Ford and Bianca. But while Sasha is determined to be champion and Bianca is determined to be challenger, I have a weird feeling that the winningEST woman in WWE, Natalya, will want to face Bianca first. That actually wouldn't be so bad for Bianca, and it'll establish her even better on SmackDown than video packages and squash matches.