Mitchell's Wednesday Night War Phase 4 Review!
The FIRST EVER Mitchell Medal goes to…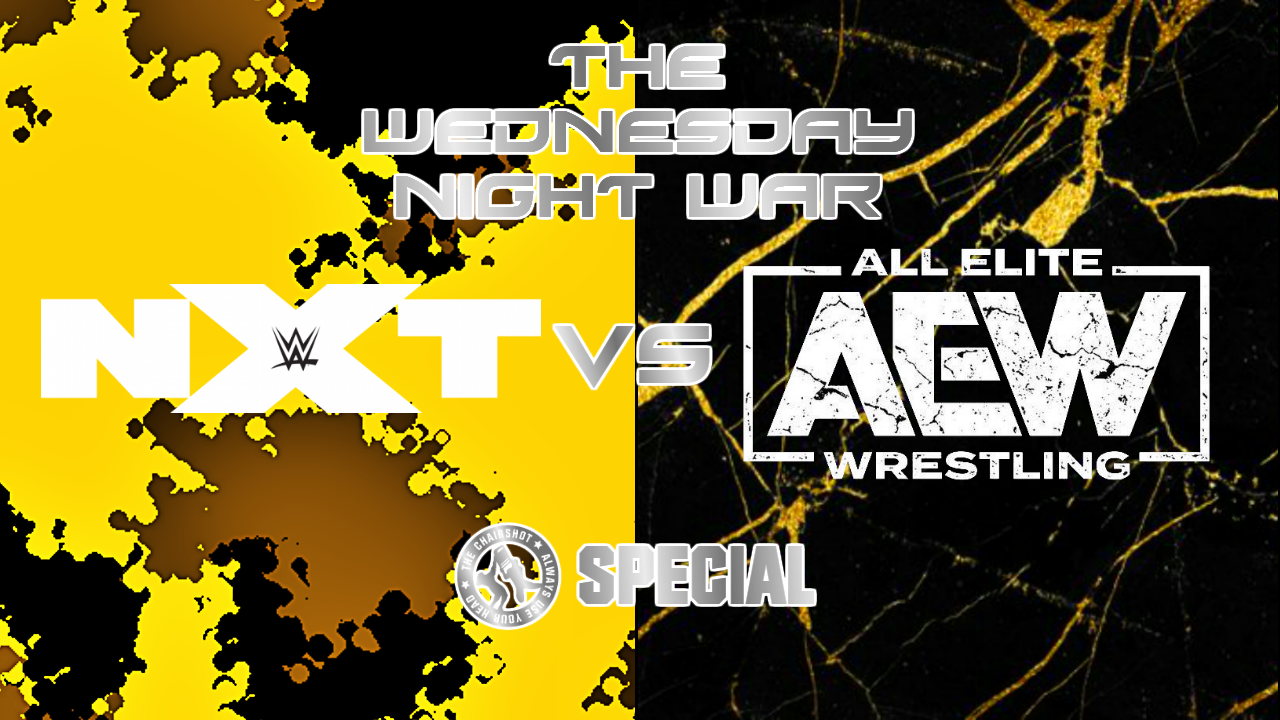 The first year of the Wednesday Night War ends!
Phase 4 comes to an end, with the Dynamite Anniversary topping it off! But did AEW win the Wednesday Night War's first year?
First, a look back at the previous phases!
In Phase 1 of this "war," AEW did incredibly well for the new promotion on the block, but NXT earned its spot as WWE's third brand.
PHASE 1 SCORE GRAPH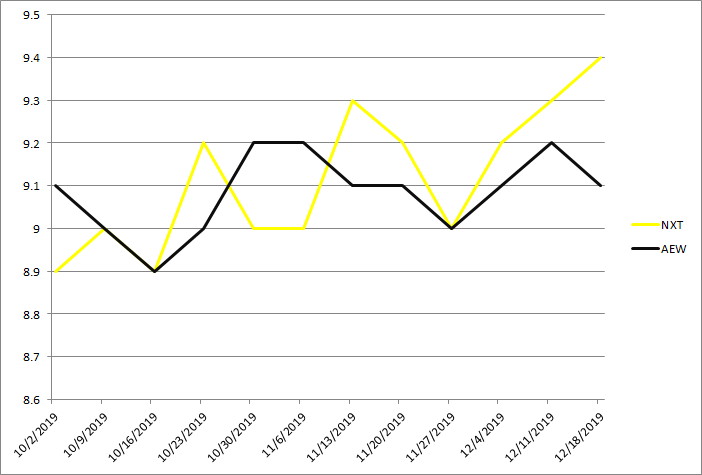 PHASE 1 FINAL SCORES: NXT – 9.11; AEW – 9.08
The race was neck and neck but NXT pulled out the win because they were building into Survivor Series and establishing itself on par with Raw and SmackDown. The sad irony there is that WWE has barely treated NXT as the third brand since. It seems anything that can be earned can also be taken away.
In Phase 2, the holiday episodes were exempt as AEW didn't have any because they took the holidays off. NXT was recaps and awards anyway, so it wasn't of much consequence. Then things were very different as AEW started hitting harder for the sake of AEW Revolution.
PHASE 2 SCORE GRAPH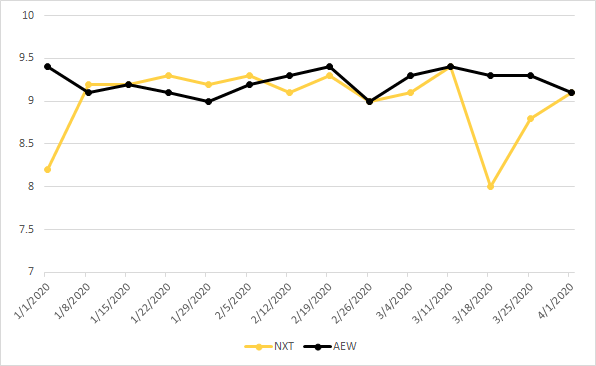 PHASE 2 FINAL SCORES: NXT – 9.01; AEW – 9.22
That March 18th episode of NXT was WWE dealing with COVID in their own way, using the entire night to hype up #OneFinalBeat and everything else they had to eventually roll out as weekly episodes, not as TakeOver: Tamba Bay. But in return, NXT matched AEW by going extra hard, and it forced Phase 3 into "overtime" as far as my terms went, because how could I divide the Great American Bash and the Fyter Fest events?
PHASE 3 SCORE GRAPH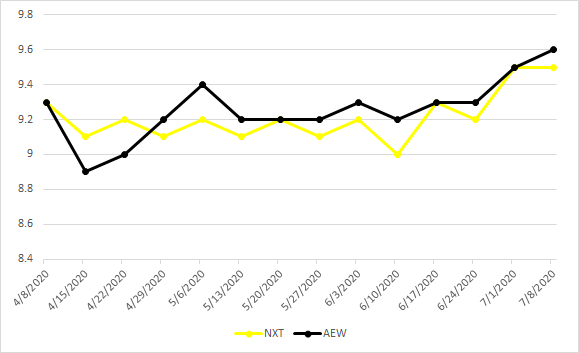 PHASE 3 FINAL SCORES: NXT – 9.21; AEW – 9.26
AEW is already leading 2-1 here, so will they finish it off? Or does NXT surge back to tie on the year?
PHASE 4 SCORE GRAPH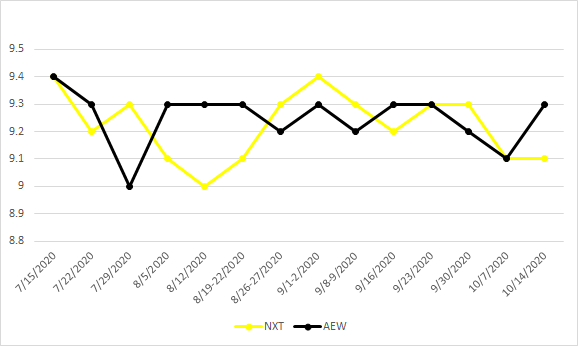 PHASE 4 FINAL SCORES: NXT – 9.22; AEW – 9.25
TOTAL FIRST YEAR SCORES: NXT – 9.13; AEW – 9.21
Phase 4 and First Year Analysis
Whoa! Well, the biggest surprise to me is that NXT and AEW stayed on the same course, and basically ended the same as they did last phase. Of course, odd schedules had to be kept because of normal sports finally returning, and both the NBA and the NHL playoffs making AEW and NXT (respectively) accommodate them. But whether on phases or in total, AEW wins! AEW went big in the Dynamite Anniversary, and even the weeks leading in, but NXT went up and down as TakeOvers came and went. It seems clear that NXT was giving us great stuff without overdoing it, because of those TakeOver events. AEW, on the other side, only has quarterly PPV's, but they do like to do great special episodes in between.
Phase 4 and First Year Conclusions
As we know, WWE doesn't really worry about competition, they don't make references on camera, because they're the WWE. AEW pokes fun at WWE because they want to, even if at times it was unnecessary. But at the same time, AEW was just trying to give fans the very best they could week in and week out, because they needed to prove to everyone, especially the doubters, that they could. There was a lot of excitement, but that's not to say there aren't flaws here and there.
As an example, Cody's booking of himself is odd, like it's out of order. His "If I don't win the AEW World Championship now, I'll never challenge for it ever!" was definitely something he actually should've/could've saved for this year, Dynamite's second year, after failing to qualify or be a top five contender. Instead, he shifted to inevitably be the midcard champion, and while he could've let Brodie Lee keep it, he changed that and looks to be the one facing Darby Allin at Full Gear in a few weeks. I personally hope not, as he's also arranged a rematch with Orange Cassidy for two weeks from now, which is countering NXT's Halloween Havoc. Cody is good, maybe even great, but he should understand that if he doesn't want to be the people he's taking jabs at (Vince, Triple H), then he needs to take a step back and let the others shine.
Congratulations to AEW!
You ranked consistently higher than NXT in my ranking system that is totally based on my opinions and feelings and nothing else! Therefore, I present a prize that's of equal value, the Mitchell Medal for the Wednesday Night War!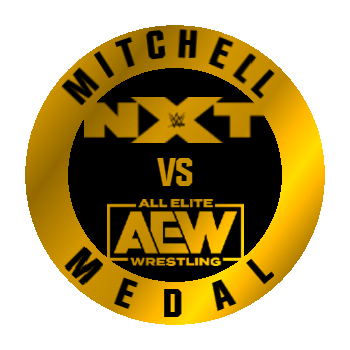 Second Year Preview
I'm already trying to figure out the length of the phases. Because the "anniversary" for Dynamite was actually a couple weeks off, Year Two's first quarter will technically be shorter since I expect another holiday break for everyone around Christmas and New Year's. But between it being year two, and I personally adjusting how I consider the scores, I'm not sure we'll see the same numbers as "the war" continues on.