News From Cook's Corner 10.26.20: Randy Orton
Some of the bigger shows of the week, gave Cook some ammo to discuss! Check out his news corner!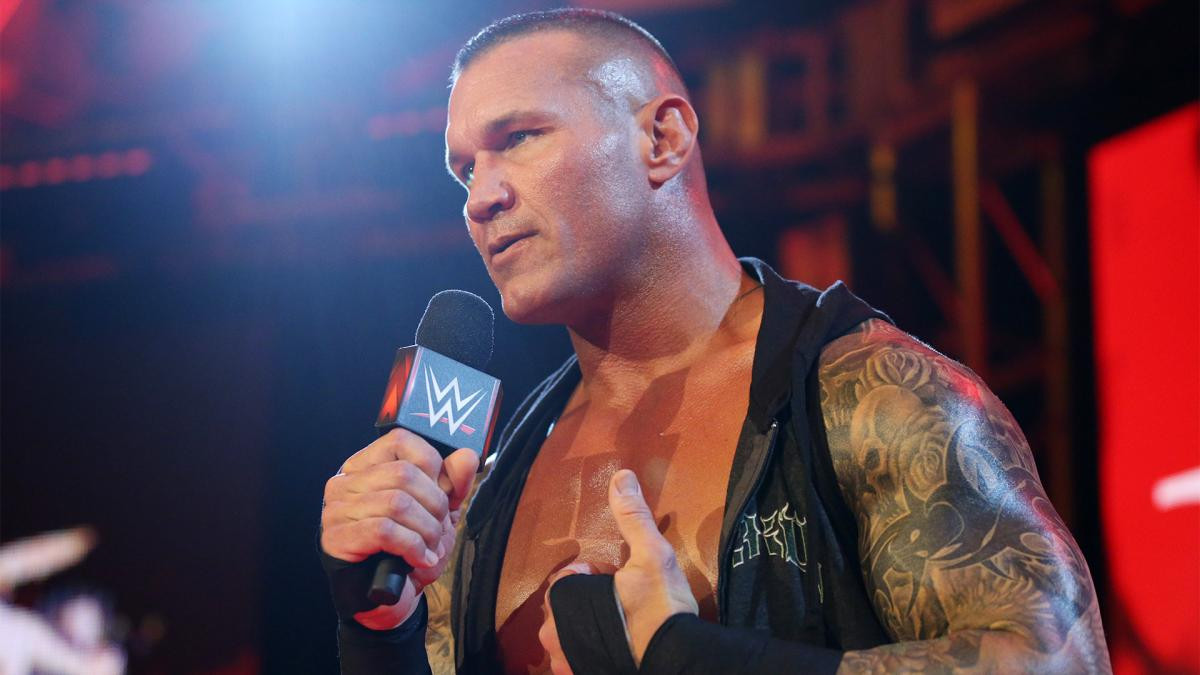 Hi, hello & welcome to News From Cook's Corner! I thought I was getting over the whole "cold sore in an eye lid" thing, so I put some contact lenses in on Saturday. Sunday morning was when I realized I wasn't over that thing. 2020 is a year when we realize we aren't over the things we thought we were over, unless you drink enough alcohol or smoke enough weed to convince yourself you're over these things.
Somehow, I haven't reached that point yet. I tried! Lord, God, how I tried! I wish I was so dumb to think that 2020 hasn't completely derailed my existence on this planet. If I get enough alcohol I'll get there eventually.
There was Hell in a Cell
I did not watch it. I got home after it started, and there was baseball & football going on, so it was a low priority for me. However, some things did happen, and I can comment on them even if I didn't see them.
Roman Reigns established himself as the Tribal Chief
We all knew this would happen. One of the Usos beating Roman Reigns in a Universal Championship Match seemed hard to belive. You also have to realize that Afa, Sika & most of the Samoans were heels throughout their career. The elders accepting Roman as the chief makes him an evil man. Nothing about this was surprising, other than Afa & Sika actually appearing on camera. As much as people want to tell me EVERYTHING WOULD BE BETTER WITH A LIVE CROWD, nobody in a live crowd would have recognized Afa or Sika, so this played out the same way it would have pre-pandemic.
Miz got that MITB briefcase
We also got a Tucker heel turn on Otis, which is definitely something. It became pretty obvious that Otis had no intention of cashing in that MITB briefcase on any champion that was the least bit imposing. You didn't see him stepping up to Braun Strowman or The Fiend, and the odds of him beating the Tribal Chief Roman Reigns weren't great. Might as well give that to the Miz on Raw, as he's a bit more ambitious and he's beat the current WWE Champion on a cash-in attempt once before.
I like Otis! But they lost interest in him the second he got that briefcase.
Sasha Banks beat Bayley
I wasn't expecting that one, even if the betting public was. This feud isn't over though. It won't be over until they run through every gimmick match. Do I have a problem with that? Not yet. Probably at some point. Every pairing except Flair/Steamboat runs their course at some point.
Fiend vs. T-Bar got replaced by Lashley vs. Slapjack
Guess they wanted to save T-Bar's sacrifice for later. Man, I'm trying to make chicken salad out of the chicken shit they served Mustafa Ali, and he'll do his best too, but…man.
Randy Orton won that WWE Championship
We all knew it was coming. OK, maybe not everybody since Orton was the betting underdog heading into this match. But if you give Randy Orton enough shots at a title, he'll win it eventually. I don't make the rules. These things just happen. He might lose it pretty soon, or carry it to WrestleMania for that match with Edge people keep telling me about. We shall see.
I'm sure it was one of the best WWE Network events in history.
Kylie was not Bound For Glory this time around
The biggest news surrounding Impact Wrestling's Bound For Glory event this past Saturday concerns who ended up not making the event. One of the most anticipated matches of the evening ended up not happening, as Deonna Purrazzo ended up losing the Knockouts Championship to Su Yung instead of wrestling her previously scheduled opponent, Kylie Rae. This marked the return of Su's Undead Bride character re-emerging after Deonna injured Su's alter-ego, happy go lucky cheerleader Susie. It was a good match & told a good story, but it wasn't what people were talking about after. As for the question of where Kylie was: we're not sure, but she wasn't at the show. She tweeted & re-tweeted some Bound For Glory hype last Thursday, which tells me that she was planning on being there as of last Thursday.
Bryan Alvarez reported that Kylie missed the show due to an injury that isn't considered serious. This didn't exactly calm speculation. Dave Meltzer said she was at the hotel in Nashville on Friday, but was nowhere to be seen on Saturday. Kylie's last wrestling appearance was at The Collective in Indianapolis, where she wrestled on Saturday night before being pulled from a show on Sunday due to "unforeseen circumstances". I've been told she didn't look to be injured in the match, but did make a hasty retreat to the locker room right after it ended.
Impact is getting some criticism for continuing to advertise the match up until Deonna hit the ring, and it's fair criticism. To be fair, it was a lose-lose situation for them, as PWInsider reports they didn't find out she wouldn't be there until very late in the process. When they knew she wasn't going to be there, they could have announced it on social media & their AXS TV pre-show. Deonna ended up issuing an open challenge, they could have announced that she would do that and try to hype up the idea of a surprise challenger. Fans would have been disappointed and it might have hurt FITE TV sales for the evening, but that would have beat the strategy they went with, which just ended up making fans angry at the promotion. I mean, it's not like fans are going to be mad at Kylie Rae, nor should they be. We all have issues we deal with, some are easier to deal with than others. The hope is that this trend doesn't end up derailing Kylie's career, as she's shown a great deal of potential and has a solid fan following.
PWInsider also reports that Impact management isn't mad at Kylie and will welcome her back whenever she's able to reappear. That's all they can do…hope that Kylie is back on their show & in a place where she can contribute soon enough. Kylie's absence can always be played into the TV storyline too, as her best friend re-assuming her demented alter ego could easily have resulted in Su Yung taking Kylie out before the show, or banishing her to the Undead Realm, or whatever. Impact went out of their way to take all of the heat on this issue, and I commend them for that. I don't know how many other wrestling feds would have been willing to. It could have been done better for us, but if it helps Kylie I can't get too mad about it.
One match changed, and another match saw a finish changed. Heath got injured prior to the ending of the Call Your Shot Gauntlet, which was kind of awkward since he was supposed to win. Fortunately, Rhino was still alive in the match, and due to the pre-match stipulation of Heath getting a job if he or Rhino won, it was easy to make that change.
I reviewed the show for 411, and I think I was a bit higher on it than most. Maybe others had higher expectations due to Slammiversary, and I wouldn't say BFG got to that level. The Kylie Rae stuff definitely had a negative effect, along with Alex Shelley being taken out of the tag match. Not sure what the deal with Shelley was, and Impact could have done better explaining Kylie's absence.
I also noticed some backlash to Rich Swann winning, as many don't really see him as world champion material even if Impact puts him over as the best person ever. I feel like these people need to realize Impact Wrestling's role in the grand scheme of things. I was fine with Eric Young doing nothing in WWE forever and getting bumped right up to the main event in Impact Wrestling. Rich Swann feels like an Impact level World Champion to me. Maybe he goes further than that eventually, maybe he doesn't. His win at BFG was the happy ending they like to have on that show. If you're a big time Eric Young fan, I think he gets the belt back pretty soonish. So don't worry about all that.
I feel like some folks had some way higher expectations for the show than I did, and higher expectations for the talent involved. See, I operate a different way than a lot of people. A lot of people give more slack to WWE, and hold other companies to a higher standard. I hold WWE to a higher standard, since they have more money & more talent than anybody else. They should have the best shows in this genre by a pretty far margin based off their talent and production. Even their third brand should be able to shut down anybody else. That hasn't happened. I give the smaller shows more credit, while many folks give the bigger shows more credit. Maybe that's why I haven't gotten more of a following.
I just wish that Ken Shamrock's HOF induction was getting more talk. Dude got Bret Hart, Mick Foley & The Rock to put him over on Impact Wrestling programming. Kenny had good taste in friends, as none of those guys would worry about WWE getting mad at them doing anything.
The Injury Bug Bites AEW
All Elite Wrestling talent had a pretty tough couple of days at the office. Rey Fenix's tremendous match with Penta El Zero M was marred by Fenix landing on his head on a headscissors and injuring his neck. Though Fenix wanted to keep going on in the tournament, AEW's doctor pulled Fenix out. Penta will be taking Fenix's spot, where he'll be expected to lose to Kenny Omega.
Alex Reynolds was knocked out during a four-way tag team match on Dynamite, and seemingly nobody involved in the match noticed. You've likely seen the video online by now, it's a pretty baffling piece of business. AEW was already getting criticism for how they handled whatever happened to Matt Hardy at All Out, and this situation just added more fuel to that fire. Reynolds was reportedly fine afterwards, and issued a statement where he thanked the fans for their concern and emphasized his trust in AEW's doctor & referee.
There was also reportedly an injury to Abadon, which is somewhat surprising to me since I wasn't sure she was actually a person. That's how good she is at playing…whatever she's supposed to be. Scary is all I can say about it. I've read reports saying that either her throat or knee got injured, which seems like a pretty big margin of error to me as my throat is pretty far away from my knee pretty much all of the time.
Wrestling news has a bigger margin of error than election polls. That sounds like a good time for me to tap out, since I am trying not to be too political in these columns. Good night now!