NEWS
THE DEVIL COMES TO OSAKA: KATSUHIKO NAKAJIMA WINS N-1 VICTORY, WILL CHALLENGE GO SHIOZAKI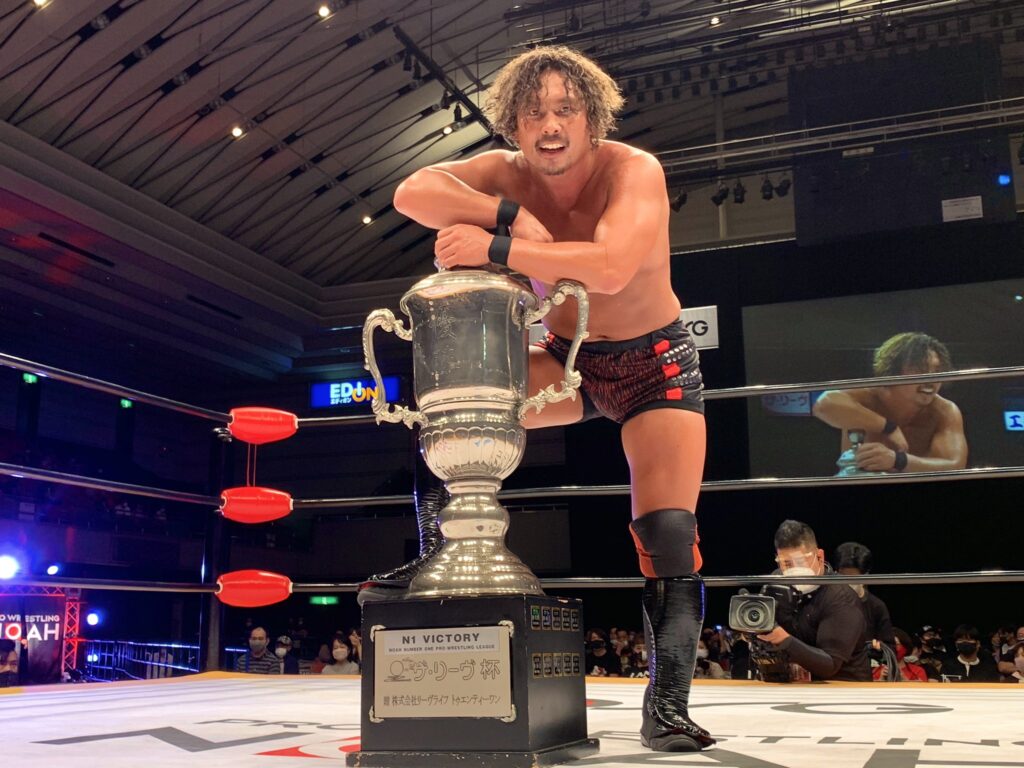 Usually cocky during title matches and with an accompanying sinister grin, Katsuhiko Nakajima was all business on the 11th October in Osaka when he came out to face Katsuhiko Nakajima for the N-1 VICTORY championship. Rather than wind Kiyomiya up by antics such as laying down in the ring and refusing to get up, walking round and wasting time outside by pretending to get in the ring, Nakajima used other tactics to make Kiyomiya see red, such as repeatedly throwing him out of the ring, attacking him and throwing him out again.  Go Shiozaki once said that for him there is no pre-match, as every match he fights he fights as if it were a title match, the same of which can be said for this match, although he was not in this. A belt might not have been on the line that night, but prestige at being the strongest in Noah and the chance for a title challenge was on the line, and Nakajima and Kiyomiya laid on a stiff match that even made the commentators scream, including veteran of stiff kicks Kenta Kobashi. It was Katsuhiko Nakajima who won the match, and reluctantly Go Shiozaki came to the ring to face his former tag partner. For Shiozaki, Nakajima's betrayal and is an wound which is still open, and Nakajima naturally stuck his fingers into it and gouged.
Twisting his body round as he radiated his energy of darkly erotic heat, he told Shiozaki that he was the strongest and he would take his challenge. He also called Shiozaki (what can be described as due to the fact that the phrase does not translate well) "a champion who goes round in circles" and asked him why he was wearing the belt to come to the ring. Shiozaki said nothing but held the belt up, and then left. Nakajima called after him "Instead of saying I am Noah, isn't there one answer in Osaka?"
Not content with taunting Shiozaki, Nakajima decided to grin like The Cheshire Cat appearing to Alice, at Kenta Kobashi who was at ringside.
Needless to say, Kobashi was not impressed or intimidated.
We can only speculate on what it would have been like had Mitsuharu Misawa been sitting there too.
The title challenge has been set for the 22nd November at the Yokohama Budokan.
As for Kaito Kiyomiya, he has been lying low for a few days and not using social media much. He hasn't posted any pictures of himself or any videos of his training in the dojo. I think this is partly because he came out of the match with a massive red scrape on his cheek which has no doubt bruised and swollen, and no doubt he has had a probable concussion (he will miss no time though). Kiyomiya hasn't been completely silent however, as he posted briefly about losing the N-1 and how there was another situation that he had to attend to.
POSITION IN THE PANTHEON: MOMO NO SEISHUN WIN THE TAG BELTS, NEXT THE JUNIOR HEAVYWEIGHT
With RATELS now scattered to the wind, the war between the two sole survivors Yoshinari Ogawa and Daisuke Harada culminated in Osaka at the finals night of the N-1 VICTORY, with Momo No Seishun Tag taking the GHC Junior Heavyweight tag belts from STINGER. However, it wasn't Harada who pinned Ogawa, he pinned HAYATA for the win.
Ogawa was not angry with HAYATA, and he did not throw him out of the ring or beat up on him or anything, and they left together. It will be interesting to see though if Noah start to hint at potential discord between them if HAYATA starts costing them further matches.
Backstage, Ogawa said that the match meant nothing, all it was was just a continuation of the last title match against Kotoge. HAYATA (who seems to have grown even more silent) naturally said nothing.
After their victory, Momo No Seishun were challenged for the belts by FULL THROTTLE'S YO-HEY and Seiki Yoshioka. YO-HEY told them (Harada in particular) that FULL THROTTLE had nothing against Momo No Seishun, but they wanted their belts, and if anyone was going "create a new Noah junior", then it was going to be them.
Title match has been set for 24th October in Niigata.
Daisuke Harada was not finished with STINGER, and challenged Kotaro Suzuki (who had just defeated Haoh), for the GHC Junior Heavyweight title. Kotaro, happy to accept any comers, told him to name a place and a date and then left the ring. Local Osaka boy, Harada, basically told him as he was walking off to get the hell out of his town on the Hanshin railway. Title match has been set for 8th November at Korakuen Hall.
If anything Harada seems determined to reset Momo No Seishun to where they were in 2016 just before Kotoge left for the heavyweights, which gives rise to the question of what he really means by "making a new Noah junior?", does he mean that this new Noah junior will be one with STINGER deprived of the belts, while he gets revenge on both them and Kotoge by doing what Kotoge did to him, and vacating all the junior titles and going to the heavyweights? Or will Harada stay, and do as he says "destroy all the other units" in the Noah juniors one by one, and in the process make Momo No Seishun just as unpopular and power as STINGER are\where?
A NEW NOAH BORN TO DEBUT
Pro Wrestling Noah have announced that one of the two boys seen at ringside, Yano Yasutaka, will debut on 28th October at Korakuen Hall against Kinya Okada. He will face Yoshiki Inamura on the 3rd November.
Yasutaka has been given a profile on the official Noah site as part of the roster. Naturally there is not much on it yet, but it does say that he was born in Imabari, Ehime on the 10th August 2000. In a strange twist, he was born only a few days after Noah was launched.
EVENT RECAPS & POST MATCH PROMOS
Post match promos: N-1 Victory, Semi Finals night: 4th October 2020
Event recap: N-1 Finals Night, 11th October 2020
Post match promos: N-1 Finals Night, 11th October 2020
ELSEWHERE IN NOAH
~ Shuhei Taniguchi has challenged Keiji Mutoh to a singles match following their bust up in the tag match at the N-1 VICTORY finals in Osaka. Keiji Mutoh agreed to the match but asked Naomichi Marufuji (as the vice president of Noah his opinion), Marufuji said there was nothing to gain by it, but still gave his permission. Match has been set for 22nd November at the Yokohama Budokan.
~ The Japanese press have dubbed Katsuhiko Nakajima, "Evilhiko".
~ Daisuke Harada has taken to using the phrase "Warring States" to describe the unit war going on in the Noah juniors currently.
~ Naomichi Marufuji said that for the first time in a long time, he can say that he is looking forward to the future.
~ In his half mocking half serious fashion, Katsuhiko Nakajima has thrown profanity into post match promos, just like Kenoh.
~ Kinya Okada visited Ueno Zoo and was photographed crading various small animals, he said he was "healed spiritually" by them.
CURRENT CHAMPIONS
 THIS WEEK IN NOAH
Thursday 15th October: Kenoh, Shuhei Taniguchi and Kenoh will be appearing for the LIDET promotion, GLEAT. This will be the first show of the company. Event will be broadcast on Samurai on the 22nd October.
Saturday 17th October: The footage from the Kawasaki food festival, starring Go Shiozaki, Atsushi Kotoge, Seiki Yoshioka and Hajime Ohara (who were then FULL THROTTLE), will be released via the official festival YouTube channel.
Sunday 18th October: Atsushi Kotoge (35)
Sunday 18th October: Shuhei Taniguchi (44)
Sunday 18th October: Mohammed Yone's 25th anniversary show "Disco Ball" at Korakuen Hall
 BROADCASTS
"Disco Ball" will be broadcast live on WRESTLE UNIVERSE. The stream will not be free, and you will need to be a subscriber to view this service. Bell sounds at 18.30 JST.
LINKS
"Creating a new Noah junior", "Noah junior regular army" declaration from 11th October in Osaka, interview with Daisuke Harada
Even though he calls himself "The High King", he has the rebellious spirit of "a man who continues to be scorned", polishing the GHC Junior with a rebellious heart just before the challenge. Interview with Haoh.
GUIDES
The Green Guide to the current Noah factions
GIFS taken from ABEMA TV
Picture credit: Noah.co.jp