NOAH WEEKLY NEWSLETTER VOL.105 ~ 18TH OCTOBER 2020
Change of pace information this week! Hisame discusses the NOAH involvement in GLEAT's inaugural show and Mohammed Yone's self produced Anniversary event!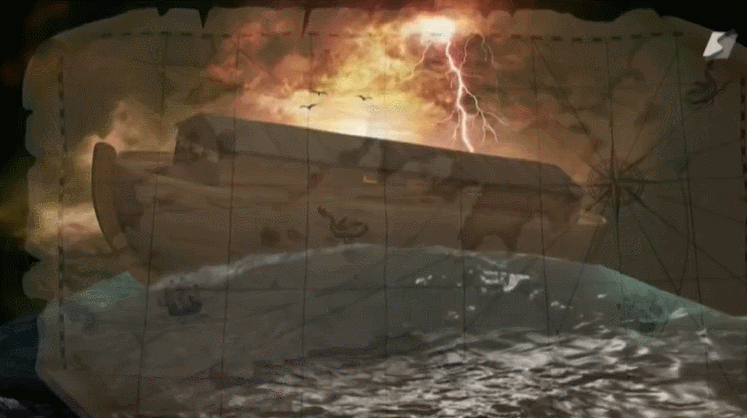 Change of pace information this week! Hisame discusses the NOAH involvement in GLEAT's inaugural show and Mohammed Yone's self produced Anniversary event!
NEWS
GLEAT
LIDET ENTERTAINMENT held the inaugural show for their new promotion, GLEAT, on 15th October.
Kenoh faced Soma Watanabe, with the match ending in submission. Kenoh's bete noire, Kiyoshi Tamura, left ringside before Kenoh could come over and start ranting at him, although during the match Kenoh did reserve one of his scowls for him and Riki Choshu. Kenoh didn't mention anything about fighting Tamura, but interestingly did ask for a handshake from current K-1 Super Featherweight champion, Takeru Segawa, who was at ringside having presented Watanabe with some flowers before the match. Interestingly, Kaito Kiyomiya had mentioned that he wanted to have a match where he tagged with his new friend, Tenshin Nasukawa (Rizin Featherweight kickboxing champion), against Kenoh and an opponent of Nasukawa's choice. Most likely Kenoh, who seems to think that only he should be reserved the right to make Kiyomiya's decisions as he knows what is best for him (it's his way of protecting him), and is not going to be told what to do by him, has chosen his partner for the future.
NOSAWA Rongai announced that he was leaving LIDET. Simply put he felt that he was one too many executives and wasn't really needed; Kiyoshi Tamura would train the athletes (the promotion has a very strong UWF influence) and Kaz Hayashi and Riki Choshu could handle everything else. Declaring that he would now devote himself more to Takashi Sugiura (and even walk his dogs, although I think no one but Sugiura is allowed to walk his dogs), he hinted he would have a greater participation in NOAH.
NOAH announce year end show dates & fan event
Pro Wrestling NOAH have announced their end of year dates. With the current Coronavirus situation they are doing six dates in November, and five in December. There are two dates left in October. They are planning to go out of the Tokyo metropolitan area for some of them.
They have announced a fan event\autograph event will take place in Numazu on November 3rd. Spaces will be limited as naturally NOAH have to control the numbers who entry, but it will be nothing like the event in previous years as understandably there will be no flea market with the wrestlers selling their own good, and fans being able to mingle, or instructional classes being held (i.e. photography, basic wrestling).
At "Disco Ball"…..
~ The masked thugs from THE LEAVE at Mohammed Yone's produce show turned out to be FULL THROTTLE; YO-HEY (who gave himself away by blonde hair and messing around during the first lock up), Hajime Ohara (who tucked his t-shirt into his pants) and Seiki Yoshioka (distinctive goatee under the mask).
~ Tadasuke was caught on camera having a tantrum when he made his way to the ring and kicking the ring apron as the ladder wasn't where he thought it was in order to make his entry. Haoh and Nioh were in the ring waiting for him.
~ Keiji Mutoh said that Mohammed Yone could join the M'S Alliance on one condition; he shave an M into his head. Yone said he would love to join, but the hairstyle would change his whole face completely (he looked like Mickey Mouse when he pulled his afro down).
~ NOSAWA Rongai made the mistake of challenging Go Shiozaki to chop and\or lariat war. After being chopped by Shiozaki he tried to tag in his partners, Takashi Sugiura and Kaz Hayashi. Sugiura told him that he asked for Shiozaki, and now he had him, he had better fight him. Shiozaki gave NOSAWA the machine gun chops, NOSAWA said "More" sarcastically, Shiozaki obliged and every time he stopped, Sugiura told Shiozaki that as NOSAWA asked for "more" he should give him "more". In the end, a ragged NOSAWA made his way back to his corner and Takashi Sugira couldn't stop laughing.
~ Yoshiki Inamura and Kinya Okada wrestled to a time limit 15 minute draw. Inamura left the ring bellowing loudly about it.
~ Naomichi Marufuji chopped Ikuto Hidaka 25 times. These weren't rapid fire chops like Go Shiozaki's machine gun chops, these were the sharp stinging bust you open ones.
~ Masao Inoue actually won a match when he reversed the pin on Mohammed Yone (Yone wrestled twice, once in the main event and once teaming with Alexander Otsuka as "The Love Warriors"). Yone and Otsuka complained to the ref, as did Akitoshi Saito. Inoue's tag partner. Saito was evidently confused that Inoue had won a match, so used to Inoue losing. He even stamped on him!
EVENT RECAPS & POST MATCH PROMOS
Event recap: Mohammed Yone's "Disco Ball" (25th anniversary produce, 18th October, Korakuen Hall)
CURRENT CHAMPIONS
THIS WEEK IN NOAH
Wednesday, October 21st: Momo no Seishun will be the special guests on Battlemen
Thursday, October 22nd: GLEAT broadcast
Thursday, October 22nd: Momo No Seishun and Junta Miyawaki will be doing an online internet signing on NOAH's official YouTube
Saturday, October 24th: NOAH in Aore Nagaoka, Niigata (18:00 JST)
 BROADCASTS
Pro Wrestling NOAH have not announced whether the October 24th event will be broadcast. If it is not it is likely it will be uploaded on WRESTLE UNIVERSE at a later date.
LINKS
"Love Warriors" reunion oath with Otsuka at Mohammed Yone's 25th anniversary
"Fired up for the "25th Anniversary of Debut" Mohammed Yone on the 18th at Korakuen Hall
GUIDES
The Green Guide to the current Noah factions
How to watch Pro Wrestling Noah
GIF taken from WRESTLE UNIVERSE.
Andrew's IMPACT Match Ratings & Results: 3.23.2023
The Go Home to Sacrifice! PPV this week, Mania weekend special next week! Fun times for Impact!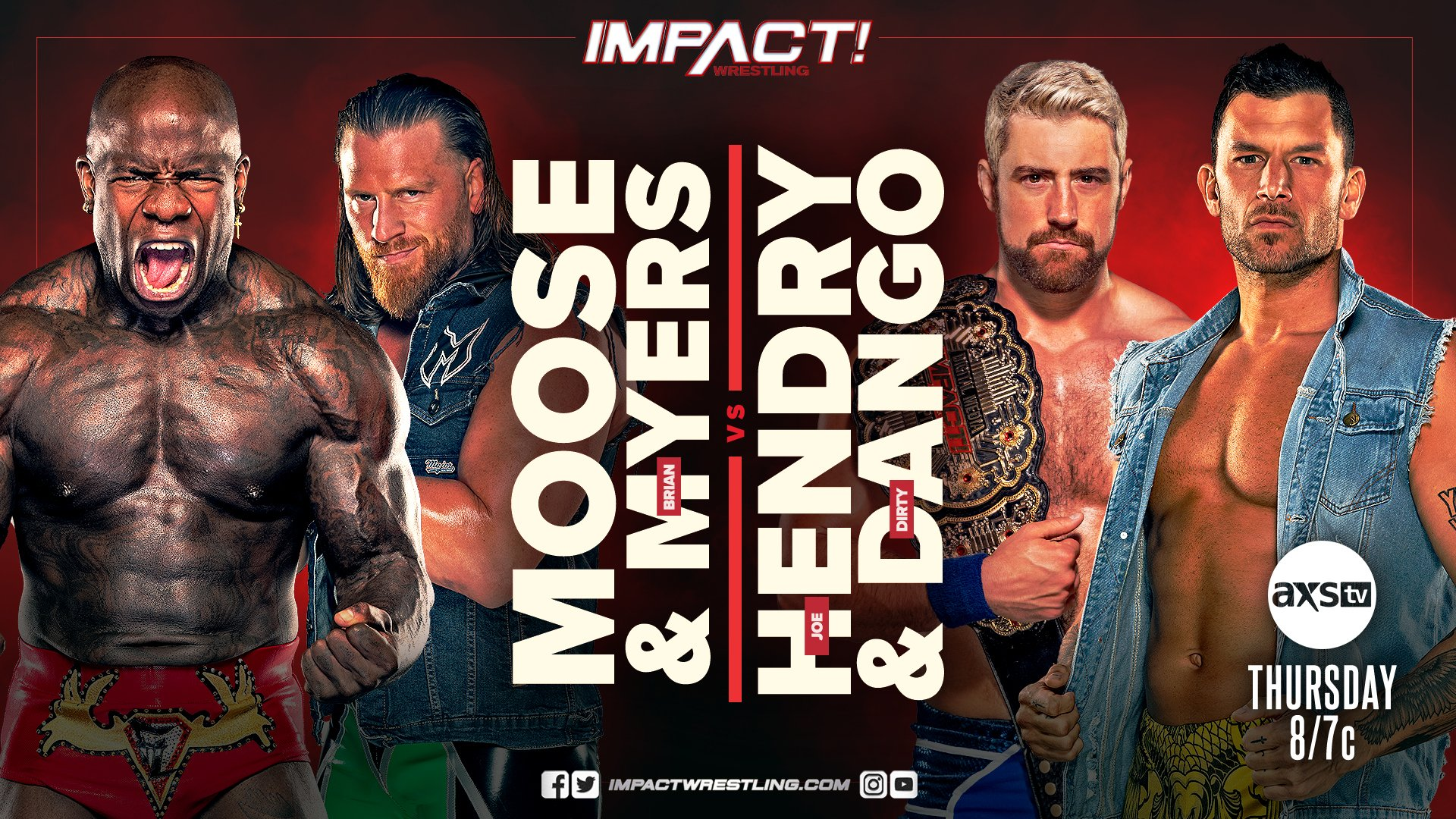 It's the Go Home to Sacrifice! I think there's definitely more than a 33 1/3% chance that I'll at least tolerate the episode. But with all of the fun pairings with Sacrifice participants we get the potential for a ton of story beats. We also might get a clearer picture of whatever the endgame is for The Design (doubtful though).
With all that, let's hop into the show and kick off with how Kenny King and Eddie Edwards are exactly feeling about their Frankenstein problem.
.@KennyKingPb2 and @TheEddieEdwards want @PCOisNotHuman "On Ice"!#IMPACTonAXSTV pic.twitter.com/blVnhWPv4p

— IMPACT (@IMPACTWRESTLING) March 24, 2023
Ratings:
The Design (Deaner, Kon, Angels w/Callihan) vs Time Machine (Alex Shelley, Kushida, Chris Sabin): Kushida wins via Hoverboard Lock – *** 1/4
Savannah Evans w/Gisele Shaw & Jai Vidal vs Deonna Purrazzo: Deonna wins via Crucifix Bomb – ** 1/4
Masha Slamovich & Bully Ray vs Tommy Dreamer & Mickie James: Bully wins via Piledriver – ** 1/4
Dirty Dango & Joe Hendry vs  Brian Myers & Moose: Myers wins via Roster Cut – ** 1/2
Results:
The Design (Deaner, Kon, Angels w/Callihan) vs Time Machine (Alex Shelley, Kushida, Chris Sabin)
Well Kushida does enjoy mixing it up with Heavyweights…and he starts against Kon. Kushida tries to chop down the tree, gets stifled, Shelley tags in to try and assist but they both meet the brick wall of Kon. Kon tags in Deaner and Shelley is getting worked over. Blind tag from Sabin, Deaner gets spun around and kicked in the face for a quick near fall.
All six mix it up a bit before Time Machine gets the best of it, they post Angels in the corner, Hesitation Dropkick from Sabin while Angels is retrained and we get a quick tag bringing Shelley back in to work over Angels left arm. I guess you can see they made him a…one winged angel – okay no more FF7 references. I feel dirty. Kushida lays in the grounded Bow and Arrow Liger Style, and Angels is just get rocked.
Eventually Angels manages to get away from Sabin and tag in Deaner, then The Design start quick tags and stomping away on Sabin in their corner. The Design tries to set up a tandem move, Sabin manages to escape and tag in Kushida. Hot tag with a few quick spots, Running Crossbody, Pele Kick, and then Shelley comes in. They go for some Time Splitters action but Angels interrupts it, so he receives the Time Splitters tandem offense of the PK to the Arm and Kon stunned on the apron eating a Back Handspring Kick, big Dive from Kushida puts an exclamation point on the Time Machine momentum.
Commercial break, we come back to Kushida and Shelley going for the Enzuigiri/Shotei combination, but Deaner moves and Shelley kicks Kushida. Angels gets tagged in and we see The Design put some stuff together. After a Spine Buster/Frog Splash combo, they set up a Double Doomsday and finally the MCMG portion of Time Machine come in for the save. Things start breaking down into signature spams, Angels looks to have the advantage until her stumbles just a little and the triple team starts.
They look for Outatime, but Deaner breaks it up, then Callihan slides in to just protect Deaner. He even stands there and asks the Guns to hit him. So Callihan gets rocked and Kushida flies in with the Hoverboard Lock for the win.
There was a vignette for The Coven, which checks that weird IMPACT spin since they love to play in the Shadow Realm. Not bad, just not work showing in the article.
JESUS H CHRIST – they are rebranding Raj Singh as Champagne Singh? I hope this is a short lived attempt at relevance, because he is talentless. Raj was the worst part of the Desi Hit Squad and somehow he's stuck around the longest. I don't get it…he's cringe, can't cut a promo and wrestles like trash. 
Savannah Evans w/Gisele Shaw & Jai Vidal vs Deonna Purrazzo
Deonna takes the offense right to Savannah, which is dumb; but Deonna does love to be the female Minoru Suzuki. By that I mean, just fighting the opponents fight for a little bit until the gameplan eventually kicks in. So it looks dumb, but let's see if it continues to be dumb.
The match has been fairly basic, but not awful, hence why its hard for me to really highlight anything. Savannah hits some nice power moves, Jai and Gisele tend to jaw and be petty distractions but never physically get involved. Deonna tries to fire up with a few quick Chops, but Savannah puts the brakes to the that and hits a great Snap Suplex. Deonna absorbs some offense, tries to use a little bit of join manipulation and momentum to give herself a few openings. Savannah stops Deonna, goes for a Backbreaker, but Deonna counters.
Deonna runs the ropes, hits a few big Knee Lifts, Russian Leg Sweep, float over, Fujiwara…but Savannah grabs the ropes. Savannah stalls Deonna's offense attempts, catches her with a beautiful Northern Lights Suplex Hold for 2. Full Nelson Slam attempt, Deonna drops down, rolls through, tries to use the ropes to her advantage, but Gisele and Jai finally makes their presence really felt. Deonna hits the ropes, Jai grabs her, Savannah swings, misses Deonna and wipes out Jai, Gisele eats a Pump Kick from Deonna. Deonna flies through the attempts slam, Crucifix Bomb from Deonna, and Deonna gets the pinfall.
Post match 3 on 1 beatdown begins! Deonna has no friends left, so she eats a Full Nelson Bomb and Denouement, and she's left laying. 
Flashback Moment: Sacrifice 2010, Team 3D vs Beer Money vs MCMG, #1 Contender for the TNA Tag Team Championship Match
Masha Slamovich & Bully Ray vs Tommy Dreamer & Mickie James
Dreamer and Bully circle a little, Bully tries to take a swipe at Mickie and then goads her to tag in. Bully keeps talking crap but Masha demands to be tagged in. So Masha and Mickie start off, while Mickie is trying to keep her eyes peeled for Bully while getting the best of Masha early after a Thesz Press, Sole But, Flapjack, Kip Up. But Mickie allows herself to be distracted a little, Masha returns the Sole Butt and clocks Mickie to drop her and tag in Bully. Bully talks too long before the Elbow Drop, so Mickie rolls away and Dreamer tags in. So the babyfaces are getting the best of the early going until Bully grabs Mickie's hair as she runs the ropes while the ref is distracted.
Bully cheap shots Dreamer, tries to grab the Kendo Stick and threaten Mickie but the referee stops him. Bully starts man handling Mickie, tags Masha back in and Masha is literally whipping her around by her hair. Same time Lariats give Mickie the chance to tag out, simultaneous tags on the guys and Dreamer is doing…as hot of a tag as he can. 10 Count Punches, Bites his head, Cutter, but Masha breaks the pin. Flip, Flop and Fly in stereo, Dreamer calls for a WAZZUP, Mickie does a Diving Polish Hammer to Bully's balls. Then Dreamer shoves Mickie and tells her to get the tables.
Masha does one of the ugliest dives I've ever seen on Mickie, but its effective. Bully hits a Low Blow while the referee is messing with the table, Piledriver from Bully and the Bully wins it for the team.
Masha tells Bully to set up the table after the match. Bully is about to Powerbomb Mickie, but Jordynne Grace hits the ring with a Kendo Stick. Bully turns, Jordynne hits the ropes for a Spear but Bully moves and Jordynne cuts Mickie in half.  
Is @SteveMaclin getting into the heads of #RichSwann, @FrankieKazarian, and @Walking_Weapon?#IMPACTonAXSTV pic.twitter.com/1iDn0ehHMx

— IMPACT (@IMPACTWRESTLING) March 24, 2023
Next week is going to be more of a hype show for Mutiverse United. There will be a few never broadcasted matches, but since its WrestleMania Weekend, that takes precedence. 
Dirty Dango & Joe Hendry vs  Brian Myers & Moose
Joe Hendry's doing his usual promo after his music, but Dango also grabs a microphone which throws off Hendry a little. So when Hendry says "Say the only two words that matter" – Dango interjects with SUCK IT. Fun ways to tap dance around trademarks. 
Hendry and Myers start off which actually plays nicely into the story. Hendry invoked Myers' rematch clause, so of course he wouldn't be opposed to mixing it up before the PPV. Dango gets tagged  and tries to get Moose to dance. Moose's leg shakes a little like he has to fight the urge to dance, and then charges at Dango. Little things like that reminds everyone that Moose is a likable performer, he's just a heel right now, so he's trying to ignore his fun side. Myers comes back in, Arm Trap Suplex, Tornado DDT where he kicks off of Moose who's trying to interrupt. They wipe out Moose and Myers, Hendry puts his hands in the air for the wave, but Dango thinks it should be something else. Moves Hendry's hands a little and then does a SUCK IT.
Off the commercial, Falcon Arrow from Dango, he tries to go to the top but Moose distracts Dango and Myers throws him off the top rope to the outside. Dango tries for the Cradle Counter Roll, but Myers blocks long enough to tag Moose. So Moose blindsides Dango before the 1 count even happens. Myers Knee Lift, holds onto Dango's ankle and reaches to tag in Moose. So Dango is just getting totally singled out. Dango kicks Moose away, Moose tries for Go To Hell, but Dango keeps swinging, rocks Moose a little and then the Diving European Uppercut gives Dango the space he needs for the tag.
Simultaneous tags, Myers gets caught mid Crossbody, Sack of Shit from Hendry and then Joe Kips Up. Hendry tries a Trust Fall, Myers slips it, Enzuigiri, but then Hendry hits the Pop-Up Powerbomb for 2. Moose is in, Dango is in, Dango gets dumped out, Moose hits the Lights Out on Hendry. Roster Cut from Myers, 1-2-3.
Josh Alexander walks out to the ring after the Maclin/Swann shenanigans. Josh punctuates his promo with saying Maclin is afraid of failure, afraid of being a man without a purpose, afraid of being a Forgotten Son. Maclin's music hits and he chuckles at the line and gives Josh a little kudos. 
Maclin is cutting a perfect heel promo since he's validating everything Josh said, and even presents video evidence of how much scouting he's doing to avoid failure. However, through his validation he's also poking holes in Josh's confidence. Josh tries to say it changes nothing and he's a fighting champion and tries to challenge Maclin now…because now Josh is scared. Like Frankie said, Maclin is doing it "My Way". So he says no to the challenge and that he wants to take it in Josh's home town. 
Overall Score: 7.25/10
Now I usually get bored with promos to close a show, but they both played their parts perfectly. Josh with the strong babyface opening trying to discredit the opponent as just another victim of circumstance; but Maclin bringing the receipts like he just walked into H&R Block was beautiful. I've enjoyed a lot of Maclin's run in IMPACT, but this is the cherry on the top. He NEEDS to win the title, he's perfect since you could see in Josh's face and body language his confidence is a little shaken.
I also appreciated a few of the little storytelling beats, like in Hendry's match. Opening against Myers plays into the story, and then Moose hitting the Lights Out and then walking out of the ring just watching his handy work as Myers hits the Roster Cut for the win. Proves everything both men said leading up through this story. Deonna also being the best wrestler in the Knockouts division, but still not capable of beating a 3 on 1 with no friends played well towards something. It's either going to culminate in Mickie and Deonna burying the hatchet frenemies style, or we'll see Deonna having to evolve into a more straight forward babyface since she can't play the heel or tweener with no friends.
The Twitter feed didn't have the segment with The Death Dollz, but potentially writing off Taya by bringing Su Yung/Susie/Susan back works well since it gives JesSICKa a chance at an angle, Su could always side with The Coven, they can play in the paranormal nicely for a few more months. I just really hope they don't return JesSICKa to Havok. Havok got stale and pathetic, whereas JesSICKa is entertaining both in and out of the ring.
But hey, tomorrow is Sacrifice, so watch your Steiner Math promos and strap in for the PPV!
Mitchell's ROH Results & Report! (3/23/23)
CHEESEBURGER!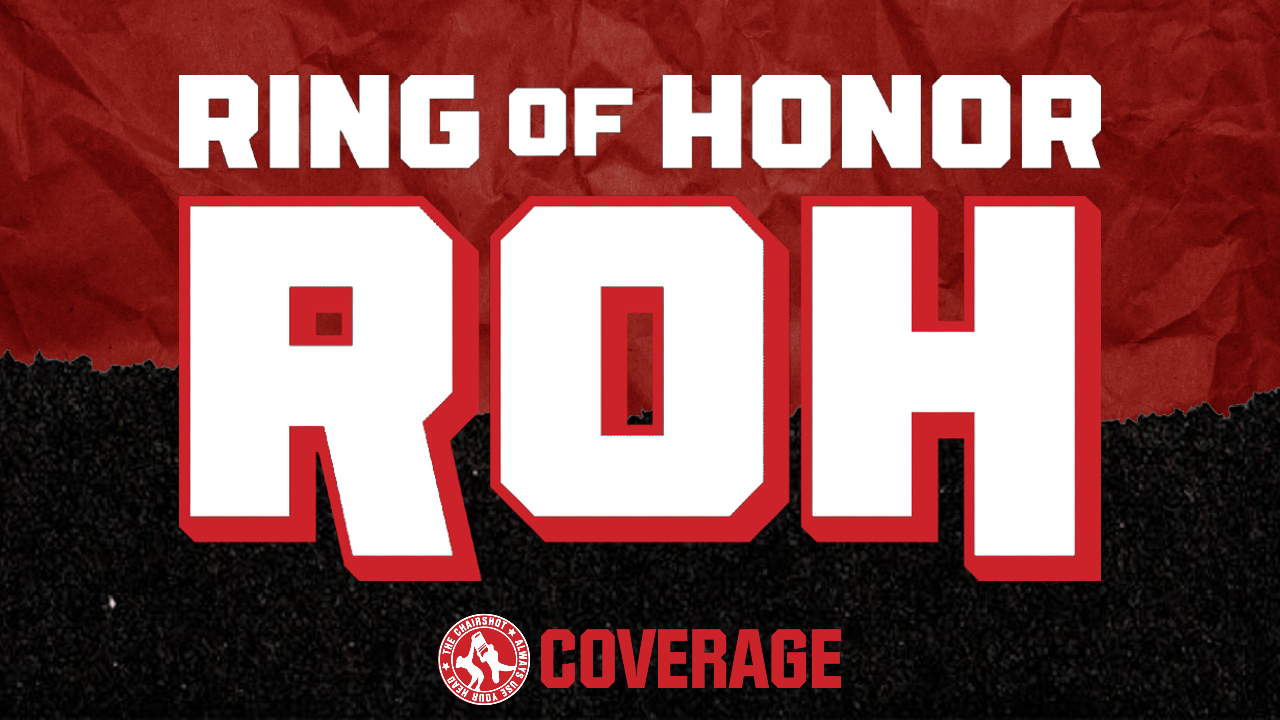 Who answered the Open Challenge?
In a big return to ROH, Cheeseburger challenges Samoa Joe for the World Television Championship! But will Burger survive the King of TV?
OFFICIAL RESULTS
Mark Briscoe VS Tony Nese w/ Mark Sterling & Josh Woods; Briscoe wins.
Six Man Tag: AR Fox, Blake Christian & Metalik VS The Trustbusters; Fox, Blake & Metalik win.
Skye Blue VS Lady Frost; Skye wins.
Rush & Dralistico w/ Jose the Assistant VS Rhett Titus & Tracy Williams; Rush & Dralistico win.
Matt Taven w/ The Kingdom VS Darius Martin w/ Dante Martin; Taven wins.
Brian Cage w/ The Embassy VS Tony Deppen; Cage wins.
Silas Young VS Shane Taylor w/ JD Griffey; Shane wins.
Billie Starkz VS Miranda Alize; Starkz wins.
Christopher Daniels & Matt Sydal VS Aussie Open; Aussie Open wins.
ROH World Television Championship: Samoa Joe VS Cheeseburger; Joe wins and retains the title.
PLAY BY PLAY
Mark Briscoe VS Tony Nese w/ Mark Sterling & Josh Woods!
While Samoa Joe is defending that title in the main event, the Sussex County Chicken says the ROH World TV title is his destiny! But standing in his way is Mark Sterling and his stuck up stable! Will Briscoe be representing against the Premier Athlete? Or will his destiny be derailed again?
But Nese attacks right before the bell! Fans boo as Nese stomps a mudhole in, but Nese lets off to soak up heat. Nese fires forearms, whips, but Briscoe ducks 'n' dodges to BOOT Nese! And then he unleashes a Redneck Kung-Fu UPPERCUT! And a CHOP! And some forearms! Fans rally for #DemBoys as Mark ROCKS then DECKS Nese! Nese bails out, Mark pursues, and Mark keeps Nese from running away. Mark CHOPS, ROCKS and stalks Nese, to then CHOP again! Mark scoops and SLAMS Nese to the floor! Fans fire up as Mark goes to the apron, and Mark fires up to "BANG BANG!" FOLEY ELBOW DROP!
Fans fire up more as Mark drags Nese up and into the ring. Nese bails out again but Mark pursues. Sterling gets in Briscoe's face, and that distracts so Nese can POST Briscoe! Fans boo but Nese soaks it up. Nese CHOPS Briscoe, has him against the apron, and CHOPS again! Nese puts Briscoe in the ring, high-fives Woods, but Mark fires off haymakers! But Nese YANKS Mark and throws him out of the ring! Woods is there but Mark hits him with the CHOP first! Mark steps in, but Nese kicks the ropes to jam him up! The ref is busy with Sterling, Woods snap suplexes Briscoe down! Fans boo but Nese just soaks it up again.
Nese drags Mark up as fans chant, "YOU SUCK!" Nese says he doesn't suck, and he CHOPS again! Nese puts Mark in the ring again, stomps him to a corner, then stomps him more. Fans continue to boo but Nese drags Mark up. Nese puts Mark in the Tree of Woe, gets space, and he runs in to… Do crunches 'n' kicks! Fans boo but Nese says this is how he has his 8 pack. Nese drags Mark out of the Tree but Mark fires forearms in return! Nese knees low! Nese whips corner to corner, Mark goes up and over and rolls to come back and BOOT! Fans fire up and Mark brings Nese in. Mark underhooks, but Nese fights the lift!
Nese back drops, Mark sunset flips! Nese rolls through to SOBAT Mark in the face! Cover, TWO! Nese wraps on body scissors to keep Mark down. Fans rally while Mark endures the squeeze. Mark fights up, and rains down REDNECK-FU CHOPS! Nese lets go of the body scissors to have a bearhug! Fans rally, Mark fights up and throws elbows. Mark is free, but Nese throat chops! Nese then brings Mark around, BULLDOG HOTSHOT! Fans boo as Nese flexes on 'em, then Nese goes to the ropes, but Mark avoids the Premier Triangle! Mark swings, Nese dodges but Mark CHOPS! And CHOPS! And CHOPS!
Mark has Nese in a corner but Nese blocks the whip. So Mark fires off palm strikes! Mark CHOPS Nese, whips him corner to corner, then runs in to clothesline! Mark puts Nese up top, powers up, REDNECK UPPERCUT!  Mark crosses the arms, ICONOCLASM! Cover, TWO!! Nese survives and fans rally up. Mark clinches, Nese fights with elbows, but swings into the EXPLODER! Mark powers up and fans fire up, Mark runs in, into a BOOT! Nese runs in, into a kick low! Mark turns Nese into the NECKBREAKER! Cover, TWO! Nese is still in this but the fans still rally. Mark reels Nese in, Canadian Rack but Nese slips free!
Nese goes Matrix to dodge the haymaker to kick, KICK, KICK and SUPERKICK! Mark staggers into a facelock, but Mark suplexes first! Fans fire up again while Sterling and Woods are furious! Mark drags Nese up, underhooks, but Nese wrenches free. Nese waistlocks, Mark switches, GERMAN SUPLEX, but Nese lands on his feet! DOUBLE STOMP! Mark flounders to a corner, Nese brings down the kneepad. Nese runs, but into a LARIAT! Fans are fired up as Mark fireman's carries! ROLLING DEATH VALLEY, and then Mark goes up top! FROGGY-BOW!! Cover, Mark wins!
Winner: Mark Briscoe, by pinfall
The roll continues! Mark even shakes Nese's hand to keep the Code of Honor. Supercard of Honor is waiting, will Mark be ready to take on Samoa Joe for the title?
Six Man Tag: AR Fox, Blake Christian & Metalik VS The Trustbusters!
When All Heart & The King of the Ropes needed a third man, the Whole Fox'n Show answered the call! Will this three man air force be what finally shuts up Ari Daivari, Slim J & Jeeves Kay?
The Code of Honor is upheld, though the Trustbusters do it with some snark. The trios sort out and Fox starts against Jeeves. Fans rally for Fox and he storms up on Jeeves, but Jeeves stays back. They tie up, Fox wrenches an arm to a wristlock, but Jeeves wrenches through to headlock. Fox wrenches out to hammerlock then headlock for the takeover. Jeeves headscissors but Fox kips free. Fans applaud the opening, and Jeeves offers another handshake. Fox catches the cheap shot! Fox kicks, whips, but Jeeves slides under to RANA! And DROPKICK! Fans boo but Jeeves soaks it up. Jeeves whips Fox, but Fox reverses to mule kick and BOOT!
Fox JAWBREAKERS then NECKBREAKERS! Fox kips up and fans fire up, then Fox tags Blake. Blake kicks Jeeves, wrenches, but Jeeves knees low! Jeeves headlocks Blake, tags in Daivari, and the Trustbusters mug Blake. Daivari CHOPS, whips, but Blake ducks 'n' dodges 'n' redirects to trip and DROPKICK! Fans fire up, Blake runs in at the corner but is put on the apron. Blake comes back with a FLYING LARIAT! Cover, TWO! Blake CHOPS, CHOPS again, and Daivari sputters. Blake snapmares Daivari and wraps him up in a ground cobra! Blake air-guitars Daivari's arm, then shifts to a facelock.
Daivari powers up and he RAMS Blake into the corner! Daivari RAMS Blake, but distracts the ref as he backs off. Slim and Jeeves mug Blake! Daivari tags in Slim, Slim drags Blake by his legs to rockabye him into a POWERBOMB! Slim drags Blake up to DECK him! Tag to Jeeves, the Trustbusters mug Blake more, but fans chant "SLIM J SUCKS!" Jeeves snapmares Blake, goes up, FALLING UPPERCUT! Cover, TWO! Jeeves drags Blake back, tags Daivari, and the mugging continues. Daivari stands Blake up, taunts Fox and Metalik, but Blake slips out of the back suplex to give a back suplex!
Both men are down and the fans rally up! Blake and Daivari crawl, hot tag to Metalik! Metalik dodges Daivari, RANAS him out, then builds speed to FLY! Direct hit at the ramp! Metalik puts Daivari in and the fans fire up more. Metalik climbs the corner, tightrope walks, and SPLASHES! Cover, TWO! Metalik is a little frustrated but he drags Daivari into the drop zone. Metalik goes up again, to MOONSAULT! He has to bail out as Daivari moves, but then he dodges and comes back, sunset flip with a twist, TWO! Daivari escapes but Metalik whips him to ropes. Daivari reverses to send Metalik out.
Metalik fights off Jeeves, ROCKS Daivari, but Jeeves YANKS Metalik down! Fans boo as the ref misses that one! Daivari goes out to fetch Metalik and Sterling protests that Fox is just checking his teammate. Daivari RAMS Metalik into the apron, then he high-fives Sterling. Sterling says money money money as Daivari puts Metalik in the ring. Daivari anchors Metalik, tags Slim and Slim drops an elbow. Slim drags Metalik up, snapmares, and double stomps right into an ELBOW DROP! Cover, TWO! Tag to Jeeves, the Trustbusters mug Metalik with heavy body shots, and then an UPPERCUT! Jeeves soaks up heat before he clamps on a chinlock.
Fans boo, especially as Jeeves pulls at the mask. Metalik endures, fans rally up, and Metalik fights up! Jeeves CLUBS Metalik, scoops, SLAMS and SPLASHES! Cover, TWO! Jeeves rains down fists in frustration, then he drags Metalik up. Jeeves UPPERCUTS Metalik but Metalik CHOPS! Jeeves ROCKS Metalik, whips him to ropes, but Metalik handsprings to BACK ELBOW! Both men are down and fans fire back up! Hot tag to Daivari, and he drags Metalik back for another ELBOW DROP! Daivari CHOPS, whips, but Metalik springboards to BACK ELBOW again! Now Metalik and Daivari are down as fans rally up!
Metalik crawls, as does Daivari. Hot tag to Slim, he runs to BLAST Fox and Blake! But Metalik back drops Slim! Daivari tags back in, he drags Metalik away. Metalik hops up to ENZIGURI! Daivari flops down, Metalik crawls, but there's no one in the corner! Daivari runs in, and only gets buckles! Metalik scoops to BACKBREAKER! Daivari writhes but he and Metalik are both down. Metalik crawls around, as does Daivari, hot tags to Fox and Jeeves! Fox rallies on Jeeves, ELBOWS in the corner, then snapmare rolls to the CUTTER! Slim and Daivari attack Fox! Fans boo, they double whip, but Fox crisscrosses them!
Fox puts Daivari in the corner and hits the A-LIST LARIAT! Slim runs in, into an ELBOW! Fox skins the cat to DROPKICK Daivari and DOUBLE STUNNER on Slim & Jeeves! Daivari runs in, Fox avoids the Penalty Kick to STUNNER him, too! Fans are thunderous for "A R FOX!" and he stomps Jeeves' hand! Fox knuckle locks, goes up and up and jumps around, to then SUPER CANNONBALL Daivari & Slim! Jeeves builds speed, but runs into a GAMANGIRI! Blake is in, he throws Jeeves right out! Fans fire up as All Heart climbs up, and SUPER TWISTING CROSSBODIES The Trustbusters!
Fans are thunderous, "This is Awesome!" as Fox puts Jeeves in. Fireman's carry, but Sterling distracts! fox goes after Sterling, but Jeeves runs in! Fox dodges and Jeeves almost hits Sterling! Fox runs in, Jeeves moves and the BOOT hits Sterling! Jeeves SUPERKICKS Fox and BLOODY SUNDAYS!! Cover, TWO!!! Jeeves is shocked but he tags in Daivari! Only for Metalik to GAMANGIRI Daivari up top! Slim CLUBS Metalik down, so Blake GAMANGIRIS Slim! Blake has Slim but Jeeves CLUBS Blake! Jeeves climbs up, but Metalik joins in, too! SUPER SPANISH FLY SUPERPLEX!??! Daivari leaps, into a CUTTER!!! Fox goes up top, to 450 SPLASH!! Cover, Fox and team wins!!
Winners: AR Fox, Blake Christian & Metalik, by pinfall
But wait, The Embassy attacks! Brian Cage & The Gates of Agony know Fox and team want their ROH World Six Man Tag Team Championships, so they are beating them down for it! Fans boo but The Machine, Bishop Kaun & Toa Liona stand tall here. Will these three tanks be able to shoot down the three fighter jets coming for their titles?
Skye Blue VS Lady Frost!
The bright future of this young wrestler has been a bit cloudy already. Toni Storm rained on Skye's parade, and now she's facing a cold front! Will Skye stay sunny even after facing Lady Frost?
The Code of Honor is upheld, the bell rings, and these two tie up. They go around then break, and reset. They tie up again, and Frost wrenches to a wristlock. Skye rolls, handsprings, and wrenches to a wristlock. Fans duel, Frost uses the ropes to flip through the wristlock and wrench Skye back. Skye cartwheels, wrenches and wristlocks again. Frost rolls, cartwheels and arm-drags free. Fans applaud the exchange, but Skye comes back. Frost jumps over, keeps moving, so Skye hurdles. Frost leaps over, blocks the arm-drag, but Skye goes to the other side to arm-drag after all! Then wheelbarrow arm-drag!
Fans fire up but Frost takes a second to cool off. Frost respects Skye's ability, and the two go again. They feel out a knuckle lock, but Frost kicks low! Frost bumps Skye off buckles, stomps a mudhole in, but lets off at 4. Frost runs in to GAMANGIRI! "She's out of the corner." Frost then spins, but Skye avoids the kick! Skye full nelsons, Frost switches and shoves Skye away, SCREW HIGH KCIK! Skye falls into the corner, Frost handsprings to CANNONBALL! Cover, TWO! Frost grows frustrated but fans rally up. Frost stalks Skye, mocks the applause, but Skye throws body shots. Frost throws Skye by her hair!
Frost handstands to drops knees on Skye's back! Frost gives toying kicks but the fans rally up. Skye rises, Frost bumps her off buckles, and Frost CHOPS! Fans want one more, so Frost says kiss this instead. Frost runs in but Skye slips out to ROCK Frost! And SUPERKICK! Skye goes up but Frost GAMANGIRIS! Skye falls to the floor, Frost goes to the apron, and Frost CANNONBALLS to the floor! Frost mocks the applause while the ring count climbs. Frost drags Skye up into the ring, then covers, TWO! Skye is hanging tough, and fans rally up again. Frost drags Skye up to throw knees. Skye swings, misses, and Frost kicks a leg out!
Skye ducks the buzzsaw but the HEEL KICK hits! Only for Skye to spring up and SUPERKICK! Both women are down and fans fire up again! Skye crawls her way to a corner while Frost stands. Frost runs in, but into an ELBOW! Skye goes to another corner, Frost runs in but into a BOOT! Skye goes up to FLYING RANA! Fans fire up with Skye and she runs in to SHINING WIZARD at the ropes! Snapmare, but Frost blocks the superkick! BASEMENT ENZIGURI hits! Cover, TWO! Frost is still in this but Skye full nelsons! Only for Frost to drop and victory roll! TWO, and Skye runs in, but falls for the feint! QUESTION MARK KICK!
Frost cartwheels into the Alabama Lift, AIR RAID CRASH! Cover, TWO!! Fans fire up while Frost is shocked! Frost drags Skye into a drop zone, goes up the corner, but Skye CLUBS her first! Skye CLUBS away on Frost, brings her around and then ROCKET LAUNCHES her to the mat! Fans fire up, Skye goes up, CROSSBODY! Cover, TWO! Frost is still in this and Skye grows frustrated. Fans rally up, Skye takes aim, and she runs in to get around, backslide, TWO! Facelock, TWIST 'N' SHOUT! And then full nelson, lift, SKYE FALL!! Cover, Skye wins!
Winner: Skye Blue, by pinfall
The Outcasts may have knocked her down, but Skye got back up! And she shows Frost respect by upholding the Code of Honor. Will Skye be reaching for the stars in the ROH Women's Division?
Rush & Dralistico w/ Jose the Assistant VS Rhett Titus & Tracy Williams!
All the tag teams in ROH want to #ReachForTheSky, including these two teams. Will La Faccion Ingobernable keep things tranquilo? Or will The Professional and the Hot Sauce be just a little too much for LFI?
The Code of Honor is NOT upheld, so the brawl is on! The bell rings, the forearms fly fast and furious, and the former ROH Tag champs get the edge! They run, but into DOUBLE SHOTGUNS! LFI builds speed, only to double tranquilo! Fans are torn, but Tracy SHOTGUNS Rush back! Rhett goes after Dralistico but gets thrown out. Double CHOPS sandwich Tracy, then Dralistico CHOPS again! Rush CHOPS again, then whips corner to corner. Rush sends Dralistico in to clothesline, Rush SPLASHES, then DOUBLE BASEMENT DROPKICKS hit! The ref reprimands, LFI lets things cool off, and Dralistico brings Tracy up.
Dralistico whips, Tracy reverses but runs into a BOOT! ROUNDHOUSE! SOBAT! Front KICK and SCREW HIGH KICK! Fans fire up for the kick combo and Dralistico stomps Tracy. Tag to Rush, Dralistico BLASTS Rhett, and then LFI mugs Tracy. Rush CHOPS, then eggs Tracy on. Tracy CHOPS, but Rush CHOPS! Rush fires forearm after forearm, then he tags Dralistico. Rush puts Tracy in the ropes, holds him in place while Dralistico climbs. KICK and GUILLOTINE LEG DROP! Cover, TWO! Tracy hangs tough but Dralistico stomps him. And KICKS! And eggs him on. Tracy ROCKS Dralistico!
Dralistico ROCKS Tracy! Tracy ROCKS Dralistico! Dralistico CHOPS! The forearms fly back and forth again, Dralistico shoves then swings, but into a SAIDO! Both men are down, fans rally up, hot tags to Rhett and Rush! Rhett fires off with Rush, forearm for forearm! Rhett gets the edge! Fans fire up, but then Rush fires all those back! Rush CHOPS, whips, but Rhett reverses to clinch and BELLY2BELLY! Fans fire up again as Rhett aims from a corner. Rhett runs in to BOOT Rush! Rhett DECKS Dralistco, BOOTS Rush, and feeds to Tracy's ELBOW! DROPKICK! ROLLING ELBOW! Cover, TWO!!!
Draslitico gets in to attack but Tracy throws him out! Rush sends Tracy into a ROUNDHOUSE then GERMAN SUPELXES! Dralistico adds a FLYING CODE BREAKER! Rhett spins Dralistico, NECKBREAKER! Rush CLOBBERS Rhett! Fans fire up, Rush runs at Tracy, but Tracy SPEARS first!! All four men are down and the fans are thunderous for "R O H! R O H!" Rhett drags himself up, Rush roars, Rhett runs in! Rush OVERHEAD suplexes Rhett into buckles! Dralistico FLIES out onto Tracy and Jose! Rush stomps around, aims at Rhett, "When you mess with the bull!" BULL'S HORNS!!! Cover, LFI wins!
Winners: Rush & Dralistico, by pinfall
La Faccion Ingobernable is on a win streak, but Supercard of Honor is coming. Will LFI be the NEW ROH World Tag Team Champions?
Caprice Coleman sits with Eddie Kingston and Claudio Castagnoli.
Caprice is with The Mad King and the Swiss Superman to talk about the last few weeks. Eddie challenged Claudio for the ROH World Championship, and Claudio denied it, saying Eddie is a man without honor. Can Claudio explain that? Well, it should be self-explanatory. But Claudio does want to apologize. Eddie does have honor, in his own way. Eddie has pride, something that has gotten in his way many times, but Eddie has honor. Claudio admits to being wrong on that. But he will still stand by his statement that someone like Eddie should not be ROH World Champion.
How does Eddie respond to that? Caprice knows all the years he's put into wrestling, and knows that ROH is a prestigious title. Can Eddie shoulder that responsibility? Eddie says Claudio's opinion doesn't matter. The only thing that matters is beating Claudio for that title. A title that mentors of Eddie's have held. Low-Ki. Xavier. Homicide. That lineage belongs to Eddie, the underdog, the fighter. Claudio's not a fighter, not an underdog, he knows that, because they know each other. They've lived with each other, met each other's families. Claudio's a coward for not doing business, so Eddie will force his hand. And Mox can't stop this.
Interesting that Eddie would use the words "underdog" and "fighter." Eddie always sees himself as an underdog, as a victim. When it comes to being a fighter, who is the one who always quits? Yeah, they used to live together, but also train together. Who ran off when things got hard? Claudio stayed, worked every single day that Eddie didn't while throwing a pity party. Guess who put the work in? Guess who is champion right now because of that? Yeah, for now. Talk tough all you want, Eddie, you don't walk the walk. Oh, word? Well, Eddie promised not to get up and punch Claudio, it'll stay civil.
Claudio says Eddie is always a tough talker, always loud, that's fine. Claudio isn't afraid of Eddie, he's afraid for Eddie. Eddie cannot beat Claudio, he cannot reach Claudio. Never did, never will. Then prove it! Prove it by giving Eddie his shot! Claudio says that if Eddie wants the shot, he's got it! But Claudio will tell us all what's gonna happen, think of this as a spoiler. Claudio will beat Eddie and outclass him. Then Eddie will blame everyone but himself for the loss. He'll throw a tantrum then quit and run away to implode. Claudio tells Caprice that this man, Eddie, is the biggest waste of potential Claudio's seen in his life!
Claudio saw Eddie when he was young, he saw the fire in his eyes, and that Eddie could've had it all. But then he threw himself a pity party and threw it all away. So mark Claudio's words. After he retains his title at Supercard of Honor, this will happen again. Because Eddie can't handle it! Caprice says it is official for March 31st in Los Angeles. Eddie VS Claudio, sign, sealed and delivered. But who will fight and who will run when all is said and done?
Matt Taven w/ The Kingdom VS Darius Martin!
Mike Bennett lost to Angel Dorado, so The Kingdom took it out on him just last night on Dynamite! That screwed Top Flight out of becoming AEW World Tag Team Champions. But will Air Wolf screw The Trend out of going to Supercard of Honor and the tag title ladder match?
The Code of Honor is upheld, the bell rings, and then Taven pie faces Darius! Darius pie faces then arm-drags! Kicks and KICKS, but Taven kicks low. Things speed up and Darius DROPKICKS Taven out of the ring! Fans rally up while The Kingdom regroups. Darius goes out after Taven, Taven hurries into the ring, then he drop toeholds Darius! Taven runs to drop an elbow! Taven then runs in at the corner but only gets buckles! Darius arm-drags once, but Taven blocks the next. Darius headlocks, Taven powers up but Darius uses that to whip Taven away. Then Darius pie faces Taven! Taven is furious, he runs but into a drop toehold! DOUBLE STOMPS! Cover, TWO!
Darius keeps cool and he brings Taven up. Fans rally, Darius wrenches and UPPERCUTS the arm. Taven whips Darius out of the ring, but Darius BOOTS him away! The ref is busy with Taven, Mike rushes in but Darius goes up and over to ROUNDHOUSE! But now Maria anchors Darius! KICK OF THE KING! Taven soaks up the heat while the ring count starts. Fans chant "TAVEN SUCKS!" but Taven is amused. Taven distracts the ref, Mike whips Darius but Darius reverses, only for Mike to rebound and CLOBBER Darius! Taven goes out to put Darius back in the ring, and then Taven whips Darius to a corner.
Darius bounces off buckles, into a BACKBREAKER! Taven then gut wrenches, underhooks, and TIGER BACKBREAKERS! Cover, TWO! Taven clamps onto Darius with a motorcycle stretch. Darius endures, fans rally, and Darius fights up. Darius swings, but into a RUSSIAN LEG SWEEP! Taven runs to SPRINGBOARD SENTON but Darius moves! Taven flounders, runs in at Darius but into a BOOT! Darius ELBOWS Taven, runs, but Taven waistlocks. Darius bucks the O'Conner, sunset flips, but Taven rolls through! JUST THE- NO, Darius ducks the knee to roll Taven up again, TWO!
Darius stands, into a HEEL KICK from Taven! Fans cheer and jeer but definitely more jeer. Taven taunts Darius, kicks him around, but the fans rally up. Darius throws body shots, but Taven bobs 'n' weaves to kick, kick and facelock. Darius powers out but runs into a BOOT! Taven goes up, but leaps into an atomic drop! Darius fires off haymakers! Taven shoves Darius but gets the People's Haymaker! Darius whips, Taven reverses but Darius slides out to the apron. Darius shoulders in, GAMANGIRIS, then steps in for the COMPLETE SHOT! Cover, TWO! Taven is still in this, there's a reason he's an ROH Grand Slam winner.
Darius drags Taven up, suplexes, but Taven slips out to headlock. Darius powers out, ducks the roundhouse, but Taven avoids the sweep to BOOT! Darius rebounds, sends Taven to ropes, SPANISH FLY! Cover, TWO and into a ghost pin! TWO!! DOUBLE ENZIGURIS!! Both men are down and the fans fire back up! A standing count starts, fans rally up but Taven rises first. Darius follows, both men bump into each other, and Taven RAMS Darius into a corner! Taven puts Darius up top but Darius CLUBS Taven! Sunset flip, but Taven rolls through again, JUST THE TIP!! Taven goes up top, to FROG SPLASH onto knees!! Cover, TWO!!
Darius sidesteps Taven to SNAP GERMAN! Taven flops out of the ring, Mike checks on him, but Darius builds speed! Darius DIVES but gets only Mike! Taven is back in the ring, Darius hurries, but Maria trips him up! CLIMAX!!! Cover, Taven wins!
Winner: Matt Taven, by pinfall
Top Flight and The Kingdom are 1-1 in the singles series, and Taven mockingly upholds the Code of Honor. But the Kingdom isn't done, they want Darius to get up to get clobbered. But DANTE is here! Dante chases them off, but the Kingdom still acts tough hiding behind Maria. Will either of these teams #ReachForTheSky in LA?
Brian Cage w/ The Embassy VS Tony Deppen!
We saw the ROH World Six Man Tag Team Champions beat down their future challengers, but The Machine looks to do some damage all on his own. Deppen finds himself in the deep end, will he make it out alive?
The Code of Honor is upheld, the bell rings, and the two tie up. Cage shoves Deppen away but Deppen comes back. Cage shoves him away again, and Deppen gets mad! Deppen SLAPS Cage! Bad move, Deppen! Cage TOSSES Deppen to a corner, runs in but Deppen goes up and over. Deppen keeps going, rolls off Cage's back, and SLAPS again! Cage whips Deppen out, but Deppen gets right back up to GAMANGIRI! Deppen steps in, but into a SUPERKICK! Cage drags Deppen up at the corner, and he deadlift SUPERPLEXES! Cage flexes but fans boo. Cage then drags Deppen up to bump him off buckles.
Fans chant "BRIAN SUCKS!" but Cage ROCKS Deppen. Cage soaks up the heat, brings Deppen up and whips corner to corner hard! Deppen bounces off buckles and falls in a heap, and Cage asks, "Who sucks now, huh?!" Cage scoops and SLAMS Deppen, to then drop a BIG elbow! Cover, ONE!! But Cage just does push-ups. Cage drags Deppen up but Deppen throws body shots. Cage BOOTS Deppen, then hauls him up to RAM into him in the corner. Cage puts Deppen up top to ROCK him! Then Cage climbs up, soaks up the heat, but Deppen slips out! Deppen mule kicks the legs out! DRAPING BACKSTABBER!
Fans fire up with Deppen as he goes to the apron. Deppen steps in, CODE BREAKER! Cage flops out of the ring! Fans fire up, Deppen builds speed, and he SOMERSAULT TOPES!! Fans are thunderous as Deppen takes out Cage! Deppen puts Cage in, springboards, and MISSILE DROPKICKS! Cage ends up in a corner and Deppen roars! METEORA! Deppen has Cage in the drop zone then climbs up top! DIVING DOUBLE STOMPS!!! Cover, TWO!! Cage survives and Deppen can't believe it! Fans rally up, though, and Deppen goes to a corner. Deppen aims, runs in, but Cage ducks to rol lhim up!
Deppen slips free, dodges the lariat, but not the SOUTHPAW! Cage says it's done! But Deppen cradles!! TWO!!! Cage escapes, but the JUMP KNEE hits! Cage roars, spins, ROLLING- HEADBUTT!! Deppen runs, but into a SPINEBUSTER! Cage drags Deppen up to suplex, DRILL CLAW!! Cover, Cage wins!
Winner: Brian Cage, by pinfall
Deppen came close but not close enough, and now the Embassy is mugging him for it! Kaun rains down fists, Liona drops a HEABUTT of his own! Deppen sputters and spasms, but the fans chant "YOU SUCK! YOU SUCK!" The Gates of Agony drag Deppen up, but here comes Fox, Blake and Metalik! They have pipes and chains!! They clobber the Embassy! Liona takes one pipe shot, then ANOTHER! Nana wants his team to fall back and regroup! The Embassy is furious, but will they be blown away by these high-flying kings of heart?
Silas Young VS Shane Taylor w/ JD Griffey!
Believe it or not, these two have never met in 1v1 competition! Despite being two of the best ROH World TV Champions, only one can prove they are THE best. Will it be the Last Real Man in Professional Wrestling? Or will it be big bad Shane T?
The Code of Honor is upheld and the bell rings. The two tie up, Shane shoves Sials away then eggs him on. They tie up again, go around the ropes and Silas ends up in control. Silas lets off with pats on the shoulder, but Shane shoves him! Shane talks trash, so Silas SLAPS him! Shane swings on Silas but Silas ducks 'n' dodges, only for Shane to run him over! Fans rally behind Shane as he stalks Silas to ropes, but Silas HOTSHOTS! Silas throws hands, but Shane blocks the whip. Silas kicks low, but Shane still blocks that whip. Shane whips Silas to then CLOBBER him in the corner! Fans fire up, Shane runs, but Silas ROCKS him!
Silas talks trash but Shane ROCKS him! Silas ROCKS Shane, eggs him on, so Shane DECKS Silas! Silas falls right out of the ring! Shane goes out after Silas, puts him in the ring, and then on the apron. Shane climbs up and takes aim, but Silas avoids the leg drop! Silas KNEES Shane off the apron! Fans boo but Silas goes out after Shane. Silas puts Shane back in the ring, then slingshot DOUBLE STOMPS! And DOUBLE STOMPS again and again! Fans boo, but Silas mocks them before he SENTONS! Cover, but Shane makes it a ghost pin! TWO!! Shane runs in, Silas puts him on the apron and TRIANGLE JUMP LARIATS! Silas drags Shane in to cover, TWO!
Silas snarls but fans taunt him, "SILAS SUCKS!" Silas still BOOTS Shane down, then drops an ELBOW! And another ELBOW! And another ELBOW! Silas says he can do this all day! ELBOW after ELBOW, then a BIG elbow! Cover, ONE!!! Fans fire up and Silas is stunned! Silas says okay, Shane wants to be a man. Then get up and fight! Shane swings, Silas dodges, but the SOUTHPAW clobbers Silas!! Fans rally up behind Shane as he rises. Silas flounders at the ropes, and Shane CLOBBERS him! And CLOBBERS him again! Silas goes to a corner, Shane SPLASHES! But Silas dodges the lariat, only to get a KNEE!
Shane brings Silas up, SKY HIGH! Cover, TWO!! Fans argue the count but Shane just keeps going. Shane drags Silas up, turns him a la Briscoe, but Silas powers out to kick and KNEE!! And then TORNADO DDT! Cover, TWO!! Shane survives but he looks dazed. Fans rally up again as Shane and Silas rise. Silas brings Shane around, fireman's carries, but Shane sips free. Shane bobs 'n' weaves and HEADBUTTS! Then he ripcord URENAGES! Run and SPLASH!! Cover, TWO!! Silas survives and fans argue the count again. But then the fans rally up behind Shane as he looms over Silas. Shane drags Silas up, tucks him in, but Silas wrenches out.
Silas BOOTS Shane, but Shane swings, into the full nelson and SMASH! Fireman's carry!? ROLLING SENTON!! Silas goes up the corner, headstand, PEEWEE- NO, Shane dodges! Shane blocks the boot, Ace Ten Mao! And then PACKAGE PILEDRIVER!! Cover, Shane wins!
Winner: Shane Taylor, by pinfall
The baddest man in ROH was and still is Shane Taylor! And he also shows respect by keeping the Code of Honor. But will Shane Taylor Promotions be going for gold after Supercard of Honor?
Billie Starkz VS Miranda Alize!
The young rising star has shown great promise, but she's about to meet the returning #LuchaBaddie! Will Alize reestablish herself quickly in ROH? Or will Starkz still have a bright future?
The Code of Honor is NOT upheld as Alize slaps the hand away. The bell rings, she and Starkz circle, and fans are on Billie's side. Billie and Alize tie up, go around, go along the ropes, and then into corner after corner after corner! They go back to center, break, and fans applaud. The two tie up again, Alize arm-drags to a cover. ONE, Billie has the cover, ONE and Alize bails out. Fans boo but Billie is patient. Alize scowls and storms back in. Billie calls for a knuckle lock, and Alize accepts, but she BITES Billie's hand! Fans boo but Alize kicks Billie low! Alize whips, Billie reverses and follows to then get around, HALF 'N' HALF!
Fans fire up while Alize bails out. Billie builds speed to DIVE! Direct hit at the ramp! Fans fire up with Billie and the ring count starts. Billie drags Alize up and into the ring, then she climbs up the corner. Billie leaps but Alize avoids the double stomps! Billie runs in, Alize dodges again, then runs in. Alize blocks boots, puts Billie in the ropes and throws her down by her hair! The ref reprimands, Alize drags Billie to a corner, TWO! Another cover, TWO! Fans rally for Billie but Alize bumps her off buckles. Alize BITES the hand again! The ref reprimands, Alize stops and she drags Billie back up to throw heavy body shots!
Alize snapmares Billie, mocks the fans clapping, and Alize runs to build speed, just to pie face Billie! Alize talks trash, drags Billie up, but Billie ROCKS her! And ROCKS her again! Billie roars, runs, but into an ELBOW! Billie flops to the apron but Alize drags her back in. Fans rally, Alize whips her to ropes, and then Alize follows, tilt-o-whirl FACEBUSTER into the MIRANDA RIGHTS!! Billie is stuck in the crossface and reaches out, but Alize drags her back from the ropes! Billie powers to a roll-up, TWO!! Billie blocks a kick to KNEE back! Alize goes to a corner and fans rally up again. Alize stands, she runs in at Billie, but only gets buckles!
Billie ELBOWS Alize, goes to another corner, and Alize runs in. Billie BOOTS Alize, goes up, but Alize blocks the boot! Billie ENZIGURIS, then spins Alize for a KNEE SMASH and HEEL KICK! Fireman's carry, DEATH VALLEY DRIVER! Cover, TWO!! Alize survives but Billie snarls. Billie brings Alize up, Alize cravats but Billie powers out. Billie runs in but into a ROUNDHOUSE! Alize goes to the apron, shoulders in then SPIKE-RANAS! Cover, TWO!! Billie survives and Alize grows frustrated. Alize drags Billie up, spins her around, but Billie suplexes, GHOSTBUSTER! Cover, TWO!!
Alize survives, but Billie goes up, SWANTON- FLOP as Alize dodges! Alize spins Billie, for a CUTTER! Alize runs in, but Billie ducks the Drive-By to roll Alize up! TWO!!! Alize escapes, tilt-o-whirls, but into a TOMBSTONE!!! Cover, STARKZ WINS!!
Winner: Billie Starkz, by pinfall
A massive win over a veteran, Billie just put herself on the map! Will the 18 year old upstart find herself in the title scene for the summer?
Christopher Daniels & Matt Sydal VS Aussie Open!
Former ROH World Tag Team Champions are reunited and they are as good as they've ever been. But they're up against the original NJPW Strong Openweight Tag Team Champions! Will the Fallen Angel & Third Eye be able to survive? Or will the Aussie Arrow & Dunkzilla conquer ROH for the United Empire?
The Code of Honor is upheld, and the teams sort out. Sydal starts, and he tries to make the chant, "AUSSIE AUSSIE AUSSIE! MATT SYDAL!" Kyle Fletcher thinks that's funny, and the two circle. They tie up, Fletcher puts Sydal in a corner but Sydal slips away fast. Fletcher keeps Sydal at a distance with his long legs, then comes back. They circle, feel things out and tie up. Fletcher cravats, Sydal fights the snapmare but Fletcher powers through. Sydal handsprings through, but Fletcher runs him over! Fletcher scoops, Sydal slips free, then runs. Sydal tilt-o-whirl RANAS, then he taunts Fletcher into a rolling cradle! TWO!!
Sydal facelocks, tags Daniels, and they double whip Fletcher to trip and basement dropkick! Cover, TWO! Fans rally for Daniels as he wrenches to a wristlock, but Fletcher scoops and SLAMS fast! Tag to Davis, he runs in but Daniels dodges. Daniels headlocks, Davis powers out and runs Daniels over! Davis drags Daniels up, bumps him off buckles, then CHOPS! Daniels sputters while fans want that "ONE MORE TIME!" Davis obliges, and he CHOPS again! Fans fire up with Davis, then he drags Daniels up. Davis whips Daniels away, runs in, but Daniels drop toeholds Davis into buckles! Daniels kicks a leg out then runs to BLINDSIDE LARIAT!
Fans rally up as Daniels stands Davis up. Daniels wrenches, tags in Sydal, and they double whip. Davis cartwheels, BOOTS Daniels, but Sydal blocks one! DOUBLE LEG SEWEP! Sydal back suplexes Daniels for the SPLASH! Then he adds the MARIPOSA! Cover, TWO! Sydal PENALTY KICKS Davis in the back! Tag to Daniels, Sydal wrenches so Daniels can kick low. Daniels whips Davis, but Davis blocks! Daniels JABS Davis, but Davis still blocks the whip. Daniels JABS again, Davis staggers away but Daniels kicks low. Daniels JABS, JABS and JABS! Fans fire up as Daniels whips, but Davis reverse.
Daniels slips under Fletcher trying to be sneaky! Daniels trips Fletcher, ROCKS him, then shoulders into Davis! Slingshot sunset flip, but Fletcher tags in! Davis rolls through, wrenches, Aussie Open double whips to DOUBLE CHOP! And then PENALTY KICK to a SENTON! Sydal slingshots, but into an UPPERCUT! Fans fire up as Fletcher fetches Daniels and Davis has Sydal. Aussie Open meet around the way, SPINEBUSTER SANDWICH! Fans fire up as they put the crowns up! Aussie Open regroups and they put Daniels in the ring. Fletcher covers, TWO! Fletcher slaps Daniels around, stands him up and scoops to SLAM!
Fans rally and Fletcher stomps Daniels down. And he springboard stomps Daniels at the ropes! Fans rally, "FALLEN ANGEL! OI OI OI!" Fletcher tags Davis, and Davis DECKS Daniels! Davis roars and barks, then he suplexes to hold Daniels up! Tag to Fletcher and Fletcher takes the handoff, only for Daniels to cradle! TWO!! Fletcher CLOBBERS Daniels! Fans rally, Sydal coaches Daniels, but Fletcher tags Davis back in. Fletcher BOOTS Sydal, then Davis drags Daniels up. Davis clamps onto the arm and shoulder but Daniels endures the armlock. Fans rally up, Daniels fights to his feet, and he throws forearms! Davis scoops Daniels to SLAM him down!
Fletcher tags in, Aussie Open brings Daniels up and fans rally. Davis scoops, but Daniels slips off to shove him into Fletcher! Daniels then BOOTS Davis and goes up, to FLYING COMPLETE SHOT! Fans rally up as Daniels and Aussie Open are all down. Hot tag to Sydal! Sydal dodges Fletcher to HEEL KICK! Sydal dodges Davis to WHEEL KICK! Sydal fires off KICK after KICK on Fletcher, then the JUMP SOBAT! POP-UP RANA! Cover, TWO!! Fletcher survives but fans fire up! Sydal has Fletcher in a corner, hoists him up top, and he climbs up to join him! Fletcher shoves Sydal away, but Sydal jumps, SUPER STEINER! Ghost pin, TWO!!
Sydal keeps cool, he puts Fletcher in the drop zone. Sydal climbs up, but Davis hurries up! Davis anchors Sydal, and Fletcher GAMANGIRIS! Sydal is stuck up top, and Aussie Open coordinates. They drag Sydal back up, climb up after him, but Daniels runs in. Davis shoves Daniels away, runs after him, but is sent out! Daniels CLUBS Fletcher and brings him around! Sydal helps out, METEORA BOMB!! Cover, DAVIS BREAKS IT! Fans chant "This is Awesome!" "R O H!" Davis rushes Daniels, Daniels dodges one lariat but not the SOUTHPAW! Davis swings on Sydal, Sydal dodges both north and south to JUMP KNEE!
Fletcher runs in, dodges the roundhouse to HALF 'N' HALF! But Daniels hits a DEATH VALLEY DRIVER! All four men are down and fans are thunderous again! Daniels and Fletcher stir, the teams regroup, and Daniels runs at Davis. Davis TOSSES Daniels out! Davis sees Sydal, he gets the legs, Close Your Eyes- RANA!! Sydal KICKS Fletcher, KICKS Davis, repeat! Davis blocks one, fireman's carries, AUSSIE DENTAL PLAN! LAWN DART CUTTER!! Cover, Daniels breaks it!! Davis runs in, into a COMPLETE SHOT! "This is (still) Awesome!" as Daniels drags Sydal to a corner and tags in.
Daniels JABS Fletcher, JABS Davis, repeat! Then MEETING OF THE MINDS! Daniels runs, dodges double lariats and gives DOUBLE LARIATS! Fans are thunderous again, Daniels hits Fletcher with BLUE THUNDER! Cover, TWO!! Fletcher survives but Daniels says it's time. Daniels drags Fletcher up, underhooks, but Davis returns. Fletcher send Daniels into the BOOT! SUPERKICK! Fireman's carry! But Daniels denies the dental plan to SMACK Davis! Sydal dodges Fletcher to KNEE Davis! Fletcher scoops Sydal for GRIMSTONE!! But Daniels hits the URENAGE! And he goes to the corner!
But Fletcher drags Daniels down! Daniels sits on the cover, TWO!! Fletcher runs into a kick, Daniels underhooks, but Davis ENZIGURIS! Fans are thunderous for "R O H!" as the elbow pads come off. DOUBLE LARIAT SANDWICH! Double pump handles, COREALIS!!! Cover, Aussie Open wins!
Winners: Aussie Open, by pinfall
The future is now! Aussie Open wins big, and the veterans look to leave, but think better of it. They all uphold the Code of Honor and fans cheer. Fletcher & Davis take down the classic combination of Daniels & Sydal, but will they #ReachForTheSky to bring gold to the Empire?
ROH World Television Championship: Samoa Joe VS Cheeseburger!
The King of Wrestling Television is going to get a helping of Sussex County Chicken at Supercard of Honor, but he's having quite the appetizer! Will Joe tear into the all beef body of Cheeseburger? Or will this be the biggest upset in ROH history?
The introductions are made, the belt is raised, and we see who is headed for the Supercard of Honor!
The bell rings and Joe fires off knees and JABS on Burger! Joe says, "You remember, Mark! You remember what you're getting in the ring with: ME!!" Fans sing, "Joe is gonna kill~ you!" but Burger still fires body shots and forearms! Burger runs, into a LARIAT! Joe asks if Mark remembers. "I'm gonna remind you." Joe drags Burger up, hoists him up top, HEADBUTTS him, then tucks him in! MUSCLE BUSTER!!! Cover, Joe wins!!
Winner: Samoa Joe, by pinfall (still ROH World Television Champion)
Forget biggest upset ever, this was the fastest ROH World TV Championship match ever! But Joe isn't done! He drags Burger back up, for a SECOND MUSCLE BUSTER!! Joe then snatches Bobby Cruise's chair away! Referees rush out to reprimand Joe, but here comes BRISCOE! Mark is here with a chair of his own! Mark runs Joe off, but the clock is ticking! Will Mark finally fulfill his destiny by dethroning Joe? Or will the King of Wrestling TV only shine in Hollywood?
---
My Thoughts:
A really good ROH here, lots of development towards Supercard of Honor, and surprisingly, only one promo. That one promo was a very good promo as Eddie and Claudio get at each other and make an official ROH World Championship match for the PPV. There's a lot of continuity to call upon from AEW here, can't wait to see which way this one goes. Given how much the Blackpool Combat Club is still doing in AEW, this would be a pretty good opening for Kingston to win and let Claudio focus on AEW for a minute. Eddie can then have all sorts of great matches with ROH stars both old and new as ROH reestablishes itself.
Good women's matches tonight, with Skye Blue getting a great win off Lady Frost and Billie Starkz with the surprising win over Alize. Athena VS Yuka Sakazaki is set for the PPV but I don't see Athena losing. That means there must be plenty of strong Faces ready to challenge her. Skye is also still part of story in AEW, so maybe after we see The Outcasts VS Team AEW Homegrown play out, Skye devotes time to ROH and challenges for the title. Really good stuff out of Taven VS Darius, but of course The Kingdom helps Taven win that. Top Flight and The Kingdom should both be in that Reach for the Sky ladder match to both settle their feud and perhaps crown one team the champs.
Great interweaving of stories when it comes to the ROH Six Man titles. Fox, Blake & Metalik win against Trustbusters to shut them up and be clear next challengers, which is also made clear by The Embassy jumping them. Great showing from Deppen against Cage but I figured Cage would win. And then great retaliation from Fox, Blake & Metalik, which are going to need an official trio name if they're gonna stick together. It really is three big hosses against three lighter high-flyers, this clash of styles is going to make for great stuff, but I can't be sure the Faces dethrone the Embassy.
Really good stuff from tag teams tonight, such as LFI VS Rhett & Tracy and Aussie Open VS Daniels & Sydal. LFI and Aussie Open each winning makes sense, both factions are going strong in ROH but also other companies (AEW for LFI and NJPW for Aussie Open), these teams should also get in on the ladder match. Not to be mean to Aussie Open, but they're already set for the IWGP Heavyweight Tag Team Championships, they don't necessarily need the ROH titles. LFI would be a strong choice for the next ROH Tag Team Champions, and should think about bringing Preston Vance into ROH so they can really start to dominate a promotion.
Really good match from Silas VS Shane, both guys have been great mainstays of ROH, and great win for Shane. Depending how the titles go, I would love if Shane went after the world title in the next phase. I mostly say that because the fans really like Shane, and it'd be a shame if Shane had to face another fan favorite. Though that said, fan favorite Cheeseburger got squashed in a title match main event just so Joe could prove a point to Mark Briscoe. Mark had a great win to open tonight, and he made the save to close the night, I kinda hope Mark finds a way to get that TV title to "fulfill destiny" on the same night ROH honors the Briscoe tag team legacy with that ladder match.
My Score: 8.7/10