NXT Minus 6: The N(e)XT Great Tag Team
Bradley Jay anoints the next great tag team in WWE NXT, and it's an obvious choice.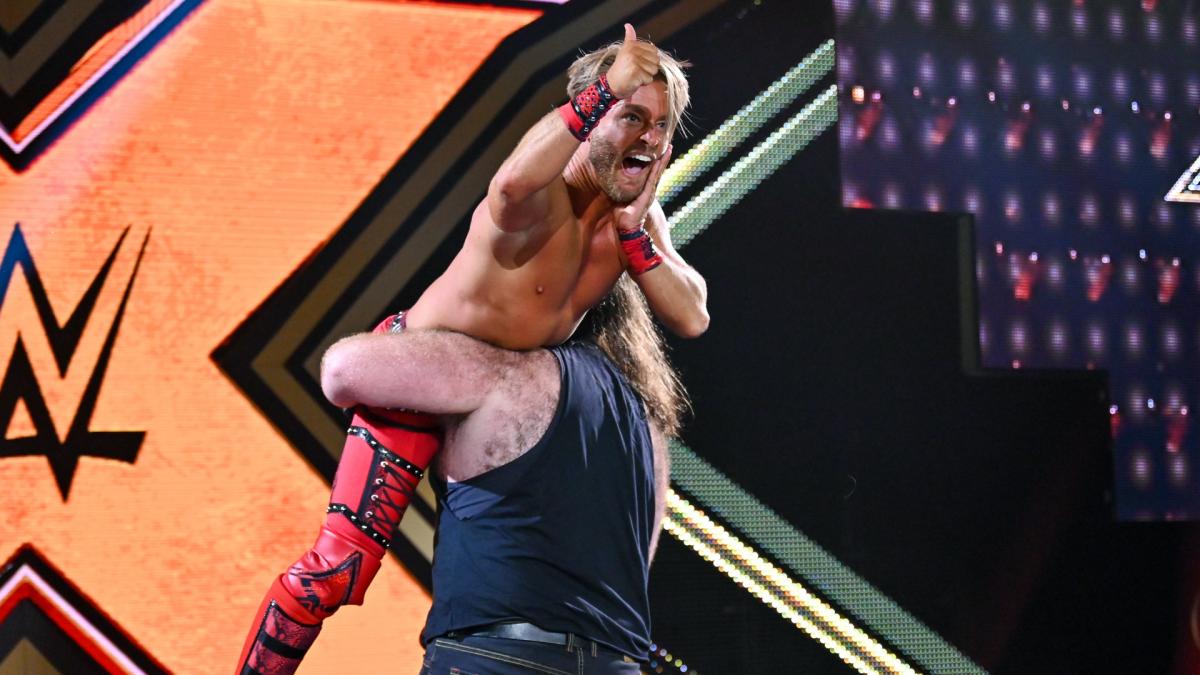 Bradley Jay anoints the next great tag team in WWE NXT, and it's an obvious choice.
The Double D's? D&D? The Island Boys? NXT's next great tag team needs a name.
6. I am love love loving the saga of Killian Dain and Drake Maverick. After one match they are already my favorite tag team. Their music is horrible, Drake's dancing is ridiculous, and it's all perfect. The only misstep was it's too soon for Dain to carry Maverick off on his shoulder. They can let that linger for weeks. I'll laugh my ass off every time Dain clocks his own partner after a victory and leaves him lying in the ring. 
5. Instead of sticking Xia LI with Boa for no other reason than they are both Chinese, here's an idea. Li joins forces with Dakota Kai & Raquel Gonzalez to form a female stable & and 2 of them go after the women's tag titles. The spicy striker would be a perfect addition to Team Kick, and it would be based on something more than the black wrestlers can only team with other black wrestlers, the Asian wrestlers can only team with other Asian wrestlers…
4. Would it have been so wrong to give KUSHIDA a clean victory over Tommaso Ciampa? The answer is no. The interference by Velveteen Dream made sense, so I'm cool with it. But if you're going to push KUSHIDA, a victory over the Psycho Killer would have sealed the deal. I do hope to get more KUSHIDA versus Ciampa. Their first match was a tasty appetizer, 3.5 stars. 
3. How good is the women's division right now? Other than Ember Moon, who was clearly rusty (and boring), the main event was excellent, 3.5 stars. I like that the women can main event a show without it being a big deal. It's normal. It's expected. They have 100% earned it. Watching Gonzalez rag doll Rhea Ripley was a sight to behold. Kai is an absolute gem. We really need a proper Gonzalez versus Ripley match. And I'll remind you that Kai-Xi should be the women's tag team champs. 
2. At the risk of offending all the WCW fans, I am not looking forward to Halloween Havoc. There are countless ways the E will turn this into an embarrassing spectacle that's cheesier than Momma's lasagna. Every week, NXT proves that wrestling is enough. RawDown might need Undisputed Era dressed up as Ninja Turtles or Dexter Lumis eating eyeballs. NXT does not.
1. This week's That's Why I Love Wrestling goes to…Killian Dain & Drake Maverick! Maybe some other team in the past has worked a similar shtick, but I can't remember who. It makes sense that they're together. It makes sense that Dain is resistant. Maverick flows effortlessly from angry underdog to dancing goofball. You know the game. If you don't love __________ then you don't love wrestling. This week, the answer is WWE's latest oddball tag team. Now let's hope they get name better than the UK Warriors or the Fish & Chips Connection.