Andrew's Impact Wrestling Results & Match Ratings: 11.10.2020
Impact Wrestling is building towards Saturday's ImpactPlus special, Turning Point! What kind of build do we see? Wait…do you have to pay rent on a treehouse?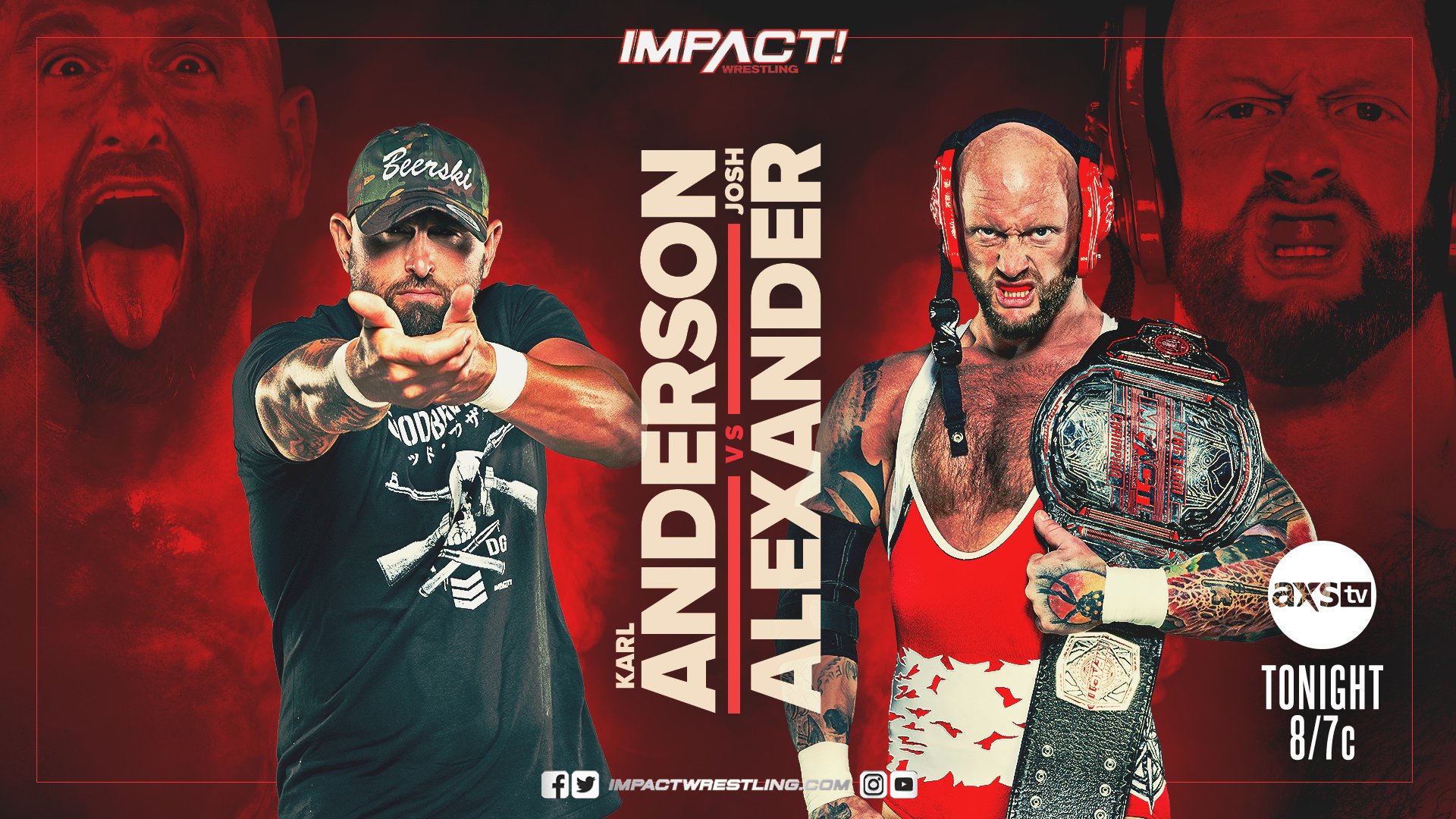 Tonight on Impact we get closer to finding out who shot Bravo and what the team of Madison Rayne and Tenille Dashwood will look like!
Singles action for tag teams is rampant tonight as well! Chris Sabin against Acey, Karl Anderson against Josh Alexander; these could have interesting implications in the scene and before the championship match.
Let's not forget that Turning Point is on Saturday, so we should see more build and clarification for what goes on for that special.
The Rascalz have been EVICTED from The Treehouse and are departing IMPACT Wrestling. #IMPACTonAXSTV @DezmondXavier @zachary_wentz @TheTreyMiguel pic.twitter.com/TaDIgFg5v3

— IMPACT (@IMPACTWRESTLING) November 11, 2020
Ratings:
Tenille Dashwood & Madison Rayne vs Neveah & Havok: Havok wins via Tombstone Piledriver – ** ½
X Division Championship: TJP vs Rohit Raju (c): Rohit retains via Tiger Knee – *** ¼
Acey Romero w/Larry D vs Chris Sabin: Sabin wins via Gamengiri – **
Chris Bey vs Eddie Edwards: Eddie wins via Cradle – ** ¾
Reno Scum vs Fallah Bahh & Crazzy Steve: Reno Scum win via Scum Stomp – **
Josh Alexander w/Ethan Page vs Karl Anderson w/Doc Gallows: Anderson wins via DQ – *** ¼
Results:
Tenille Dashwood & Madison Rayne vs Neveah & Havok
An awkward start from Tenille and Madison makes for a possibility of a larger story to come. I mean two narcissistic Queen Bee personalities are bound to clash.
Madison starts the match, and after some honestly solid yet simple wrestling, Neveah comes out on top so Madison quickly retreats to Tenille for the tag. Tenille continues this IIconics style of humor in her new persona as her and Neveah trade standing switches and then Tenille gets bored of it, and you can see it on her face. She says "okay you win" and then picks the ankle and applies a Headlock/Noogie that apparently she calls the Dash-Woogie…so…that's a name.  Neveah tags in Havok and Tenille tries to center her chakras or something before trying to just stay away from Havok. Havok muscles around Tenille a bit, and she takes some opportunistic trips gets a near fall before tagging Madison back in out of fear.
Madison gets ragdolled in and starts getting woman handled by the more experienced team. Madison has a small hope spot after a Bell Clap and a Cross Rayne attempt, but Havok counters it into a Tombstone Piledriver and wins the match.
So we might finally see Tenille and Jordynne begrudgingly team together since they haven't found success with other teammates.
Slaps flying everywhere between The Good Brothers and The North. #IMPACTonAXSTV @The_BigLG @MachineGunKA @OfficialEGO @Walking_Weapon pic.twitter.com/mvkSbVRNej

— IMPACT (@IMPACTWRESTLING) November 11, 2020
X Division Championship: TJP vs Rohit Raju (c)
If TJP loses this match, he won't be able to challenge for the title again, for as long as Rohit is champion. So after a great promo last week, this should be a fun match.
I like the fact that TJP starts before the bell with the Baseball Slide and stays on Rohit even after they bring it back to the ring. A few partial Romero Specials help TJP keep most of the advantage, but Rohit keeps finding a few spots to get a shot in. Once he grabs the ref as a shield, the momentum starts to shift and Rohit sweeps TJP's leg as we go to commercial.
We come back and Rohit is still mostly in control. TJP tries to find a few escapes, but Rohit keeps a very ground and calculated attack, which takes away a lot of TJP's offense. TJP fights to his feet, hits a Tornado DDT and then picks up the pace. Big Dropkick, Springboard Crossbody, then a Surfboard into a pinfall; but Rohit slips out of the pin attempt.
TJP lands a few more moves, goes to the top rope and Rohit cuts him off. Starts setting up for the Dragon Stomp, but TJP gets out of it. A violent corner splash from Rohit keeps him in control, until TJP hits a Facebuster then goes for Mamba Splash and misses. TJP manages to turn things into a Knee Bar but Rohit grabs for his belt, the ref puts a stop to that, yet Rohit does the good ole Low Blow, into his Tiger Knee strike to retain!
Nice clash of styles, solid match and Rohit is definitely a great aspect to Impact.
Acey Romero w/Larry D vs Chris Sabin
Sabin tries to start off the match hot going at the much bigger Acey, but he gets neutralized fairly easily and then Larry D makes his presence felt fairly early, so we establish the concept of it basically being a handicap match early on.
Playing the role of the good underdog, Sabin starts to put a few things together just rolling out of the way. He low bridges Acey to the outside, hit a Plancha onto both members of XXXL, and starts a big rally. Acey does catch a charging Sabin with an Urange, but then Sabin moves out of the way of the Senton and we head to the finish. Gamengiri rocks Acey, Sabin goes to the outside to Soccer Ball Kick Larry to take him out, another Gamengiri, Enzuigiri, and a Gamengiri to pick up the expected win.
Larry slides in to beat on Sabin, and we get the typical heel beat down on the solo babyface.
Chris Bey and Sami Callihan start conspiring like good heels with a common enemy.
.@MinisterReal says he didn't kill @JohnEBravo1st…but he thinks he knows who did. #IMPACTonAXSTV @THETOMMYDREAMER pic.twitter.com/iE2CjtEsQs

— IMPACT (@IMPACTWRESTLING) November 11, 2020
Chris Bey vs Eddie Edwards
Match starts off with a little personality and then taps into a lot of counters, dodges, and Bey catches Eddie with a few well-placed shots and a Dropkick to give him a small advantage. Eddie quickly turns it around with his hard Chops a few suplexes and just really nice fast pacing from both men, just from very unique angles.
As Bey starts to take the lead in the match, we get a small bumper for the Super J Cup. So this is the third New Japan reference on an Impact product in what…four weeks? Rocky dropped the plug for NJPW Strong during Full Keg, Impact mentioned Rocky was on it and from New Japan and now this Super J Cup plug. Perhaps Impact has more going on with NJPW than we were lead to believe after the AXS TV deal?
Nice back and forth between the two where Eddie gets space with some strikes, Bey counters the Tiger Driver with a Frakensteiner and looks for Triple C; but Eddie backs up, Bey lands on his back and Eddie just lays out into an opportune cradle for the win!
After the match we see the plan come to fruition. Sami and Bey gang up on Eddie, which brings Rich Swann out for the save, but Ken Shamrock comes out to attack Rich. Callihan looks to recreate the chair and baseball bat spot with Rich Swann, but The Rascalz make the last save. If The Rascalz are truly on their way out, they might get one final showdown with Sami's team.
.@TenilleDashwood and @JordynneGrace will team together THIS SATURDAY at #TurningPoint! #IMPACTonAXSTV pic.twitter.com/t3buDWh7lS

— IMPACT (@IMPACTWRESTLING) November 11, 2020
Jordynne gets to show a little bit of personality and Tenille really has found a great groove with her quirky Australian humor. I hope they make this a begrudging team that actually works.
Next week is The Rascalz' final week on IMPACT and they're going out with a BANG – it'll be @DezmondXavier and @zachary_wentz vs. @GottaGetSwann and @TheTreyMiguel! #IMPACTonAXSTV pic.twitter.com/ewQ69XA5Py

— IMPACT (@IMPACTWRESTLING) November 11, 2020
ImpactPlus Throwback Moment: Turning Point, Tag Team Championship, British Invasion vs Motor City Machine Guns vs Beer Money, November 15,2009
Reno Scum vs Fallah Bahh & Crazzy Steve
Well this is certainly…different. A random duo of two people who have awkward history against an actual tag team. So if Reno Scum lose this match, they should disband as a team.
Reno Scum takes early advantage against Crazzy Steve, throwing him around a little, taking him to Pity City, but when Steve gets Fallah in, the tide turns. A big Belly to Belly on Luster, catches Thornstowe in a Samoan Drop and just generally keeps the work up. Fallah tries to tell Steve to take Luster on the outside, but he gets caught, Fallah misses the BAHHnzai Drop and that gives Reno Scum the opening they needed. Scum Stomp later, and Reno Scum wins!
With @fakekinkade injured, @SuperChrisSabin needs back up – nobody knows him or tag team wrestling better than @JamesStormBrand! #IMPACTonAXSTV pic.twitter.com/e3f3nFYE1f

— IMPACT (@IMPACTWRESTLING) November 11, 2020
Josh Alexander w/Ethan Page vs Karl Anderson w/Doc Gallows
Anderson takes an early advantage landing a few quick strikes and dumping Alexander to the outside as we go to the last commercial break. When we get back Anderson is choking Alexander in the corner, but the match flips as soon as Alexander rocks Anderson and starts enforcing his technical ability and strength.
Alexander keeps control for a good portion of the match taking Anderson to the outside for Page to ridicule him and just generally get in great ring work and character work. Even Alexander started talking a little smack in the match, which isn't something we see often. A few striking trades always ended up in the favor of Alexander, he came through with come great Running Big Boots and just kept Anderson rocked. It wasn't until a timely Hangman Neckbreaker that Anderson had a hope spot.
Chops to keep some distance, an Anderson Style Spinebuster to set up for a Gun Stun attempt, but Alexander pushes off. Which sets up for Ethan to finally make his presence felt, Anderson kicks at him, which pisses off the notoriously short tempered Page, and Ethan slides in, attacks Anderson for the DQ to go in the favor of The Good Brothers.
Donnybrook to end the show with security separating both teams. So a typical TNA crescendo for the show leading up to Turning Point.
Overall Score: 7/10
A bunch of good stuff to like. Two solid matches, Rohit is just gold as a heel champion. Tenille and Jordynne possibly getting a win over Taya/Rosemary at Turning Point could be great for their story and the Who Shot Bravo story. Tasha Steelz and Kiera Hogan stealing the money is a nice twist since I doubt Hernandez is going to try and muscle them over, unless we see an introduction of a few new Knockouts. Bey possibly being added to the Dangerous Triad or whatever you want to call Sami's group is fun, since he adds an element the others don't. Plus we also got to see Su Yung take care of Kimber Lee, so Deonna may be all alone for the Turning Point match. Does the Virtuosa have anything left up her sleeve?
I think the only really upsetting thing is IF The Rascalz are really on their way out of Impact Wrestling. I've been fairly vocal in my fandom of Dez (starting with his Lucha Underground stuff) and Wentz (even back to his Wrestle-1 stuff), Trey I couldn't care less about, but 2 out of 3 ain't bad.
Solid IMPACT!, hopefully leading to a solid Turning Point…just not gonna lie boys and girls, The Rascalz really has me bummed. One could say…it looks like it's beginning to rain…