Andrew's Impact Wrestling Results & Match Ratings: 11.17.2020
The Rascalz say goodbye to Impact the only way they know how. A little fun, a little smoke, and ending the show big! Enjoy one last session in the treehouse!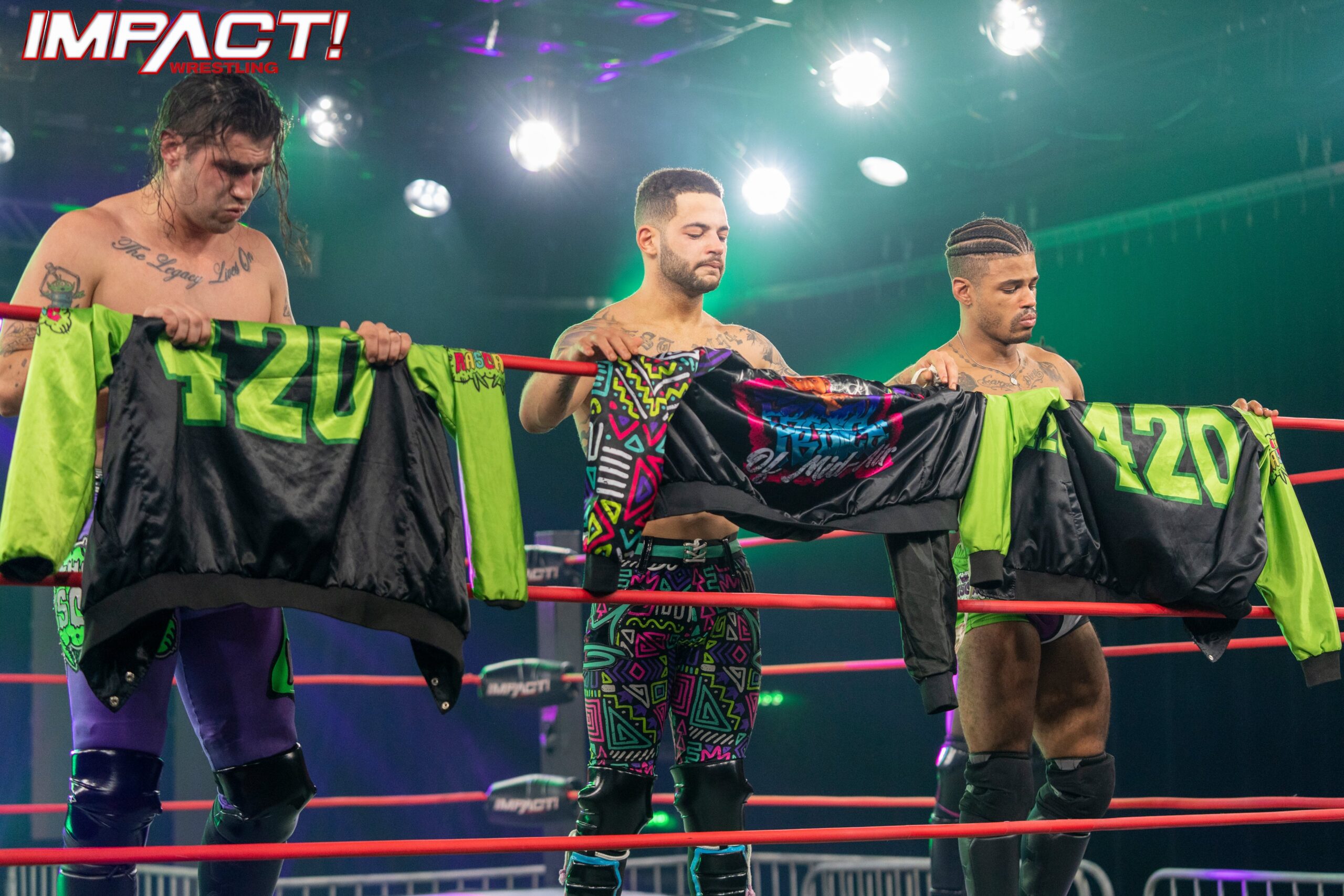 Tonight we get the first match of the Impact Knockouts Tag Team Championship tournament. We most likely get to Tenille and Alisha get destroyed. Maybe we get a little further in figuring out who shot Bravo?
Also let's not forget, tonight is the Good bye to the Rascalz. The Treehouse will be empty, and we get left with what could really be a fun tag match.
Dez always bringin' up old shit. @IMPACTWRESTLING pic.twitter.com/tCFKO5A5Bu

— PowerSlide Prince 👑 (@TheTreyMiguel) November 18, 2020
Ratings:
NO DQ TNA Championship Match: Moose (c) vs Willie Mack: Moose wins via Knockout – *** ¼
Suicide vs Gio: NO CONTEST
Brian Myers vs Crazzy Steve: Myers wins via Charging Lariat – ** ½
Alisha Edwards & Tenille Dashwood vs Havok & Nevaeh: Havok wins via Tandem Wheelbarrow/Cutter – ***
Fallah Bahh vs Hernandez: Hernandez wins via Splash – **
Rich Swann & Trey Miguel vs Dez & Wentz: Rich wins via Thrust Kick – ****
Results:
NO DQ TNA Championship Match: Moose (c) vs Willie Mack
Mack starts off fast, tackle, bell clap, pump kick and just taking it to Moose directly. Willie slams Moose into the post, the apron and looks to throw him into the guardrail, but Moose counters and Willie flies over the rail with a thud.
Going back in, Willie manages to use an Irish Whip to his advantage, connecting with a Discus Elbow, then he holds the rope tricking Moose into whiffing the Dropkick. But Moose kips up and yells, then ducks Willie's line and hits a beautiful Okada-esque Dropkick to get back in the driver's seat. Willie is on the receiving end of being manhandled and degraded, as Moose stalks him telling him to tell the camera that "He's a Wrestling God".
Willie finally manages to avoid a few corner rushes, as they both go to the middle and exchange strikes with Moose favoring the left shoulder that hit the corner. Moose hits a Pump Kick, goes for a Spear, Willie catches it into a Samoan Drop, standing Moonsault for a near fall! Next attempt is an Exploder Suplex from Willie, but it's blocked, Exploder from Moose is blocked, Stunner is blocked by Moose, and Moose goes for a Discus Lariat, but Willie catches him with a Swinging Slam. 6 Star Frog- nope, miss.
Moose gets hit with the Stunner, falls into the ropes, and hits the Lights Out Spear. Then goes to full mount and rains down elbows. Moose wins via Knockout.
This new extra violent Moose is a good wrinkle into his character.
.@CodyDeaner and @JakeSomething_ have informed Detective @THETOMMYDREAMER of their @swinger_johnny gun discovery. #IMPACTonAXSTV pic.twitter.com/9tDp4ZWKPs

— IMPACT (@IMPACTWRESTLING) November 18, 2020
Suicide vs Gio
Oh – it's been a hot minute since Impact has done a local talent job match. The match barely starts and Eric Young and Joe Doering show up, and Eric sends Doering to murder people. Killer Joe bringing the size, agility and power. There's a reason Joe was a popular and successful gaijin in All Japan Professional Wrestling.
If you don't know him, find some of his AJPW stuff. He's not a Bradshaw clone, if anything he's a modern day Stan Hansen. Joe is stud.
next week ür time haz come #IMPACTonAXSTV @DeonnaPurrazzo @Kimber_Lee90 @realsuyung pic.twitter.com/hwJ5PsmgHz

— IMPACT (@IMPACTWRESTLING) November 18, 2020
Joe Doering and Eric Young go to the back to lay out Rhino and then shut the door on Heath who isn't 100%.
Joe Doering and @TheEricYoung just decimated @HEATHXXII and @Rhyno313. #IMPACTonAXSTV pic.twitter.com/D8E6RJXH2x

— IMPACT (@IMPACTWRESTLING) November 18, 2020
Brian Myers vs Crazzy Steve
Myers talks a lot of trash during this match and generally has the advantage. Crazzy Steve does hit a nice Satellite Takedown and some decent junior style attacks before Myers powders and then leans on the smaller guy.
We come out of the commercial seeing basically the same thing. A few suplexes, a sleeper hold, just generally trying to use his size advantage to wear out Steve. Steve finally hits a Jawbreaker and has a small burst of hope. A few corner attacks, Cannonball for a 2, a Russian Leg Sweep into a Koji Clutch forces Myers to barely get to the ropes.
Gamengiri by Myers gives him a second, but Steve keeps the offense after a Busaiku Knee. Myers pokes the eye to make Steve…blinder…and then hits the Charging Lariat for the win.
ImpactPlus Flashback Moment Knockouts Tag Team Championship: Gail Kim & Madison Rayne vs Tara & Brooke Tessmacher (c), IMPACT!, November 3,2011
Swinger shows the gun from his fanny pack, Dreamer says it proves he's guilty, so next week it the return of Wrestler's Court!
Alisha Edwards & Tenille Dashwood vs Havok & Nevaeh
Alisha actually tries to play mind games starting off by asking Nevaeh why she's so serious. Nevaeh claps back with "it's for the titles, you SHOULD be serious" and Alisha says "I got the memo" and stomps her foot and takes an early edge. Wait, and Tenille tags in early for a tandem move and Tenille to continue the assault, including a photo-op and a Dash Woogie.
Drop Toe Hold into the corner, a little bit of adorable flair from Tenille, and the Taste of Tenille low Crossbody. Nevaeh hasn't gotten much offense in at all. But Tenille's posing gives Nevaeh the chance to tag to Havok…and Tenille nopes that.
Alisha goes at Havok like a Chihuahua against a Mastiff, and actually rocks her hitting a great Wheelbarrow Flatliner. When did Alisha learn how to wrestle…OH wait there we go, caught on a Crossbody, Side Slam and now Alisha gonna die. Alisha almost gets out but Tenille shoves her back into the wolves, almost makes a something, but Tenille gets wiped out and Alisha goes for the Wheelbarrow Flatliner again, but gets caught, Nevaeh hits a Cutter and Alisha is done. Tenille/Alisha are eliminated.
Fallah Bahh vs Hernandez
Hernandez still wants his money and I think Fallah doesn't realize he really doesn't have it anymore. Should be interesting to see how they all react when they find out Tasha and Kiera have it.
Fallah hits a few early moves, but the Slingshot Shoulder Tackle and Air Super Mex give Hernandez the momentum. Fallah tries to fight back, but Hernandez backs him down in the corner with chops and shoulders. Fallah reels for a while, before he shoves Hernandez into the corner, hits a big boy hip attack and Samoan Drop for a near fall.
Hernandez with the bell clap, slingshots Fallah from the ropes and hits the Splash from the top rope for the win!
It was tough luck for @MegaTJP against @HakimZane last week.

If only there were somebody named something other than TJP who could challenge for the X-Division Championship… #IMPACTonAXSTV @ScottDAmore pic.twitter.com/jrwrNf0zuA

— IMPACT (@IMPACTWRESTLING) November 18, 2020
Scott with a great Midnight Rider reference and just overselling the "GO BACK TO SUICIDE OR MANIK MORON" without saying it. I am definitely enjoying Scott's involvement in segments.
The Good Brothers will line up a "Phenomenal" opponent for @OfficialEGO NEXT WEEK! #IMPACTonAXSTV @ScottDAmore @MachineGunKA @The_BigLG pic.twitter.com/stjJNAt9Kw

— IMPACT (@IMPACTWRESTLING) November 18, 2020
Rich Swann & Trey Miguel vs Dez & Wentz
The Rascalz make their entrance together, which is cute. They all dance with Rich, which I don't mind since it fits their characters. They're all friends and they enjoy a good time, it doesn't come off TOO Indy…but it is close.
Wentz and Trey start, and there's a lot of smiles and counter holds. This is pretty solid given the mood we're expected to be in leading to this match, but they do that damn simultaneous Dropkick spot that I hate. Dez looks somber as Rich is trying to bring more out in him since Dez is starting slow.
But it doesn't take too long for some Japanese Arm Drags and counter flips and just amusing Cruiserweight playing. You can tell the match really hasn't started and it's more of just the fun time, but once Trey tags in, we finally see the intensity perk up and a tandem trip into a Bronco Buster spot when Wentz tags himself in.
Trey manages to cause a little misdirection and malfunction as he hits his Colorful Combination and brings in Rich Swann. Swanny comes out with Rolling Sole Butts, a few nice Thrust Kicks, a Frankensteiner sending Dez into Wentz and then the Rolling Thunder Splash. After the near fall, we get some tandem work from Rich and Trey, a Running Shooting Star, for another 2.
All four in the middle of the ring, and you hear Trey say "Screw it, punch em", and they play around the World Punching, a few fun foot catch spots and then a Four Way Superkick for them all to fall down. Dez and Wentz hit Hot Fire Flame on Swann, but Trey Superkicks Dez and Dez falls into Wentz to break up the pinfall tree falling the woods style.
Wentz counters the Cheeky Nandos/Top Rope Tiger Feint, tries a Powerbomb, Trey blocks so Dez runs up Wentz and German Suplexes Trey, Swann hits the Frog Splash, but Wentz breaks up the pin with a sliding kick. Wentz and Dez fire, Wentz starts talking a little trash to Rich "I thought you were the champ". Hot Fire Flame misses, Dez eats the Meteora from the top, Rich hits the delayed Thrust Kick, for the pinfall win over Dez.
They're all emotional after the match, and it's a really great moment. They busted their asses while in Impact and this match was fun, it was a bit of a spotfest, but that's how they have fun. They wanted to go out having fun and this was a Rascalz match. Definitely hit the note it was supposed to.
Overall Score: 8/10
Ahh the Phenomenal Uncle is coming with Wendy riding shotgun?! Have the Good Brothers ever lead us astray? I mean they are GOOD brothers, so I believe them fully. I'm completely here for Mark Jindrak or something like that showing up…better not be James Ellsworth though.
The way The Rascalz closed the show really shifted the tone and made the show feel special, made it feel like this was an episode you need to see. Be it AEW or NXT, wherever they go next, we know where they ended in Impact. They hang up their jackets on the ring ropes, Rascalz salute and head up the ramp still emotional. Rich did a good job dipping out to help things focus on them and not take away from the moment. The show ends with a backstage segment with Callihan and Shamrock beating up all four men, and it's great honestly. It doesn't take away from their moment, but it also is perfectly in character for Shamrock and Sami.
There's other stuff that went on, and generally speaking it was a really entertaining show, but it just ended great. Like I said earlier, the ending made it feel like a special episode, and the heat that Shamrock and Sami get afterwards is old school wrestling to rile people up.
Just a damn great show tonight.
Andrew's New Japan Cup Results & Match Ratings: 3.6.2021
Another day of New Japan Cup, and this time with 3 Cup matches! Less undercard means a bigger focus on the tournament, so I'm always a fan of that.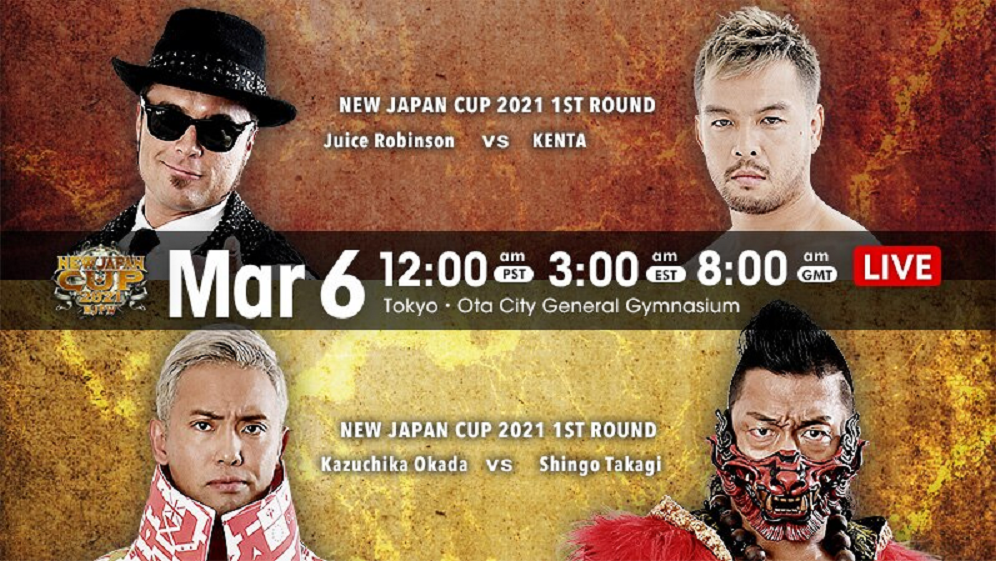 Another day of New Japan Cup, and this time with 3 Cup matches! Less undercard means a bigger focus on the tournament, so I'm always a fan of that.
Tomoaki Honma is on the way back and it's great to see. Before quarantine he was very aware that his injury made him slower and he felt like he was dead weight. Between all of his interactions teaming with Golden Ace, facing different Los Ingobernables members, and this current build with Minoru Suzuki; it really feels like Honma is returning to form. Let's hope it continues!
The main event has most people abuzz because of the quality of both first round competitors. Kazuchika Okada versus Shingo Takagi is a big match, most years it's a shame to get it over with in the First Round, but very recent news may have explained why. Assuming it's not slightly kayfabed, Okada has a back injury, so this could be a good way to eliminate him early to allow him time to recuperate while giving a win to someone very much deserving of the push.
Let's see if the dirt sheet news was true!
Ratings:
Bullet Club (Chase Owens, Taiji Ishimori & Jay White) vs David Finlay, Toa Henare & Yuya Uemura: Ishimori wins via Bloody Cross @9:38 – ** ½
The United Empire (Great O-Khan, Will Ospreay & Jeff Cobb) w/Bea Priestley vs LIJ (BUSHI, Tetsuya Naito & SANADA): Cobb wins via Tour of the Islands @10:55 – ** ¼
New Japan Cup: Tomoaki Honma vs Minoru Suzuki: Suzuki wins via Gotch Style Piledriver @14:54 – *** ¼
New Japan Cup: Juice Robinson vs KENTA: KENTA wins via Game Over @17:16 – *** ½
New Japan Cup: Kazuchika Okada vs Shingo Takagi: Takagi wins via Last of the Dragon @23:58 – **** ½
Results:
Bullet Club (Chase Owens, Taiji Ishimori & Jay White) vs David Finlay, Toa Henare & Yuya Uemura
Nothing inherently wrong with this match, and driven mostly on the Henare versus Jay first round match up, but it didn't add nearly as much as yesterday's undercard matches. Jay called Henare out to start, and actually locked up, but he did his best Yano impression by sitting between ropes and calling for breaks, until the referee was out of position and Bullet Club could start some tactics.
One funny part was when Jay tagged out to Ishimori, Henare shrugged off Ishimori and kept going at Jay. So later in the match, Ishimori took cheap shots on the outside and you could hear Jay telling the referee "Hey remember when I wasn't legal and you didn't stop that". Which oddly enough seemed to appeal to the referee and he waited for Ishimori to have his fun and dump Yuya back in.
The Young Lion eats the pin here since he's one of two no in the tournament, so it was written in the stars. Not a bad match, just a very basic opener with Jay White driving most of the entertainment.
The United Empire (Great O-Khan, Will Ospreay & Jeff Cobb) w/Bea Priestley vs LIJ (BUSHI, Tetsuya Naito & SANADA)
Well this was different since Naito is already eliminated, and the Empire made sure to rub it in during entrances and then attacked Naito as soon as he got into the ring. Naito went back to going after O-Khan's hair, walked him around like a dog in the ring to get control and then LIJ went into some organized attacks.
Generally speaking, this was more basic than the first match. Bea tried to pull ropes away, Ospreay sideswiped BUSHI with a Pip Pip Cheerio, Cobb then caught BUSHI in midair, flipped him around for a Suplex and then hit the Tour of the Islands. Cobb has done a good job in 2021 so far, but this was a generally uninspiring match.
New Japan Cup: Tomoaki Honma vs Minoru Suzuki
We start off right where these two left off, exchanging chops and strikes, trying to out tough guy the other one. Early on Suzuki seemed to be toying with Honma a bit trying to get something out of him that we haven't seen in a while. An early GSP attempt resulted in Honma blocking and starting to put together some offense. Short range lariats, Kokeshis from different angles, and we had the lovable underdog that people appreciated from a few years ago.
This match was the best Honma's looked in a long time, hell he attempted the STF when a middle rope Kokeshi didn't finish Suzuki and even pulled out the old Turmeric Clutch, which I haven't seen him do since his All Japan days.
Everyone probably penciled in Suzuki as the winner immediately, but this is the Honma we all remembered and loved from the stacked NEVER years with Makabe and Ishii at the top. Very nice effort, and Suzuki helped to make Honma look good as well.
New Japan Cup: Juice Robinson vs KENTA
We saw a lot of elements of KENTA's personality in this match. Early on he rolled out, grabbed the ring bell, and hit Juice when Juice grabbed through the ropes to try and retrieve him. However, I'm pretty sure Juice got clipped by a corner there since he was really holding the side of his face and it left a noticeable welt as the match went on.
It took a little time to pick up, but both men had great flurries with signatures. Juice's Cannonball Spot, Punch Combination, hell he even countered the Kobashi style Spinning Back Chop into the Juice Box. KENTA hit the Green Killer, pulled off the hesitation Dropkick, but every time he went for Go 2 Sleep, Juice had a way around it. So as both were jockeying for position, juice kept going for Pulp Friction, but KENTA spun out, after enough stand up attempts, KENTA spun out, but twisted the arm and drove Juice down. KENTA locks in Game Over in the middle of the ring, and after a little bit of a struggle, Juice finally submits.
New Japan Cup: Kazuchika Okada vs Shingo Takagi
Well it looks like Takagi was paying attention to the preliminary matches and saw the news report that came out a little before the match that Okada had two herniated discs in his back. Everything Shingo did either focused damage on the back, or forced Okada to have to contort in a way to strain the injured area.
Shingo added his arrogant flair to a lot of things in this match, including the Rainmaker pose that Japanese Commentary called the "Pumping Steel Maker", which also worked well when Shingo countered the Rainmaker with his own Pumping Steel Maker. Even injured this was a great slugfest between the two. Okada still hit a good number of his classics, but he was visibly hampered as the match wore on. Shingo managed to escape the Money Clip twice, which was an important element since Shingo passed out to the Money Clip in the G1.
Superplex, Noshigami, Made in Japan and an Uranage Backbreaker were some of the bigger moves towards the end that swayed the momentum for Shingo. Shingo went for Last of the Dragon a few times, but Okada usually had an answer. At the end, Okada slips behind the Last of the Dragon, winds up the Rainmaker, but Shingo ducks it and continues the momentum to lift Okada to his shoulders and finally hit his finish to win the match!
Overall Score: 8/10
You may be asking yourself; "How did this score higher than yesterday with overall lower match score" – I will explain. This show flowed better, felt like a real tournament show where the undercard didn't last very long and the main event was the big thing to build towards. Also should be noted, that we didn't have to sit through a typical Yano tournament match as well.
Honma did a great job proving that he's at least back to where he was a few years ago when GBH was a solid tag team and he had a few notable matches in the NEVER division. KENTA getting past Juice is good since that sets up a single match nearly 16 years in the making. Last time KENTA fought Suzuki one on one, was 2005 in NOAH. Suzuki was the murderous free agent, KENTA was still young and full of fire, yet to find his stride, so Suzuki took advantage of the young wrestler in a rather lackluster match. I doubt KENTA has forgotten that match, and expect him to try to exact a measure of revenge.
Shingo getting past Okada is beautiful for multiple reasons. Okada can get his injury tended to, it evens up their singles record; so Okada has a tangible thing to fight for in their next meeting and we get a Hirooki Goto vs Shingo Takagi rematch next round! Shingo having to work through another member of CHAOS adds to the weight in that match, but the potential of Shingo vs Suzuki again or Shingo vs KENTA is just one of those magical match ups assuming no shenanigans go on.
The show ended great, the build was fun and everyone in the Cup over performed given the stagnant vibe that New Japan has fallen into lately. Good stuff.
Mitchell's WWE 205 Live Results & Report! (3/5/21)
Will the new wave get payback on the OG?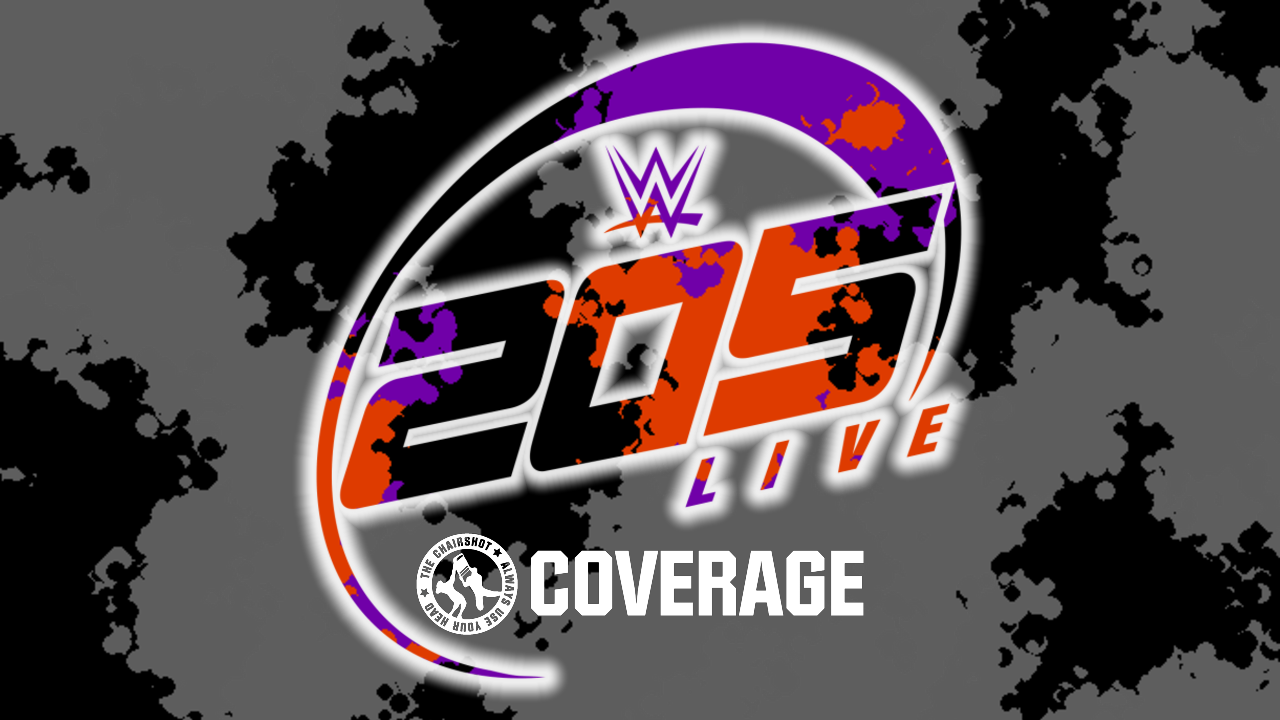 Will Tony Nese & Ariya Daivari put their money where their mouths are?
After the back and forth, ambushes and cheating, the 205 Live OG will have to face Jake Atlas & August Grey head-on, 2v2! Will the new wave wash #PremierDinero away and finally take over the Cruiserweight Division?
OFFICIAL RESULTS
Tony Nese & Ariya Daivari VS Jake Atlas & August Grey; Atlas & Grey win.
Mansoor VS Curt Stallion; Mansoor wins.
PLAY BY PLAY
Tony Nese & Ariya Daivari VS Jake Atlas & August Grey!
To think, all of this started because the Premier Athlete made sure the Persian Lion didn't lose any money in his own "Daivari Dinero Division" challenge series. Things escalated from there, and now we have another showdown of 205 Live OG and Cruiserweight new wave! But will Nese & Daivari wish they'd just footed the bill back when they had the chance?
The teams sort out and #RetroAG starts with Daivari. They tie up, Daivari waistlocks and trips Grey to then step all over him. Daivari laughs but runs away to the corner before Grey rushes him. Grey waits, Daivari comes back but then tags Nese. Nese and Grey circle, Daivari swipes at Grey but Nese rolls Grey up! ONE, Grey wrenches and has a hammerlock. Nese fights up, gets a leg, gets a cover, ONE! Grey has the arm again and is back on the hammerlock! Fans cheer, Grey shifts to a grounded cording hold then facelock. Grey brings Nese up to wrench, but Daivari talks trash and distracts Grey. Nese ROCKS Grey, tags Daivari, and the OG mug AG!
Daivari stomps Grey, talks trash to the fans, then tags Nese back in. The OG double suplex but AG slips out! Hot tag to Atlas! Atlas rallies with double clotheslines, big elbows, then a wrench and neckbreaker for Daivari! Atlas runs at Nese but is put on the apron. Atlas shoulders into Nese, dumps Daivari out and enziguris Nese away! Atlas climbs up, but Daivari hurries over! Atlas mule kicks Daivari away but Nese goes up to grab at him! Atlas shoves Nese away, Nese says he jammed his leg! The ref checks, and in that distraction, Daivari SHOVES Atlas down! Nese's leg is just fine and he does jumping jacks before he stomps Atlas down.
Nese drags Atlas up to stomp him at ropes, then bumps him off buckles. Tag to Daivari, Nese RAMS into Atlas and Daivari fires off haymakers! The ref counts, Daivari lets off but clubs Atlas down. Daivari throws hands, whips Atlas back to the corner, and then runs in, into Atlas' boots! Atlas elbows Nese, ROCKS Daivari, but Daivari mule kicks! Daivari runs to dropkick Atlas down! Daivari talks more trash to Grey, but he turns around to block Atlas' boot! Daivari spins Atlas but Atlas spins Daivari for a DISCUS LARIAT! Both men crawl, hot tag to Nese and Nese DECKS Grey! Nese stomps Atlas, drags him up and whips him to ropes to CLOBBER him with an elbow! Cover, TWO!
Nese clamps onto Atlas with a rear bearhug! Fans rally up, Atlas endures and fights his way up. Atlas elbows Nese and breaks free! Atlas ROCKS Nese with forearms, but Nese keeps him from Grey! Atlas and Grey reach, but Atlas sunset flips! Nese rolls through but Atlas avoids the mule kick to boot Nese down! Nese tries to stay in the way but Atlas kangaroo kicks from below! Hot tag to Grey! Grey runs and RANAS Nese! And rallies with elbows! BIG Manhattan Drop! Grey runs, hurdles Nese then CLOBBERS him! Daivari mouths off so Grey DECKS him! Grey hoists Nese up, back suplex with a little extra! Cover, TWO! Grey keeps cool as he looms over Nese.
Daivari gets in, Grey spins him and turns him, for the SO MUCH- No! Daivari feeds Grey to Nese's PREMIER DRIVER! Cover, but Atlas BOOTS it apart! All four men are down after Atlas puts his all into that kick, but the fans rally up! Daivari gets up, whips Atlas but Atlas reverses to send Daivari out! Atlas builds speed and DIVES! Direct hit and down goes Daivari! Nese has Grey, runs to ropes, for a BULLDOG HOTSHOT PLANCHA COMBO! Nese then goes back to the ring for a PREMIER TRIANGLE, but Grey dodges! SUPERKICK! Grey goes up top but Nese SHORYUKENS! Nese brings Grey down but Grey gets the chicken wings! SO MUCH PRETTIER!! Cover, Grey & Atlas win!!
Winners: August Grey & Jake Atlas, by pinfall
The OG get outmaneuvered, and the new wave rises! Will Atlas and Grey soon be the ones running the purple 'n' orange?
Backstage interview with Mansoor and Curt Stallion.
Josiah Williams asks these two how they're feeling after that tag team victory together last week. Stallion can't complain, and Mansoor thought that was great. Maybe they'll team again and have a team name! Funny Mansoor should say that, because the Lonestar was thinking #CurtSoor. Well, that's not bad, but the Star of Saudi Arabia was thinking more #ManStallion. What does Josiah think? He goes with CurtSoor on this one. Well Mansoor doesn't mind. He does thank Stallion for helping him build his overall record to 40-0. Stallion says that is quite the accomplishment. But none against Stallion.
Josiah moves aside as the tension starts to rise. Is Stallion issuing a challenge? Funny he should ask. How about tonight, they go 40-1. More like 41. But these two shake on it and we have our main event! Will Curt be sore? Or will we be saying, "Man, Stallion is good!"
The Bollywood Boyz speak.
It's ya bois from BOLLY BOLLY BOLLY, Bollywood, and one half of the supergroup known as #BollyRise, Samir & Sunil Singh! And they're here to remind Chase Parker & Matt Marthel are part of their team. They called a truce, they are all working together, and yet Ever-Rise has the nerve to leave the Singhs out of going to NXT? And then they get jumped by El Legado! But that's what the deserved! They're not Bollywood award winners! The key in any relationship is communication. Next time, call them. But will Samir & Sunil be left hanging the next time Ever-Rise rolls into the Capitol Wrestling Center?
Mansoor VS Curt Stallion!
Quietly, in the background of the Cruiserweight Division, the Star of Saudi Arabia has remained undefeated. His biggest accomplishment was winning the Greatest Battle Royal in his home country, but will he finally be heading for the Cruiserweight Championship? Or will the Lonestar be the lone loss on Mansoor's record?
The bell rings, the two circle and fans rally up already. Stallion and Mansoor shake hands to show there is still respect, and then they tie up. They're in a deadlock, but Mansoor manages to get leverage and push Stallion to ropes. Mansoor gives a shove as he lets off, but Stallion keeps his cool. They tie up, Stallion headlocks and hits a takeover. Mansoor pushes with forearms, Stallion pushes to a cover, ONE! Mansoor headscissors but Stallion kips out to again get a headlock takeover. Mansoor pushes his forearm into Stallion, makes it a cover, TWO! Stallion has the headlock again, but Mansoor slips out to a facelock and drags Stallion down to another cover, TWO!
Mansoor facelocks again but Stallion reverses to his own facelock. Mansoor drops to slip around to a hammerlock. Stallion moves around but Mansoor holds on. Mansoor puts more pressure on the hold but Stallion moves around again. Stallion stands, drop toeholds and gets the headlock. Mansoor fights up, powers out but things speed up. Mansoor hurdles, drops and hurdles again to trip Stallion up! Oklahoma Roll, TWO!! Stallion gets up but Mansoor hits a headlock takeover! Mansoor makes it a cover, TWO! Fans rally and duel, Stallion fights up and powers his way to his own headlock.
Mansoor powers out, hurdles gain but Stallion is ready for the trip! Stallion waistlocks, rolls and DEAD LIFT GERMAN SUPLEXES! Bridging cover, TWO!! Stallion knows he was close and he gets Mansoor up again. Stallion facelocks, snap suplexes then drops a knee! Cover, TWO! Mansoor checks his jaw as he sits up but Stallion facelocks again. Stallion drags Mansoor up, Mansoor throws body shots, then Mansoor powers out. Stallion dodges, Mansoor follows, Stallion stops and Mansoor LARIATS! Cover, TWO! Mansoor tries again, TWO! Stallion gets to a corner, Mansoor drags him up and CLUBS him, then CHOPS him! Stallion CHOPS back!
Mansoor forearms, whips Stallion corner to corner, then runs in to clothesline! Facelock and roll, TWO! Mansoor keeps on Stallion with an armlock and chinbar. Fans rally and duel as Stallion endures, and Stallion fights up to arm-drag free, only for Mansoor to drag him back down! Mansoor goes back to the chinbar and cording hold but Stallion fights the grip. Stallion fights up, fireman's carries, but Mansoor sunset flips! Stallion rolls through to DOUBLE STOMP! Both men are down, fans fire up and Stallion glares as Mansoor gets to ropes. Mansoor drags himself up, swings but Stallion counter punches! And again! Then a ROLLING ELBOW!
Mansoor reverses the whip, Stallions tops and Alabama lifts to the REVERSE NECKBREAKER! Mansoor flounders, Stallion aims from a corner, and Stallion runs corner to corner to forearm smash! Stallion sweeps the legs, KNEES Mansoor, then storms around to run back in! BASEMENT DROPKICK! Stallion fires up and stomps the feet! Stallion yanks Mansoor up, turns him around, and DDT's to the buckles! Cover, TWO!! Stallion seethes as he covers again, TWO!! Mansoor flounders, Stallion gets the legs and brings him around to a jackknife roll, Alabama lift, but Mansoor fights it!
Stallion resists the piledriver, Mansoor tries a backslide but Stallion flips over, only for Mansoor to underhook him! BUTTERFLY FALCON ARROW! Cover, TWO!! Mansoor is shocked but the CWC is thunderous! Mansoor drags Stallion up as fans rally and duel hard as ever. Stallion is dead weight, but Mansoor still tries to get him up! Stallion revives to HEADBUTT! Mansoor flops out of the ring! Stallion sees that, takes aim and PLANCHAS! Direct hit and Stallion fires up! Stallion puts Mansoor in, climbs up top, and FROG SPLASHES onto knees!! Mansoor saves himself and Stallion is writhing!
Mansoor hurries to the corner and to the top rope! But Stallion anchors a foot! Mansoor fights but Stallion tucks him in, CHEEKY NANDOS HEADBUTT! Stallion climbs up behind Mansoor for the INVERTED SPANISH FLY!! Cover, ROPEBREAK!?! Mansoor's toe saves his streak! Stallion is seething but fans are fired up! Stallion takes off the elbow pads as Mansoor flounders up. Stallion runs in, Mansoor moves, the flying headbutt gets buckles! Stallion flounders into Mansoor's SLINGSHOT NECKBREAKER! High stack cover, Mansoor wins!!
Winner: Mansoor, by pinfall
The Saudi Arabia Star's streak is now 41-0! Stallion manages to stand, and Mansoor shouts to him! Stallion glares at Mansoor as he offers the handshake, but Stallion still takes it! Stallion shows his respect to Mansoor, but when will Stallion ride off into the sunset again? As for Mansoor, between quality and quantity, will his spotless 41 win-loss record be enough to get him a Cruiserweight Championship opportunity?
---
My Thoughts:
A great episode, and though only 32 minutes or so, the main event started to feel more like the days when 205 Live was strongest. Now, I'm a bit surprised the main event wasn't the tag match, given the long running story. But there's a chance the story isn't over, even though Atlas and Grey won with a finisher. At this point, I wanna see another No Disqualification Tag Match, also like in 205 Live's stronger days. Atlas was starting to get an edge in his story with Tommaso Ciampa, Nese and Daivari have proven they have an edge, and seeing Grey tap into that would be pretty cool, too, given how he had story with Thatcher.
Mansoor VS Stallion coming by way of an interview promo was pretty good, as was the promo. I personally think ManStallion is the better name, by the way. But as I said, their match was reminiscent of when 205 Live had Cedric Alexander, Mustafa Ali, Buddy Murphy and a few others. Fans can say whatever they want about the Mansoor streak and the deal with Saudi Arabia (Crown Jewel, Super Showdown, etc.) but Mansoor still puts the work in, is confident in his character, and is not sloppy in the ring by any stretch of the imagination. Now, we still need more Cruiserweights doing things on NXT, not just El Legado brutalizing Breezango and Ever-Rise, but if Mansoor is one of the ones being built up on NXT, I could see it being title VS streak, Escobar VS Mansoor for a TakeOver.
My Score: 8.1/10