Andrew's Impact Wrestling Results & Match Ratings: 11.24.2020
Impact Wrestling continues the Knockouts Tag tournament, along with taking Johnny Swinger to Wrestler's Court! The Boys versus Johnny Swinger! Did Swinger shoot John E. Bravo?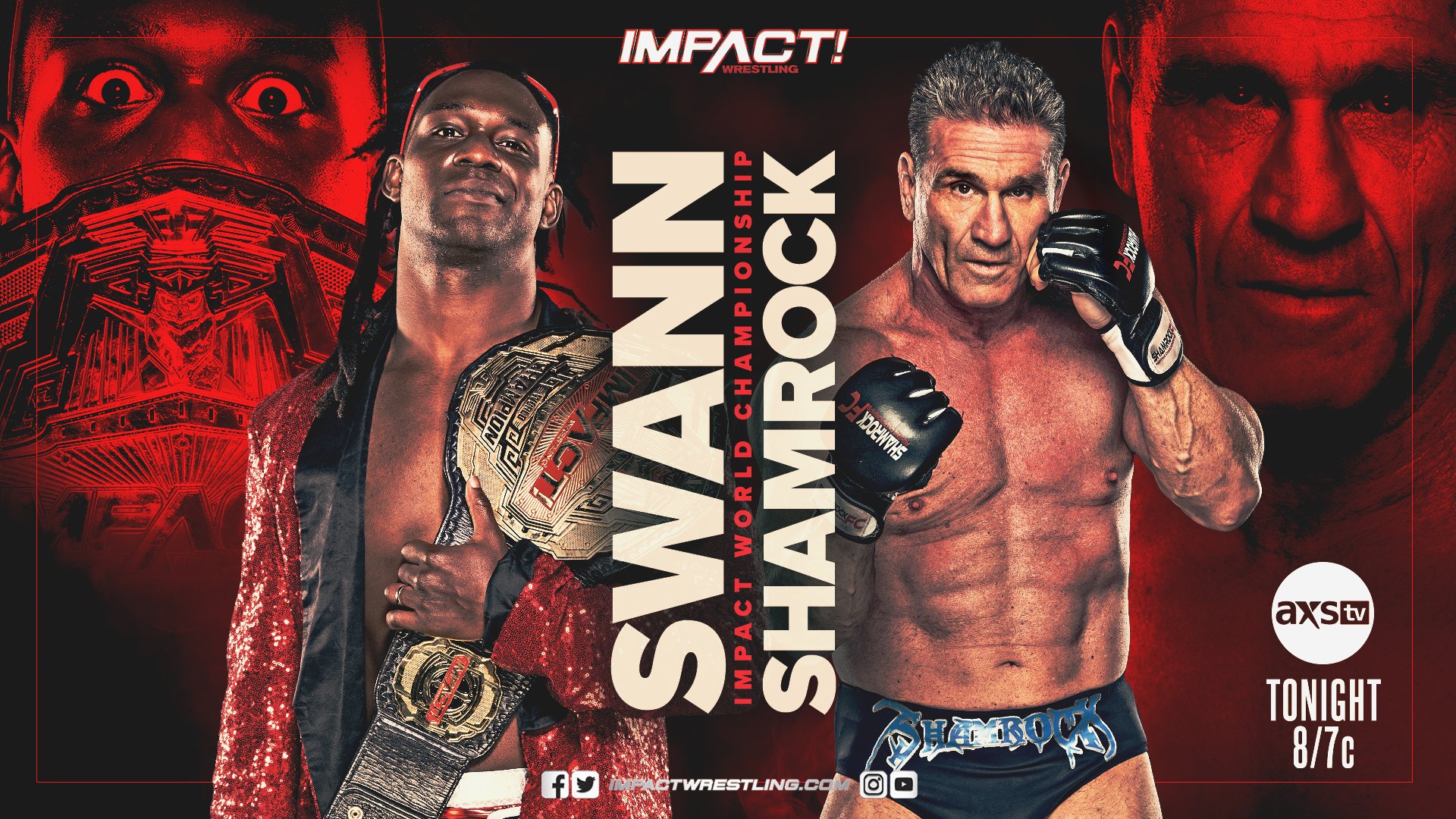 Impact Wrestling continues the Knockouts Tag tournament, along with taking Johnny Swinger to Wrestler's Court! The Boys versus Johnny Swinger! Did Swinger shoot John E. Bravo?
Not to be outshined, we also get Ethan Page against a Phenomenal Uncle and Ken Shamrock with a shot at the World Championship! Can Swann find a way to combat the World's Most Dangerous Man?
Time to check out this week's IMPACT!
There is going to be JUSTICE for @JohnEBravo1st TONIGHT! #IMPACTonAXSTV @ScottDAmore pic.twitter.com/qTt24DMcAz

— IMPACT (@IMPACTWRESTLING) November 25, 2020
Ratings:
Kiera Hogan & Tasha Steelz vs The Sea Stars (Delmi Exo & Ashley Vox): Kiera wins via Face the Music – ** ½
Defeat Rohit Challenge: Rohit Raju vs Suicide: Crazzy Steve wins via Roll-Up – ** ½
Kimber Lee w/Deonna Purrazzo vs Killer Kelly w/Renee Michelle: Kim wins via Swanton Bomb – **
Ethan Page w/Josh Alexander vs Weenomenal AJ Swoggle w/Karl Anderson: Swoggle wins via School Boy – **
Fallah Bahh vs Daivari: NO CONTEST
Impact World Championship: Ken Shamrock w/Sami Callihan vs Rich Swann (c): Swann wins via Rear Naked Choke Reversal – ***
Results:
MATT STRIKER IS FINALLY ON COMMENTARY! YAY!
Kiera Hogan & Tasha Steelz vs The Sea Stars (Delmi Exo & Ashley Vox)
Ashley Vox and Tasha both got a modicum of exposure thanks to NWA Powerrr, Tasha has found great chemistry with Kiera in Impact; maybe Ashley can turn this into a more full time gig.
Delmi starts things off, and she shows the ability to utilize her size and a few interesting variations of Cradles and rolls. But Tasha and Kiera keep up the rough striking and more of the tag old school tag team aggression. Ashley manages to fight off Kiera and Tasha, to bring Delmi back in with a solid amount of energy as Delmi is trying to overpower our favorite mouthy duo. Delmi hits a Fall Away Slam, throwing Kiera into Tasha for a near fall.
Air Raid Crash from Ashley gives another near fall, but Tasha finally manages to turn the tide by tripping Delmi during an attempted tandem move. Tasha wipes out Delmi, Kiera knocks Ashley out of the ring, Face the Music on the legal opponent Delmi and Melted Steel wins.
Not a bad match, if just not very flashy.
Jazz is revealed to be Jordynne Grace's tag team partner!
.@OfficialEGO has taken out @The_BigLG for 4-6 weeks but @Walking_Weapon isn't happy. #IMPACTonAXSTV pic.twitter.com/Nh0AZiApJx

— IMPACT (@IMPACTWRESTLING) November 25, 2020
Apparently Madison Rayne is Swinger's defense attorney because she's the only one that kinda likes him. Also why she's not on commentary. Prosecutor from the Nation of Litigation…Deelorian Brown. Madison calls out Dreamer for being the Judge, and D'lo is now suddenly the Judge. Madison's defense is basically that Swinger is too dumb to pull this off. Which is fair.
Defeat Rohit Challenge: Rohit Raju vs Suicide
Rohit assumes that Suicide is TJP, which makes sense after the Scott D'Amore conversation last week and the fact we all know TJP was Suicide in the past. So he takes the X Division title off the line, as a way to hedge his bets.
Rohit keeps clawing at the mask to take it off, and the moves are really secondary. Rohit manages to take off the mask and the camera stays away from Suicide, so then TJP's music hits, and TJP comes hoping out teasing Rohit. Then we see that it's Crazzy Steve as the Roll-Up takes Rohit by surprise.
So it seems Crazzy Steve and TJP had a bit of a plan.
It's all about @TenilleDashwood…and @MrsAIPAlisha and @kalebKonley (with a K). #IMPACTonAXSTV pic.twitter.com/URmxFmoTEF

— IMPACT (@IMPACTWRESTLING) November 25, 2020
Kimber Lee w/Deonna Purrazzo vs Killer Kelly w/Renee Michelle
Kimber takes an early advantage over Kelly thanks to her size and experience advantage as we get a decent camera angle on Kelly selling the Lotus Lock fairly well. Kelly does turn it around using her striking Ken Shamrock side while she catches Kim's punches and headbutts the taste out of her mouth.
After a quick flurry Kim manages to catch Kelly with a few strikes, hit the Swanton Bomb and pick up the win. But Kelly definitely looked good in the match.
Post-Match Susie comes out to address Kim and Deonna. "You hurt my friends, and now my friend's here and it's gonna get really bad, I'm sorry". Utilizing the pre-tape and lack of crowd to finally pull off a Susie and Su Yung at the same time dynamic. It's cool to see the smoke covered silhouette of Susie just holding her head and standing on the ramp. The cuts were actually solid.
.@SuperChrisSabin and @fakekinkade have a three step plan.

Step 1: XXXL

Step 2: The North

Step 3: The Good Brothers #IMPACTonAXSTV pic.twitter.com/WmZuSEQu7y

— IMPACT (@IMPACTWRESTLING) November 25, 2020
Sabin wants XXX? God, Vince Russo is coming back? Christopher Daniels is leaving AEW? Low Ki and Elix Skipper are returning? It is 2003 again?
Ethan Page w/Josh Alexander vs Weenomenal AJ Swoggle w/Karl Anderson
They actually play AJ Styles "Get Ready to Fly" with the tron, before Swoggle comes out in his AJ Styles attire. Ethan Page is beside himself laughing saying "Ya know what, this is pretty Phenomenal". Swoggle hits the Styles strike combo as Page is just not taking him seriously.
Page drops an elbow on Swoggle, gets to a 2 count and then picks up Swoggle. Then he looks to do the Styles Clash, but Swoggle bites the leg and gets space. School Boy Roll-Up, Weenomenal AJ Swoggle wins! Fifteen stars!
.@swinger_johnny is INNOCENT – @legendoflarryd confessed to SHOOTING @JohnEBravo1st! #IMPACTonAXSTV pic.twitter.com/JpjrYkFKkS

— IMPACT (@IMPACTWRESTLING) November 25, 2020
Fallah Bahh vs Daivari
We get only a few moves in before Eric Young and Joe Doering show up to clear house and send a message. Which helps to get Doering's power over as he sends Fallah into the ropes and hits the Pop Up Bomb.
Rhino interrupts EY's promo, tries to break this team up, but Rhino quickly loses the upper hand and EY finishes his promo.
.@Myers_Wrestling path of disrespect just ran through @MegaTJP, @steveofcrazzy and @wwehornswoggle. #IMPACTonAXSTV pic.twitter.com/TTVJ7dJASe

— IMPACT (@IMPACTWRESTLING) November 25, 2020
Deonna and Kimber Lee are making deals with the devil, also known as James Mitchell.
Impact World Championship: Ken Shamrock w/Sami Callihan vs Rich Swann (c)
This match had an interesting and simple layout. Callihan tried to cheat early, but he got removed from ringside. Then we see this combination of Shamrock trying to slow things down with body blows, numerous Uppercuts, Jabs and quick kicks. Swann however, tried to do the smart thing by using his legs to keep distance. Multiple Thrust Kicks, Spinning Wheel Kicks, Enzuigiris and Sole Butts to try and find some space to operate.
Every time Swann had a pinning predicament Shamrock grabbed an Armbar or tried to turn things into a submission. Shamrock showed a few nice submission variations, a Triangle Armbar, a Russian Armbar and even had a shot at the Ankle Lock before Swann clung to the ropes. As Shamrock releases the Ankle Lock, Swann limps for a second, Shamrock goes for the Rear Naked Choke but Swann does the float back pin while still being in the hold, and picks up the pinfall.
Overall Score: 6/10
This show was a little flat for me. Wrestler's Court wasn't nearly as funny as the last time, many of the segments felt more like filler and it just felt uneventful. I mean when we get the reveal of the shooter, but it's passed off mostly as a lark and they end on a funnier note, it really deflated the whole angle.
TJP's mastermind situation is fun, but honestly it doesn't do a whole hell of a lot. I could definitely get behind a TJP versus Brian Myers match though. Jazz coming around for this tag tournament is a nice surprise, but that also makes Killer Kelly and Renee Michelle feel like an afterthought. Weenomenal AJ Swoggle is amusing, but we all knew it was gonna be a joke situation, I was mostly amused at the dedication to using the AJ tron and Get Ready to Fly music.
So yeah, not a bad show, but mostly a just there show.
Andrew's AJPW Champion Carnival Results & Match Ratings: 4.10.2021
Day 2 of my fill in stint covering the AJPW Champion Carnival! Can Suwama get in the winner's column? Can the Ace Kento get on the board? Does anyone pull away so early?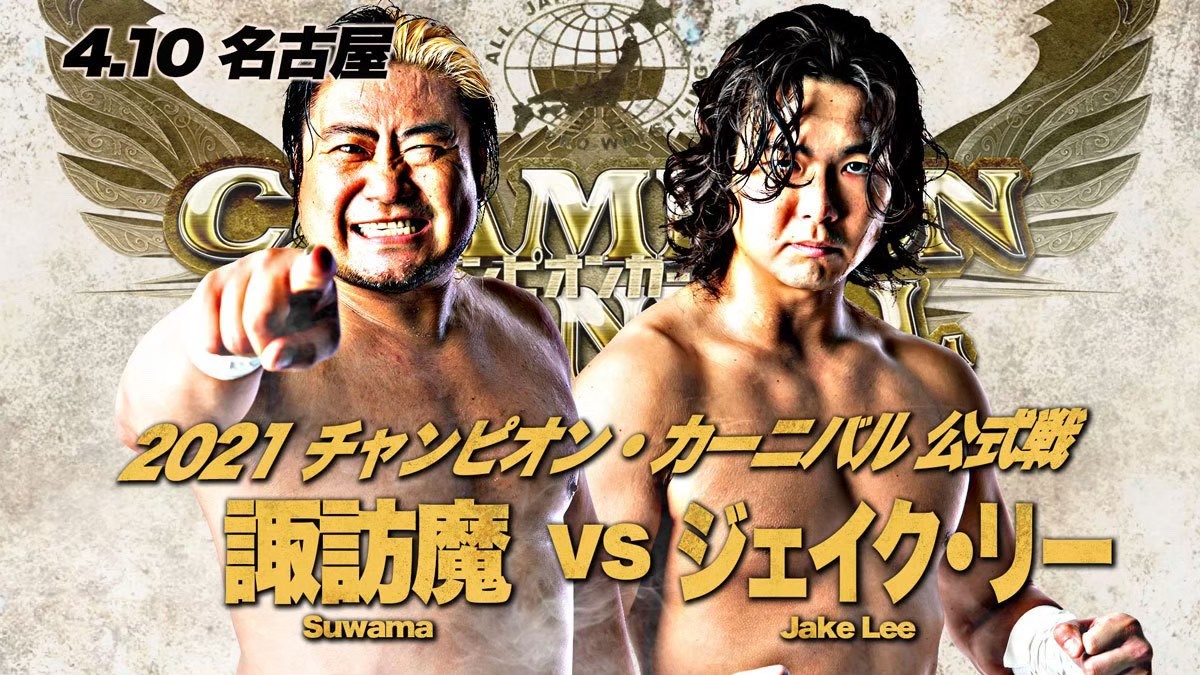 Day 2 of my fill in stint covering the AJPW Champion Carnival! Can Suwama get in the winner's column? Can the Ace Kento get on the board? Does anyone pull away so early?
Given the fact the incumbent champion lost his first round, the ace lost and there were a few main event players that picked up hard fought wins but don't have an easy day today, this should be interesting. What kind of tournament are we looking at?
Since the tournament is 1 block, each person gets 9 matches, similar to the G1. So using G1 logic, 2 losses puts you on the bubble of being out, and 3 losses is basically death with the exception of weird breakers or fun rock/paper/scissors situations.
So for everyone's sake, let's hope we end up at mostly parity to continue to keep everyone alive for most of this single block tournament!
Ratings:
Yuma Aoyagi vs Shotaro Ashino: Aoyagi wins via End Game @9:22 – ** ¾
Kohei Sato vs Koji Doi: Doi wins via Murder Lariat @4:52 – * ½
Shuj Ishikawa vs Zeus: Zeus wins via Arm Trap Facelock @10:41 – *** ½
Shinjiro Otani vs Kento Miyahara: Kento wins via Blackout @13:23 – *** ¾
Jake Lee vs Suwama: Suwama wins via Last Ride Powerbomb @18:23 – ****
Results:
Yuma Aoyagi vs Shotaro Ashino
So very similarly to the match against Otani, Aoyagi starts slow. The match begins with a handshake, then he gets driven to the ropes, Ashino slides under his legs during the break to trip him up and starts working over the leg. An early Stretch Muffler indicates that Ashino is most likely aiming to win with the Ankle Lock.
Aoyagi was on the move and constantly clawing for an opening. A few strikes and early knockdown give Aoyagi hope as he goes for End Game, but Ashino powers up and slams him into the corner. Ashino controls most of the tempo until we get a German Suplex trade off spot. Aoyagi ends up taking the worst of it, and Ashino goes for the Ankle Lock.
While in the Ankle Lock, Aoyagi tries to roll through 3 times, but Ashino moves with the roll and holds the move in place. Right before Aoyagi looks like he's going to tap, he adjusts, grabs Ashino's head for the Small Package; Ashino manages to kick out. But before Ashino can really re-orient himself, Aoyagi slaps on the full version of End Game. Ashino tries to fight through, but succumbs.
Ashino with two big losses almost writes him out already. Hopefully he makes a small run to suspend disbelief for a little bit and this isn't his swan song from AJPW.
Kohei Sato vs Koji Doi
Doi comes out of a loss to a major player, Shuji Ishikawa, of current AJPW and Sato avenged his loss to the current Triple Crown Champion Suwama. So at face value, one should think this is a perfect time for Sato to gather some momentum to make sure he gets another shot at the title.
Contrary to logic, this match was interesting. Doi starts off with a quick flurry and picks Sato up into a Torture Rack. Sato eventually fights out and then we get a chop battle, which Sato is notoriously bad at and throws some of the lamest looking chops. Granted, even though he was losing the chops, apparently a well-placed Forearm rocked Doi enough to have Doi selling the forearm for nearly the rest of the match.
Referee Nikkan Lee gets up to seven before Doi starts responding enough to be on the receiving end of a Soccer Ball Kick from Sato. Sato senses the match is over, picks Doi up real cocky for a Brainbuster, but it gets countered into a Brainbuster of Doi's own! A short range lariat rocks Sato afterward and then off the ropes for Murder Lariat! Sato is stacked up, Doi covers and Doi gets the win!
Well we look to be in an interesting starting spot so far. Who would've figured Koji Doi would have more points than Shotaro Ashino…ever. Also for clarity, the low rating is because the match was so abrupt. It wasn't inherently bad, just not really anything to sink teeth into beyond an upset win.
Shuj Ishikawa vs Zeus
There is history with these two, most notable in my head is during Zeus' only Triple Crown championship reign, Shuji was his first and only defense. So Zeus looks to continue momentum this year, possibly running back the undefeated record of last year; while Shuji is trying to protect his position and title as Gaora TV champion.
This goes the way most of their previous meetings have, where Shuji tries to overpower Zeus. Because even though Zeus is a bodybuilder, he's a bit on the short side (5'10"). So with Shuji standing about 6 inches taller and not being of a slight build, Shuji loves to buckle Zeus and play the power struggle. Tests of Strength, Shoulder Tackles, Lariat battles, it's all great power wrestler spots.
Shuji does however start to catch Zeus. So after a chagrining Lariat into the corner, the middle rope Mushroom Stomp and a few Tsunamis; it looks like Shuji is setting up to win with a Fire/Thunder Driver – but Zeus slips out the back! Zeus locks in the Arm Trap Facelock, and Shuji is dead to rights. Stuck in the middle, twisted about in the move, it only takes a few moments before Shuji is forced to tap and Zeus moves on with 4 points!
Shinjiro Otani vs Kento Miyahara
Dueling boots start the match, which Kento bails after being on the losing end of the exchange. Otani decides to remind him that recovering on the apron isn't safe, so he charges and lands the Bootwash through the bottom rope sending Kento flying. As the match plays out on the outside, Kento regains his swagger, talks smack to referee Wada and does his "headbutts around the ring" spot.
After rocking Otani, Kento gets cocky, poses back in the ring and the smug Kento from his previous Triple Crown champion days starts making a return. He gives Otani too much space though, charges the corner, and takes a Drop Toe Hold into the bottom turnbuckle, and then Otani revs up the old kicking boot across Kento's face for a few Bootwashes.
From this point, both men's stubbornness comes out in spades. Kento gets a little cocky, Otani catches him on the corner, they fight back and Otani refuses to fall before hitting Kento with a Superplex. Then we go into a strike exchange where both are just wailing on one another. Otani manages to rock Kento and then catch him with a Dragon Suplex for a near fall.
Moving quickly, Otani hits Spiral Bomb, but again only two. So he tries a Dragon Suplex again, but Kento fights out. Kento hits a Blackout to the back of Otani's head, and now they are throwing haymakers. Kento catches Otani with another Blackout, but Otani returns the favor with one of those Hashimoto Overhand Chops that put down Aoyagi yesterday! Otani goes for another, but Kento Blackouts the chop. The clash leaves Otani in more pain, another Blackout and Otani powers out of the pinfall at 1, but is scrambling and stumbling around, unable to find his feet. Kento hits one more point blank Blackout, and picks up his first points of the 2021 Carnival!
Jake Lee vs Suwama
So watching this second tournament match for Jake, I've come to realize what I'm referring to him as during this Total Eclipse gimmick. He is very much "Light Yagami" Jake Lee. He's cackling when he accomplishes something, unbridled frustration and nearly schizophrenic reactions do really scream Death Note crazy Light.
This match was interesting since early on Suwama didn't really know what to make of Jake, and Jake tried the same stuff he pulled on Ashino, where he was a little awkward, took advantage of situations and tried to bait Suwama into bad spots. The difference is, Suwama is a veteran and Triple Crown champion; so even though Jake got a few early shots, Suwama eventually forced him back into old habits.
Jake was forced to wrestle, hitting interesting flying kick and knee variations, pulled out the old Kitchen Sink and put in a lot more effort than the first match. Suwama managed to stay resilient and push our new Total Eclipse Death Note wielder. This match was built more around Jake coming into his new persona, and yet still not being able to get passed certain old hurdles.
Suwama absorbed a lot, hit some short range lariats, his Double Chop comeback, and the spinning chop. Jake hits the back of the head Giant Killing, attempts D4C, but Suwama blocks. Jake keeps the pressure up, attempts and old Giant Killing/Knee Lift, but Suwama catches the leg, lifts him into a Last Ride, and puts him away!
Suwama finally gets on the bored, and Jake is left stunned and seething. Which plays perfect for Jake to win the Carnival and earn his Suwama shot, and prove his evolution then.
Overall Score: 7.5/10
So this ended a little stronger over all than day 1, but both days so far have been a fun start. The mixture of upsets and oddly abrupt matches are perfect for a tournament even if they don't rank high. In the larger picture of things it's nice to see that a competitive match can end in less than 5 minutes without comedy tactics.
Seeing how Jake took the loss to Suwama gives me hope for this anime antagonist character. I'm honestly a little surprised that the whole tournament is knotted up except for Zeus at the 2-0 and Ashino at 0-2. I really did not think Ashino would be the slow kid in the pool right now. But I suppose since he was just betrayed he's still finding his footing. Like I alluded to before, it would be nice if he's just getting broken down to be built back up and not just putting people over on his way out.
Now since the only unique records are first and last, the rest of the tournament isn't hard to figure out, but here are the standings! Solid first 2 days so far!
Standings:
Zeus: 2-0 – (4 Points)
Shuji Ishikawa: 1-1 – (2 Points)
Shinjiro Otani: 1-1 – (2 Points)
Kohei Sato: 1-1 – (2 Points)
Jake Lee: 1-1 – (2 Points)
Kento Miyahara: 1-1 – (2 Points)
Suwama: 1-1 – (2 Points)
Koji Doi: 1-1 – (2 Points)
Yuma Aoyagi: 1-1 – (2 Points)
Shotaro Ashino: 0-2 – (0 Points)
Mitchell's WWE WrestleMania 37 Results & Report! (4/10/21)
The two night extravaganza begins!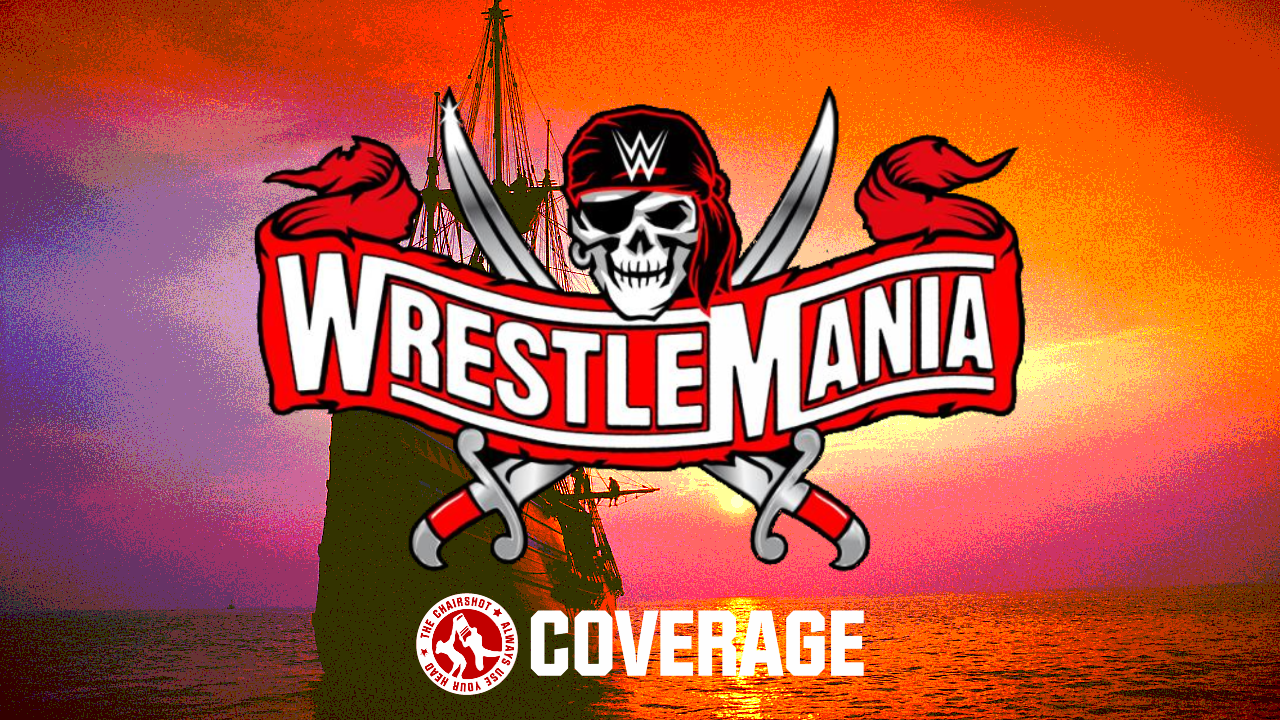 WrestleMania sets sail once again!
The first of two epic nights begins, and Sasha Banks VS Bianca Belair will be its main event! Will Boss Time end as this becomes WrESTleMania?
OFFICIAL RESULTS
WWE World Championship: Bobby Lashley w/ MVP VS Drew McIntyre; Lashley wins and retains the title.
WWE Women's Tag Team Championship #1 Contenders Tag Team Turmoil: Natalya & Tamina win and will challenge Nia Jax & Shayna Baszler for the titles on night two.
Seth Rollins VS Cesaro; Cesaro wins.
Raw Tag Team Championships: The New Day VS AJ Styles & Omos; Styles & Omos win and are the new Raw Tag Team Champions.
Steel Cage Match: Braun Strowman VS Shane McMahon; wins.
Damian Priest & Bad Bunny VS The Miz & John Morrison; win.
SmackDown Women's Championship: Sasha Banks VS Bianca Belair; wins and
PLAY BY PLAY
It's the WrestleMania 37 kickoff show!
Join Kayla Braxton, Booker T, JBL, Jerry "The King" Lawler and Peter Rosenberg in discussing, analyzing and predicting, finally back in front of a LIVE CROWD!!
The Night Panther is here!
But R-Truth keeps interrupting his commercials! Truth wants to be Old Spice Guy tho! Good thing he didn't have his 24/7 Championship on him, Truth might've lost his baby tonight.
Sonya Deville joins the panel!
Fans are excited as the new assistant WWE official discusses the Women's Tag Team Turmoil. She loves having fans back, and she has history with women's tag team wrestling. She is ready to see what we get out of Billie Kay & Carmella. Finally, Billie has a spot! She has been selling herself, as it were, Mella finally accepted, and Billie's just so entertaining so Sonya is ready to see that. And what of her former partner, Mandy Rose…? Well, they were a stronger team back in the day, but that was on Sonya. But she still wishes every team luck. JBL is so happy to have Sonya over Peter. Sonya doesn't mind that.
And of course, today's main event, Banks VS Belair. Sonya is a boss in her own right, so what does she make of Boss VS EST? Both very talented, but sometimes people get a nickname and it's just that. The words better back up the names. Being a "boss" is more than just what's on the surface. Like the suit? Yeah. You walk the walk, talk the talk, wear the suits. But Sonya will definitely be watching closely.
Vince McMahon is here!
He stands on stage with the superstars featured tonight as he speaks! "Throughout this pass year, our superstars performed tirelessly for all of you." But there was something missing. And that was the fans of the WWE! As we now emerge from the pandemic, and on behalf of the entire WWE Family, Vince would like to say thank you, and welcome you back to WRESTLEMANIA!
Bebe Rexha performs America the Beautiful!
We've waited patiently for this moment.
"Finally…!" The biggest event in LIVE entertainment is BACK! Back with the spectacle, the excitement and the pageantry! WrestleMania is #BackInBusiness! And tonight, WWE sets sail on the high seas with epic epicness bigger than the history of history! Wait, what? Did he just say all that? That's what was written. Okay, mate, let's get this cold open done right. We pick up where we left off just last year. Our heroes are obnoxiously heroic as they battle for the ultimate prize: immortality. But no more tall tales, let's get real, as the kids say. Tonight, we witness the global event that spans decades, created unforgettable moments, and has the memories we will remember forever.
But let us tip our caps to you, the fans, who made this possible. You over there, and them up there, and even those at home who "can't not watch." We raise the sails as fate still awaits. The course was corrected, the wind cannot be stopped, and the quest continues! Now how's that? Impressive. But where's the big finish? That's cold open 101. Good point. Pyro montage! "Welcome back… to WrestleMania!"
There's a rain delay!?
It seems Tampa wants to tease us by keeping things stalled a little longer.
Backstage interview with Shane McMahon.
How is he feeling after that moment on stage? Goosebumps, of course! Being back with LIVE fans, Shane is pumped! He's going for the knockout on Braun. But what is his problem with Braun? Shane's just poking fun is all. But he's been more or less bullying him. What? How? What did he say? He said he was stupid. Well, Braun turned out not so stupid because a steel cage is a great choice. Shane is using is noodle to figure out what to do to Braun while he's in there. Shane does have experience in that match. And the Monster Among Men is big, but shouldn't Shane pick on someone more Shane's size? Sure, maybe, but when the opportunity is there, he has to do it.
Bobby Lashley & MVP interrupt but Shane doesn't mind, He lets them have their time. MVP says the time for talk is over. This is the crowning moment for Lashley and the All Might Era! No words can convey what is going on. The only language Lashley can speak right now and that Drew McIntyre can understand right now is VIOLENCE. MVP has said it before, the WWE World Championship changes you! McIntyre will agree with that because he has had that title and wants it back, but that isn't happening! MVP told McIntyre that it's over at Mania, and that McIntyre would lose his dignity, lose consciousness and lose the match. But McIntyre storms over to get in their face!
You want to go now, McIntyre?! MVP keeps the peace because this match will happen soon enough. McIntyre says Mother Nature can't save Lashley. If they have to fight backstage, they will! McIntyre will not be stopped! MVP tells Lashley to stay calm, referees hurry over to keep this from getting any more heated, but that's hard to do. McIntyre wants Lashley to keep that energy up. Sarah now asks McIntyre how he's feeling. McIntyre is at a 10, he is just trying to keep his emotions in check. But last year, in the Performance Center, his first shot at the world title, he won it. McIntyre lost it for a few weeks, go it back.
But now to fight in the first match with live fans, if it'll happen now, McIntyre is just fired up with MVP's crap. WrestleMania or not, McIntyre just wants to drop Lashley's ass! This WILL happen tonight!!
Kevin Patrick interviews the New Day.
They're ready BABYYY~! People in the building has them excited! This feeling is hard to understand until you feel it! Even before Kevin was here! Kevin is happy to see these two against AJ Styles and Omos. But why? Because they're fighting champions! Kevin had to be watching! The New Day fights the best. Omos & Styles might still not be registered, this might not happen. Oh they did? Then let's go! Woods has felt Omos' force but he is not afraid! Woods and Kofi have always been this size, so there are guys bigger, but they signed up for the titles! It doesn't how big Omos is, how great Styles is, but the New Day has beaten every single other team! They cannot hang!!
OMG Big E!? Big E is THE Intercontinental Champion and he's gonna do work on Night 2! Big E says we'll see what makes these two one of the greatest tag teams ever!! You will see two men at their very best, so consider yourself BLESSED! Woods feels delivered! Kevin gets it, right? Yes, he does.
Backstage interview with Braun Strowman.
He has his steel cage match with Shane, but what's he feeling? he's just ready to do this. He isn't doing this just for himself but for every person who has been bullied and called worthless! Braun is ready! Shane's made the bed, he's gonna lay it in, Braun will beat Shane within an inch of his life so let's GO! Braun is in the best shape of his life, Shane has made a mistake getting into this. You can only poke a bear so much before it bites you. Braun is proving that bullies don't win! You will see Braun stand over a corpse tonight, and we will be praying Shane can still breathe after tonight!
Backstage interview with Bianca Belair.
The EST's first title match is at WrestleMania, in the main event! Where is she emotionally? Nervous, but that means she cares, just like she said on SmackDown. Yes, she's against The Boss, she is all that, but Bianca doesn't run from competition but runs to it. She is going to put the EST in The BEST, and will put it all on the line. And the best part? The fans are here! Bianca is going to do this not just for her, but for the world! Making #Herstory!
Backstage interview with Seth Rollins!
Mike- Er, Kevin, welcome! Your first Mania! Rollins is fired up as it's just a wild night already. But given what's happened since his return, with disrespect from Cesaro and the swing- MIKE. KEVIN. LISTEN. We don't have to go over all that. You just had to bring up Cesazzlo. But that's fine, and Rollins has wanted to address it. Since coming back, week after week, Zassoro has disrespected Rollins. Why? Maybe to use Rollins as a springboard into the potential that he's been wasting. When the storm clears, the moon and stars will all shine on SETH FREAKIN' ROLLINS, because he IS the NEW Mr. WrestleMania! And he'll prove it again with the match of a lifetime when he trounces that joke Sazzaro in Raymond James Stadium! Have a great night Mike-Kevin. My Kevin? Hyphen it to Mi-Kevin.
Backstage interview with The Miz & Morrison.
They say they don't need luck, because they have skill. You can tell a lot about a man from the company you keep. And Bad Bunny hanging out with Damian Priest means they're scum. The fun and games are over. This isn't the Super Bowl, the Grammy's or SNL. This is WRESTLEMANIA! And you are up against the ONLY TWO-TIME Grand Slam Champion, and the Mayor of Slam Town, the Greatest Tag Team of the 21st Century! *Stare off into distance* #BeJealous!!
The hosts of WrestleMania are here!
Titus O'Neil and Hulk Hogan walk out on stage! Titus starts by saying, "Ladies and gentlemen! Welcome to Raymond James Stadium!" Welcome to Titus' city of Tampa Bay! Rain, sleet, snow, it doesn't matter! The WWE Universe has the energy we've been wanting for a whole YEAR! For one year, one month and a day, for the first time, we're #BackInBusiness live! Not just that, Brother Titus! They need to hear ya! Titus says alright. Let's try this again. For the first time in one year, one month and a day, WE ARE BACK IN BUSINESS, LIIIIIVE!!
Tampa gets loud to join in and Hogan says, "Let me tell you something, Titus!" We're making history tonight, tomorrow night and even right now, with their very first match in front of the WWE audience, brother! But not just any match! They are kicking off with aggression, violence and the WWE WORLD CHAMPIONSHIP! And it's the All Mighty Lashley and his dangerous Hurt Lock! If he gets the neck of a 747, he could break it! But McIntyre's Claymore could kick the faces off of Rushmore in just one go! Then there's one question to ask, Titus! Whatcha gonna do when Titus WORLDWIDE~ and ALL the Hulkamaniacs-
Whoa whoa whoa, and what about the two nights!? We've got TWO NIGHTS! And then ALL the Hulkamaniacs, run wild on you!?
WWE World Championship: Bobby Lashley w/ MVP VS Drew McIntyre!
The Chief Hurt Officer tried but failed to remove the Scottish Warrior from the equation, and now he will pay for it! Will McIntyre become a three-time world champion in the span of just one year?
The introductions are made, the title is raised, and this All Might WrestleMania Weekend opening contest FINALLY begins!
McIntyre and Lashley tie right up as fans fire up! They go around, McIntyre puts Lashley on ropes but Lashley pushes back. They end up in a corner, go around more ropes, but break. Fans rally and duel as the two go again. Lashley waistlocks, McIntyre resists the lift and pries free to wrench and headlock. Lashley powers out, follows then runs McIntyre over! McIntyre stands right up and the two reset. They feel things out, knuckle lock and McIntyre reels Lashley into another headlock. Lashley powers out again, hurdles but McIntyre shoves to OVERHEAD Belly2Belly! McIntyre even says "UP YOURS" with his fist.
Lashley is furious and he gets in McIntyre's face to pie-face him! McIntyre throws a forearm, Lashley returns it and it's a brawl! Lashley knees low, fires off more hands in a corner, then pushes McIntyre. McIntyre turns things around to stomp and windmill some haymakers! The ref counts, McIntyre lets off but Lashley throat chops! Lashley fires off hands, forearms, and then whips. McIntyre reverses, Lashley holds ropes but McIntyre clotheslines him out! Fans fire up as McIntyre pursues. MVP checks on Lashley, and Lashley RAMS McIntyre into barriers! Lashley fires off more hands, brings McIntyre around and whips him into barriers!
MVP is fired up, Lashley drags McIntyre up and whips him into more barriers! Lashley refreshes the count, goes back out after McIntyre, and puts him in the ring. McIntyre goes to a corner, Lashley runs in and RAMS into him! Lashley turns McIntyre for a NECKBREAKER! Cover, ONE!! Lashley is right on McIntyre with a rain of fists! McIntyre goes to ropes but Lashley chokes him and throws clubbing forearms! The ref backs Lashley off, but Lashley returns with more hands! McIntyre tries to hit back but Lashley chokes him on ropes again! Lashley stands on McIntyre, lets off as the ref counts, and fans boo as Lashley looms over McIntyre.
McIntyre hits back with body shots and CHOPS! Fans "WOO~" but Lashley RAMS McIntyre into a corner. Lashley roars, goes corner to corner, but McIntyre POSTS him! McIntyre hits an ARM CODE BREAKER, to an ARMBAR! Lashley endures, clasps hands, and fights up. Lashley hammers away, gets free and fires of more hands! McIntyre is dazed as Lashley lets off. Lashley brings McIntyre up, SLAPS him, and taunts him in a corner. McIntyre gets up but Lashley RAMS into him again! And again and again! Lashley fires off haymakers and elbows, and fans are divided as Lashley paces around.
Lashley whips corner to corner but McIntyre comes back with a LARIAT! And another! McIntyre whips, Lashley reverses but McIntyre ducks and OVERHEAD Belly2Belly suplexes again! Lashley staggers up, into the clinch and ANOTHER OVERHEAD Belly2Belly! McIntyre gets around Lashley to hit a NECKBREAKER! McIntyre kips up and fans fire up! McIntyre watches Lashley get up, kicks and underhooks, but Lashley powers McIntyre into a corner! Lashley rams in again and again, but lets off to go corner to corner, but into a back elbow! McIntyre waistlocks but ducks the counter elbow to NORTHERN LIGHTS! Bridging cover, TWO!
MVP coaches Lashley up but McIntyre is after the arm! Lashley resists the wristlock with knees to the stomach and forearms to the back. Lashley shoves but McIntyre KICKS! Lashley comes back to LARIAT! Lashley reels McIntyre in, gut wrench to the DOMINATOR! Cover, TWO!! McIntyre survives and Lashley is already seething! MVP says Lashley has McIntyre where he wants him, he just has to stay on him. Lashley waits for McIntyre to get up, then reels him back in for a suplex, only for McIntyre to wrench out and GLASGOW KISS! But McIntyre runs into an ALL MIGHTY SPINEBUSTER! Cover, TWO! Lashley is getting mad but he still has his ace card to play!
McIntyre staggers up, Lashley full nelsons! McIntyre resists the Hurt Lock but Lashley throws more low knees! Lashley fireman's carries but McIntyre elbows free, shoves and runs in. Lashley elbows McIntyre, but McIntyre gets through the boot to elbow and CHOP and ROLLING ELBOW! McIntyre gets the legs, drags Lashley up, INVERTED ALABAMA SLAM! Cover, TWO! Lashley is still in this but McIntyre keeps his focus. McIntyre brings Lashley up, fans fire up again and McIntyre puts Lashley on the top rope. McIntyre CHOPS, climbs up and throws clubbing forearms! Lashley resists and trips McIntyre up! Lashley throws haymakers, but McIntyre gets a KIMURA!
Lashley endures, throws body shots and forearms, and he puts McIntyre in the Tree of Woe! But McIntyre sits up to SUPER Belly2Belly! And then CLAY- NO! SPINEBUSTER!! Lashley is fired up and fans are thunderous as he paces around. McIntyre kips back up!? Lashley is shocked, but McIntyre says, "Bring it, bitch!" They brawl, Lashley gets the edge and has McIntyre on the ropes. Lashley roars, whips, but McIntyre reverses to OVERHEAD Belly2Belly again! McIntyre then gets Lashley into the FUTURE SHOCK! But he's not done there, ANOTHER FUTURE SHOCK! But that's still not enough?! A THIRD FUTURE SHOCK!! Cover, TWO!??! Lashley still lives and McIntyre is beside himself!
"This is Awesome!" and we're just starting WrestleMania! McIntyre wants the countdown, and fans count along! But Lashley drops to get away from the Claymore! Fans boo as MVP helps Lashley get away, but McIntyre FLIES!! All three men go down in a heap and Raymond James Stadium is thunderous as they lose their minds! McIntyre gets up, drags Lashley into the ring, and then climbs a corner. McIntyre leaps but into a clinch! Lashley spins McIntyre around, throws some knees, and HALF NELSON SUPLEXES! Then a clinch for the COMPLETE SHOT! Lashley dares McIntyre to get back up! McIntyre rises, Lashley is stalking up behind him, but McIntyre blocks the Hurt Lock!
McIntyre is prying it open! And then he RAMS Lashley into buckles! McIntyre gets up and runs in, into another SPINEB- NO! KIMURA! McIntyre has Lashley down on the mat and stuck in the center of the ring! Lashley endures as fans rally and duel so hard! Lashley reaches out, McIntyre cranks as hard as he can, but Lashley gets the ROPEBREAK! McIntyre holds on until the ref counts and lets Lashley go in frustration. McIntyre gets up and fans build back to a rally. Lashley rises, both men glare at the other, and the brawl is on again! They go haymaker for haymaker, kick for kick, elbow for elbow, but Lashley clinches to throw McIntyre into buckles.
Lashley runs, into a BOOT! McIntyre gives another GLASGOW KISS! McIntyre goes corner to corner, but MVP distracts! Lashley drops to avoid the Claymore again! McIntyre staggers, Lashley CLOBBERS him in a corner! HURT LOCK!! McIntyre is caught, endures, powers up, but fades! The ref checks on McIntyre, Lashley leans on the hold as much as he can, but McIntyre gets that second wind! McIntyre stands, uses the corner to push, it's a cover, but Lashley rolls right back to stand! Lashley still has the Hurt Lock clamped on tight! McIntyre fades again!! The ref calls it, Lashley wins!!!
Winner: Bobby Lashley, by submission (still WWE World Champion)
INCREDIBLE! This clash of titans ends with the Rocky Mountain Machine still on top of that mountain! If McIntyre couldn't stop him, then who in the WWE possibly can?
DING DONG! Bayley is backstage!
And she's found Titus and Hogan, and the nWo. She hosts a big show, the biggest who, the Ding Dong Hello show. Heard of it? Titus doesn't have cable. Well if anyone needs help, she's Too Sweet. Kevin Nash leaves Bayley hanging! Titus is hungry. Wanna go get something, guys? X-Pac gives Bayley the Too Sweet, at least, but then the legends head out with Titus. Well, just call her, brother!
WWE Women's Tag Team Championships #1 Contenders Tag Team Turmoil!
The Irresistible Force & Queen of Spades have gotten every time between Raw and SmackDown all riled up, and now they'll have to be ready for whatever team survives tonight! Will it be the Riott Squad, the Ravishing Glow, the Sexy Muscle Friends, the second generation superstars or the last minute but still FABULOUS Carmella and Billie Kay?
The first teams out are…
Naomi & Lana VS Carmella & Billie Kay!
The teams sort out, Naomi starts with Mella and Mella SLAPS Naomi! Naomi KICKS and KICKS and then lights Mella up! The dropkick sends Mella into the corner, Naomi tags Lana and they whip to ax kick and BULLDOG! LANA-ROONI! Lana runs and KNEES Mella against ropes, but Mella hits back and throws Lana by her hair! Mella takes a bow before she bumps Lana off her boot. Billie tags in, Mella feeds Lana to Billie's boot, and Billie swaggers before she CLUBS Lana down then ROCKS her!
Fans rally for Lana as Billie whips but Lana tilt-o-whirls and Russian Leg Sweeps! Hot tag to Naomi and she rallies on Billie! Naomi DECKS Mella, and gives Billie the Twerk Attack! Naomi mule kicks, dodges, Lana tags in before the FLYING CHUCK! ROUNDHOUSE for Lana, ROUNDHOUSE for Billie! Tag back to Naomi, DOUBLE FACEBUSTER! Cover, Mella breaks it! Lana gets in as Nia & Shayna are watching backstage. Mella dodges a kick to FABULOUS KICK! Naomi throws Mella out but Billie rolls Naomi up! Mella helps from behind, they ELIMINATE Naomi & Lana!!
Carmella & Billie Kay VS The Riott Squad!
No time to rest, Liv & Ruby head right out! Billie stays legal as she gets a chance to settle things with the team that snubbed her. Billie runs in, Liv dodges her to DECK Mella! Liv SHOTGUNS Billie down, then tags in Ruby. The Riott Squad double whip and drop toehold Billie onto ropes for a dropkick to O'Conner Roll! ONE, but Ruby clamps onto Billie's head. Tag to Liv, she whips Ruby in but Billie tosses Ruby out! Billie elbows then DECKS Liv! Tag to Mella, Mella puts Liv in a corner to stomp away! The ref counts, Mella moonwalks and Billie kinda tries to, before the FABULOUS BRONCO BUSTER hits!
Tag to Billie, she and Mella get Liv up to NORTHERN LIGHTS! FABULOUS KICK! Cover, Ruby breaks it! Mella throws Ruby out but Ruby knees back! Billie BOOTS Ruby down! Liv gets Billie but BIllie switches to sunset, Mella tries the same trick, but the ref sees it! Billie and Mella are furious, but Liv ROCKS Billie bakc! Ruby tags in, Liv hits the CODE BREAKER! Ruby goes up, SENTON KNEE SANDWICH! The Squad ELIMINATES Billie & Mella! But then Mella shoves Ruby down and FABULOUS KICKS Liv!
The Riott Squad VS Dana Brooke & Mandy Rose!
Liv is down while the Sexy Muscle Friends head out! Mandy slips on a puddle someone forgot to dry up, but she recovers just fine. Ruby goes right after them, DECKS Dana but Mandy ROCKS Ruby! KNEE FROM A ROSE! Tag to Dana, she climbs up, Ruby staggers over into a SUPER BLOCKBUSTER! High stack, but Liv breaks it in time! Dana is furious, but Liv gets away. Dana rains rights down on Ruby then drags her up. Ruby stomps a foot, ROCKS Dana with a right of her own, then ROCKS her again! Ruby reaches but Dana keeps her away to kick low. Dana runs, ROLLING NECKBREAKER! Cover, TWO!!
Mandy tags in, she stomps a mudhole into Ruby, then forearms her down. Fans fire up but Ruby boots Mandy away. Ruby DECKS Dana, but runs into Mandy's scoop! Ruby sunset flips through, TWO!! Ruby dodges, hot tag to Liv! Liv rallies, ENZIGURIS, and then runs into the corner for the DOUBLE STOMPS! Cover, TWO!! Liv keeps on Mandy with forearms, then tags Ruby in. The Squad coordinates, wrench and CODE BREAKER to RIOTT KICK! Cover but Dana breaks it! Dana brings Ruby up, Ruby throws her out hard, and Ruby tags to Liv. Liv kicks Mandy, whips but Mandy reverses to ROCK and whip Liv! Mandy runs in to RAM Liv into the corner!
Mandy forearms, sees Ruby coming and EXPLODERS her out of the ring! Mandy runs into a BOOT from Liv! Liv hops up, DECKS Dana, but Mandy gets up fast! Dana tags in while Mandy and Liv brawl! Dana climbs the other corner, SUPERPLEX to SWANTON! Cover, Mandy keeps Ruby out, but Liv turns things around! The Squad ELIMINATE the Sexy Muscle Friends!! And that was a shocker to Dana & Mandy!
The Riott Squad VS Natalya & Tamina!
The Queen of Harts and the Daughter of Superfly are the last step in this match! Will the Squad survive or be stopped right at the finish line?
Natty gets in, gets the legs and steps in, but Liv cradle counters! TWO!! Natty brings Liv up but Liv JABS and wheelbarrows, but into a SNAKE EYES! Tag to Tamina, she and Natty drag Liv up to mug her in the corner! Tag back to Natty, they suplex Liv into Natty's POWERBOMB! Cover, but Ruby breaks it!! Tamina CLOBBERS Ruby, tells the ref to back off, and Natty drags Liv back up. Natty hauls Liv into the corner, tags Tamina, and they mug Liv more! Tamina lets off as the ref counts, and she hauls Liv back up to a fireman's carry. Liv fights for her life, gets on the top rope and clubs Tamina away! Tamina staggers, Natty runs in but Liv ROCKS her!
Tag to Ruby, Liv dodges Tamina to dropkick Natty! Ruby ROCKS Tamina, combines with Liv, Wheelbarrow SPEAR! Ruby goes side to side to YAKUZA KICK! Tag back to Liv, she hits another CODE BREAKER! SENTON KNEE SANDWICH!! Cover, TWO!?!? Liv and Ruby can't believe Tamina survived! Ruby hurries back, tags in, and they coordinate for their other combo. Wrench and- No, Tamina whips Ruby at Liv! Liv goes up and over into a SUPERKICK! Ruby staggers, Natty tags as Tamina BOOTS Ruby down! Tamina hauls Ruby up, Natty runs, HART ATTACK! Natty grins as she has Ruby all to herself, for the-
NO! No Sharpshooter! She tells Tamina to finish this and tags her in. Tamina goes up top, for the SUPERFLY!! Cover, Tamina & Natty win!!
Winners: Tamina & Natalya, by pinfall (NEW #1 contenders to the WWE Women's Tag Team Championships)
Nia & Shayna aren't worried, even though they have 24 hours to prepare. Will the Irresistible Force & Queen of Spades lose to their equals tomorrow night?
The 24/7 Championship has a storied legacy.
It has changed hands many time. But none more accidental than when Joe "Night Panther" Average got it. Or was it fate? Akira Tozawa has Average train in an epic 80's montage to see if he can truly become a champion. Hilarity ensues. Ninjas, birds, Drew Gulak, and the spirit puppet of a panther! Plus, hot dogs, The Hurricane, and deodorant! Watch the finale on WWE's YouTube!
Seth Rollins VS Cesaro!
The Savior of SmackDown did not get the respect he wanted, but that was because he wasn't showing respect first. The Swiss Cyborg became the focus of Rollins' wrath, and now has his first-ever singles match on WrestleMania! Will Cesaro get into the swing of things and take Rollins down? Or will he be made to #EmbraceTheVision?
The bell rings and Cesaro BLASTS Rollisn with a EuroUpper! He wants the legs but Rollins kicks free and kicks low. Rollins runs, the boot is blocked and Cesaro DRAGON SCREWS the leg! Rollins scramble and gets a ropebreak to avoid the swing. Rollins then shoulders into Cesaro, slingshots up and over but Cesaro dodges to springboard and FLYING EuroUpper! Fans fire up with Cesaro, but Rollins gets away. Cesaro KNEES Rollins in the ropes, but Rollins hotshots an arm! Rollins climbs but Cesaro dropkicks him first! Rollins is stuck up top, Cesaro climbs up to get him with a gut wrench! SUPER GUT-
NO! Rollins slips through to bring Cesaro up for a BUCKLE BOMB! Rollins covers, TWO! Cesaro gets his arms moving and fans rally but Rollins seethes. Rollins drags Cesaro up, rams shoulders into the bad arm, then CLUBS the arm! Rollins talks trash but Cesaro hits low! Cesaro EuroUppers, body shots, EuroUppers but Rollins CLUBS the arm! Cesaro whips, Rollins puts Cesaro on the apron but Cesaro ROCKS Rollins! Cesaro climbs, but Rollins springs right up to SUPERPLEX! And roll through, to FALCON ARROW! Cover, TWO!! Cesaro survives and Rollins is annoyed, but he keeps his focus.
Rollins gets up, gets Cesaro up, and turns him, but Cesaro backslides! TWO, Cesaro EuroUppers again! Cesaro throws body shots, EuroUppers, then more EuroUppers! Rollins is in a corner and Cesaro fires off fast hands! Cesaro unloads EuroUpper after EuroUpper and fans are fired up again! Cesaro whips Rollins corner to corner, runs in and EuroUppers again! Cesaro whips him the other way, EuroUppers Rollins again, then runs to DISCUS! Cover, TWO! Cesaro keeps his cool as fans rally behind him. Cesaro wants the swing and the fans want to see it, too! Even that guy in the banana costume! Cesaro trips Rollins, has the legs, but Rollins twists to victory roll, TWO!
Cesaro tries again, Rollins scrambles to another ropebreak! Cesaro yanks Rollins up, Rollins lands on his feet to PELE! Rollins runs, but no Curb Stomp! Sunset flip, to the SWISS SWING!! Rollins goes around and around and the fans count it out! Cesaro settles for 10 because of the bad arm, and he turns it to the SHARPSHOOTER! Rollins scrambles, ROPEBREAK! Cesaro lets go in frustration but he got a little bit of payback on Rollins. Fans want the swing "One More Time!" but Cesaro brings Rollins in. Gotch hold but Rollins back drops free! Cesaro lands on his feet but misses in the corner! The arm hits buckles, Rollins springboards to FLYING KNEE!
Rollins comes back to SLINGBLADE! Rollins hurries up top as Cesaro is down, TWISTING SPLASH!? Cover, TWO!! Cesaro survives and Rollins is shocked! Rollins talks to himself that he won't let Cesaro disrespect him. Rollins grits his teeth, fans fire up and Rollins stalks up behind Cesaro. Rollins waistlocks, ripcords but Cesaro gut wrenches, to the NEUTRALIZER!! Cover, TWO?!! Rollins survives and now Cesaro is shocked! Fans rally behind Cesaro as he works on an idea. Cesaro grabs at Rollins to rain down furious forearms! Rollins gets back to ropes, Cesaro gets the legs, Rollins lands on his feet, into the Gotch! Rollins slips free of that to PEDIGREE!! Cover, TWO!?!
Cesaro survives The Game's best, but that's because Rollins isn't The Game! Rollins talks to himself again, gets back to his feet, and tells Cesaro that there are levels! Rollins survived the swing, the Neutralizer, he is a wrestling god! Rollins drags Cesaro up, turns him, and hits a DREAM SMASHER ELBOW! That's a shot at Cesaro's old tag partner! Cesaro ducks the stomp but gets the BOOMERANG! Rollins aims from a corner, Cesaro sits back up and Rollins runs in, but the stomp is turned into a EUROUPPER! And then a torture rack, for an AIRPLANE SPIN!! The "UFO" goes NO HANDS, then a TOSS!!
Fans are thunderous as Cesaro fires up, and calls for the swing! Cesaro gets the legs, and he starts up the rotations! The fans count along again, and Cesaro blows past 10 to go to 20, then 23! Gotch lift, NEUTRALIZER!! Cover, Cesaro wins!
Winner: Cesaro, by pinfall
FINALLY! No more talk of "untapped potential," of just missing the mark, and of just being a good-hand! Cesaro wins and has HIS WrestleMania moment! But will this just lead to even bigger things in the Swiss Cyborg's career?
Backstage interview with the Dirty Dawgs, Dolph Ziggler & Robert Roode!
They are still SmackDown Tag Team Champions after a big WrestleMania edition of SmackDown. They're excited to be here because there's nothing like this in the world. The aces have arrived, and it is truly WrestleMania. For a couple dirty dogs, they clean up real nice. We've seen great tag action, but what about the Raw Tag Team Championships? New Day are one of the greatest, Ziggler had KofiMania. But rainbows and unicorns only get you so far. Omos looks great standing with Styles, but they'd look even better with tag gold. Roode's known Styles a long time, and you never, ever bet against the Phenomenal One. Now, excuse them while they take pictures with the 2020 Hall of Fame class.
Raw Tag Team Championships: The New Day VS AJ Styles & Omos!
AWWWWW Tampa Baaay~! Big E says don't you dare be sour! Clap for your world famous ELEVEN time champs, and FEEL~ the POWER~! That's right! The now ELEVEN time W, W, E, World, Tag, Team, CHAMPIONS~ thought they were out of opponents to face, until the Phenomenal One and his ENORMOUS associate stepped up. Kofi Kingston & Xavier Woods doubt the tag team chemistry, but will Styles & Omos win big on the biggest show of the WWE calendar?
The introductions are made, the belts are raised, and quite possibly the biggest match in the New Day's career is here!
The teams sort out, and Omos starts his first match with Kofi. Kofi and Woods cheer for Styles so Styles tags in! Styles and Kofi circle, tie up, Styles waistlocks but Kofi trips him. Styles reaches up to headscissor then whip. Kofi rolls over Styles' back but Styles denies the SOS! Kofi avoids the Calf Crusher, rolls Styles, TWO! Body scissor clutch, TWO! Styles kicks but Kofi blocks to get Styles down, but Styles headlocks back! Kofi back suplexes and Styles lands hard on his stomach! Kofi claps at Omos and Woods plays Francesca Turbo as Kofi twerks at Styles. Styles gets mad, but runs into Kofi's dropkick! Kofi drags Styles up, brings him over but Styles throat chops!
Woods tags in, trips Styles up, and Kofi SPLASHES down! Woods slingshots to elbow drop! Cover, TWO! Woods clamps onto Styles and taunts him with explaining the strategy. Kofi tags in, the New Day mugs Styles and Kofi fires off haymakers! Kofi stomps Styles, lets off as the ref counts, and it's time to turn up! The New Day Stampede begins! Woods tags in, he stomps away, then Kofi tags in to stomp! Tag back to Woods, Kofi whips him in to basement dropkick Styles! Cover, TWO! Woods keeps cool and keeps Styles from Omos. Woods headlocks, grinds Styles, but Styles reaches. Woods hits a headlock takeover, grinds harder, but Styles fights up.
Styles reaches, Woods hits another takeover, but Styles gets up again. Styles powers up but Woods keeps his hand from Omos! Woods hits yet another takeover! Cover, ONE as Styles gets up again. Woods wrenches, tags Kofi, and the New Day double wrench to double CHOP, double KICK and double BULLDOG! Cover, TWO! Kofi is after Styles but Styles gets a ropebreak. Kofi stays between Styles and Omos because that's all he really has to do. Styles bails out and runs around! Tag to Woods, Woods watches Styles slide in and CLOBBERS him out! Woods runs, Kofi tags in, Woods WRECKS Styles with a dropkick! Woods puts Styles in, Kofi hits a FLYING STOMP! Cover, TWO!
Styles is still in this, Kofi drags him over and Woods hopes fans are alright. Tag, the New Day get Styles in a fireman's carry but Styles fights free! Styles dodges Woods, reaches but Woods keeps Styles away! Styles lands out of a back suplex but Woods grabs a foot! Woods ducks the enziguri but Styles kicks him away! Tag to Kofi and he springboards to PANCAKE SPLASH Styles down! Cover, TWO! Tag back to Woods, Kofi drags Styles up while Woods climbs, backbreaker, but Styles fights free! Woods is perched, Styles sees he has an opening, hot tag to Omos!! Woods realizes he's in trouble now and the fans are fired up!
Omos storms up to Woods but Woods gets his dukes up. Woods kicks a leg, but Omos doesn' flinch. Woods keeps trying but that hurts him more than it does Omos! The shotgun dropkick bounces off! Styles tells Omos to get Woods, but Woods dodges, Kofi tags, Woods boucnes off Omos again, and Kofi leaps, into Omos' grip! Omos THROWS Kofi with one hand! Omos grins and styles tells him, "NOW!" Omos BOOTS Woods, TOSSES Kofi to a corner, then has two targets! Omos runs to BACK ELBOW Woods, then runs to BACK ELBOW Kofi! Omos drags Woods up for a COLOSSAL BACKBREAKER!
Omos clamps onto Woods' face as he bends him in the backbreaker rack! Woods endures but Omos pushes him away. Omos sees Kofi get up, scoops him with one hand and carries him around! COLOSSAL BACKBREAKER! The New Day writhe but fans rally and duel! Styles uses Omos as a launching pad for a PHENOMENAL FOREARM to Woods! Kofi flounders, Omos drags him up! Omos says he's going to have fun doing this! POP-UP SPINEBUSTER!! Styles says use one foot to cover, and Omos does! Omos & Styles win!!
Winners: AJ Styles & Omos, by pinfall (NEW Raw Tag Team Champions)
Omos' first match and he's not just a champion, but he DOMINATED one of the best tag team champions EVER! And Styles is now the PHENOMENAL Grand Slam Champion! Is this just the beginning for this dominant duo?
Steel Cage Match: Braun Strowman VS Shane McMahon!
For whatever reason, the Monster Among Men became the target for Shane O'Mac to mock, ridicule, insult and just outright disrespect, all while running out of reach. But now, the cage will keep Shane contained, can Braun finally #GetTheseHands on him?
Jerry Lawler joins commentary as the cage is locked and loaded!