Andrew's Impact Wrestling Results & Match Ratings: 11.3.2020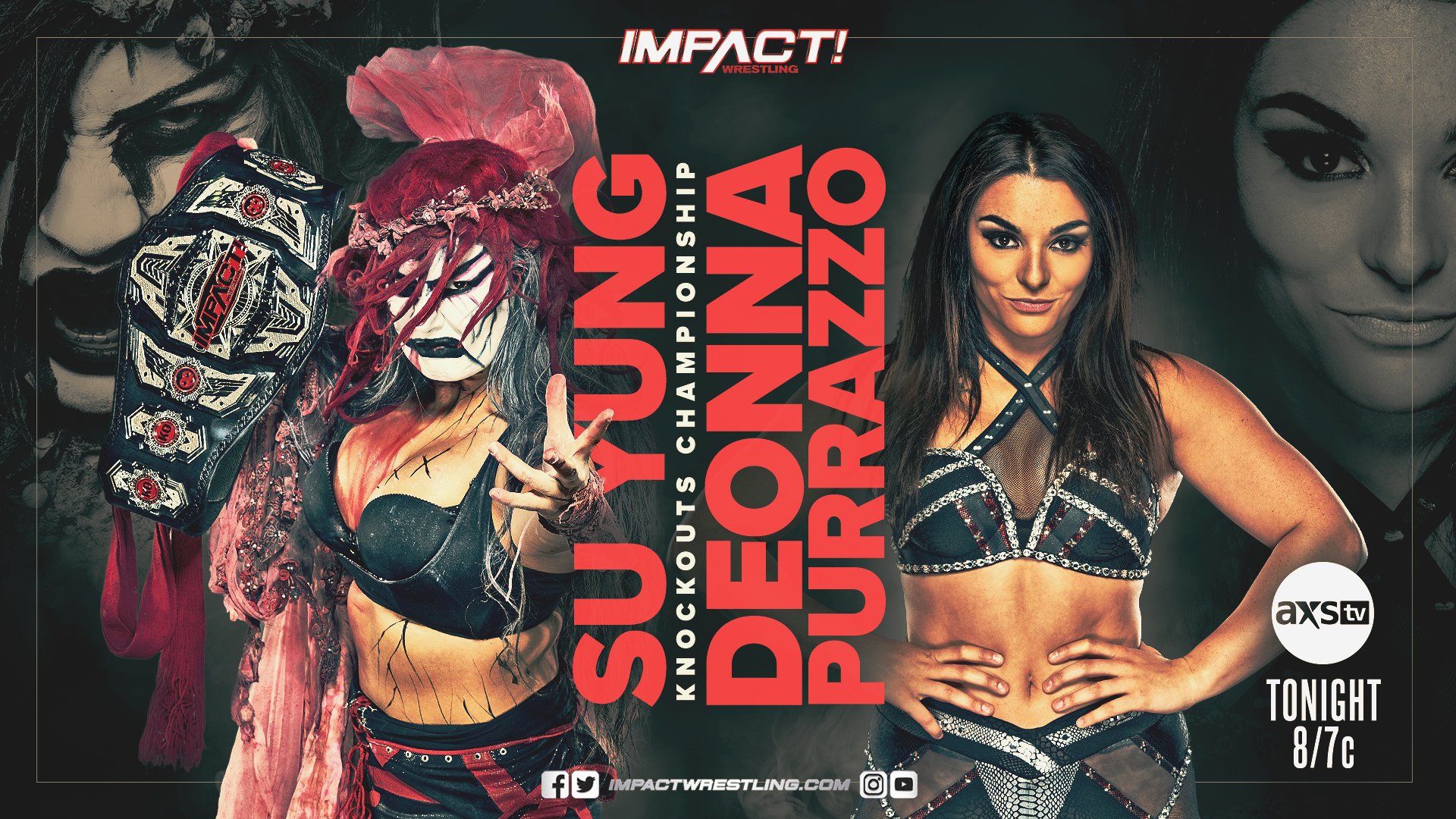 Now with the knowledge we have about Kylie Rae, this should make any creative decisions they were working with extra interesting. Kylie deserves her privacy and her time to work through whatever is plaguing her. In the long run, she's human just like the rest of us; and I'm fairly sure we all don't handle every day or quarantine or certain things as perfectly as Twitter personas may lead others to believe.
Enjoy retirement, focus on yourself, and if you come back to wrestling, hopefully it's with Impact. Kylie Rae is the best.
ANYWAY – with that said, let's focus on the show. Deonna Purrazzo gets her rematch, Eric Young and Sami Callihan seem to be on the page and we may get one step closer to figuring out who shot Bravo! This should be an interesting episode even with heavy topics surrounding the real world around certain talent.
Let's see how everything keeps building for Turning Point!
Ratings:
Knockouts Championship: Deonna Purrazzo vs Su Yung (c): Deonna wins via Disqualification – *
Chris Bey vs Trey Miguel: Bey wins via Triple C – ** ¾
Defeat Rohit Challenge: Rohit Raju vs – No Match – Promo Segment
Doc Gallows w/Karl Anderson vs Ethan Page w/Josh Alexander: Gallows wins via Super Kick – ** ½
Cody Deaner w/Cousin Jake vs Johnny Swinger: Swinger wins via Loaded Fanny pack – *
Sami Callihan & Eric Young vs Eddie Edwards & Rich Swann: Callihan wins via Piledriver – *** ¼
Results:
Things open with Scott getting a call from the hospital, Tommy Dreamer enters, gets an update and then says he's launching an investigation dressed in a stereotypical Sherlock Holmes get up.
Knockouts Championship: Deonna Purrazzo vs Su Yung (c)
Su already has the bloody glove on, and the match starts at a quicker pace. Su seems to be pushing hard for the Mandible Claw and that gives Deonna a ton of opportunities to attack, work over the shoulder and get on top. After Su applies the Mandible Claw, Kimber Lee slides in a chair to distract the Undead Bride, there's a small tug of war over the chair, before Su gets the best of the tug of war and uses the chair to clear out Kim and Deonna.
Deonna wins by DQ in a match that never really got going, but it continues the storyline. If we just see this as vehicle to a bigger pay off, than this is fine. Hopefully the last match in all of this drama isn't too gimmicky.
.@HEATHXXII's contract dreams will have to go on hold again because of his injury. #IMPACTonAXSTV @ScottDAmore pic.twitter.com/T596Ixd2vw

— IMPACT (@IMPACTWRESTLING) November 4, 2020
Following the contract segment, Barrister Evans shows up, Scott declares that Deonna deserves another title shot and Scott approves it for Turning Point. The catch however, is that it will be an anything goes, No DQ, perfect match for Su Yung.
Chris Bey vs Trey Miguel
Lots of quick action to start off, much of it is counters or mirror work. Bey has a great sense of balance to save an Electric Chair spot that could've been sloppy early, a few dueling Arm Drags turns into a mutual Arm Drag attempt so they both fall, arms locked, and get up to reset in a competitive but still amusing way.
Back and forth, inside out action ends with Bey hitting an interesting Tiger Feint from the outside to trip Trey and take the advantage of the prone Trey by dropping an elbow across his neck. Trey kicks out, reverses a whip, but Bey rakes the eyes and keeps on top of Trey. Trey continues to fall into doofus babyface tropes, but I just don't care about him personally. Trey kicks out Bey's feet, hits a small flurry, and does a backflip going into a suplex to get some space.
Bey tries to regain some momentum, but a few quick strikes and the 916 (Tiger Feint Back Kick) gives Trey a near fall. Trey hits the corner, Bey cuts him off, Trey tries for an Avalanche Powerbomb, but Bey blocks, then blocks part of the Cheeky Nandos kick, and hits the Oscutter from the corner.
While the match itself wasn't the worst, it just felt slow and hollow at times.
It seemed like @JordynneGrace was on the verge of suggesting a team with @TenilleDashwood but Tenille proposed a team with @MadisonRayne instead! #IMPACTonAXSTV pic.twitter.com/m9OEVjVXNc

— IMPACT (@IMPACTWRESTLING) November 4, 2020
I'm amused that Jordynne seemed to be willing to bury the hatchet but Tenille playing along to partner with Madison is just perfect. I do appreciate that Tenille isn't a full-fledged crappy heel and she's kinda quirky and cute in her narcissism.
Did @RefBrandonTolle shoot @JohnEBravo1st? #IMPACTonAXSTV @THETOMMYDREAMER pic.twitter.com/5OR2i5GdbA

— IMPACT (@IMPACTWRESTLING) November 4, 2020
Defeat Rohit Challenge: Rohit Raju vs
TJP comes out first, in a hoodie and with a latte or something. So it's like he's already aware where Rohit is going to direct the conversation. Rohit has a great promo talking about how he clawed and scratched from nothing to get where he is. TJP claps back with one of his best promos in a long time listing off accomplishments. TJP feigns leaving, Rohit implores him to leave, TJP tosses the drink and says "There's the tea" before a scuffle ensues.
We don't get a match, but this was really great work from both. TJP is convincing as the veteran babyface and Rohit is even more convincing in his position as the heel who was a joke and cut a few corners to get to where he was. This is really great stuff.
Chris Sabin gets interviewed talking about the divide and conquer technique the tag teams are playing with the MCMG. Like I said last week, it's a good way to set the stage to remove the Guns from the direct title picture without incurring big losses or too many redundant rematches.
Doc Gallows w/Karl Anderson vs Ethan Page w/Josh Alexander
Things start off slow with LG throwing his size around a little and Ethan overreacts in a spectacular way, even going as far as complaining to Josh after a powder that LG did the Shoulder Tackle cause he knows that's Ethan's move and he's trying to get in his head. It's such a dumb comment, but I'd be lying if I didn't say it popped me.
The early going is a lot of Ethan getting frustrated and finding different ways to calm down. After LG does the Karate Kid Crane pose to mock Ethan, Josh feigns interference to give Ethan an opening, and LG is on the receiving end for a decent bit. Ethan throws a few shoulders in the corner and looks to be rolling until Karl goes after Josh on the outside.
Ethan Irish Whips LG into the corner, then gets distracted with everything going on, and by the time he charges, LG catches him with a big Super Kick for the win! Another match that mostly just sets a table but isn't really a match to stand alone on.
Swoggle gets an interview segment saying he wants to be seen as a real wrestler, promotes his new book a little and says that he's always felt like a misfit and Impact has always been like the Island of Misfit Toys. Brian Myers crashes the interview and throws some pointed comments, Swoggle tries to basically play the "you changed man" card, and I guess Swoggle is officially involved in the Myers/Dreamer angle.
Cody Deaner w/Cousin Jake vs Johnny Swinger
Now no one expected a real competitive match here, right? Swinger does a little of his character work, Deaner actually looks like quite the competent wrestler comparatively. We get a stomping a mud hole spot in the corner, where Deaner takes a break to swig some beer, but stays mostly in control.
Deaner attempts to Giver, Swinger rakes the eyes, goes to get the fanny pack and a chair. Chair gets taken away, but the fanny pack gets used against Cody's head. Pinfall victory for Swinger!
Moose comes to the ring and gives a very somber and deliberate promo. It shows the new version of Moose that EC3 created and must like Saw, it seems like EC3 created a new Jigsaw, whose first victim will be Willie Mack.
Sami Callihan & Eric Young vs Eddie Edwards & Rich Swann
Eddie starts things off with Sami, as is the tradition which we've built off a stray baseball bat. Rich and Eddie start with a few early dives and apron attacks before we see Los Piledrivers regain the momentum. After getting smacked around for a bit, Eddie opens a chance with a Blue Thunder Bomb and brings in Rich. Rich manages to bring things back to parity and look fantastic taking out both Sami and EY to stabilize the team, especially after a great Avalanche Frankensteiner on Sami, making Sami flip and land on EY.
After a little bit of craziness, we see both EY and Sami have a shot for dual Piledrivers, but Rich and Eddie counter and we get a dual submission spot instead. No one taps, EY manages to turn the submission and kick Eddie into Rich to break up the other submission. Sami and Eddie end up being the legal men, while Rich and EY are on the outside. Ken Shamrock runs down as the referee is busy looking away from the ramp watching a submission attempt.
Shamrock side swipes Swann, and it looks like we'll be working towards Shamrock vs Swann, possibly for Turning Point. This allows Sami to take advantage of Eddie after he notices and gets distracted, Roll-Up attempt for 2, then a Piledriver gives the Dangerous Trio a hard fought win.
Overall Score: 6.25/10
This whole show was filled with building segments. That's not necessarily a problem, but it does make it hard for the episode to stand on its own two feet. Tenille creating a team with Madison Rayne, Deonna getting screwed and then pushed into a No Disqualification match, Rohit and TJP doing some solid promo work and a short match between LG and Ethan Page just to keep the ball rolling there. Hell, even Scott D'Amore calls Heath's bluff with the injury to build more into that Free Agent story.
I didn't even highlight the Swoggle and MCMG stuff, or the Who Shot Bravo; since those are very early in their build. It's just interesting since the show wasn't bad, but you need to care about the characters and buy into how Impact tells their stories.
So if you look at this episode like the middle movie in a trilogy, it wasn't too bad since you know more is on the way to tie up the story. But on its own merits? The show was alright at best.