Andrew's Impact Wrestling Turning Point Results & Match Ratings: 11.14.2020
ImpactPlus special tonight, TURNING POINT! We get 4 (5 if you count TNA) title matches, where you have to assume at least one is changing. Any major changes happen during the show?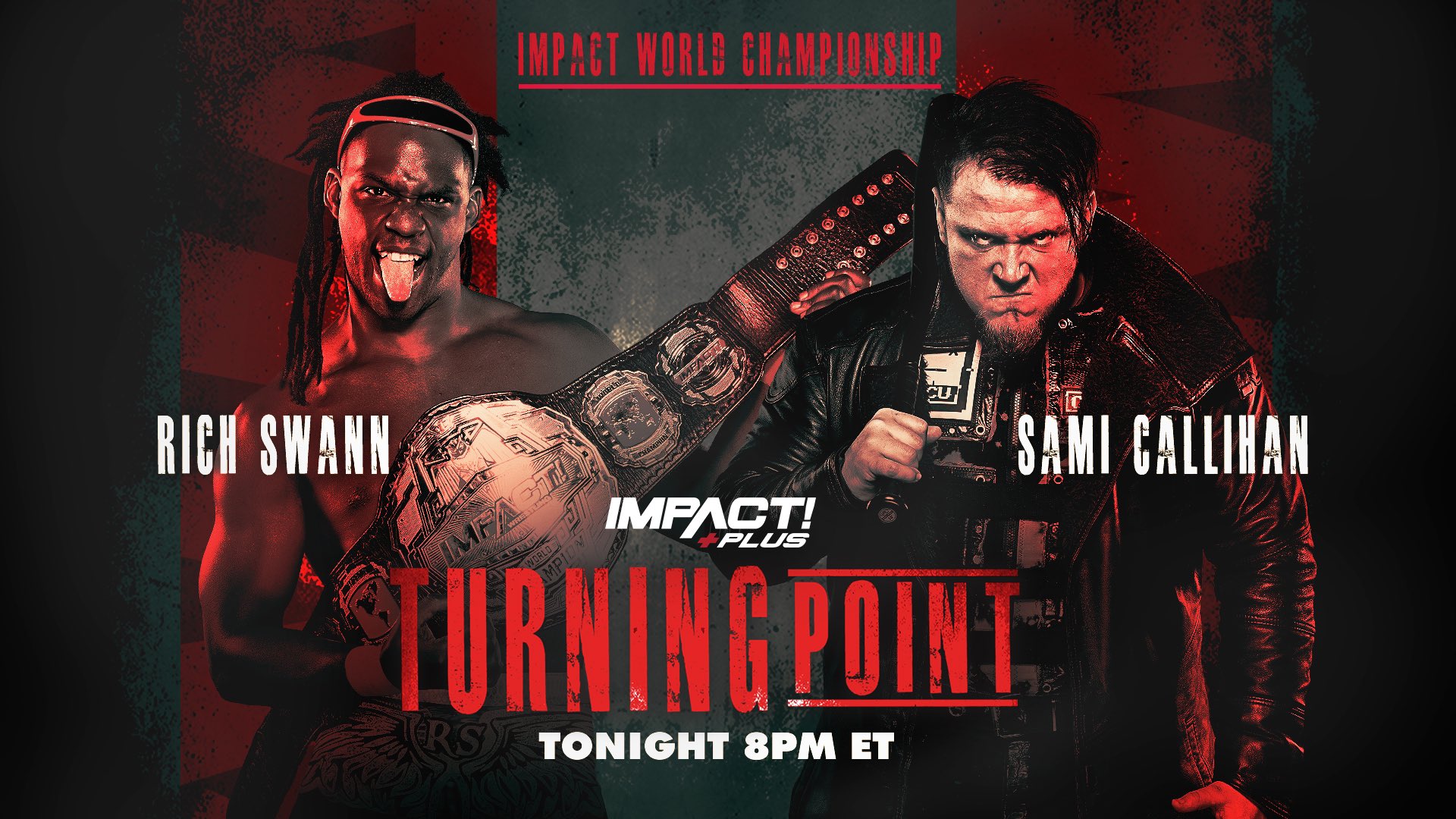 Impact Wrestling has started finally convincing me that these ImpactPlus specials are going to be more than filler throw away. The last few have been solid which is saying something since these started off really poorly.
We get 4 (5 if you count TNA) title matches, where you have to assume at least one is changing. Deonna gets a rematch out of her element, The Good Brothers could finally add Impact Tags to their trophy case and Sami continues his personal feud with Rich Swann.
Let's see if anything crazy happens tonight!
Ratings:
Eddie Edwards vs Daivari: Edwards wins via Boston Knee Party – *** ¼
Tenille Dashwood & Jordynne Grace vs Taya Valkyrie & Rosemary: Rosemary wins via Double Underhook Sitout Drop – ***
Brian Myers vs Swoggle: Myers wins via Charging Lariat – ** ½
Beer Machine (James Storm & Chris Sabin) vs XXXL (Acey Romero & Larry D): Sabin wins via Tandem Running Kick/Superkick – *** ½
Defeat Rohit Challenge: X Division Title: Rohit Raju (c) vs Cousin Jake W/Cody Deaner: Rohit retains via Tiger Knee – ***
TNA Heavyweight Championship: Moose (c) vs Willie Mack: Willie Mack wins via DQ – *** ¼
Impact Wrestling Tag Team Championship: The North (c) vs The Good Brothers: Good Brothers win via Magic Killer – *** ¾ – TITLE CHANGE!!!
Knockouts Championship NO DQ Match: Su Yung (c) vs Deonna Purrazzo: Purrazzo wins via Cosa Nostra – ** ½ – TITLE CHANGE!!!
Impact Wrestling World Championship: Rich Swann (c) vs Sami Callihan: Swann retains via Thrust Kick – ****
Results:
Eddie Edwards vs Daivari
Some nice basic wrestling in the start of the match, Headlock Takedowns, Shoulder Tackles, Hip Toss and both men just try to establish the upper hand. As Eddie keeps to the basics, we see Daivari take advantage after he throws Eddie into the post, and start working over the left shoulder.
A few spots outside to drive the left arm into the steps, the left shoulder into the post, come back into the ring and Daivari rides the Kimura Lock just to torque on the injury. Eddie fires out of the corner with a Lariat from the good arm, and starts fighting back. But the best part is Daivari keeps fighting back and doesn't give Eddie a long time for offense. Eddie goes to the top, Daivari cuts him off, hits a nice Frakensteiner and both continue the back and forth.
Eddie fires again, absorbs a few strikes, calls for more before clocking Daivari back and hitting a Tiger Driver with great emphasis. Daivari gets a pinfall chance but gets caught using the ropes, he argues with the referee, and turns around just to be greeted with a Boston Knee Party. Eddie is victorious, but it wasn't easy.
Good wrestling, solid opening match. Daivari looked pretty damn good.
Tenille Dashwood & Jordynne Grace vs Taya Valkyrie & Rosemary
Tenille starts off trying to get a nice picture, but Demon Assassin photobombs and Tenille does her quirky heel humor to get out of the match quickly. Jordynne against Taya is fairly physical and stays that way. Taya has the strikes and Jordynne throws in some power.
Rosemary gets tagged in and overshoots the forward roll chinlock, but she grabs Jordynne's hair and pulls herself back into place where it looks kind of cool. Tenille with the blind tag in and Jordynne with the Spinebuster to give their team a near fall. Taste of Tenille and a Dash Woogie keeps Taya reeling, Taya almost gets out but Tenille grapevines Taya's leg and reaches out to tag in Jordynne.  Jordynne leans on Taya a little, hits a Spear on Jordynne and Jordynne looks for the tag but Tenille drops off the apron for selfies.
Rosemary comes in, Upside Down, and the Double Underhook Sitout Drop, to give Ragnarok the victory! I guess Tenille and Jordynne are back to square one on looking for teammates.
.@CodyDeaner's loss to @swinger_johnny seems to be a big source of frustration for The Deaners. #TurningPoint @JakeSomething_ pic.twitter.com/jgEh6DtUlQ

— IMPACT (@IMPACTWRESTLING) November 15, 2020
Brian Myers vs Swoggle
Oh no! These two were just best friends on Talk'N Shop-A-Mania 2! Now they must fight. Myers starts by just telling Swoggle to lay down. Swoggle starts fast, with a big Tilt-a-Whirl Headscissors, Dive to the outside and rocks Myers early, but Myers trips up Swoggle and shoves him off the apron.
Swoggle limps back in and Myers talks trash while big brothering him. Disrespectful kicks, trips and just playing with Swoggle. Swoggle gets mad, almost catches Myers but gets a boot in the face for his trouble and then Myers stands on his hair while trying to pull him up by the arms.
Swoggle hits a desperation German Suplex, E-Honda Palm Strikes and a Cutter. Goes to the top for the Tadpole Splash, Myers cuts him off, Enzuigiri, Swoggle bites Myers' leg hits the Tadpole Splash…but only for 2! Myers powders, throats Swoggle over the middle rope, then hits the charging lariat from the corner and gets the win.
Given the disparity in the combatants, this wasn't too bad. Swoggle had moments and Myers starts the post-match beatdown, but Crazy Steve makes the save.
Beer Machine (James Storm & Chris Sabin) vs XXXL (Acey Romero & Larry D)
BEER…GUNS! #TurningPoint @SuperChrisSabin @JamesStormBrand pic.twitter.com/O8V31SvEIS

— IMPACT (@IMPACTWRESTLING) November 15, 2020
Chris and Larry start the match, which shows the difference in size, but Sabin uses his head and gets the advantage with some cheeky clever kicks and brings in Storm. Surprisingly, these two do work fairly well together early, but the size of XXXL equalizes the tag team veteran experience.
We finally see Sabin get away from things when Acey tries a Seated Senton, but Sabin has him…well…sit on his knees, if you get my drift. Sabin kicks away from Larry D and tags in Storm. Then all four men get in and we see Storm and Sabin clear the ring and pull off a few tandem spots.
Acey catches Sabin with a big Uranage and Senton, but only for 2. Sabin rocks Acey, charges with a big kick, Storm with the Superkick and Beer Machine win!
.@swinger_johnny's got a gun! #TurningPoint @CodyDeaner @JakeSomething_ pic.twitter.com/DooX8488wW

— IMPACT (@IMPACTWRESTLING) November 15, 2020
Defeat Rohit Challenge: X Division Title: Rohit Raju (c) vs Cousin Jake W/Cody Deaner
Jake mauls Rohit early, but Rohit proves why he's one of my favorite wrestlers as of late. He finds clever angles to try and get in some offense, while avoiding big moves. Countering a Bossman Slam into a Double  Stomp. Lots of ducking and striking, but Jake does a great job at connecting often enough to rock the champion Rohit manages to weaken big nasty with some well-placed strikes and rocking him awkwardly into the ropes.
Rohit misses the Dragon Stomp, but lands a knee lift, then the Tiger Knee to retain!
After the match Eric Young's music hits and he's with JOE DOERING! One of the most popular recent gaijins in AJPW! Former Triple Crown and World Tag Champion! Eric Young and Joe Doering is a scary duo.
TNA Heavyweight Championship: Moose (c) vs Willie Mack
Moose came in wearing black trunks as opposed to when he fought EC3 in white gear. So it shows he's the antagonist in this Control Your Narrative mind game thing. Willie and Moose exchange haymakers, but once Moose trips up Willie, Willie is getting rocked often. Moose stays on the offensive and has his way for a while.
Willie manages to move out of the corner and start a comeback, which this is just a great slugfest. Big moves like Big Boots, Leapfrogs over each other, lariats and just each man sending a message. Moose catches Willie with the Spear off the ropes and goes into full mount and rains down elbows.
The referee stops the match, initially declaring Moose the winner, but when Moose won't stop the onslaught, he DQs Moose. But Moose made his point, I'm pretty sure.
Impact Wrestling Tag Team Championship: The North (c) vs The Good Brothers
The Good Brothers isolated Josh Alexander early on and then when Ethan Page managed to get in, The North started keeping Karl Anderson on their half of the ring. Both teams' really showcasing great tag team basics and it's hard to really pinpoint and real highlights when it's just good old school tags and isolation. Karl finally slams Ethan and both make a tag, which gives Gallows a great chance to make the hot tag.
Page cuts off Karl on the apron, then they pinball LG's head between the two of them, hit the Inverted Mat Slam, for only a two! Northern Assault attempt gets broken up by Karl Anderson, as the Brothers hit the Backdrop/Neckbreaker combo for only 2! Magic Killer tease, Ethan Page save and a nice fallout from all four guys.
Page takes the tag, goes after the battered Karl Anderson, Karl dodges, Spinebuster for Page, Gun Stun for Alexander. Tags in Big LG, Magic Killer and The Good Brothers are new tag team champions!
Knockouts Championship NO DQ Match: Su Yung (c) vs Deonna Purrazzo
This was awkward. For a No DQ match it spent a lot of time in the ring and the weapons seemed like an afterthought. The only one that played a real role was a random blank art canvas which Deonna used to block the bloody mist at some point.
Neither woman submitted, and the whole Venus de Milo moment with Su's head in the chair didn't make a ton of sense, because we usually see a referee call it by then instead of waiting for a submission break and then doing the arm drop spot. Just a lot of weird aspects in this match, though I do love Deonna using the Paradise Lock and finally breaking out her Gotch Style Piledriver she calls Cosa Nostra is nice.
I like Deonna retaining, this whole match was just weird. Not bad, just a lot of odd choices given the players, the set up and the match type.
Impact Wrestling World Championship: Rich Swann (c) vs Sami Callihan
Sami tries to get into Rich's head but Rich lands some quick offense which forces Sami to powder and continue to goad him. Sami feints sliding in and Rich finally gets irritated enough to chase, which is what Callihan wanted.
Callihan dominates most of the outside, but Rich goes up on a Powerbomb, and grabs the ropes since it was close to the apron, and tries to start some counter attacks. Rich has a small window, but when Rich buckles his knee on the Flipping Up and Over, Callihan goes after the legs. Strikes and Inverted Figure Fours just to torture his former "little brother".
Sami's torture fuels Rich to working through the pain. Multiple kicks variations from both, and just great fire and fighting spirit moments from both. We go from a slow strike, a small rest and then explosive strikes, especially when Sami comes out of dead stop to Buckle Bomb Rich and then Brainbuster for a near fall. Both men are selling their asses off and just keeping the pressure up.
Rich hits the Cartwheel Moonsault, but only a 2 count. He takes a few beats to climb the ropes for the Phoenix Splash, but Callihan cuts him off.  Rich goes for Shiranui, but Sami catches him and hits the Bastard Driver!  Piledriver on the apron makes you think it's done. Sami goes to throw Rich back in, and Rich pulls off the Handspring on the apron for the Lethal Injection!  Both barely slide in at 9.75.
Sami tries for the Piledriver again, but Rich gets away from it, Spinning Back Heel kick, and he goes for the Phoenix Splash, but Ken Shamrock starts heading to the ring! Eddie Edwards cuts off Ken and they spill over the guardrail. Sami looks to take advantage of the distraction, but Rich flips out of the hold, Three Spinning Back Heel Kicks, a Roundhouse Kick and then a deliberate Thrust Kick to the kneeling Sami, and Rich retains his title!
Overall Score: 7.5/10
So this was a solid show, though it did drag a little at times. It's great to see Joe Doering back in Impact since, 2005/2006? A decorated wrestler in All Japan, and a cancer survivor, he's definitely proven to be a tough son of a gun.  Of course the Swoggle match was all but an understood outcome unless something screwy happened and personally I would've loved seeing Tenille and Jordynne actually have great chemistry; but I mostly get the narrative. It doesn't make a ton of sense for someone who's "all about me" to be a tag team champion.
Looking at the title matches, with all the scuttlebutt of Ethan Page's contract at the end of the year and how he's prolly signing elsewhere, the writing was definitely on the wall with this one. I still really find the match layout weird for the Knockout No DQ match, but Deonna should've never lost the title anyway, so at least the right person one. And dammit Madison, don't translate Cosa Nostra as "our thing" when most people know that's the Sicilian Mafia. Moose is hopefully building toward a collision course with Rich Swann and an eventual Impact title victory; and Rohit is definitely special. I can't talk any more highly about how much I enjoy Rohit's old school take on being a heel and how it works so perfectly with landscape of Impact right now.
Coming out of the show, we had a great main event that really keeps Ken Shamrock cemented in the main event scene, so it's bound to happen he gets one more shot at the title. Eric Young and Joe Doering will be a new force to be reckoned with. Deonna on reign number 2 doesn't really have any challengers, so the build there is something. Lastly, the Knockouts Tag tournament showed us a few new names, Renee Michelle (Mrs. Drake Maverick) and Killer Kelly is a team and the Sea Stars (Delmi Exo & Ashley Vox). It should be interesting to see how far they get and if we see any of them stick around. Since Kelly, Renee and Ashley are all pretty damn solid (not as familiar with Delmi).
So good show Impact! Now we've got Final Resolution to look forward to next month!