Cook's AEW Full Gear 2020 Gambling Picks
AEW Full Gear is upon us, which means Steve Cook is here with your "for entertainment purposes only" picks for the show!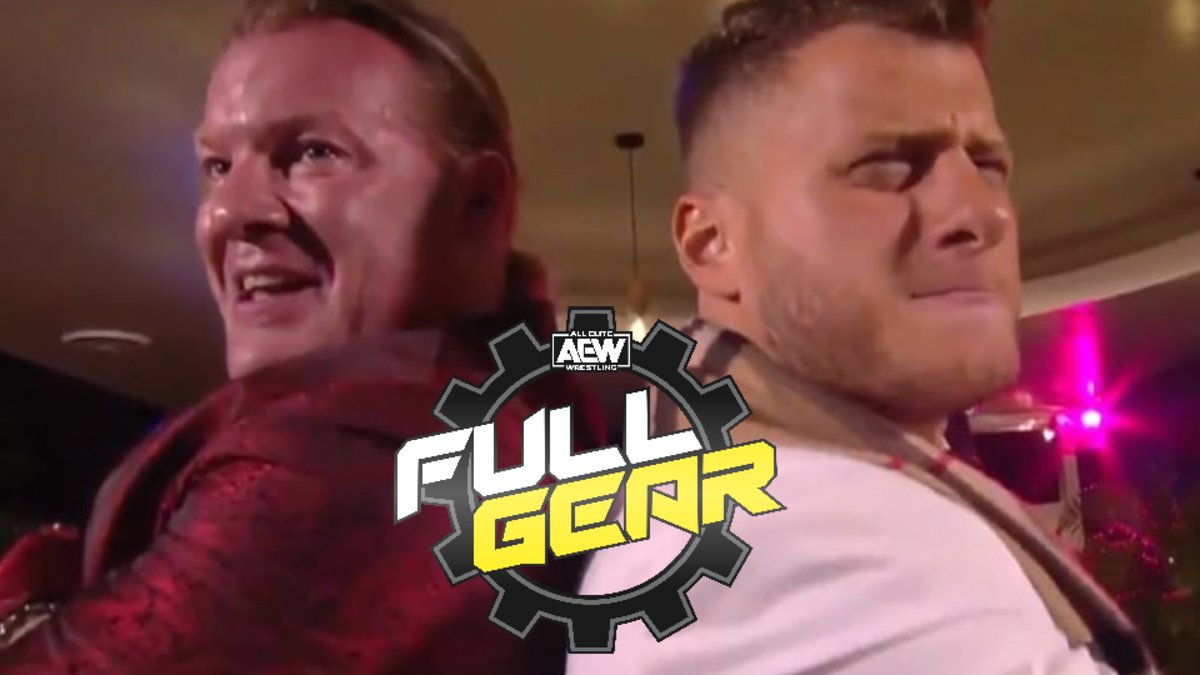 AEW Full Gear is upon us, which means Steve Cook is here with your "for entertainment purposes only" picks for the show!
Saturday night is all right for fighting, and AEW has plenty of matches ready for us to wager on. For entertainment purposes, of course. My boys at 411 present the odds via BetOnline for most of this card, except the Buy In match where Serena Deeb will defend the NWA World Women's Championship against Allysin Kay. I'm hoping this is just the first we see of AK47 in AEW, as she can add a lot to that women's division. She should tear it up with Serena on the pre-show, no doubt about that.
Here's what we've got on the main show, and I shall include some gambling insight…for entertainment purposes, of course.
Orange Cassidy (-950) vs. John Silver (+500)
This match pits 2019's Favorite Wrestler of the Internet against 2020's Favorite Wrestler of the Internet. The wave that brought Orange Cassidy to a point where Chris Jericho could put him over and nobody would bat an eye is getting behind Johnny Hungiee right now. Silver has been killing it on Being The Elite, gotten a bit of a push on Dark and has been featured on Dynamite in interesting ways. Mr. Brodie Lee designated him as his second for TNT title matches, which usually resulted in John Silver getting his ass kicked. Silver's team with Alex Reynolds had a chance to face FTR, which didn't work out. He main evented the most recent episode of Dynamite, but ended up on the losing end because of freaking 10.
I'd throw a few bucks on Silver here. Not much, because OC probably wins this match, but it's not like you can make much money off of an OC win. If good ol' TK gets a wild hair and puts Johnny Thirsty over, and it's not like losing would hurt OC that much because it could lead to a whole story. I am a big fan of John Silver so I'm a bit biased. I'm just saying, there's money to be made here if AEW follows the Internet.
The Elite Deletion:
Matt Hardy (-160) vs. Sammy Guevara (+120)
Sammy has so much potential. If Matt Hardy sees that, and doesn't see this production at the Hardy Compound as another way to put himself over, Sammy would be a good pick here. I'm not sure Matt has a mind to serve people other than himself. I would love to be wrong! Either way, there isn't a lot of money to be made here.
If MJF wins, he's in the Inner Circle:
MJF (-300) vs. Chris Jericho (+200)
This story has felt like it's leading to MJF joining & taking over the Inner Circle, and kicking Mid-Life Crisis Chris to the curb. It seems like the right way to go at this point. MJF needs to be an asshole heel for the rest of his life, and even if Wardlow is a good heater, he could use some more heaters. We can say a lot of bad things about Jericho, and many of them are true, but he's always been good about putting the next generation over. I'd be shocked if he gets the win here, because MJF needs this kind of win. He'll get it here.
TNT Championship Match:
Cody Rhodes (-160) vs. Darby Allin (+120)
I feel like Cody's second TNT title reign has more life in it, and cutting it this short wouldn't help. Which kinda sucks for Darby Allin, but I'm not the bookerman here. Darby vs. Ricky Starks in some kind of a gimmick match would have been a great thing for this show and for Darby Allin & Ricky Starks. I think that's coming at a later date, and set up by Team Taz promising to be at Full Gear and doing some (term approved by offtheteam.com) fuckery at some point. Probably during this match if I had to guess.
Cody's gonna keep rolling along here. Darby's big win against Cody will come at some point, but not at Full Gear.
AEW Tag Team Championship Match:
The Young Bucks (-120) vs. FTR (-120)
The odds really swung on this one once the Bucks invoked the Cody gimmick from last year's Full Gear show. FTR went from being the heavy favorites to being even. Makes sense. Why would the Young Bucks take themselves out of AEW Tag Team Championship consideration forever? Are they going to make a TNT Tag Team Championship? They could probably get away with it since they have so many tag teams.
FTR needs to lose at some point, but this doesn't seem like the moment for that to happen. FTR winning here finally lets the Bucks become full blown heels and assholes, which they seem to be pretty good at. The stip is the only thing that makes me think the Bucks could win. Other than that, FTR seems like the easy pick to me.
AEW Women's Championship Match:
Hikaru Shida (-200) vs. Nyla Rose (+150)
I've been saying for months that the AEW Women's Division needs to move on to Dr. Britt Baker DMD as the champion. We've already seen Nyla as champion. This is the rematch, and there's no reason to have Nyla win this match. Britt beating Shida seems like a better piece of business to me. Vickie talking for Nyla is a fine package, but not enough for me to tell AEW to give Nyla the strap instead of crowning Britt at some point.
AEW Championship Eliminator Tournament Final:
Kenny Omega (-500) vs. Adam Page (+300)
We're not crying, you're crying 😢 #AEWDynamite pic.twitter.com/MNa3rbUDQT

— All Elite Wrestling on TNT (@AEWonTNT) November 5, 2020
I would be surprised if this match doesn't steal the show. You know that both Kenny & Hangman have been thinking about this moment since they became a tag team. We knew it would come to this, and when a tournament came about with Kenny & Hangman on opposite sides of the bracket, we knew who would be in the finals. It wasn't a surprise, and sometimes not booking a surprise is the best way to go. Ride that chalk and give us the best matchup possible in the finals. Nothing wrong with that.
Kenny is obviously the favorite. He hasn't forgotten what Jon Moxley did to him at last year's Full Gear event, and his endgame is to take that AEW Championship from Moxley. It's the smart booking decision, and it makes sense for the Hangman too. Page needs to get his shit together. Losing to Kenny might be the wake up call he needs. So this is another one of those matches I don't really recommend betting on. But I'd be surprised if it wasn't awesome, and a candidate for Match of the Pandemic. These boys gonna bring it.
AEW Championship I Quit Match:
Jon Moxley (-700) vs. Eddie Kingston (+400)
The odds on Mox were a lot higher until recently, which I can only chalk up to the incredible microphone work of Eddie Kingston. There's no reason to believe that King can get the win here, unless you hear him talk. Then you hear Mox talk, and you don't know who to believe. Both of these guys could sell people the glasses off of their own faces. Two masters of the art, two former CZW Champions, and two of the best of their generation. People didn't see Eddie Kingston in that light until recently, and he's proving he belongs there.
Honestly, I see Moxley winning this thing. But if you've got a wild hair, and if AEW has a wild hair, why not put some money on Kingston? That's the best way to make some money off this show.
King's WrestleMania Rewind: Eddie Guerrero vs. Rey Mysterio (WrestleMania 21)
In the next WrestleMania Rewind, Chris King takes us back to WWE WrestleMania 21, and Rey Mysterio vs Eddie Guerrero in a battle of tag team champions!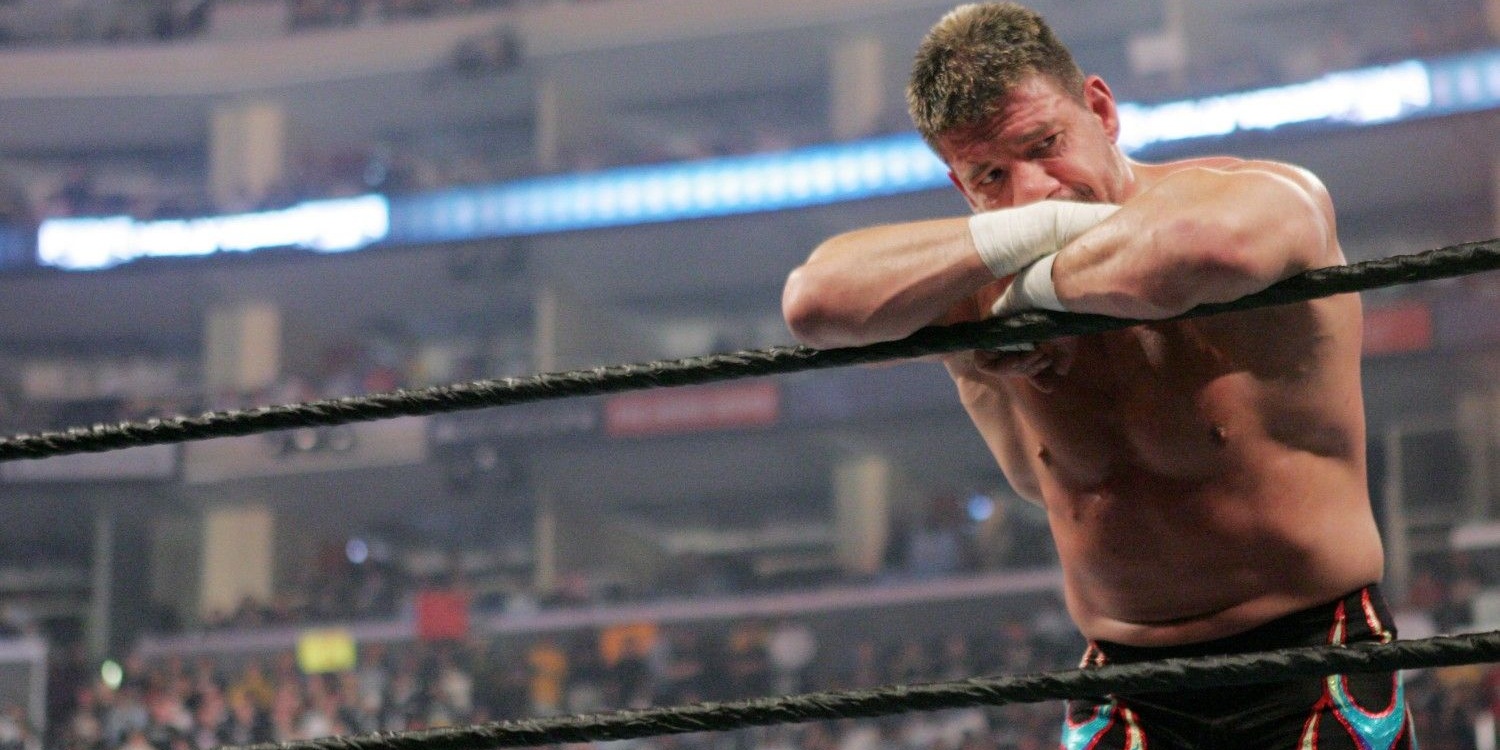 In the next WrestleMania Rewind, Chris King takes us back to WWE WrestleMania 21, and Rey Mysterio vs Eddie Guerrero in a battle of tag team champions!
Chris King is back with his third edition of WrestleMania Rewind. This week he's bringing us back to some 'Latino Heat.' We're rolling back to WrestleMania 21 where Eddie Guerrero faced longtime friend and rival Rey Mysterio.
This would be Guerrero's last Mania match caused by his unfortunate death. Over on SmackDown, Mysterio and Guerrero would become the tag team champions at No Way Out where they defeated MNM.
Chavo Guerrero would get into the head of Latino Heat by making him believe Mysterio was trying one-up his tag team partner. Chavo went as far as to tell his uncle to stop using the Guerrero name.
Guerrero would finally give in to his nephew's manipulation and went on to challenge Mysterio to a one-on-one match at WrestleMania 21. I For the first time in history, both tag team champions would face each other. Guerrero vs. Mysterio was the first match on the stacked card. Both partners threw everything at each other including the kitchen sink in a battle of one-up-manship.  In an incredible high-octane match that saw both superstars delivering counter for counter, Mysterio pulled off the win with a surprise pin roll up.
A few months later, what once was a friendly battle turned into a nasty fight involving the custody of Mysterio's real-life son Dominik Mysterio. After several torturous weeks, both former tag team champions would face off in a ladder match with the custody of Dominick on the line. I forgot how amazing this rivalry was and it's definitely worth a watch. Sadly, we would lose Latino Heat in November of 2005. There will never be another Eddie Guerrero. Viva La Raza!
King's WrestleMania Rewind: Stone Cold VS. Scott Hall (WrestleMania X8)
Chris King is back with another WrestleMania Rewind, looking at the NWO's Scott Hall battling Stone Cold Steve Austin at WWE WrestleMania X8 from Toronto!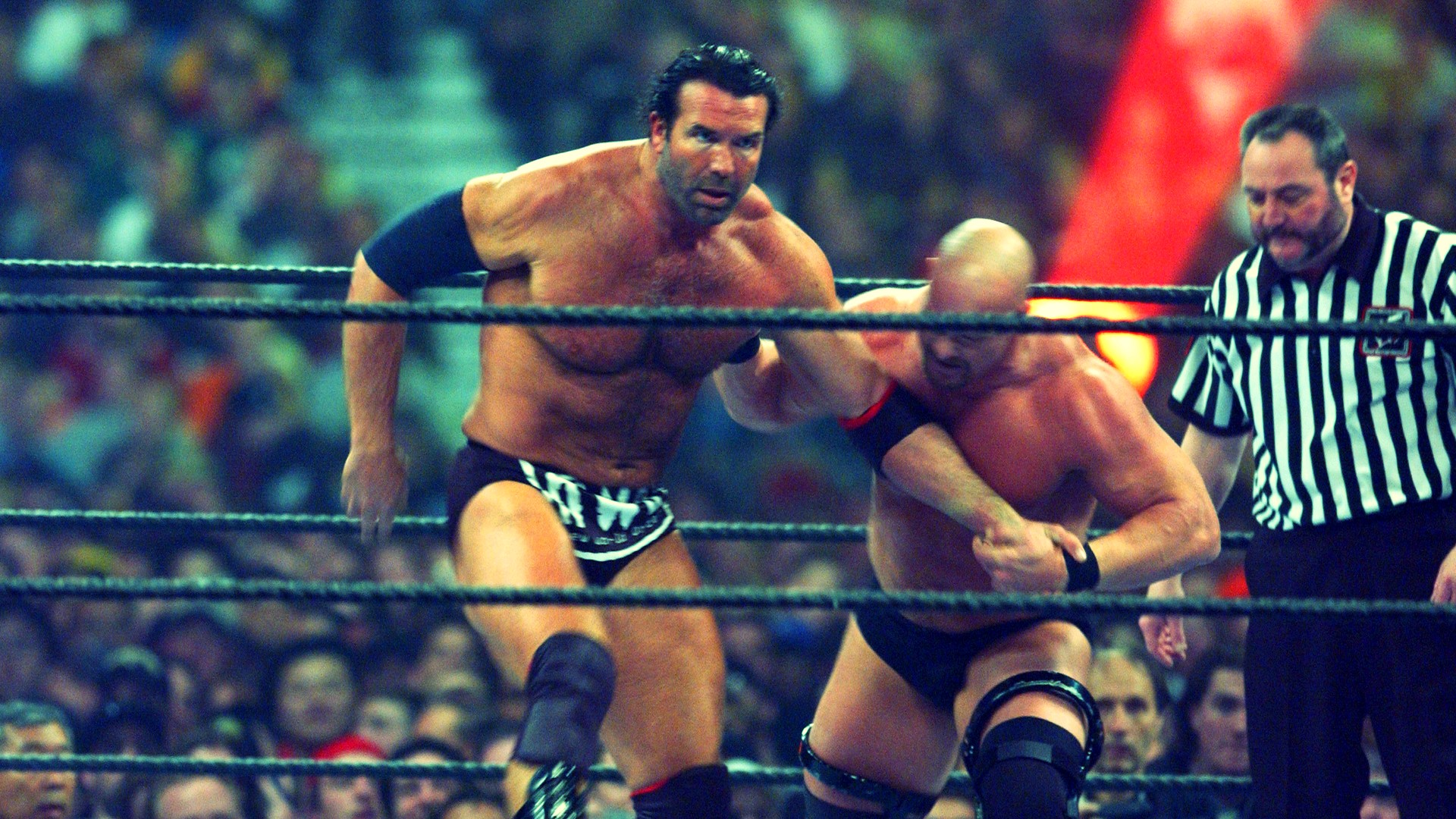 Chris King is back with another WrestleMania Rewind, looking at the NWO's Scott Hall battling Stone Cold Steve Austin at WWE WrestleMania X8 from Toronto!
Chris King is back this week with another edition of WrestleMania Rewind, where he is rewatching all the past Mania matches and feuds. This week you're in for a treat as we look back at 'Stone Cold' Steve Austin vs. Scott Hall at WrestleMania X8.
In late 2001, Vince McMahon bought out his competition WCW and acquired the rights to a plethora of talent including Booker T, Eddie Guerrero, Chris Benoit, and the iconic trio known as NWO. Hulk Hogan; Kevin Nash, and Scott Hall were hell raisers, and what better way to make a name for yourself than take out the two top superstars in the WWE The Rock, and Stone Cold?
The NWO cost Austin his chance at becoming the Undisputed Champion at No Way Out during his match with Chris Jericho. Adding insult to injury, the NWO spray-painted 'The Texas Rattlesnake' with their brand logo just like they did in WCW. As you can imagine, Austin was pissed and out for revenge against the group and primarily Scott Hall.
Hall would challenge Stone Cold to a match at WrestleMania 18. Both superstars beat the living hell out of each other leading up to this highly-anticipated match for who runs the WWE.
The glass broke and Stone Cold made his iconic entrance, and black and white NWO covered Halls' entrance alongside Kevin Nash. With the odds stacked against 'The Toughest S.O.B' could Austin or NWO prove their dominance? Sadly the NWO  broke up that very night when Hulk Hogan came to the aid of his adversary The Rock after their 'iconic' dream match. Stone Cold would ensure the victory with the Stunner. Hall would perform an Oscar-worthy sell over the finisher.
What a time to be a wrestling fan in the 2000s when nothing was impossible for WWE. Who would've thought WCW would go out of business and Hogan would make his long-awaited return to WWE?