Cook's Top 5: 2016 Wrestling Memories
As Steve Cook nears present day, he looks back at 2016, the year he got sucked back into the world of online wrestling journalism!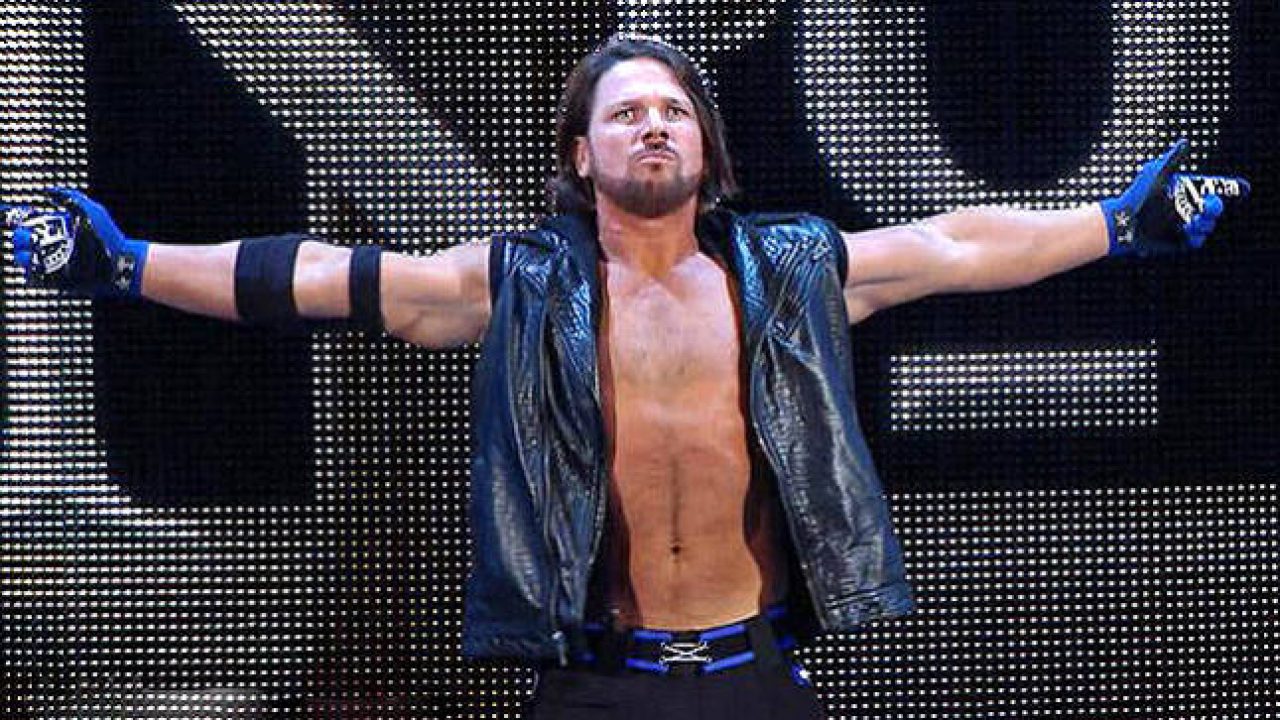 As Steve Cook nears present day, he looks back at 2016, the year he got sucked back into the world of online wrestling journalism!
Just when I thought I was out, they pulled me back in.
My wrestling writing in 2015 consisted of one 411 Wrestling Hot 100 list. That appeared to be my swan song in the wrestling writing field, as I had shifted my attention to other endeavors. Namely, The Ultimate Sports Blog. I look back fondly at the USB's heyday during this time period. It was a chance to write with a group of friends that had gotten connected through 411mania and just wanted an outlet to write about their favorite sports topics. Dustin James was the ringleader and his football coverage was second to none. Jeremy Lambert & I wrote about an array of sports, typically in a ridiculous manner since we're both ridiculous. Todd Bergman popped in from time to time, and Samer Kadi was part of the family as well. I'm still not entirely sure how I fell in with these guys, since they were all in 411's MMA Zone and my favorite fighter of all time was/is Ken Shamrock, but I'm glad I did.
I had a weekly football gambling picks column for a couple of years there, which eventually led to something you see here once or twice a month. In 2016 I did a weekly MLB report. I also did some writing about the Nashville Predators, which would lead to my time with Predlines. It was a fun time as a writer. I could write whatever I wanted whenever I wanted, and the other staff were great people that I still converse with on a regular basis. The fact that I could write whatever I wanted whenever I wanted led to me dipping my toes back into the wrestling writing.
WWE had a draft in 2016. My idea was to talk about the sleepers, and do it in the way that sports draft experts talk about sleepers. It was a fun idea for a column, and Dustin let it go because he let everything go. It was fun. A month later, I had another idea for a column based off of something WWE did, and Dustin let me do that too. It happened to be around the same time that Greg DeMarco was looking for contributors for a site, and even though some folks thought we hated each other, that was only for a brief period of time. We had a blow-up, got over it and became even better friends afterwards. Friendships need that sort of thing to truly blossom. I've been on every site he's run, and if he comes up with more sites I'll be on those too. That's just how it goes. I have a loyalty to Greg like I have to Dustin, Jeremy, Todd & Samer. It might be weird to non-Internet writers, but when we click, we click.
2016 was a year where I wasn't really keeping up with things outside of WWE, which was fine because there wasn't much going on outside of WWE. Here are my top 5 wrestling memories of 2016!
5. AJ Styles Arrives in WWE
I was high on AJ Styles since the very first TNA PPVs. Dude seemed like one of the best wrestlers in the world back then, but never got that respect. Largely due to the promotion he worked for, and was loyal to. AJ Styles was always a draw among hardcore wrestling fans. Whether he could cut a promo or not, he was always on point in the ring. He got better at talking over the years, much like Bret Hart back in the day. Give them enough time, they'll figure it out.
Styles had no problem meshing into WWE. Why would he have? Man was one of the best wrestlers on the planet for a very, very long time. Once he got to WWE, he fit the company like a glove. Anybody employed by WWE that wanted to look good would want to work with him. His superior in-ring ability was obvious the moment he walked in the door. He could make good guys great, and he could keep John Cena interested enough to work some of the best matches of his storied career.
AJ Styles was exactly what WWE needed at the start of 2016. The man has just kept producing since then.
4. NXT Steals WrestleMania Weekend
In hindsight, we shouldn't have been surprised. We weren't surprised at the time, either. Shinsuke Nakamura showed up here in the United States after signing with WWE. His first match was with Sami Zayn, a man regarded as one of the best workers in the world. It was the night before WrestleMania, and everybody on this NXT show wanted to steal the show. These two men had the ability to, and did.
We also had one of those American Alpha vs. Revival matches the peeps loved, along with Asuka vs. Bayley & Finn Balor vs. Samoa Joe. An awesome show that didn't go way too long, so pretty much the opposite of WrestleMania. No doubt people took note of that.
3. Divas No More
2015 had seen the beginning of the "Divas Revolution" after the Internet asked WWE to #GiveDivasAChance. New talent emerged from NXT to boost WWE's Divas division to a new level. Eventually, somebody realized that the term "Divas" needed to go away.
WrestleMania 32 saw the end of the Divas Championship & the beginning of a new Women's Championship. Later in 2016, WWE's brand split led to Raw & SmackDown each having their own championship for women. Neither belt was shaped like a butterfly, so it was definitely a step in the right direction.
2. Bryan Retires
At the time, Dave Meltzer called Daniel Bryan's farewell speech "the single greatest segment in the history of modern televised pro wrestling". I'm not sure if I'd go that far, and now that we know Bryan was able to return to the ring two years later, it doesn't quite have that same emotional sting to it. It was still easily among the most memorable moments of 2016.
Also of note during this was Vince McMahon & Titus O'Neil getting into a bit of a scuffle that led to Titus being suspended. You don't want to grab Vince at the wrong time, that's for sure.
1. Eva Marie!
To me, Eva Marie is one of the biggest cases of squandered potential in the history of wrestling. The woman could have been champion for years in WWE and driven the company to new heights of popularity. 2016 seemed like it was going to be her time. Her spectacular debut was hyped for weeks on SmackDown, but things kept getting in the way. One week, Eva had a wardrobe malfunction. There was a week where she got stuck in traffic. A leg injury during her entrance prevented a scheduled match. The world wondered when Eva's debut would happen.
It never did. Eva got a Wellness suspension, the push died and she was never seen again on WWE television. Much to the dismay of myself and millions of wrestling fans, Eva Marie found other things to do. A shame for all of us.
A couple of columns I wrote about Eva Marie during this time period ended up being somewhat important to my wrestling writing career. One got me on Greg's new site at the time, which led to me doing weekly columns again. Another, in which I ranked the Top 11 Eva Marie Matches of 2015-16 as a rib on random match ranking columns that were a big thing online at the time, got me back on 411mania.
Without Eva Marie, who knows where or what I'd be writing right now.
NXT Minus 6: A Tale of Two Champions
Bradley Jay is here with the WWE NXT Minus 6, and we have new champions. Two very, very different new champions.
Bradley Jay is here with the WWE NXT Minus 6, and we have new champions. Two very, very different new champions.
Our two new champions could not be more different…
6. Doomsday Saito comes to the ring and gives a painful, cliched promo. Any wrestler in the back could have said those exact words. Train harder and beat people up. He's angry. We get it. The only thing Saito could do that would interest me is move to RawDown. On the other hand…
[EDITOR'S NOTE: Not gonna lie, that promo was wasn't even hot garbage. It was cold garbage.]
5. Raquel Gonzalez delivers a genuine, heartfelt promo that only she could give. Tears of joy. It told her story, and it's exactly why she got the pop and the chant she deserved. The addition of Rhea Ripley and Bianca Belair, complete with throwback pic, was icing on the cake. I'm excited for whatever Gonzalez does next. Speaking of…
4. Fantasy booking alert!!! Two weeks ago, Raquel Gonzelez told the world I was the one who believed in her. I was the one who made her a champion. Then Rhea Ripley shows up, and Bianca Belair shows up, and I'm the one sent to the back. How quickly you forget who your real friends are. I was the one who took you to the top, and chicka, I am the one who is going to drag you to the bottom. I used you to get to the top and that's exactly what I'm going to do. I am Dakota Kai.
3. No more Santa Claus Ice Cream Bar. Santos Escobar has earned his name back. His match with KUSHIDA is everything great about NXT. Say it with me. Good things happen when you let wrestlers wrestle! Fast paced. Great action. Surprise ending. I'm going 4.5 stars. Give me a match that good every Tuesday and I'm a happy camper.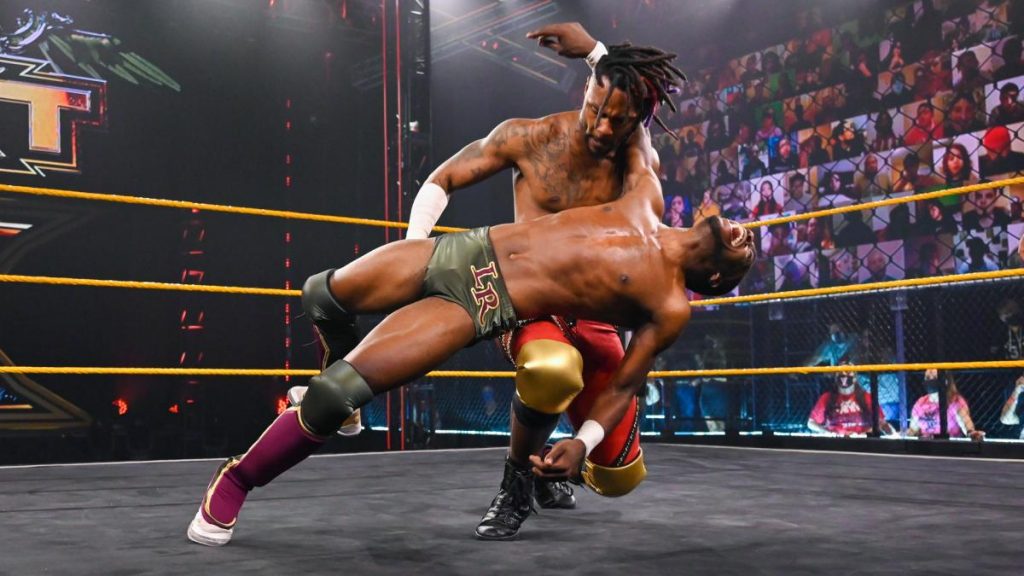 2. Right now, I don't know if any two wrestlers have better chemistry than Swerve Scott and Leon Ruff. Every time they get together, it's electric, and this week was no different. This is quickly climbing into Rivalry of the Year territory. I thought I was happy to see Swerve pick up the victory and move on. Then Ruff goes insane in the membrane and now I'm excited to watch them fight forever.
1. This week's That's Why I Love Wrestling goes to…Roderick Strong. Kayfabe. Work. Shoot. I don't care. Strong deserved a better goodbye than what he got. He is the Perfection of Performance (shout out to the Hitman). He and Kyle O'Reilly were the best version of the Undisputed Era tag team champions. I always got excited for a Strong match because I knew he'd deliver. Roderick Strong is exactly the kind of wrestler that makes me love wrestling. Until he returns, he will be sorely missed.
Steve Cook's Fave Five: April 2021
It's a little more than halfway through April! You know what that means…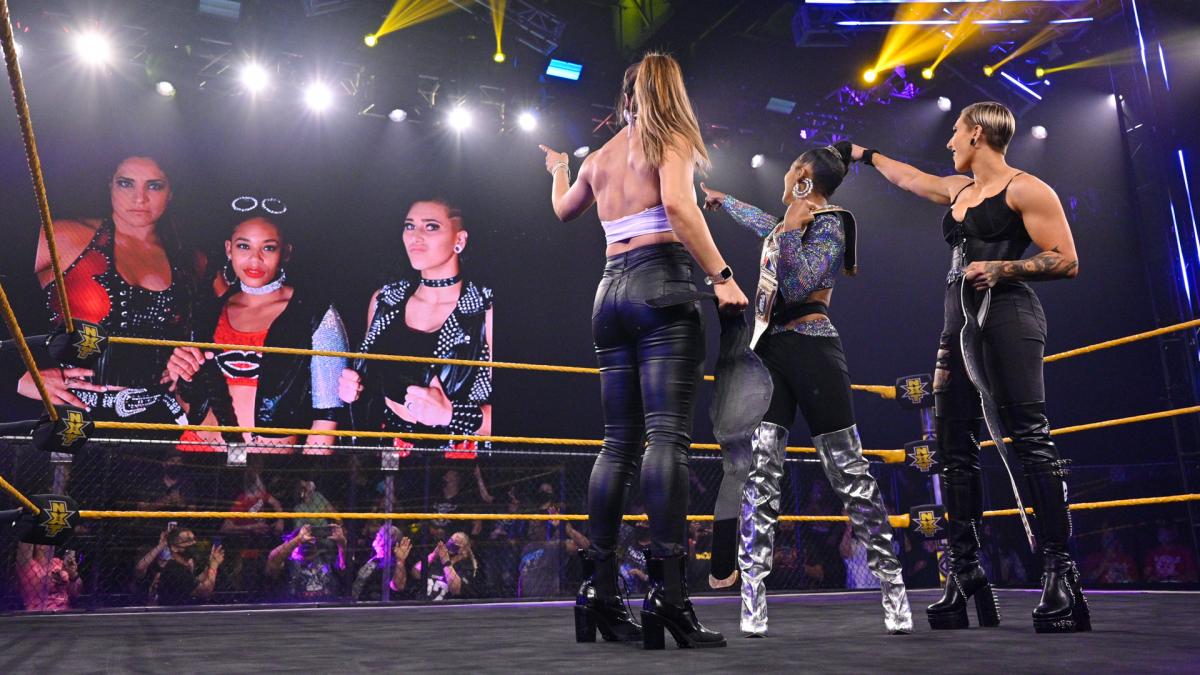 It's a little more than halfway through April! You know what that means.
It's time to talk about my current five favorite wrestlers like I'm Booker T. Let's break down the Fave Five!
5. Samoa Joe
A gentle reminder that Samoa Joe is one of the greatest talkers in the game pic.twitter.com/p4TZeZIAV7

— Kenny Majid – A Kenny For Your Thoughts Podcast (@akfytwrestling) April 15, 2021
I figure what happened between Samoa Joe & WWE was the following: WWE offered Joe an announcing contract since either they didn't want to use him in the ring or their doctors wouldn't clear him to wrestle. Joe looked at the contract, noticed the financial discrepancy, realized he could probably get NJPW to let him train young boys in California for that kind of money and said "thanks but no thanks". Nothing else really makes sense to me.
Unfortunately, those who thought that WWE wouldn't utilize Joe to their fullest potential were right. It wasn't all WWE's fault though. Joe had a lot of miles on his tires when he got there. Injuries are always more of a concern with larger wrestlers the older they get. And when Joe was healthy, he did get to do some good stuff and show people a glimpse of the Samoa Joe that people like me raved about back in the mid to late 2000s.
In any event, Joe got his WWE run. It was a thing that happened. I'd be shocked if he doesn't wind up in AEW because he seems like the kind of guy Tony Khan would throw all the money at. Should be fun!
4. Kris Statlander
Like she never left 👽 #AEWDynamite pic.twitter.com/rlNgLBAFoU

— All Elite Wrestling on TNT (@AEWonTNT) April 15, 2021
AEW does have a pretty insane number of factions right now. It risks the possibility of all of the groups blending together, with none of them really capturing the attention of fans. However, there are positive things about AEW's faction warfare that shouldn't be overlooked. It makes booking fresh matches to fill cards pretty easy. You can have groups facing off each week, but in different combinations that keep it fresh.
Another good thing: It can help us decide how we feel about characters that we might be on the fence about. Kris Statlander's character was a topic of discussion from the moment she entered AEW. A lot of people weren't sure how to take her. Wrestling aliens, or wrestlers who think they're aliens, aren't exactly common. Its the kind of thing that gets over in the indies, because those feds attract fans that are more willing to buy into unique concepts. Mainstream is a tougher sell.
Aligning Kris with the Best Friends makes sense to those in the know, since she came up working shows with them. It also helps people that don't know about her figure out more. The Best Friends are a happy go lucky group that are the whitest of white meat babyfaces you'll find in AEW, and that's a good thing. They're welcoming to people with unique personalities, as Orange Cassidy's presence establishes. A friendly alien couldn't ask for a better group to surround herself with, and from their appearances so far she seems like a perfect fit.
Add in the fact that the time on the shelf helped her get into better shape and refine her look & presence, and the sky's the limit for Statlander. As long as she can stay in the ring, I'm expecting big things from her in 2021.
3. Tay Conti
Sometimes, all one needs is a change of scenery to approach their true potential. Tay spent a few years at the WWE Performance Center learning how to be a professional wrestler. During her time there, Tay never showed much in the way of potential. Even though she had a combat sports background and had the type of physical appearance that gets attention, Conti's TV time was very limited and uneventful. She seemed like one of those wrestlers that was bound to stay in developmental until WWE gave up on them, then drop off the face of the earth without most wrestling fans noticing.
Tay's story took a different route. She ended up being one of the cuts that AEW took an interest in, and was brought in for the Deadly Draw Women's Tag Team Tournament. Her teaming with Anna Jay worked well on & off-camera, and she pretty much fit right in with the group immediately. She started training with Dustin Rhodes, and pretty much immediately started looking better in the ring & figuring out what worked for her. Now, she's one of the people helping AEW's women's division go to a higher level.
This isn't meant to denigrate WWE's Performance Center or its methods. There just isn't a wrestling training center out there that's going to work for everybody. Tay had to find what worked for her. The people that recently got cut will have to do the same. Hopefully, the people that recently got signed by WWE will thrive in that environment.
2. Bianca Belair
We've recently seen three new Women's Champions under the WWE umbrella, all of whom are great in their own way. I've talked about Rhea Ripley before, she's got unlimited potential and so far she's done very well on the main roster. Raquel Gonzalez is doing very well on NXT and her push to the championship made perfect sense & got over. I do think the best of the title changes was Bianca's defeat of Sasha Banks in the main event of WrestleMania Saturday. It was a special moment for Bianca, a very fun match to watch, and a great performance from both Bianca & Sasha Banks, who did everything she could to make Bianca in that match.
You see the video of the NXT segment up above, with the three current Women's Champions under the WWE umbrella celebrating together. Apparently there was a picture taken in 2019, and there were pictures taken after this week's NXT, with Triple H making sure to get in there as he likes to do with all new champions. I've never really been a fan of that sort of thing, even the "Horsewomen" celebrations on previous NXT shows didn't do much for me.
Besides the usual complaints people have about things like that, the thing that I didn't like was how Rhea & Raquel came off. They were all smiling & happy like they were Big Daddy Cool Diesel after beating Mr. Bob Backlund in 1994. Completely against what Raquel has been up to this point, and what Rhea has been when she's been at her best. Hopefully this is just a one-time thing for Rhea for the portion of the NXT audience that likes their lady wrestlers crying & happy after their performances, and hopefully it's leading to Raquel getting dismembered by Dakota Kai, who can't be happy about her heater winning the championship and then turning into Smilin' Diesel.
Fortunately for Bianca, it does nothing to affect her character or our opinion of her. That's why I think her title run will go best. I'm also putting her here because I'm pretty well convinced there isn't a wrestling move or spot she can't do well. Insanely talented, and the more experience she gets the better she'll be.
1. Darby Allin
Sometimes you just want to watch something that's stupid fun. Something that doesn't need too much thought in order to enjoy it. Just people doing crazy things to entertain an audience. Darby Allin matches are just what you need when you're looking for something like this. There isn't anybody crazier in pro wrestling today than Darby, which is probably for the best. I'm convinced this kid has a death wish.
The one thing that kinda gets me about Darby sometimes is how he kicks out of everything. Poor Matt Hardy wasn't going to beat that kid unless he shot him with a gun, and apparently there's a metal detector at Daily's Place. (Shoutout to Matt by the way, hell of an effort in that match.) But then I remember that Darby Allin is a daredevil and constantly posting videos online where he's jumping off high places and doing crazy things. Obviously, it's going to take a little more to beat a daredevil than your average pro wrestler.
What's it going to take to beat Darby Allin? That's a good reason to keep watching.