Cook's Top 5: 2018 Wrestling Memories
Steve Cook is in the final stages of his trip down memory lane, with 2018 bringing up many not-too-distant memories!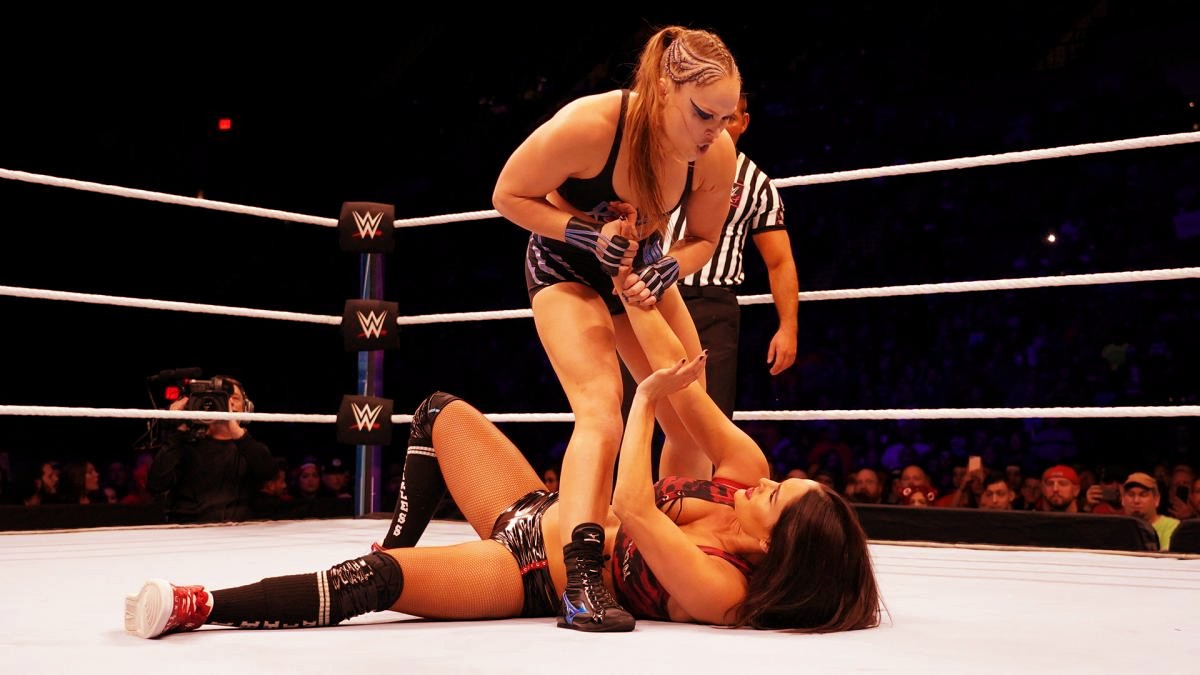 Steve Cook is in the final stages of his trip down memory lane, with 2018 bringing up many not-too-distant memories!
Now we're getting to the part of the countdown that everybody should be able to remember everything about.
The tricky part: Not enough time has passed to tell which events in 2018 will go down in history as the most important. We've got a pretty good idea, but who knows for sure? All I can say is that my status in the Internet wrestling writing world remains virtually unchanged since 2018. Could be worse!
Here are the top 5 events from 2018…
5. Gargano vs. Ciampa
Tommaso Ciampa had shocked the NXT world by turning on his tag team partner Johnny Gargano in May 2017. There was a slight inconvenience, as Ciampa suffered a ruptured ACL during the match leading to the turn that would put him out of action until 2018. Once Ciampa returned, it was time for what many call the biggest & best feud in NXT history. Ciampa was the biggest bad guy in the business, while Gargano was that plucky, never say die whitemeat babyface.
Gargano temporarily lost his NXT contract in a match with Andrade that saw some Ciampa interference. Johnny got his contract back by beating Tommaso in an Unsanctioned Match at TakeOver: New Orleans. Ciampa got the edge in a Chicago Street Fight, and beat Aleister Black to win the NXT Championship. Ciampa successfully defended the title against Gargano in a Last Man Standing match, temporarily giving him the advantage in the feud. The story wasn't quite over when 2018 was.
4. Daniel Bryan Got Cleared
You knew it wasn't going to be the end. Daniel Bryan would do whatever he possibly could to get back in a wrestling ring. He loved it too much to step away forever, whatever the doctors told him. Once he got cleared by enough doctors, he had to convince WWE's doctors. It took a long time, but eventually Bryan got cleared to return to a WWE ring.
The guy didn't take it easy! Bryan lasted 76 minutes in the Greatest Royal Rumble, setting a record that likely won't be broken anytime soon. Bryan's in-ring highlight in 2018 came when he turned heel and became WWE Champion again. He was indeed a New Daniel Bryan. He embraced his status as the Planet's Champion, because environmentalists are evil in WWE.
3. A Deal With The Devil
WWE had run a number of events in the Kingdom of Saudi Arabia earlier in the 2010s, those mostly flew under the radar due to the fact they weren't televised. People took notice in 2018 when WWE announced a ten year multi-platform relationship between themselves & the Saudi General Sports Authority, which would feature two WWE Network events per year, and plenty of propaganda glorifying the Kingdom & its leadership.
It wasn't a great look for WWE from a PR standpoint. It seems to have worked out pretty well financially, though reportedly not as well as they had originally hoped. Obviously they only held one show in Saudi Arabia in 2020 due to the coronavirus, and there was a bit of a kerfuffle in 2019 where much of the crew had difficulties getting out of the country. It'll be interesting to see what happens when things "get back to normal".
2. Evolution
2018 saw WWE's women doing a ton of things for the first time. The first Women's Royal Rumble. The first Women's Money in the Bank Ladder Match. This all wound up leading to the first WWE all-women's PPV event, which was right around a time when most of WWE's male roster was in Saudi Arabia. The Saudis weren't too keen on having women on their shows, so it made sense to give the women a show of their own.
It made sense to have Ronda Rousey & Nikki Bella go on last. After all, Rousey brought a ton of star power with her from her UFC days, while Nikki is still a reality TV show star. In the eyes of many observers, the real main event was the Charlotte Flair vs. Becky Lynch Last Woman Standing match. Charlotte & Becky certainly thought it was the main event, and did everything they could to make sure their match was what people were talking about at the end of the night.
It was one of the best WWE events of 2018, and my personal favorite. No wonder they haven't had another one yet.
1. All In
This might end up being the most important show ever done depending on where the wrestling business goes after 2020. Right now, it's All Elite Wrestling's version of WrestleMania I, except they don't have the rights to it. AEW wasn't a thing at this point except an image in the mind of Cody Rhodes, the Young Bucks, Kenny Omega, Hangman Page & whoever else was involved in this. It was a response to Dave Meltzer's opinion that Ring of Honor or anybody else other than WWE couldn't draw 10,000 fans to a building. Cody took that as a challenge, and the Bucks were on board, and they rounded up everybody they possibly could to create a card that could do big numbers on Labor Day Weekend in Chicago.
It was a damn good show! The main event got cut a little short due to satellite time, but that's what happens when you book such a loaded card. ROH & the NWA had title matches on this show, and both went over pretty well. Everything went over pretty well, there isn't one match on this show that I can say screwed the pooch. The seeds were laid on that night, and somebody with a large amount of money that happened to be a big wrestling fan and was able to make connections within the television industry noticed.
These boys went All In, and it paid off for them & the rest of us. Unless you're one of those folks that only wants wrestling produced by one promotion.
King's WrestleMania Rewind: Charlotte Flair vs. Asuka from WrestleMania 34
Chris king is back with one of the most underrated matches in WrestleMania history–Charlotte Flair vs. Asuka!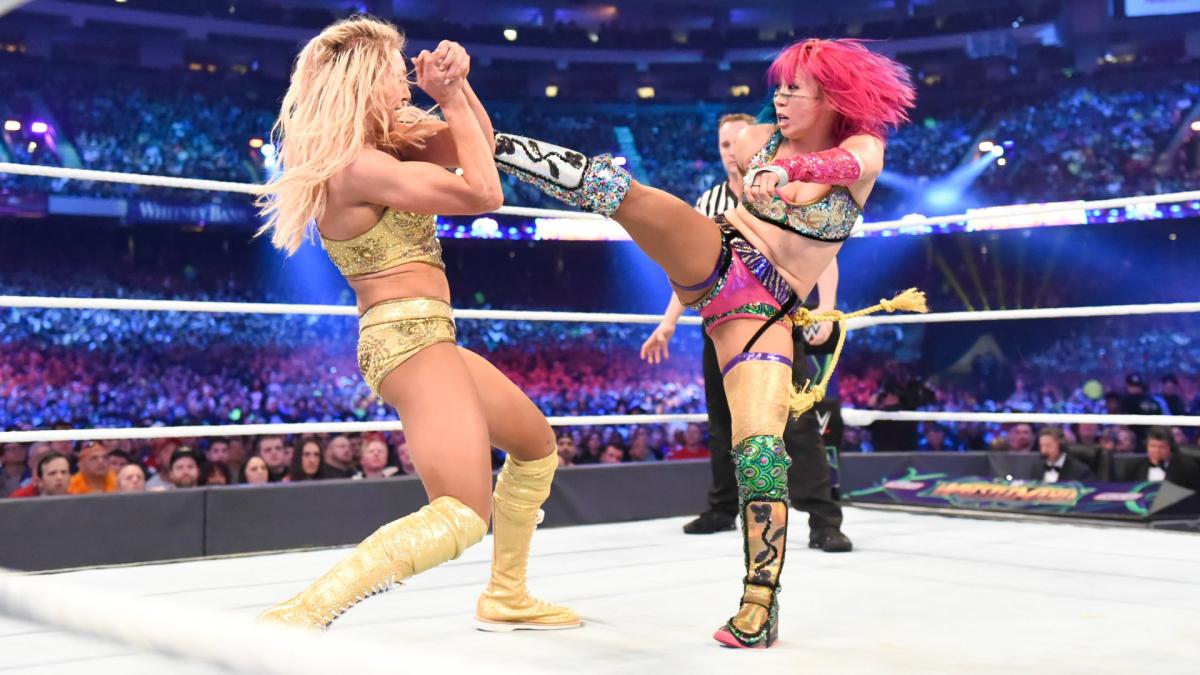 Chris king is back with one of the most underrated matches in WrestleMania history–Charlotte Flair vs. Asuka!
We look back at Charlotte Flair vs. Asuka at WWE WrestleMania 34. 'The Empress of Tomorrow' put her unprecedented and historic undefeated streak of 914 days on the line against 'The Queen's' SmackDown Women's Championship.
For years, this was considered a dream match while Asuka dominated the roster in NXT, while Flair won numerous championships on the main roster on both Raw and SmackDown. The Empress made her long-awaited debut on the September 11th episode of Raw and began to tear through the competition.
Asuka outlasted all twenty-nine other women in the historic first-ever Women's Royal Rumble match to challenge for the title of her choosing. At Fastlane, she made her choice.
The WWE Universe was so excited for this match myself included. Both superstars delivered a fantastic performance on the Grandest Stage of Them All executing counter after counter. Asuka showed off some nasty-looking kicks to her opponent, and Flair hit a thunderous Spanish Fly off the top rope. Flair was seconds away from defeat at the hands of The Empress but she locked in Figure Eight and Asuka was forced to tap out.
I can't even begin to explain how shocked I was at this outcome, as nearly everyone expected The Empress to continue her undefeated streak and walk away with the women's title. This controversial decision was the downfall of Asuka's momentum. She would ultimately win the SmackDown Women's Championship at the 2018 TLC pay-per-view in the triple-threat ladder match.
Fast forward to this year when Asuka has recently returned with her Japanese-inspired persona Kana. Kana is dangerous and ruthless and is heading into a championship with Bianca Belair at WrestleMania 39. The Empress has regained all her momentum and is highly favored to walk away with the Raw Women's Championship. Let's hope that Asuka and Belair can tear the house down and deliver an A+ grade match both women are fully capable of.
King: Dominik Mysterio Needs To Do This At WrestleMania
Chris King is here with what WWE should do with Dominik Mysterio at WrestleMania in his long-awaited match against his father Rey Mysterio Jr.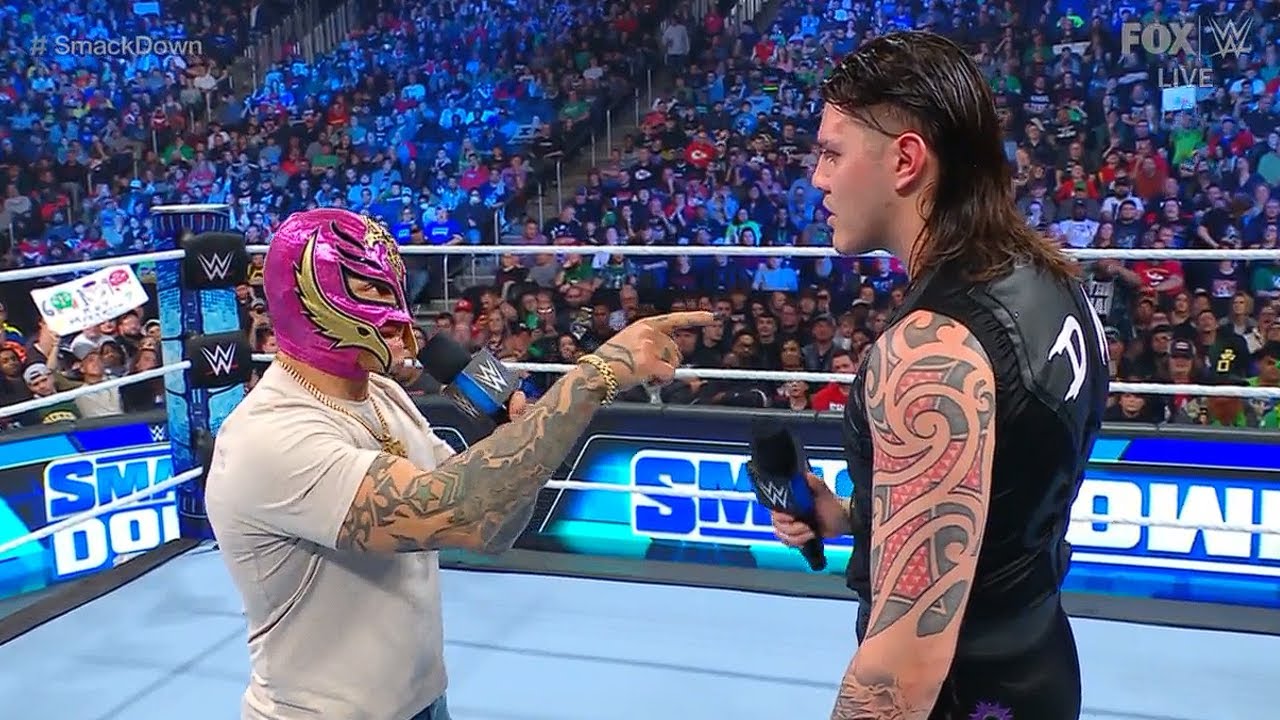 Chris King is here with what WWE should do with Dominik Mysterio at WrestleMania in his long-awaited match against his father Rey Mysterio Jr. 
On this week's episode of Friday Night SmackDown, Rey Mysterio finally snapped and beat some sense into his disrespectful punk-ass kid Dominik. The member of the Judgement Day came out to push his father again for a match on the Grandest Stage of Them All, this time with his mother and sister at ringside. The ungrateful punk told his mom to "Shut Up," as a father even I wanted to jump through the screen and whoop his ass.
Back in October of last year, Mysterio made the emotional decision to possibly quit the company but, instead, Triple H persuaded the Lucha libre superstar to move over to SmackDown to avoid his son. This came after Dominik shockingly turned on his father at Clash at the Castle. Mysterio did everything he could to refuse his despicable son's challenge for Mania but, a man can only be pushed so far. Mysterio will be inducted into the 2023 WWE Hall of Fame and I expect Dominik to embarrass his father during his speech to further this personal feud.
Yes, the WWE Universe hates Dominik and wants to see him get the ever-loving crap kicked out of him but, this feud is missing a special ingredient to capitalize on the biggest heat possible. Throughout this feud, Dominik has made mention of the legendary Eddie Guerrero on several occasions going back to the "iconic" 2005 feud.
I know WWE might not want to go this route but, Dominik MUST come out to Eddie Guerrero's theme at Mania. The disrespectful punk needs to come out in a lowrider to garner nuclear heat. It doesn't matter if The Judgement Day comes out and causes interference for Dominik to get the win, all that matters is that both superstars get the biggest payoff of this nearly year-long feud. Just imagine the Roman Reigns heat after he defeated The Undertaker and multiply that by ten. Dominik portrays the perfect heel and he truly is the missing ingredient that The Judgement Day needed to grow and evolve into a top faction.