Mitchell's Raw Talk Report! (11/9/20)
Raw Talk is Limitless!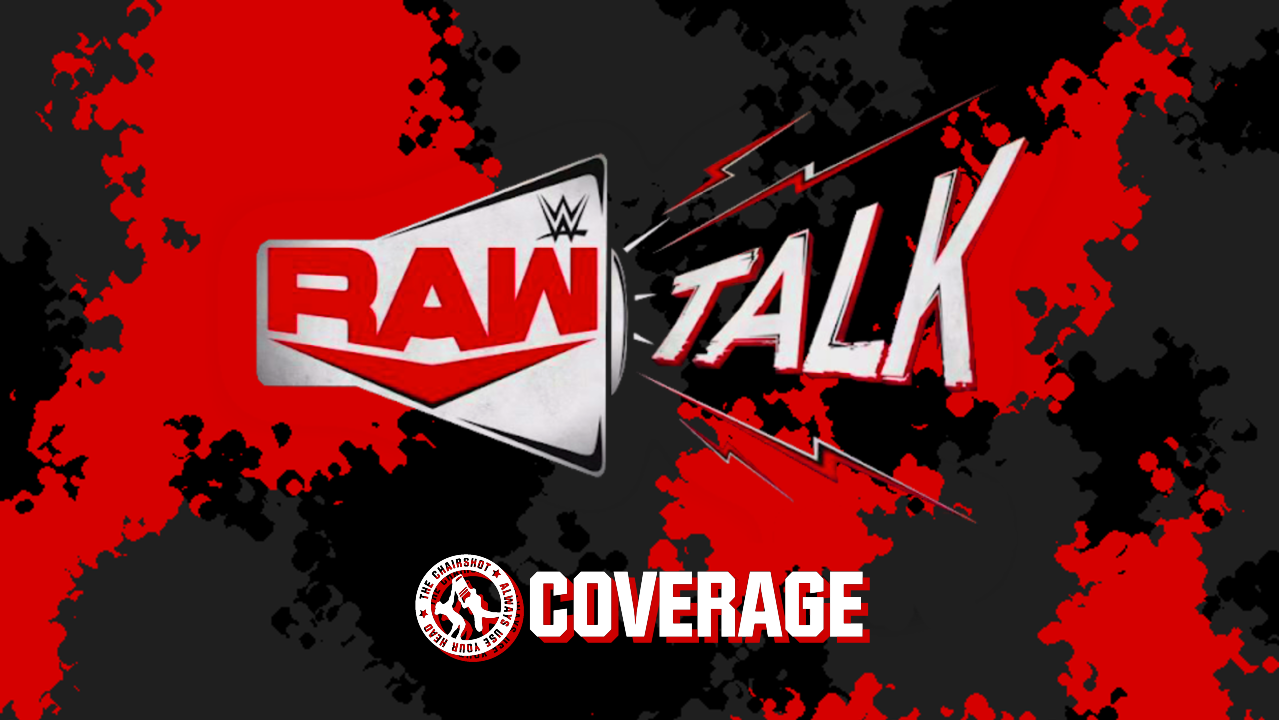 Raw Talk will Bask in His Glory, Bro…!
It will be the Scottish Stud, the Twisted Sister, the Limitless One and The Bro, all on one episode to talk about the road to Survivor Series!
#CharTruth welcomes us back to the show.
Charly Caruso and R-Truth are here again, and so is the WWE 24/7 Championship. Congratulations on "Foty-Fo." A long night tonight, winning the belt back from Drew Gulak. Where is the clip-on tie? Truth says he thought it was GQ and seven cameras but it ended up a seven way match. But he doesn't need it, the new Truth merchandise shirt is great. Go get it at WWE Shop. Lucky seven tonight, maybe again next week. His baby's back!
But also, we're just now learning, with two weeks to go, Randy Orton and Drew McIntyre have had such an intense rivalry! There will be another world championship match between them next week! And the same with the Raw Tag Team Championships being on the line as The New Day defends against The Hurt Business. The winners go on to Survivor Series to take on SmackDown's champions. Charly can't imagine Orton would not hold onto the title. He hasn't been champion again that long. McIntyre is really gunning for it, and has had a lot of pride as champion. But Orton is a 14-time champion and will likely head to Survivor Series to face Roman Reigns.
Truth likes the optimism, but you can't take anything away from McIntyre. The intensity alone was a lot. But then there's The Fiend always lurking. Even now? Maybe. But speaking of going to Survivor Series, two men who are on the Raw Men's Team are joining the show!
Keith Lee and (Matt) Riddle join Raw Talk!
Truth is excited to see Keith and Riddle, but Keith isn't sure about the "questionable chairs." Truth says greetings and salutations, Keith returns the notion. Charly brings up Survivor Series and how Team Raw has been set. Congrats to Riddle for earning his spot, but there seems to be a lot of contention between the five members. Will the dust settle in the time that is left? Keith says when it comes to dust settling, it is simple as the supposed "captain" minding his own business. Keith said he'd put things aside with Braun Strowman so that they could beat SmackDown. And they have a stallion as the fifth and final member.
Riddle knows that even though Styles isn't really team captain, he did say Riddle is the final piece to the masterpiece puzzle. They've got Bro Lee, Mongoose Strowman, Skipper AJ, the whole team! But wait, Riddler, what's the problem with you and Batman? Oh, no, it's just Riddle. Oh, okay. But he lives in a one story of house made out of redwood, right? What color are the stairs? Dun dun dun~! No stairs in a one story house. BOOM! He got it!
Charly asks Keith his opinion on having Riddle as the fifth member to the "masterpiece." Riddle asks Keith be gentle. Keith says he is honest, and Riddle is a stallion, a machine. He's gone toe to toe with Braun, threw bombs on Sheamus, and you just have to hear the strikes to understand. Keith is confident in everything Riddle brings to the table. They just need to: one, get Styles to shut up; and two, get Keith Lee sized chairs that don't sink when he sits in them. Charly notes these two work together well. Limitless Bros can't be denied. But obviously Team SmackDown is stacked. Riddle says, "Eh." Stacked is a strong word. Well it's supposed to be #BestoftheBest. Riddle is not saying SmackDown's team isn't good, isn't talented, that'd be a lie. But at the end of the day, look at Raw's line-up. Bro…!
Charly agrees and lists off the accomplishments of each man. Styles, a two-time world champion. Braun, a former Universal Champion, with Riddle adding "Monster Among Men!?" Sheamus, a three-time world champion on top of everything else possible. And then there's Riddle and Keith! Now, taking all of those accolades and accomplishments, and these two defeated them. Riddle says "It's so real!" So then, Raw is clearly the superior squad? Keith's humble opinion is that on paper, it looks that way. But you cannot overlook anyone on SmackDown. We've seen what Jey Uso is doing. He is destroying accomplished wrestlers, he's following his Tribal Chief and all these shenanigans, but you have to watch what he's done to Daniel Bryan.
We don't know their fifth man, Riddle doesn't see the stack but Keith says they still need to pay attention, watch film. Riddle's been here just a little longer than Keith but Keith wants to be prepared. Riddle says Keith is very humble, but they are both stallions! They're taking over, no matter how! It's how you gotta do! Charly is supporting Team Raw, and Riddle believes in her! With that, she thanks them for being here, and they thank #CharTruth. Truth is all fired up! Fist bumps and hugs all around! Take care!
Nikki Cross joins Raw Talk!
She has been through much in trying to figure out what's going on with Alexa Bliss, but they love to have her here. Nikki thanks them for having her here. She is getting this off her chest. She's had time to think about things, but she's getting real angry. Yes, Charly understands with the rather upsetting moment with former best friend and tag partner, Alexa Bliss. Bliss was to choose friend or Fiend, and she chose Fiend. We don't know why she's saying that, but Nikki insists it isn't Alexa. She's under a spell! Nikki has tried everything, but she has to change tactics. Charly asks what that means but Truth says that means exorcism.
Nikki says Alexa can try to push her away, lash out at her, all of that, but Nikki is not giving up. Nikki and Alexa were tag champions, twice! She's not giving up on that or on Alexa. Maybe Nikki needs to shake some sense into Alexa. Charly says it's also unfortunate because as Nikki said, she feels responsible, leaving her vulnerable to The Fiend. Nikki also tweeted this much out earlier today, how she "never tired to skirt away from the fact" that she blames herself. Nikki wishes fans "would all understand the guilt" she's feeling, but also says that she's not going to move on, leave or run away. Does she still feel that way?
Yes, because Nikki knows with being blinded by her chance to be SmackDown Women's Champion, she got mad when she lost, and she shoved Alexa down. People blamed Nikki then but no one can blame her more than she does. She can barely face herself. She and Alexa went through a lot for 18 months. No one turned against each other, like we all expected. Nikki is not moving on and not running away. Truth says she needs to be careful, though, because she's playing with the puppets and all that. Nikki knows that, but "he" is playing games with Alexa, getting in her head and sinking his hooks in and all that. The one who has to save her is Nikki.
Is Alexa possessed or obsessed? Those crazy red eyes are crazy! Charly doesn't believe in the supernatural, but she can't be sure looking at all this. Truth says Alexa might be gone. Nikki says the Alexa that's going on right now and last week isn't Alexa. This is a spell or a "thingamajig," as Truth puts it. Truth says he'd probably walk away from a situation like this, but Charly agrees a little with Nikki and a little with Truth. This might be too much, something too powerful for Nikki. If Charly is asking which is more powerful, The Fiend's power or Nikki's friendship with Alexa, it's definitely time to test that.
Which does Nikki think is more powerful? Nikki knows she tweeted something cheesy, but "love always wins." Nikki being a best friend with someone is forever. Alexa needs someone to snap her out of this! Slap some tough love into her! Truth says to watch out for the puppets and the chocolate. Charly says Nikki will need all she can muster to help Alexa. Alexa feels like the only person she can go to is Bray, so hopefully things go the way we want them to for Nikki. "End of story, I'm not giving up on her. Love always wins." Charly and Truth still want her to be careful, though. And maybe get some of that chocolate from the pig.
Drew McIntyre joins Raw Talk!
Of course, with as frazzled as Charly is after talking about the Fiend, she says "Randy McIntyre" McIntyre thinks that sounds pretty good. Truth says it'd also be Drew Orton. Either way, the title is on the line. McIntyre thanks for Charly giving us that announcement. Charly saw that look on McIntyre's face, he was in a positive mood as things are in his favor now. Even tonight's win in the Six Man Tag. Where is his mind now that he has his shot at Orton and then possibly a match with Roman Reigns? It's great. Fantastic, spectacular. After HIAC, McIntyre would've asked nicely, but 20 years of Orton being a dick, he knew Orton would say no because he's afraid.
Wait can McIntyre say "dick?" Yeah, he can say whatever. McIntyre has his match and his chance to get the title back. Then how confident is he in that happening? More confident than ever before. There's a reason Orton's been attacking McIntyre, avoiding McIntyre, avoiding him even tonight in the main event, sulking at ringside while McIntyre taunted him. There was one mistake at HIAC, when McIntyre fell 16 feet and through a table. He let Orton goad him into going up then going down. But next week, "my big ass foot will crash through Randy Orton's face and I will once again be WWE Champion." Charly saw that stare down to end Raw. There was an intensity to that look, and obviously things are far from over. As much as we didn't think it could get to this point, it has.
Yes, it's more than personal, and all on Orton. We're going on 4 months now. Two rematches, a win at HIAC, and Orton thinks McIntyre will stop? After what he did to the legends McIntyre respects? No. McIntyre will kick Orton in the head, win the title back, and Orton can get angry all he wants like in this replay. McIntyre doesn't give a damn. Orton better do everything with the title these next seven days because it's going back to McIntyre! Charly says if it is anyone, it is McIntyre. But does he think he's blocking other superstars' opportunities? No. Growing up in Raw, you have to do whatever it takes to be a champion. McIntyre will give whoever wants a shot a shot, unlike Orton. Miz just pouts and complains.
Then there's Bray Wyatt. Bray might be more concerned about getting at Orton than the belt, McIntyre wants after the belt more than he does Orton. Miz is cocky and talks all day long. Why does he care about the title when he's going on about movies and TV shows? He's overcompensating for something else, whereas "Big D McIntyre" is main eventing and taking everyone done! Truth says he has his baby back, maybe McIntyre gets his baby back. But a quick question, in relation to Scotland: Does McIntyre know Fat Bastard from Austin Powers? Yeah that's his uncle. Wow, really? Can he get an autograph? McIntyre says when things get back to normal, McIntyre will go back to UK, as champion, top from Scotland to the bottom of London, they'll have a party at Uncle Fat Bastard's house! WOO!
Charly asks if McIntyre wins, but he says when, what will it be like to face Roman at Survivor Series? Of everyone McIntyre's faced since returning to WWE, he feels like he faced Roman the most already. Now he did things back then he's not proud of, but both he and Roman have been trying to find themselves. Roman is more comfortable than he's ever been, but so is McIntyre. They're both in very different places. Roman talks about levels, and McIntyre would love that match. But McIntyre will focus on Orton first, then Roman later. Charly thanks McIntyre for being here and says that's a wrap for Raw Talk! See you next Monday!
---
My Thoughts:
A real fun episode this week, with the first and last guests feeling very loose and having a lot of fun while still in character and in story. Riddle might be taking jabs back at Seth Rollins saying Team SmackDown isn't stacked yet, but it's also just great brand pride with a truly great team on Raw's side. Riddle got Keith legit laughing at parts, that's great chemistry for these guys. As great as both guys are as singles, I feel like Limitless Bros could totally do something in the fluctuating WWE Tag Division. Drew McIntyre was in a real good mood, and I liked how he momentarily worried if he broke censorship rules calling Orton a dick.
Nikki Cross was definitely more on target as her character in her story, but it was still really passionate, and it got me really wanting to see how a match of her and Alexa would play out. For one, we need to see how this new, darker Alexa wrestles. Second, we might even get a Firefly Fun House match with Alexa and Nikki to reference their history but also Nikki's individual history, such as her part in SAnitY. There are many possibilities but I would really love if they started to see even this part of the story on par with the usual Fiend feuds.