Mitchell's Talking Smack Report! (11/14/20)
Talking Smack is Legit!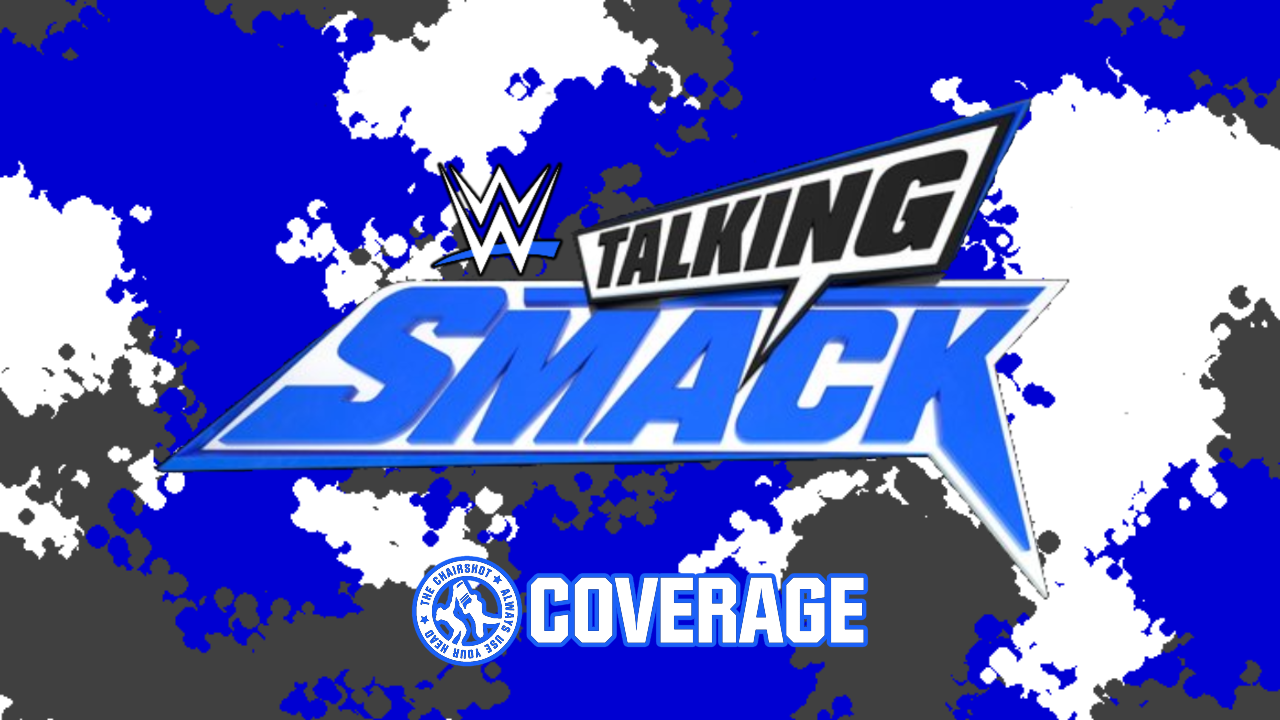 This might be the biggest Talking Smack yet!
The Dozer, the Boss and el Mysterio Familia are ALL on Talking Smack! What will Rey and his family have to say about their Final Chapter with Seth Rollins?
Kayla Braxton and Paul Heyman welcome us back to the show!
Ever closer to finding out who is #TheBestoftheBest, Kayla and her incredible new cohost are here, but Heyman gives himself a proper introduction. Kayla feels frustrated, she thought she did a good job. The Special Counsel to the razing, defending, undisputed WWE Universal Heavyweight Champion, the single greatest superstar in all of the WWE, Roman Reigns, tells Kayla saying things like "incredible" is not a compliment. The origins of that word meant, "Lacking credibility." "Unbelievable" is "not believable." Butchering the English language that has permeated its way to journalists has now corrupted Kayla, and that is why, ladies and gentlemen, WWE created this drag on his time in cohosting this show to bring it up. A grammar lesson, what a great way to start the show.
But to move to Friday Night SmackDown, Drew McIntyre defeated Jey Uso. Will Roman be facing Drew or Orton? We won't know until after Monday's WWE World Championship rematch. Is Roman the most focused he's ever been? Heyman says Roman is ready for McIntyre, should McIntyre dethrone Orton, but he is also ready for Orton should Orton retain. Whoever steps in as the "Second most important champion" will remain the second most important champion because they are against the single biggest star in the industry today. So Roman doesn't care either way? Well that's a multiple choice question. Roman always cares, because this job provides for the entire family. But Roman is prepared for either variable Raw will present. Then there will be six days to prepare for whoever will fall at the feet of the Tribal Chief.
Now to focus more on Jey, does Heyman feel this is making Jey look like less in Roman's eyes? Kayla thinks Jey is walking on egg shells around Roman. Heyman explains here that he is not Roman's Advocate, an advocate needs to make a case for his client. Roman makes his case just fine. As special counsel, Heyman advises Roman on what his position should be. When Roman wishes to speak publicly about his feelings, he will, both eloquently and credibly. And then we will all know where Roman stands, and discuss that. But for Heyman to publicly discuss personal matters, "with all due respect, it's nobody's business." Kayla respects that. The countdown is on, will Roman face the Viper or the Scottish Stud? And speaking of champions going to Survivor Series…
Sasha Banks joins Talking Smack!
The Blueprint, "the be all end all, the champ with the most style, swagger, sex appeal, smarts and skill to back it up," the SmackDown Women's Champion, loves Kayla's intro for her. It has been a long day but she is here. Oh and hello, Heyman. Kayla says Sasha looks amazing. She always brings the looks. Sasha says she is the "Beyoncé of wrestling." Kayla notes that naysayers, including Bayley, were proven wrong saying Sasha couldn't retain a title. It felt so good to prove all the haters wrong! Sasha proved she is the greatest of all time! The title proves it, and Survivor Series will prove it, too. But the celebrating was cut short when Carmella showed up and, for lack of a better term, laid her out.
Kayla doesn't want to throw Heyman under the bus, but when Carmella joined the show last week, Heyman suggested Mella was the talk of the town now. No one is talking about Sasha? Sasha laughs at that idea. Well, then what does Sasha have to say in response? What does she need to say? It doesn't matter when Sasha is champion! Yes, but then Mella returned to get Sasha again this week. Is she in line for a title shot? Heyman says that's not the question to answer. Heyman says that for all champions in the WWE, as his father used to tell him, "Just because you're paranoid doesn't mean the whole world isn't out to get you." Perhaps Bayley and Mella are plotting together.
Well no offense to Heyman's dad, but Sasha's dad only ever told her to be the best, and that is what she does! So congrats, Mella, you made a statement by attacking from behind. But get in her face like a woman, tell Sasha what you really want. Come get it! Sasha is here every Friday, "you can find me, little miss!" Kayla moves things to Survivor Series and how Sasha will face Asuka, we're going to see who is the best of the best. Yes, Asuka is ONE of the best, one of the greatest as Raw Women's Champion. But like Sasha has said every single week, she is THE best. Kayla thanks Sasha for her time and wishes her luck. Thanks, but Sasha won't need luck.
As Sasha heads out, Kayla hopes Heyman isn't upset with her about all that. No, it's fine. Sometimes it's just the guest. Well moving on to the next guest, this man's 2020 has been one of the roughest, but hopefully it's ending better than it began.
Otis joins Talking Smack!
Otis chooses to stand this time. He says hi to the "Spicy Pepper." Kayla jumps into this. Otis was having a great meal, minding his own business, and then Roode and Ziggler had to bring up stuff and make fun of him, from Tucker to Mandy to Miz and Morrison. What does Otis have to stay to people who can't keep Mandy's name out of their mouths?
Otis says people like to push his buttons, and he has quite a few. Otis was having three plates, his average, full of protein, some greens and some carbs like rice. Roode and Ziggler were saying stuff and Otis got mad, but he wants to say that as much as you try to break him down, like Miz and Morrison did, sure they got the Money in the Bank contract, but he's a working man. Otis was raised to get back up when someone knocks you down. That's what Mama Dozovic taught him. Papa Dozovic taught him to keep on going, don't stop because you can never have enough money and victories in life.
Well Otis shut Ziggler up at WrestleMania, did it again tonight. "Yeah, that punk." That blonde pretty boy, Ziggler, acting like he's so cool, Otis will never get tired of beating him up. And he'll smack Roode across the face if he gets in Otis' business. Heyman does agree with Otis on Ziggler's hair. The hair and those abs piss Heyman off, because Heyman doesn't have them anymore, and Ziggler doesn't even make good use of them! "Why would God give hair and abs to someone with that personality, instead of giving it to someone like me?!" Kayla brings up Gable trying to recruit Otis to the "Alpha Academy." Maybe that's a place you can work out, get abs and hair? Otis says that'd be good. But with Mr. Gable giving Otis an offer, his one thing is he'd be like the fat kid going to summer camp. He'd have no idea what's going on.
For Otis, 2020 went up, but then it went downhill fast. But it'll go up again, like a wave. As people call him, "Chazzle Dazzle," is making a good offer. Otis is a bit lonely with Mandy Rose on Raw and Tucker turning on him, and NO MITB contract! "That beautiful green and yellow piece of art" is in Miz's hands. Otis does need someone. He and Mandy are strong as ever, so haters can take on across the face. Maybe Gable can be a friend. But Kayla says if Otis is down, he can always look back to his moment with Stone Cold. Otis had a cold one and a bunch of burgers, and Stone Cold tweeted, "Hell yeah! Cheers!" Kayla hopes Otis' 2020 goes back up and thanks him for his time. Thank you, Spicy Pepper and Mr. Heyman.
Heyman wants to make note of something in case children were watching. Mandy went to Raw, Tucker turned on him. Tucker, with a T. It's okay, don't get upset at the show. It's all good. Thank you, Heyman, for clearing that up. And speaking of 2020 being a roller coaster, the show's final guests have all had a similar year, but a victorious Friday night!
The Mysterio Family and Buddy Murphy join Talking Smack!
Rey, Angie, Dominik and Aalyah are all here, and Heyman politely gives up a chair to Mrs. Mysterio. Where are more chairs!? Can't they all have chairs? A little respect! Heyman and Kayla apologize. Kayla congratulates Rey on his victory against Seth Rollins? It surely felt great to put a staple in the "final chapter." How did they feel after that match? Rey says he had a lot of mixed emotions, but he was thinking about his family and the torture they had endured these last eight months. From himself to his wife to his son and even daughter. But as you can see, they're solid. That was day one. Angie did an incredible job raising their children, and the unity is very solid, we all saw that.
Something else that was a bit shocking, Murphy's here! They all united against Rollins! How did it finally feel to get approval of the family? Murphy earned it, and it is good to finally speak for himself. "Seth is a manipulator." He told Murphy to do things, and Murphy didn't always like it, but that's how masterful Seth is. But it's all good now. Murphy is very happy! This is how a family should be. Heyman should talk to Roman about that. And Kayla asks Aalyah that, given the last couple weeks, it was a bit confusing but she trusted Murphy's plan. How is she feeling? She's feeling great, too. She was confused and freaked out a little, but then seeing Murphy protect Rey was AMAZING!
Rey says there is always time for change. And in order to accept, you have to forgive. They've done that now. And it goes a long way. Heyman agrees with that. Kayla says that despite the animosity and dysfunction, they all wanted it to work out, so there must be relief. Yes, definitely. As a father, Rey wants his children to be guided along the right path. This was a bit tricky at first, but in the end, they learned to forgive and accept. Kayla say sit isn't completely over, given Rollins wants after Murphy directly now. That will be very emotional to be sure. Murphy says he is going to speak for himself. And he has what Rollins doesn't: back-up. Heyman won't say anything, he doesn't get involved in family affairs. Rey hopes this positivity will be passed on to other families. Kayla hopes the same. She thanks them for their time and thanks us for tuning in!
---
My Thoughts:
This was a pretty good episode, and it seems with Heyman on the show, he's like a regular guest as well as a cohost, as Kayla can ask him about things that happened on SmackDown. Though obviously Heyman just kayfabe'd that he won't give away anything since that's not his job. Sasha had a lot of energy and swagger in her promo, but maybe a little too much for having been ambushed twice. She can be confident, sure, but she should also be upset. The tone in her delivery of calling Carmella out should match what happened. Otis did that a bit better, as he was setting it straight and was very much who he's been.
The Mysterio Family's spot was a shorter one, especially for having all of them there. If Talking Smack wasn't so confined in this iteration, maybe there could've been a bit more, since Dominik didn't even get a word in since Murphy was sharing his piece. But as I said with SmackDown, maybe this leads to Rey, Dom and Murphy being almost a trio, and them standing against Roman's family, since Kayla even made a point of telling Heyman to tell Roman what a united family really looks like.